When applying for a job as a school nurse, it is important to present a well-written, professional resume that stands out from the competition. Writing a resume for a school nurse position can seem intimidating, but the process can be made simpler by understanding the role of a school nurse and the qualities employers seek. This guide will provide tips on how to write a school nurse resume and provide examples of successful resumes that you can use as a reference. With the right approach, you can make your resume stand out and maximize your chances of landing the job.
If you didn't find what you were looking for, be sure to check out our complete library of resume examples.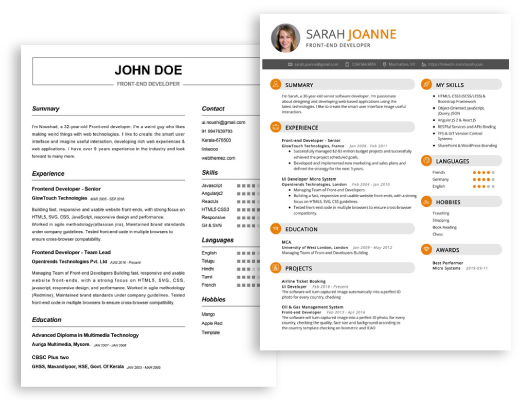 Start building your dream career today!
Create your professional resume in just 5 minutes with our easy-to-use resume builder!
School Nurse Resume Examples
John Doe
School Nurse
123 Main Street | Anytown, USA 99999 | Phone: (123) 456-7890 | Email: john.doe@email.com
I am an experienced School Nurse with a passion for providing students with comprehensive medical care in an educational setting. I am a Registered Nurse with nine years of experience in the field with a special focus on providing students with the physical and emotional support they need to thrive in the classroom. I am a patient- focused professional with excellent communication and organizational skills, and I am committed to supporting student learning by providing the health care they require.
Core Skills:
Clinical judgement
Advanced Nursing Skills
Health Education
Emotional Support
Patient Care
Documentation
Interpersonal Skills
Administrative Skills
Safety Protocols
Professional Experience:
American School of Nursing, Chicago, IL, School Nurse, 2011- Present
Provide comprehensive health care to students in grades K- 12
Collaborate with school staff and families to ensure student health and safety
Assess and treat minor illnesses, injuries and health conditions
Create and monitor health plans for students with chronic medical conditions
Develop and implement health education lessons for students
Communicate health information to families, school staff and other healthcare professionals
Manage student medical records and health documentation
Education:
Bachelor of Science in Nursing, University of Chicago, Chicago, IL, 2007- 2011
Registered Nurse, National Council Licensure Examination, 2011
Basic Life Support Certification, American Heart Association, 2011
Pediatric Advanced Life Support Certification, American Heart Association, 2011
Certified School Nurse, National Board for Certification of School Nurses, 2012
School Nurse Resume with No Experience
Organized and compassionate School Nurse with no experience providing health care to students and staff. Possesses excellent communication and customer service skills as well as a sincere passion for promoting overall wellness and good health.
Skills
Ability to develop health and safety plans
Knowledge of relevant legal requirements and regulations
Excellent organizational and multitasking skills
Able to work independently and successfully with minimal supervision
Proficiency with technology and computer systems
Strong verbal and written communication skills
Responsibilities
Administering physical exams and immunizations
Providing first aid care and administering medications
Maintaining accurate and complete health records
Teaching students and staff about health and wellness
Assessing and monitoring student health needs
Collaborating with school personnel and families to provide the best care
Participating in school- wide health and safety initiatives
Providing referrals to outside medical and mental health resources
Advocating for the health and safety of students and staff
School Nurse Resume with 2 Years of Experience
Highly skilled and dedicated School Nurse with over two years of experience providing comprehensive health care to students in a school setting. Passionate about providing quality health care through the evaluation of physical, mental, and emotional health of students, parents, and staff. Experience includes developing, monitoring, and evaluating health plans for children with chronic illnesses, administering medication, and providing first- aid.
Core Skills:
Strong knowledge of public health principles, practices and procedures
In- depth knowledge of federal, state, and local health regulations
Ability to evaluate and monitor student health and safety data
Excellent organizational and communication skills
Proficiency in using medical software and other specialized healthcare applications
Competency in providing basic first- aid and CPR
Knowledge of special education and counseling services
Responsibilities:
Provide direct health care services to students, staff, and faculty
Administer immunizations and medications to students
Develop, implement, and monitor individual health care plans
Assess and document student health status and medical history
Participate in IEP meetings as well as other school meetings
Provide first- aid, CPR, and other emergency services
Assist in developing and implementing health education programs
Counsel students, staff, and parents on health issues
School Nurse Resume with 5 Years of Experience
A highly capable, compassionate, and organized School Nurse with 5+ years of healthcare experience. Proficient in providing direct patient care, administering and recording medication, assessing and creating individualized health plans, and keeping up to date with industry trends. Skilled at establishing effective and positive relationships with students, faculty, and parents. Adept at implementing emergency procedures and identifying any potential health risks.
Core Skills:
Patient Care
Medication Administration
Health Assessments and Plans
Record Keeping
Client Education
Emergency Protocols
Health Risk Assessment
Interpersonal Communication
Responsibilities:
Provide direct patient care for students with minor illnesses and injuries
Administer, document, and monitor medication in accordance with school policy
Create individualized health plans for students who require special care
Maintain records of patient visits and provide detailed reports to physicians as needed
Provide education to students, parents, and staff on health- related topics
Implement emergency procedures and assess potential health risks
Communicate with faculty and staff to ensure students receive the proper care in an efficient manner
School Nurse Resume with 7 Years of Experience
Reliable and passionate School Nurse with 7 years of experience of providing quality healthcare to students in various educational environments. Have a solid record of contributing to the physical, mental, and emotional well- being of students in assigned schools. Have a comprehensive understanding of school health procedures and relevant laws. Possess excellent organizational, administrative and communication skills.
Core Skills:
Knowledge of health care principles, practices and procedures
Understanding of Child Protective Services regulations
Excellent written and verbal communication skills
Organizational and administrative skills
Critical thinking and problem- solving
Empathy and patience
Time management and multitasking capabilities
Responsibilities:
Conducting physicals and administering immunizations
Observing, screening and assessing students' health
Monitoring students' health and providing tailored care
Providing health counseling and education to students and parents
Maintaining health records, including accident and illness reports
Collaborating with school personnel to develop health programs
Assisting with health- related events and activities
Preparing and ensuring the availability of necessary medical supplies
School Nurse Resume with 10 Years of Experience
Dedicated, energetic and experienced School Nurse with 10+ years of experience providing nursing services to students in K- 12 settings. Skilled in providing primary medical care, administering medications and coordinating with outside providers for long- term care. Adept at developing action plans to handle emergency situations, delivering health education and developing health policies. Committed to providing the highest quality of care to all students.
Core Skills:
Conducting comprehensive health assessments
Administering medications and treatments
Developing safety protocols
Documentation and record keeping
Collaborating with outside healthcare providers
Teaching health education
Providing health counseling
Utilizing best practices
Coordinating preventive care
Responsibilities:
Performed health assessments to identify any physical and mental health issues of students
Administered vaccinations and other medications as prescribed
Monitored vital signs and conducted follow ups on chronic and acute health issues
Developed and maintained health reports and records for all students
Counseled students and their parents on health- related topics
Developed and implemented procedures for emergency care
Assisted in creating and implementing health policies
Collaborated with outside medical providers to ensure students received proper care
Taught health education classes for students and staff
School Nurse Resume with 15 Years of Experience
I am a highly experienced and qualified school nurse with fifteen years of experience in providing healthcare services to both students and staff. I am well- versed in different aspects of health promotion and prevention, first aid, and mental health services and am also highly experienced in collaborating with faculty, staff, and parents in order to provide the best possible care for students. I am passionate about helping children and their families, and I have a strong commitment to the education system and a dedication to offering compassionate support to students and staff.
Core Skills:
Good communication skills
Empathy and compassion
Knowledge of health promotion and prevention
Ability to provide first aid
Knowledge of mental health services
Ability to work collaboratively
Knowledge of education systems
Excellent organizational and problem solving skills
Responsibilities:
Providing healthcare services and education to students and staff
Assisting with health care and medical advice
Conducting assessments and providing health care interventions
Maintaining accurate records and data related to health care
Administering medications and treatments as per doctor's orders
Providing immunizations and other preventative care
Collaborating with faculty, staff, and parents
Developing and implementing health promotion programs
Teaching and counseling individuals about health and wellness
Providing first aid and mental health services as needed
In addition to this, be sure to check out our resume templates, resume formats, cover letter examples, job description, and career advice pages for more helpful tips and advice.
What should be included in a School Nurse resume?
When it comes to preparing a resume for a school nurse position, there are a few key elements to include to make sure your credentials stand out. Whether you are just starting out in the field or have years of experience, a well-written resume can help you secure the job you want. Here are some of the most important items to include in a school nurse resume:
Education: Include the details of any qualifications or certifications that you possess, such as a nursing degree or an education in public health.
Work Experience: Include any relevant clinical or teaching experience that you have, including any previous nursing roles you have held.
Skills: List any special skills that you possess, such as CPR certification, first aid training, or experience working with children with special needs.
Professional Affiliations: Include any professional organizations that you are a member of, such as the National Association of School Nurses.
Computer Skills: Demonstrate any computer skills that could be useful in a school nursing role, such as experience with Electronic Health Records or knowledge of medical software.
Community Involvement: Include any volunteer work or extracurricular activities that you have been involved in, such as a local health fair or a community outreach program.
By including these key elements in your school nurse resume, you can show employers that you have the right skills and experience for the role. With a strong resume, you can be sure that your credentials stand out among other applicants.
What is a good summary for a School Nurse resume?
A school nurse resume should be concise and contain details of experience, education, and skills that are relevant to the position. It should highlight qualities such as patient care, health promotion, and collaboration with school staff. It should also showcase the nurse's knowledge of infectious diseases, immunizations, and health assessments. Additionally, a school nurse resume should demonstrate the nurse's commitment to providing quality care to students and families, as well as their ability to provide a safe and healthy learning environment. Finally, the resume should reflect the nurse's understanding of legal and regulatory responsibilities.
What is a good objective for a School Nurse resume?
A school nurse resume should be tailored to reflect your experience, skills, and qualifications that are relevant to the job you are applying for. It is important to be clear, concise, and comprehensive when listing your objectives on a school nurse resume. The following are good objectives to consider when writing a school nurse resume:
To provide compassionate and knowledgeable care for students, faculty, and staff in a school setting
To ensure the safety and well-being of all in the school community
To maintain and improve student health by providing preventative care, education, and guidance
To collaborate with teachers, administrators, and parents to ensure the best possible care for students
To promote a safe and healthy environment by adhering to state and federal regulations and laws
To assess student health issues and provide appropriate intervention and referrals
To develop and maintain health care plans and records
To administer medication and treatments as prescribed by a doctor
To provide emotional and psychological support to students and their families
To educate students, faculty, and staff on health issues and prevention of disease
To participate in professional development activities to stay current on healthcare trends and best practices.
How do you list School Nurse skills on a resume?
When applying for a job as a school nurse, it is important to highlight the skills you possess that make you a strong candidate for the position. A well-crafted resume should list the qualifications and experiences that make you the ideal person for the job. In particular, your resume should emphasize the specific skills and competencies that demonstrate your ability to provide quality health care to students.
When listing your qualifications for a school nurse role, consider the following skills that you should include on your resume:
Ability to provide health care and first aid to students
Knowledge of illnesses and preventative health care
Familiarity with state and federal laws pertaining to health care
Excellent communication and interpersonal skills
Proficiency with medical record keeping and documentation
Strong problem-solving and critical thinking skills
Ability to work independently and be part of a team
Ability to work effectively with students, faculty, and families
Familiarity with health and safety regulations
Knowledge of emergency procedures
Proficiency with computer applications, such as Microsoft Office and medical databases
Ability to handle stressful situations calmly and effectively
Ability to prioritize tasks and meet deadlines
What skills should I put on my resume for School Nurse ?
Looking to stand out from the competition when applying for a nursing position in a school? There are several key skills that you should make sure to include on your resume. Having these skills makes you a more attractive job candidate and can help you to get the job you want.
Here are some of the key skills to include on your resume for a school nurse position:
First Aid: School nurses must be able to respond to medical emergencies and provide first aid when necessary. They should be trained in CPR, the Heimlich maneuver, and other basic first aid skills.
Communication: School nurses must be able to communicate effectively with students, parents, and staff. They should be able to clearly discuss health concerns and provide instructions for treatment and medication.
Knowledge of School Health Policies: School nurses should have a thorough understanding of the school's health policies and procedures, as well as any state laws and regulations.
Organizational Skills: School nurses must be organized in order to effectively manage the paperwork, documentation, and other administrative tasks associated with the position.
Problem Solving: School nurses must be able to think quickly on their feet and come up with creative solutions to medical problems.
Leadership and Interpersonal Skills: School nurses should have strong interpersonal and leadership skills in order to effectively work with students and staff.
By including these skills on your resume, you will be able to demonstrate to employers that you have the skills needed to be an effective school nurse.
Key takeaways for an School Nurse resume
When it comes to crafting a resume for a School Nurse position, there are key takeaways that can make it stand out. As an experienced school nurse, you have a wealth of knowledge to draw from and you should show that on your resume. Here are some key takeaways to include on your resume when applying for a School Nurse position:
• Make sure to highlight any accomplishments that you have achieved in your career. This can include certifications, awards, or special recognitions that you have earned in the field. Showing that you have been successful in the past can demonstrate your experience and qualifications.
• Showcase any unique skills that you have acquired over the years. This can include specialized training in areas such as first aid, medical procedures, or communication. It is also important to list any software programs that you are familiar with and comfortable using.
• Demonstrate your commitment to the students and families that you have served in the past. This can include positive feedback from past employers or initiatives that you have been a part of. Showing that you care about the students that you work with can help set you apart from other applicants.
• Be sure to list any other work or volunteer experiences that you may have had outside of your current role. This can help to show that you are a well-rounded individual who is open to learning new things.
• Don't forget to include your references. Having the contact information of past employers or colleagues can be a great asset when applying for a School Nurse position.
By including these key takeaways on your resume, you can demonstrate your experience, qualifications, and commitment to the role. This can help you stand out from other applicants and increase your chances of being selected for the position.
Let us help you build
your Resume!
Make your resume more organized and attractive with our Resume Builder