If you are looking to enter the field of rehabilitation nursing, having a strong resume is essential. Crafting an effective and comprehensive resume can be a daunting task as you want to make sure it accurately reflects all your skills and experience. However, with the right guidance and examples, you can create a resume that will increase your chances of getting an interview. This guide provides tips and advice on how to create a resume for rehabilitation nurse positions, as well as helpful examples to serve as a reference.
If you didn't find what you were looking for, be sure to check out our complete library of resume examples.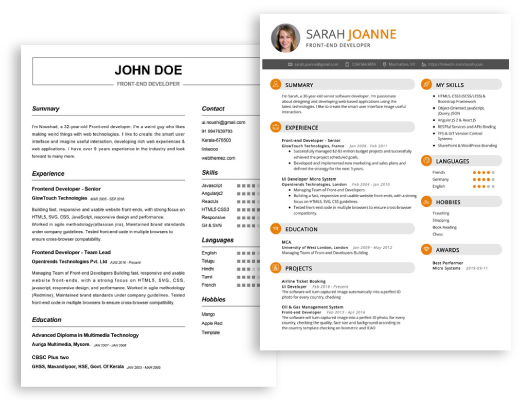 Start building your dream career today!
Create your professional resume in just 5 minutes with our easy-to-use resume builder!
Rehabilitation Nurse Resume Examples
John Doe
Rehabilitation Nurse
123 Main Street | Anytown, USA 99999 | Phone: (123) 456-7890 | Email: john.doe@email.com
Rehabilitation nurse with 9 years of experience in providing care and support to patients with long- term, chronic and acute illnesses. Skilled at developing personalised rehabilitation programmes, providing responsive patient care and demonstrating empathy. Proven record of following patient instructions, providing family education and assisting in the development of discharge plans.
Core Skills:
Patient Care
Rehabilitation Programmes
Patient Education
Comprehensive Assessment
Empathy and Compassion
Vital Signs Monitoring
Medication Administration
Discharge Planning
Professional Experience:
Rehabilitation Nurse, St. Mary's Hospital – June 2011 – Present
Develop personalised rehabilitation programmes for a variety of chronic and acute illnesses.
Provide patient education on medications, treatments and discharge plans.
Monitor patient vital signs and administer medications as prescribed.
Assist in the development of discharge plans.
Work with other health care professionals to ensure optimal patient care.
Rehabilitation Nurse, Mercy Health Care – October 2009 – June 2011
Assessed patients and developed treatment plans to improve quality of life.
Administered medications, monitored vital signs and provided patient education.
Developed individualised patient care plans and provided compassionate care.
Participated in care coordination meetings and assisted with discharge planning.
Education:
Bachelor of Science in Nursing – 2009
University of San Francisco, San Francisco, CA
California Registered Nursing License – 2009
California Board of Nursing, Sacramento, CA
Rehabilitation Nurse Resume with No Experience
Highly motivated individual with a passion for helping others. Experienced in providing emotional support to those in need and working with diverse populations. Looking to begin a career as a Rehabilitation Nurse with no experience to apply my knowledge and skills.
Skills
Excellent communication and listening skills
Ability to multi- task and prioritize
Compassionate and empathetic
Ability to follow instructions
Proficient in medical office software
Knowledge of patient privacy regulations
Strong organizational skills
Responsibilities
Provide compassionate care and support to patients
Record and monitor patient progress
Assist with rehabilitation therapies
Organize and manage patient records
Provide patient education on rehabilitation activities
Conduct patient assessments and develop treatment plans
Collaborate with physicians, therapists, and other healthcare professionals
Maintain patient safety and privacy standards
Assist patients with daily activities
Administer prescribed medications and treatments
Rehabilitation Nurse Resume with 2 Years of Experience
Highly- skilled and motivated Rehabilitation Nurse with over 2 years of experience in helping patients with their recovery process. Demonstrated expertise in assessing patient's condition and creating individualized care plans to manage their recovery. Adept at monitoring and evaluating patient progress and responding to any changes in their condition. Proven ability to provide compassionate care to patients and build a trusting relationship with them and their families.
Core Skills:
Patient Assessment
Care Plan Development
Patient Monitoring
Diagnostic Testing
Treatment Planning
Charting and Documentation
Interpreting Lab Results
Rehabilitation Equipment Knowledge
Crisis Management
Responsibilities:
Assessed patient's condition and developed individualized care plans to facilitate recovery
Monitored and evaluated patient progress and responded to any changes in condition
Administered treatments and diagnostic tests, such as X- rays, electrocardiograms, and ultrasounds
Educated patients and families about care plans, treatments, and progress
Ensured all documentation was properly completed and updated regularly
Collaborated with other healthcare professionals to develop comprehensive care plans
Educated and trained staff on the use of rehabilitation equipment and techniques
Managed patient crisis and provided compassionate and respectful care to patients and families
Rehabilitation Nurse Resume with 5 Years of Experience
I am a highly experienced registered nurse with 5 years of professional experience in rehabilitation nursing. I am skilled in providing care to patients with physical and mental disabilities, as well as those recovering from a medical procedure or condition. I have experience in ensuring that patients receive quality care and services, while helping them reach their recovery goals. My expertise includes administering medication, coordinating care, providing patient education, and developing individualized care plans. I am also adept in assessing patient conditions, providing case management, and monitoring progress.
Core Skills:
Certified Registered Nurse
Patient Assessment & Treatment
Wound Care & Infection Control
Medication Administration
Patient Education & Counseling
Collaborative Care & Patient Advocacy
Documentation & Record Keeping
Comfort Measures & Pain Management
Case Management & Discharge Planning
Responsibilities:
Developed individualized care plans for patients with disabilities and chronic conditions
Provided comprehensive patient education and counseling services
Monitored patient progress and modified care plans in accordance with changes in patient conditions
Coordinated with multidisciplinary team members to ensure collaborative care delivery
Administered medications and monitored patient responses
Assisted with physical therapy and occupational therapy
Provided comfort measures and pain management for patients
Developed and implemented patient discharge plans
Managed patient records and documentation to ensure accuracy
Rehabilitation Nurse Resume with 7 Years of Experience
Highly experienced Rehabilitation Nurse with seven years of professional experience in providing rehabilitative nursing care to patients with long- term illnesses or disabilities. Adept at examining patients to assess their condition, creating comprehensive nursing plans, and providing support to the patient and their families. Skilled at working collaboratively with healthcare teams to ensure the best possible care for each patient.
Core Skills:
Assessing patient needs and creating comprehensive nursing plans
Providing skilled nursing care to patients
Initiating physical and psychological assessments
Monitoring patient progress and making adjustments as needed
Administering medications and other treatments
Maintaining accurate and complete patient records
Educating patients and families on health and recovery
Responsibilities:
Conducting comprehensive physical assessments of patients
Providing nursing care to long- term patients
Developing and implementing nursing plans for each patient
Administering prescribed medications, treatments, and therapies
Monitoring patient progress and making necessary adjustments
Educating patients and family members on health and recovery
Counseling patients and families on lifestyle changes to promote healing
Maintaining accurate and complete records of patient care
Rehabilitation Nurse Resume with 10 Years of Experience
Highly experienced and caring Rehabilitation Nurse with 10+ years of experience helping patients to recover from injuries, surgeries and illnesses. Skilled in providing care and support to patients while they engage in rehabilitative activities to help them reach their physical therapy goals. Expertise in teaching patients and family members how to manage their condition while providing emotional support throughout the process. Ability to collaborate with other healthcare professionals in order to best serve the needs of the patient.
Core Skills:
Excellent communication and interpersonal skills
Exceptional patient care and attention to detail
Familiar with rehabilitative equipment and techniques
Ability to work independently and as part of a team
Knowledge of medical terminology and regulations
Strong organizational and problem- solving skills
Proficient in electronic medical records (EMR) systems
Responsibilities:
Assessing patient needs and developing individualized plans of care
Observing, recording and reporting on the condition of patients
Providing emotional support and guidance to patients and their families
Educating patients and families on medical conditions, treatments and care plans
Developing and coordinating rehabilitative activities for patients
Monitoring and evaluating the patient's progress
Administering medication and performing other nursing duties as needed
Collaborating with other healthcare professionals to ensure quality patient care
Rehabilitation Nurse Resume with 15 Years of Experience
Highly experienced rehabilitation nurse with over 15 years of experience in developing and executing patient- specific care plans. Skilled in providing compassionate care and emotional support to patients with a variety of long- term illnesses and injuries. Aim to promote a quick and safe recovery process through patient- focused care. Possesses great interpersonal skills needed to build positive relationships with patients, families, and colleagues.
Core Skills:
Patient care
Therapeutic treatment
Administrative duties
Interpersonal communication
Research and data analysis
Critical thinking
Education and training
Quality assurance
Responsibilities:
Assessing patient condition and developing care plans accordingly
Administering treatments and medications
Educating patients and families about treatments, medications and lifestyle modifications
Conducting regular patient evaluations, measuring vitals and tracking progress
Keeping accurate records, ensuring patient safety and confidentiality
Collaborating with other medical and rehabilitation professionals
Assisting patients with personal hygiene and physical activities
Supporting the patient and their family with emotional and psychological needs
Recommending and coordinating referrals to other medical providers
Maintaining up- to- date knowledge of new technologies and medical advancements
Performing quality assurance checks to ensure high- quality patient care
In addition to this, be sure to check out our resume templates, resume formats, cover letter examples, job description, and career advice pages for more helpful tips and advice.
What should be included in a Rehabilitation Nurse resume?
Rehabilitation nursing is a challenging and rewarding career path, and having the right experience and qualifications on your resume can make the difference between getting the job or not. A well-crafted rehabilitation nurse resume should include the following important information:
Education and Credentials: Include your nursing degrees and certifications such as an RN license and/or CRRN certification.
Experience: Highlight your professional background as a rehabilitation nurse, including any specialized experience you may have.
Skills: List the technical and interpersonal skills you possess that make you an effective rehabilitation nurse, such as your knowledge of medical terminology, patient assessment, and care planning.
Accomplishments: Showcase any successes you've achieved in the field, such as helping to improve patient outcomes or developing new care protocols.
Professional Organizations: Demonstrate your commitment to your profession by listing any relevant memberships, such as the Association of Rehabilitation Nurses.
Community Involvement: Show employers that you are an active and engaged member of your community by listing any volunteer or outreach activities you've participated in related to healthcare.
By applying the tips outlined above, you can create a strong and convincing resume that can help you stand out from the competition and get the job you want.
What is a good summary for a Rehabilitation Nurse resume?
A Rehabilitation Nurse resume should include a summary that shows the applicant's experience and education in the medical field and their commitment to providing quality care to their patients. It should also highlight the nurse's ability to work with multiple health care providers and an understanding of various rehabilitation techniques and therapies. Finally, it should demonstrate the nurse's dedication to providing a safe, comfortable and effective environment for their patients to recover.
What is a good objective for a Rehabilitation Nurse resume?
Rehabilitation nurses have an important role in helping patients recover from injuries, illness, and surgery. When writing a resume for a rehabilitation nurse position, it is important to have an objective that clearly states your goals and what you bring to the role. A good objective for a rehabilitation nurse resume should include:
Demonstrate compassion and empathy for those in need of rehabilitation
Utilize strong communication and interpersonal skills to build positive relationships with patients and their families
Provide quality care and promote patient recovery
Maintain a safe and comfortable environment for patients
Utilize research and evidence-based practices to ensure best treatment outcomes
Collaborate with other health professionals to create tailored rehabilitation plans
Contribute to the overall success of the Rehabilitation Department.
How do you list Rehabilitation Nurse skills on a resume?
A proficient Rehabilitation Nurse should have a wide range of skills. These skills should be highlighted in your resume.
Compassionate and understanding towards patients in need
Ability to monitor and update patient records and records for medical insurance purposes
Understands and can accurately administer medications and treatments
Excellent communication and interpersonal skills
Proven ability to work in a fast-paced environment
Ability to motivate patients to achieve their rehabilitation goals
Knowledge of rehabilitation and physical therapy techniques
Ability to keep patients informed of their progress and any changes in treatment
Knowledge of medical instruments and tools used in rehabilitation
Ability to recognize potential problems or signs of distress
Experience in crisis management and patient safety
Ability to handle difficult situations in a professional manner
Ability to assess patients, diagnose medical conditions, and develop treatment plans
Skilled in coordinating with other staff members to ensure the best care for the patient
What skills should I put on my resume for Rehabilitation Nurse?
When it comes to crafting your resume as a Rehabilitation Nurse, it can be challenging to highlight your skills. After all, your resume needs to be comprehensive, yet concise. To help you decide which skills to highlight, here are some of the most important skills to include on your Rehabilitation Nurse resume:
Patient Care: As a Rehabilitation Nurse, you need to be able to provide compassionate and professional care to patients. Make sure to emphasize your aptitude for providing excellent patient care.
Knowledge of Rehabilitation Medicine: Your resume should highlight your knowledge and experience in rehabilitation medicine, including any relevant certifications or specializations.
Communication Skills: As a Rehabilitation Nurse, you need to be able to effectively communicate with patients, their families, and other healthcare providers. Make sure to emphasize your superior communication skills.
Leadership: Rehabilitation Nurses often lead teams of healthcare professionals. Make sure to highlight any managerial or leadership experience you have.
Problem-solving: Rehabilitation Nurses often need to think on their feet and come up with creative solutions to problems. Be sure to mention any problem-solving experience or skills you possess.
By including these skills on your resume, you'll be showcasing yourself as a well-rounded Rehabilitation Nurse with the qualifications and experience necessary to excel in the role.
Key takeaways for an Rehabilitation Nurse resume
For a successful Rehabilitation Nurse resume, here are some key takeaways to keep in mind:
• Highlight your experience in rehabilitation nursing and your experience with patients with physical, cognitive, and/or psychological disabilities and their families.
• Demonstrate your knowledge of rehabilitation nursing practices and procedures, such as wound care, patient assessment, and medical documentation.
• Showcase your excellent communication skills, both verbal and written, to ensure effective communication with patients, families, and other healthcare professionals.
• Focus on your ability to provide compassionate, professional care while following all organizational and legal guidelines.
• Demonstrate your capability to analyze complex cases and develop appropriate treatment plans.
• Showcase your critical thinking and problem solving skills to identify issues and create solutions.
• Feature your strong organizational skills to ensure the efficient delivery of care to patients.
• Mention any certifications, such as the Certified Rehabilitation Registered Nurse (CRRN), that will help set you apart from other qualified applicants.
Let us help you build
your Resume!
Make your resume more organized and attractive with our Resume Builder