Are you a PACU Nurse looking for guidance on creating and translating your resume for potential employers? Resume writing can be an intimidating process for any job seeker, but it is especially critical for PACU Nurses, who must present their specialized training, certifications, and experience in a way that conveys the value and expertise they can bring to the position. This guide will provide helpful tips on writing a resume for PACU Nurses, as well as provide examples of resumes from experienced PACU Nurses who have achieved success in their job search.
If you didn't find what you were looking for, be sure to check out our complete library of resume examples.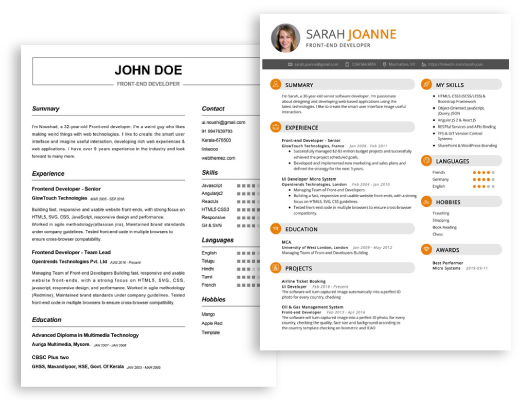 Start building your dream career today!
Create your professional resume in just 5 minutes with our easy-to-use resume builder!
PACU Nurse Resume Examples
John Doe
Job Title
123 Main Street | Anytown, USA 99999 | Phone: (123) 456-7890 | Email: john.doe@email.com
PACU Nurse with seven years of experience in providing post- operative care to patients of all ages. Skilled in performing assessments, vital sign monitoring, and administering medications. Experienced in providing patient and family education and managing medical equipment. Dedicated to providing quality care and ensuring patient comfort while following all established procedures and protocols.
Core Skills:
Skilled in post- operative care
Familiar with medical equipment
Ability to multi- task effectively
Experienced in vital sign monitoring
Knowledgeable in medications administration
Ability to provide patient and family education
Excellent organizational skills
Ability to prioritize and manage tasks
Professional Experience:
PACU Nurse, ABC Hospital, June 2013 – Present
Monitor vital signs of patients recovering from surgeries
Provide post- operative care and education to patients and families
Monitor and administer medications as prescribed by physicians
Assist in the management of medical equipment
Maintain patient's records and document any changes in condition
PACU Nurse, XYZ Clinic, April 2011 – May 2013
Performed assessments of patients in the post- operative period
Recorded vital signs, checked dressings, and monitored incisions
Maintained and operated medical equipment, as necessary
Administered medications and provided patient/family education
Monitored patients as they transitioned from surgeries to other units
Education:
Bachelor of Science in Nursing, University of ABC, 2010
PACU Nurse Resume with No Experience
Recent nursing school graduate with no work experience, looking to pursue a career as a PACU Nurse. Possess a proven knowledge of medical terminology, patient education and clinical processes. Proficient in working with EMR Systems and medical instruments. Possess excellent communication and organizational skills.
Skills
Clinical experience in medical procedures
Knowledge of medical terms and anatomy
Experienced in patient education
Effective communication skills
Ability to multitask
Proficient in EMR Systems
Ability to work under pressure
Attention to detail
Ability to follow instructions
Knowledge of medical instruments
Responsibilities
Observing patients in the PACU
Monitoring blood pressure, heart rate, and breathing
Assisting doctors and nurses
Administering medications to patients
Documenting all pertinent patient information
Assisting with patient transfers, discharges, and admissions
Maintaining a clean, safe and orderly environment
Providing compassionate care to patients
Following safety protocols
PACU Nurse Resume with 2 Years of Experience
Dynamic and motivated PACU Nurse with two years of experience in providing high- level care for post- surgical patients. Adept at performing patient assessments, providing education to patients and families, and managing patient vitals and comfort. Experienced in directing and participating in the maintenance of medical equipment and supplies, and implementing and evaluating patient care plans.
Core Skills:
Familiar with PACU standards and protocols
In- depth knowledge of pharmacology and medications
Strong decision- making and problem- solving abilities
Ability to respond calmly and efficiently in emergency situations
Excellent interpersonal and communication skills
Proficient in the use of patient care technology
Responsibilities:
Assessed patient status and progressed recovery according to post- operative standards
Provided patient education to ensure understanding of post- operative care
Monitored patient vitals, comfort level, and documented to ensure a safe environment
Collaborated with physicians and other members of the healthcare team to ensure high- quality care
Performed clinical procedures such as wound care and catheterization
Provided emotional support and compassionate care to patients
PACU Nurse Resume with 5 Years of Experience
Experienced PACU Nurse with 5 years of experience in providing pre and post operative care for adult and pediatric patients. Highly skilled in monitoring vital signs, administering IV medications, and pain management. Dedicated to providing safe, effective, and compassionate care. Demonstrates a commitment to regulatory compliance and patient advocacy.
Core Skills:
Patient Assessment
Medication Administration
Pain Management
Pre- and Post- Operative Care
Vital Signs Monitoring
Collaborative Teamwork
Documentation
Responsibilities:
Assessed pre- and post- operative patients' conditions, monitored vital signs, and provided pain management.
Administered IV medications and fluid therapy to post- operative patients in accordance with established standards and protocols.
Collaborated with physicians, nurses, and other healthcare professionals to ensure safe and effective patient care.
Educated patients and their families on pre and post- operative instructions and care.
Monitored patient condition and provided assistance with their activities of daily living.
Developed and implemented patient care plans and provided ongoing assessment and evaluations.
Ensured safety and comfort of patients in the PACU by providing appropriate monitoring and care.
PACU Nurse Resume with 7 Years of Experience
A competent and dedicated PACU Nurse with 7 years of experience in providing high quality and specialized nursing care to patients recovering from anesthesia, as well as in evaluating, planning, and implementing nursing treatment plans. Possess a wide range of skills and knowledge in patient assessment, monitoring, and evaluation, as well as in providing post- operative patient education, comfort, and care. Proven to be an effective communicator, collaborator, and leader who always puts patient safety and comfort first.
Core Skills:
Experience in providing comprehensive perioperative care
Expertise in post anesthesia recovery and evaluation
Demonstrated ability to assess and evaluate patient condition
In- depth knowledge of nursing care principles, theories, and techniques
Proficient in utilizing various medical instruments, equipment, and technology
Excellent problem solving, interpersonal, and organizational skills
Proven record in providing patient education and counseling
Responsibilities:
Assessing, planning, and implementing post- operative nursing care and treatment plans
Monitoring and evaluating patient condition and providing appropriate interventions
Administering medications and treatment according to physician orders
Collaborating with healthcare team members in providing patient care and support
Identifying and responding to any emergency needs of patients
Educating patients and families on post- operative care, treatments, and medications
Maintaining accurate and complete patient medical records and documentation
PACU Nurse Resume with 10 Years of Experience
I am an experienced PACU nurse with 10+ years of experience working in various patient care settings. I have extensive knowledge of post- operative care that includes pain management, patient education and discharge planning. I am skilled in developing care plans, monitoring vital signs, administering medications, and providing quality patient care. I am a compassionate nurse who always strives to provide the highest level of patient care.
Core Skills:
Knowledge of post- operative care
Ability to develop care plans
Monitoring of vital signs
Administration of medication
Patient education
Discharge planning
Excellent communication
Documentation skills
Quality patient care
Responsibilities:
Providing post- operative care to patients
Assessing and monitoring vital signs
Administering medications as prescribed by a physician
Developing care plans to meet the needs of individual patients
Educating patients and their families on post- operative care
Assisting patients with discharge planning
Communicating with other healthcare professionals to ensure optimal patient care
Ensuring that all documentation is completed accurately and in a timely manner
Providing quality patient care in accordance with clinic policies and procedures.
PACU Nurse Resume with 15 Years of Experience
PACU Nurse with 15 years of experience providing quality nursing care to postoperative patients in the recovery room. Proven track record of attention to detail, spacial awareness, and communication skills necessary to ensure the safety and comfort of patients. Skilled in patient assessment, wound care, IV management, and the administration of medications.
Core Skills:
Patient assessment
Wound care
IV management
Administering medications
Patient education
Communication
Organization
Recording accuracy
Team collaboration
Responsibilities:
Develop individualized care plans for postoperative patients
Monitor vital signs and administer medications to patients
Demonstrate safe and efficient operating room practice
Provide patient education and discharge instructions
Assist in the transfer and movement of patients
Maintain patient records and document all nursing activities
Direct and mentor new nursing staff
Support the team in providing quality care to patients
In addition to this, be sure to check out our resume templates, resume formats, cover letter examples, job description, and career advice pages for more helpful tips and advice.
What should be included in a PACU Nurse resume?
When crafting your resume for a PACU Nurse position, there are certain sections and details you should always include. This ensures that your resume stands out among the competition, and demonstrates to potential employers that you have all the qualifications necessary to excel in the position.
Below are some of the key areas to include when writing a PACU Nurse resume:
Education: Be sure to list your current nursing degree, as well as any other certifications or advanced degrees that you may have.
Work Experience: List any prior nursing experience you have, including any PACU or other critical care related roles.
Skills: Highlight any relevant skills and competencies, such as CPR certification, ACLS certification, and other specialties that pertain to the role.
Awards and Honors: If you have any awards or honors that are related to your nursing experience, be sure to include them in your resume.
Professional Organizations: If you are a member of any professional organizations, list them in your resume. This demonstrates your commitment to the field and may make you more attractive to potential employers.
By including these key areas in your resume, you will be able to demonstrate to potential employers that you have all the qualifications necessary to excel in a PACU Nurse position.
What is a good summary for a PACU Nurse resume?
A PACU Nurse resume should be a concise summary of the candidate's professional background and qualifications. The resume should highlight the candidate's experience in post-anesthesia care unit nursing, as well as any related certifications and skills. It should also include any related academic degrees or certifications, such as an associate degree in nursing, BSN or MSN.
In addition to outlining the candidate's professional qualifications, the resume should also include a list of achievements, such as awards or special recognition. The goal of the resume should be to demonstrate how the candidate's experience and skills can be used to benefit the potential employer.
Finally, the resume should be accompanied by a cover letter that explains why the candidate is the best fit for the position. The cover letter should showcase the candidate's enthusiasm for the job and any special qualifications or skills. It should also provide a personal touch that will help to differentiate the candidate from the competition.
What is a good objective for a PACU Nurse resume?
A PACU nurse resume should include an objective that is tailored to the position being applied for. It should be a statement that focuses on the applicant's strengths and why they are best-suited for the role.
An effective objective for a PACU nurse resume should include:
Demonstrating a commitment to quality care and patient safety
A focus on teamwork and collaboration
Having a strong knowledge of the PACU environment
A desire to use their experience and training to provide outstanding care
A dedication to continuous learning and professional development
A commitment to excellent communication and patient advocacy.
How do you list PACU Nurse skills on a resume?
When compiling your resume, it is important to list your relevant skills and qualifications as a PACU Nurse. Here are some tips to ensure your resume is as comprehensive and effective as possible:
Include a brief summary of your professional qualifications and experience as a PACU Nurse. Be sure to highlight any special skills that set you apart from other applicants.
List the specific duties you have performed in a PACU setting. Include the number of years of experience you have working in the PACU, and any areas of expertise or certifications you hold.
Describe any relevant continuing education and training experience you have had in relation to providing PACU care.
Highlight any special skills you have that would be beneficial in a PACU setting, such as proficiency in anesthesia monitoring devices or specialized care for high-risk patients.
Mention any research or publications related to PACU care that you may have been involved in.
List any awards or recognition you have received for your work as a PACU Nurse.
By following these tips, you can ensure your resume accurately reflects your skills, qualifications, and experience as a PACU Nurse.
What skills should I put on my resume for PACU Nurse?
A PACU Nurse is a highly specialized nursing field that requires a variety of different skills. To make yourself an attractive candidate for a PACU Nurse position, it is important to highlight these skills on your resume. Here are some of the must-have skills for a successful PACU Nurse:
Critical Thinking: PACU Nurses must be able to quickly assess a patient's condition and act accordingly in order to provide the most effective care.
Excellent Communication: PACU Nurses must be able to communicate effectively both verbally and in writing. They must also be able to listen to patients and their families in order to properly understand their needs.
Strong Organization: PACU Nurses must be able to keep track of multiple patients and their medical needs at once. They must also be able to prioritize tasks and manage their time efficiently.
Knowledge of Emergency Care: As PACU Nurses are often the first line of defense in an emergency health situation, they must be knowledgeable of emergency care procedures and protocols.
Compassionate: PACU Nurses must be able to provide comfort and reassurance to patients and their families during stressful times.
By highlighting these skills on your resume, you can demonstrate to employers that you have the necessary background and qualifications to be a successful PACU Nurse.
Key takeaways for an PACU Nurse resume
A PACU nurse is a specialized type of registered nurse who works in the post-anesthesia care unit of a hospital, ensuring that patients recovering from a surgical procedure receive proper care and support. When creating your resume, it's critical that you highlight your skills and qualifications so you can stand out from other applicants. Here are some key takeaways for an PACU Nurse resume:
• Highlight your experience in the area: As a PACU Nurse, it is important to showcase any relevant experience you have in the field. This can include any prior work experience in a hospital, rehab center, or long-term care facility. Make sure to include details such as the type of facility you worked in, any notable patient cases you managed, and any specialized training you received.
• Show off your PACU-specific knowledge: PACU nurses must be familiar with a range of post-operative care techniques. Make sure to highlight your knowledge of IVs, pain management, wound care, and any other treatment techniques you are familiar with. This will demonstrate that you are knowledgeable in the field and a valuable asset to any organization.
• Include your qualifications: As a PACU nurse, you should list any certifications and qualifications you have obtained. These can include certifications in advanced cardiac and trauma care, medical-surgical nursing, and any other specialized training you have received. This will show employers that you have the necessary skillset to provide excellent patient care.
• Demonstrate your interpersonal skills: As a PACU nurse, you will often be responsible for providing patient support and comfort. Be sure to highlight any soft skills you possess such as empathy, communication, and problem-solving that will make you an effective member of the team.
By incorporating these key takeaways into your resume, you can ensure that you stand out from other applicants and make a lasting impression on potential employers. With the right qualifications and experience
Let us help you build
your Resume!
Make your resume more organized and attractive with our Resume Builder