If you're looking for a job as an orthopedic nurse, having a great resume is essential. Crafting a resume that can get your foot in the door can be challenging, especially in the medical field. To help you make the most of your resume, this guide will provide tips on what to include, how to format your resume, and show examples of successful orthopedic nurse resumes. By the end, you'll have the tools you need to craft a successful resume that will get you noticed.
If you didn't find what you were looking for, be sure to check out our complete library of resume examples.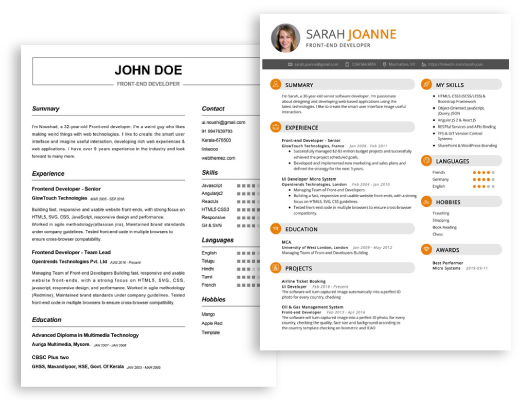 Start building your dream career today!
Create your professional resume in just 5 minutes with our easy-to-use resume builder!
Orthopedic Nurse Resume Examples
John Doe
Orthopedic Nurse
123 Main Street | Anytown, USA 99999 | Phone: (123) 456-7890 | Email: john.doe@email.com
Highly experienced Orthopedic Nurse with 10+ years of experience in providing care to orthopedic patients. Skilled in patient assessment, diagnosis, and treatment of orthopedic issues. Experienced in managing a wide range of orthopedic patients and their families. Dedicated to delivering quality care while maintaining patient safety and comfort.
Core Skills:
Patient assessment and diagnosis
Treatment of orthopedic issues
Knowledge of orthopedic operations
Medical record documentation
Emergency response
Patient education
Surgical nursing
Infection control
Professional Experience:
Orthopedic Nurse
Hospital X, Anytown, USA
April 2010 – Present
Assess and diagnose orthopedic patients and develop comprehensive treatment plans
Administer medications, therapies, and treatments
Assist physicians with surgical procedures
Educate patients and their families on orthopedic issues and care
Monitor and document patient progress
Provide emergency response to serious orthopedic incidents
Coordinate patient care with other medical staff
Education:
Bachelor of Science in Nursing
University of Anytown, Anytown, USA
May 2005
Orthopedic Nurse Resume with No Experience
An enthusiastic and compassionate Orthopedic Nurse with a passion for providing quality patient care. Skilled in patient assessment, wound and fracture care, and documentation. Looking to leverage my knowledge and skills to contribute to a successful health care team.
Skills
Knowledge of Orthopedic Procedures
Excellent Interpersonal and Organizational Skills
Ability to Multi- Task and Prioritize Responsibilities
Excellent Time Management and Communication Skills
Attention to Detail and Accuracy
Responsibilities
Assisting orthopedic surgeons in pre- operative and post- operative care of patients.
Preparing and administering medications as assigned by the physician.
Assisting in dressing changes and wound care.
Educating patients and families on orthopedic care and rehabilitation.
Assisting in ambulation and physical therapy as needed.
Documenting all patient assessments, treatments, and progress.
Maintaining a clean and safe environment for patients.
Monitoring vital signs and reporting any irregularities to the physician.
Orthopedic Nurse Resume with 2 Years of Experience
A highly motivated and passionate Orthopedic Nurse with two years of experience in providing quality health care services to patients in a clinical setting. Compassionate, caring and detail- oriented healthcare professional experienced in managing orthopedic patient's care, assessment and treatment; consistently striving to exceed the standard of care. Possesses the ability to effectively assess patients' needs, establish rapport and build trust. Adept in formulating care plans and delivering comprehensive and individualized patient care.
Core Skills:
Excellent assessment and documentation skills
Exceptional interpersonal and communication skills
Knowledge of anatomy, physiology, and clinical procedures
Ability to work collaboratively with a multidisciplinary team
Proficient in computerized charting systems
Familiar with orthopedic treatments and medications
Responsibilities:
Assisting in the evaluation and assessment of patients' orthopedic needs
Providing wound care, orthopedic treatments and medication administration
Educating patients and families on the diagnosis, treatments and medications
Monitoring and recording patients' progress, vital signs, and laboratory results
Implementing and evaluating treatment plans in collaboration with doctors and other healthcare professionals
Providing support to patients and families and responding to their needs and concerns
Orthopedic Nurse Resume with 5 Years of Experience
Highly skilled Orthopedic Nurse with 5 years of experience delivering exceptional care to patients with musculoskeletal conditions, injuries, and disabilities. Possess a track record of ensuring timely follow- up care, collaborating with other medical professionals, and advocating for patient care. Experienced in assessing, diagnosing, and treating orthopedic conditions. Committed to providing the highest level of quality care with the utmost compassion.
Core Skills:
Knowledge of musculoskeletal anatomy and physiology
Ability to assess, diagnose, and treat orthopedic conditions
Proficient in diagnostic imaging and laboratory testing
Experienced in administering medications and therapy
Proficiency in using medical software
Excellent communication and interpersonal skills
Ability to work collaboratively with other medical professionals
Dedicated to providing the highest level of patient care
Responsibilities:
Assessing patient's musculoskeletal and neurological conditions
Operating and interpreting diagnostic imaging and laboratory tests
Administering medications and providing therapy to patients
Assisting in surgical procedures
Communicating with physicians and other medical staff
Educating patients and families on orthopedic conditions
Preparing medical reports and maintaining patient records
Monitoring patient progress and providing follow- up care
Collaborating with other medical professionals to develop treatment plans
Orthopedic Nurse Resume with 7 Years of Experience
Dynamic and experienced Orthopedic Nurse with seven years of clinical experience in providing advanced nursing care for orthopedic patients. Focused on delivering compassionate and quality nursing care for the musculoskeletal system, with experience in ortho- trauma, post- surgical care, joint replacements and wound care. Skilled in providing patient education, coordinating with multidisciplinary teams, and delivering evidence- based nursing care.
Core Skills:
Advanced knowledge of musculoskeletal anatomy and disease processes
Skilled in ortho- trauma, post- surgical care, joint replacements and wound care
Knowledge of evidence- based nursing practices and protocols
Excellent communication and interpersonal skills
Proficient in use of various medical equipment
Ability to develop and implement nursing care plans
Skilled in patient education
Ability to collaborate with multidisciplinary teams
Responsibilities:
Assisting orthopedic surgeons in surgeries and post- operative care
Assessing, monitoring and documenting patient care
Monitoring and interpreting vital signs
Performing wound care treatments
Administering medications, injections and intubation
Developing and implementing nursing care plans
Supervising and training of orthopedic nursing staff
Coordinating with physical therapists and other healthcare staff
Educating patients and families about diseases and treatments
Orthopedic Nurse Resume with 10 Years of Experience
Highly experienced Orthopedic Nurse with over 10 years of experience in providing patient focused care and support in orthopedic surgeries, procedures, and practices. Skilled in pre and post- operative treatments, patient assessments, and wound care management. Exceptional communication skills to build relationships with patients and their families, as well as collaborate with multidisciplinary teams. Highly organized and detail- oriented when developing treatment plans for patients and keeping accurate medical records.
Core Skills:
Patient- centered care
Surgical and procedural management
Wound care and treatment
Patient assessment
Documentation and recordkeeping
Clinical decision making
Patient and family education
Compassionate communication
Responsibilities:
Assessed patients and develop detailed treatment plans
Performed daily patient assessments, wound treatments, and post- operative care
Managed patient- centered care to ensure best outcomes
Documented patient health information and updates
Educated patients and their families on treatment plans and post- operative care
Collaborated with multidisciplinary teams to provide the best care
Administered medications and other treatments accurately and in a timely manner
Ensured proper sterilization of tools and equipment
Orthopedic Nurse Resume with 15 Years of Experience
Dynamic Orthopedic Nurse with over 15 years of experience in providing comprehensive orthopedic care in a variety of settings. Possess strong clinical and interpersonal skills and experience in the assessment, diagnosis and treatment of a wide range of orthopedic and musculoskeletal conditions. Adept in developing exemplary nursing care plans, providing patient education and coordinating the activities of nursing and other medical staff.
Core Skills:
Patient Care
Orthopedic Care
Clinical Documentation
Assessment and Diagnosis
Treatment Planning
Patient Education
Infection Prevention
Interpersonal Communication
Problem Solving
Responsibilities:
Assess, diagnose, and treat a variety of orthopedic and musculoskeletal issues
Develop individualized nursing care plans for orthopedic patients
Provide direct patient care, including wound care, casts, splints and orthopedic appliances
Educate patients and their families on the best management of orthopedic issues
Diagnose and treat musculoskeletal conditions and injuries
Monitor patient progress and prepare reports to physicians
Collaborate with multidisciplinary teams to ensure quality patient care
Coordinate with other staff members to ensure efficient patient care
Administer medications, injections and other treatments as prescribed
Supervise and train newly hired orthopedic nurses
In addition to this, be sure to check out our resume templates, resume formats, cover letter examples, job description, and career advice pages for more helpful tips and advice.
What should be included in a Orthopedic Nurse resume?
A well-written resume is your best foot forward in your quest to become an Orthopedic Nurse. When putting together your resume, be sure to include the following:
Education: Your nursing degree and any certifications, licenses, or awards you have earned.
Work Experience: List any relevant experience in nursing, both in the orthopedic specialty and in general, as well as any other professional positions you have held.
Clinical Skills: Include any specialized clinical skills you have acquired in the orthopedic field.
Computer Skills: Many healthcare organizations require their nurses to be proficient in computer systems, so make sure to include any related skills or experience.
Special Skills: List any special skills or techniques relevant to orthopedic nursing.
Professional References: If you have positive references from people in the medical field, include their contact information.
Personal Qualities: Highlight any qualities that make you a great nurse and team member, such as your dedication, empathy, and professionalism.
Leadership: Include any relevant leadership positions you have held, such as supervising other nurses.
Extracurricular Activities: List any extracurricular activities related to orthopedic nursing, such as professional organizations or continuing education classes.
What is a good summary for a Orthopedic Nurse resume?
A good summary for an orthopedic nurse resume should highlight the applicant's experience in caring for patients with musculoskeletal conditions and injuries, as well as their organizational and interpersonal skills. It should also focus on the applicant's knowledge of orthopedic treatments and procedures, as well as their commitment to providing quality patient care. The summary should also demonstrate the applicant's ability to work well in a team setting and adhere to all medical protocols. Orthopedic nurses must possess the necessary communication skills and emotional intelligence needed to provide accurate assessment, treatment, and education to patients. A good summary should effectively communicate that the applicant has all of these qualities and is a great choice for the position.
What is a good objective for a Orthopedic Nurse resume?
When crafting an objective for your Orthopedic Nurse resume, it is important to emphasize your qualifications, values, strengths and experiences. An Orthopedic Nurse is responsible for providing specialized care for patients with musculoskeletal injuries and disorders.
Here are some objectives to consider for your Orthopedic Nurse resume:
Develop an individualized plan of care for each patient while maintaining high standards of patient care.
Provide specialized nursing care and assessments to patients with musculoskeletal disorders.
Utilize evidence-based practice to create individualized patient plans.
Work collaboratively with physicians and other healthcare professionals to provide top-level quality patient care.
Monitor patient progress and adjust the treatment plan as needed.
Educate and support patients and their families regarding diagnosis, treatment, and safety practices.
Apply professional nursing judgment, evidence-based practice, and critical thinking skills to all patient care activities.
Demonstrate commitment to the highest standards of care and patient safety.
How do you list Orthopedic Nurse skills on a resume?
When applying for a job as an Orthopedic Nurse, you will need to showcase your skills and experience on your resume. In order to make the best impression, you should highlight the skills that are most relevant to the position. Here are some of the core skills you should list on your Orthopedic Nurse resume:
Providing high-quality nursing care for orthopedic patients
Assisting in pre- and post-operation care
Administering medications and treatments
Assessing patient needs and creating an individual care plan
Interpreting diagnostic tests and medical records
Educating patients and families about orthopedic issues
Monitoring patient progress and responding to changes
Working closely with orthopedic surgeons and other specialists
Collaborating with a multidisciplinary team
Maintaining accurate patient records
Demonstrating excellent communication and interpersonal skills.
What skills should I put on my resume for Orthopedic Nurse?
A career as an orthopedic nurse can be incredibly rewarding and offer a variety of opportunities for growth. In order to be successful in this field, it is important for an orthopedic nurse to have a variety of skills and knowledge. To ensure you stand out from other candidates, here are some of the skills you should include on your resume when applying for an orthopedic nurse role:
Clinical Experience: An orthopedic nurse must have experience in a clinical setting, such as a hospital or medical office. You should highlight any prior clinical experience you have on your resume, as well as any specialized training related to orthopedics.
Communication Skills: Orthopedic nurses must possess strong communication skills in order to effectively communicate with patients and other healthcare professionals. Showcasing your ability to effectively communicate will demonstrate your commitment to patient care.
Critical Thinking: This is a must for any nurse, but especially for an orthopedic nurse. You must be able to think quickly and solve problems on the spot. Highlighting your critical thinking skills will let potential employers know you are up for the challenge.
Medical Knowledge: Orthopedic nurses must have a comprehensive knowledge of anatomy and physiology in order to effectively assess and treat patients. You should include any specialized medical knowledge you have related to orthopedics on your resume.
Attention to Detail: Orthopedic nurses must pay close attention to detail in order to ensure accurate diagnosis and treatment of patients. Highlighting your attention to detail can demonstrate your commitment to providing high-quality patient care.
By including these skills on your resume, you can demonstrate to potential employers that you possess the qualities and knowledge necessary to be an effective orthopedic nurse.
Key takeaways for an Orthopedic Nurse resume
Writing a resume for an orthopedic nurse should be approached like any other resume – you want to make sure that you showcase your professional experience and qualifications, highlight your skills that make you a great candidate for the job, and make it readable and easy for hiring managers to find the information they need. However, there are some specific tips and key takeaways that you should consider when crafting an orthopedic nurse resume.
When constructing your resume, include information about your orthopedic nursing experience and qualifications. If you have experience in orthopedic surgery, make sure to list that. Also, mention any certifications or continuing education related to orthopedic nursing that you have taken. Additionally, include a list of your skills and any specialties that you possess related to orthopedic nursing.
Also, make sure to list any specializations or areas of expertise that you have. For example, if you have experience working with pediatric orthopedic patients, make sure to list that and any special considerations or techniques you used. Similarly, if you have experience in rehabilitating patients with orthopedic issues, make sure to include that.
Lastly, include any awards or recognition that you have received for your work in orthopedic nursing. This can be anything from recognition for outstanding patient care to awards for exceeding expectations. Make sure to list the award or recognition and how it was earned.
By following these tips and key takeaways, you can create a strong, effective orthopedic nurse resume that showcases your skills and experience and makes a great impression on hiring managers.
Let us help you build
your Resume!
Make your resume more organized and attractive with our Resume Builder