An Oncology RN plays an important role in the care and treatment of patients with cancer. While their job is both emotionally challenging and rewarding, it is equally important to present their qualifications in a way that will stand out from the competition. Writing a resume for an oncology RN can be a difficult task, and it is important to highlight the skills, education, and experience that make you a qualified candidate. This guide is designed to provide an Oncology RN with guidance and examples on how to write a professional, effective resume.
If you didn't find what you were looking for, be sure to check out our complete library of resume examples.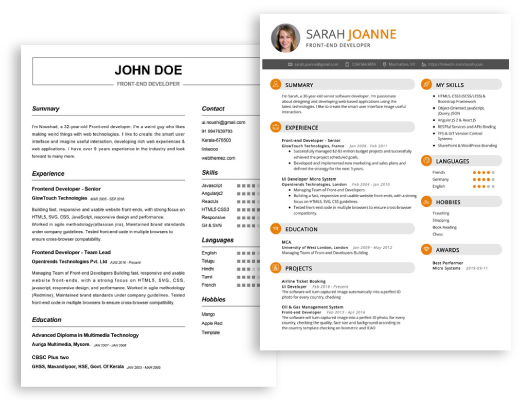 Start building your dream career today!
Create your professional resume in just 5 minutes with our easy-to-use resume builder!
Oncology RN Resume Examples
John Doe
Oncology RN
123 Main Street | Anytown, USA 99999 | Phone: (123) 456-7890 | Email: john.doe@email.com
Highly motivated and patient- focused Oncology RN with over 9 years of experience in providing compassionate and dedicated care to cancer patients. Possess in- depth knowledge of oncology treatments, medications, and procedures, adept at providing evidence- based nursing care to a variety of oncology patients. Demonstrated success in delivering high- quality care, evaluating patient responses, and providing emotional support to patients and their families. Skilled at collaborating with physicians, nurses, and other healthcare personnel to ensure the highest quality of patient care.
Core Skills:
Oncology Nursing
Patient Assessment
Patient Education
Medication Administration
IV Insertion & Management
Interdisciplinary Team Collaboration
Charting & Documentation
Wound Care
Professional Experience:
Oncology RN, ABC Medical Center, 2014- Present
Provide nursing care to cancer patients in accordance with oncology standards and protocols
Monitor patient condition and response to treatment and medications, adjusting as needed
Educate patients and families on disease process, treatments, and medications
Administer oral and intravenous medications and monitor patient response
Assist with patient mobility and transfers, wound care, and other patient interventions
Collaborate with physicians, nurse practitioners, and other healthcare personnel to provide comprehensive care
Education:
Bachelor of Science in Nursing, ABC University, 2010
Current RN License, State Board of Nursing, 2010- Present
Oncology RN Resume with No Experience
Compassionate and driven nursing professional with a strong desire to help patients and their families cope with the physical and emotional strain of a cancer diagnosis.
Skills
Strong clinical assessment skills
Excellent communication and interpersonal skills
Knowledge of medical terminology
Proficient in Electronic Medical Record software
Knowledge of infection control protocols
Ability to multitask and prioritize patient needs
Responsibilities
Provided emotional support to patients and their families
Assisted physicians in providing care to patients
Assessed patients' conditions and response to treatments
Developed care plans to meet individual patient needs
Monitored patient vital signs and administered medications
Provided patient education about treatments and medications
Handled administrative tasks such as charting and keeping records
Assisted with scheduling tests and treatments
Oncology RN Resume with 2 Years of Experience
Highly skilled and dedicated Oncology RN with 2 years of experience in providing evidence- based care to oncology patients. Expert in delivering patient- centered care, demonstrating strong clinical assessment skills and knowledge to ensure accurate diagnosis and treatment. Proven ability to collaborate effectively with interdisciplinary teams to provide comprehensive care. Excellent communicator with a compassionate attitude and a commitment to delivering quality care.
Core Skills:
Patient- centered Care
Clinical Assessment
Interdisciplinary Collaboration
Oncology Nursing
Evidence- Based Care
Patient Education
Quality Care
Communication
Responsibilities:
Educated patients and families on cancer diagnosis, treatment plans, and medication management
Conducted clinical assessments and interpreted lab results to customize treatment plans
Worked closely with interdisciplinary teams to develop and implement care plans
Monitored patient progress, updated medical records, and reported changes in patient condition to physicians
Developed and maintained strong relationships with patients and encouraged patient participation in care decisions
Administered chemotherapy, radiation, and other treatments, monitored patient response to treatments, and adjusted treatments as needed
Ensured proper infection control procedures were followed and updated patient charts as needed
Oncology RN Resume with 5 Years of Experience
I am an experienced Oncology RN with five years of experience in a variety of settings including acute, ambulatory, and home care. I strive to provide compassionate and comprehensive care to individuals undergoing cancer treatments, offering emotional support and guidance in adapting to lifestyle changes. My expertise includes patient assessment and education, administration of chemotherapy, symptom management, and patient advocacy. I am knowledgeable in local and national oncology standards of care and have the ability to work in team- oriented environments.
Core Skills:
Comprehensive knowledge of oncology standards of care
Skilled in patient assessment, education, and advocacy
Ability to administer chemotherapy and provide symptom management
Highly experienced in acute, ambulatory, and home care settings
Strong knowledge of JCAHO standards, Medicare, and Medicaid regulations
Excellent communication and interpersonal skills
Responsibilities:
Assessing patient health needs and developing appropriate care plans
Administering chemotherapy and other treatments as prescribed
Educating patients and families on cancer and symptom management
Monitoring patient progress and adapting care plans accordingly
Collaborating with physicians and other healthcare providers
Ensuring compliance with local, state, and national standards of care
Developing patient advocacy and support programs
Maintaining patient confidentiality and records
Oncology RN Resume with 7 Years of Experience
I am an experienced Oncology RN with 7 years of experience in providing comprehensive care for cancer patients. I am highly knowledgeable in various cancer- related treatments and medications, and possess a vast understanding of the psychological and emotional implications of a cancer diagnosis. I am adept at communicating and working with physicians, patients and families to ensure the best possible care for the patient. In addition, I have excellent time- management and organizational skills and have a passion for helping others.
Core Skills:
Assisted with diagnosis and treatment of cancer
Managed patient care plans and medication
Provided support and counseling to patients and families
Coordinated with physicians and other healthcare professionals
Applied evidence- based practices to ensure safe and effective care
Maintained patient records
Demonstrated excellent organizational, communication, and time management skills
Responsibilities:
Assessed and monitored patients' physical and emotional conditions
Provided patient education and counseling on treatment options and outcomes
Administered chemotherapy, immunotherapy, and radiation treatments
Collaborated with other healthcare professionals in the management of care
Maintained patient records and updated patient charts
Developed personalized care plans
Coordinated patient care with other health care providers
Oncology RN Resume with 10 Years of Experience
Experienced Oncology RN with over 10 years of experience in providing nursing care to oncology patients. Skilled in the delivery of chemotherapy and radiation treatments and management of chemotherapy- induced nausea and vomiting. Possess a strong focus on patient education and care coordination. Demonstrates a high level of clinical competency and motivation to improve patient care.
Core Skills:
Excellent bedside manner
Broad knowledge of oncology treatments and care
Ability to prioritize tasks and work in a fast- paced environment
Well- versed in chemotherapy- induced nausea and vomiting management
Excellent communication skills
Empathetic and compassionate
Strong patient advocacy
Exceptional problem- solving skills
Responsibilities:
Provide direct nursing care to patients in the oncology unit
Manage side effects of chemotherapy and radiation
Assist with treatments and procedures
Assess patient status and administer medications
Educate patients and family members on treatments and care plans
Coordinate with other healthcare professionals
Monitor vital signs and administer treatments as directed
Document patient information and care plans
Participate in patient care conferences and other meetings
Develop and implement patient- specific care plans
Provide emotional and spiritual support to patients and their families
Oncology RN Resume with 15 Years of Experience
Highly experienced oncology RN with 15 years of delivering exceptional care to diverse patient populations. Skilled in administering chemotherapy, managing cancer treatment, and providing emotional support to families and patients. Proven ability to lead interdisciplinary teams and coordinate care plans to maximize results and patient comfort.
Core Skills:
Oncology Nursing
Chemotherapy Administration
Cancer Treatment Management
Patient Education
Interdisciplinary Team Coordination
Medication Administration
Pain Management
IV Insertion and Maintenance
Vital Sign Monitoring
CPR/BLS Certification
Responsibilities:
Assessed patients' physical and psychological condition to create tailored care plans
Monitored and recorded patient vital signs and reported any changes to the physician
Administered chemotherapy according to physician orders, monitored patients' reactions, and provided emotional support
Provided patient and family education on cancer treatments and self- care techniques
Coordinated between the interdisciplinary teams and managed patient care plans
Administered medication and other treatments according to physicians' orders
Provided post- operative care and monitored patient progress
Performed IV insertion, maintenance, and replacement as needed
Performed CPR, oxygen administration, and assisted with other life- saving measures if needed
In addition to this, be sure to check out our resume templates, resume formats, cover letter examples, job description, and career advice pages for more helpful tips and advice.
What should be included in a Oncology RN resume?
A resume for an Oncology RN should accurately and clearly summarize your experience, education, and skills. It should also demonstrate your ability to provide excellent care to cancer patients. When crafting your resume, make sure to include the following:
Professional Summary/Objective: A concise and powerful summary that highlights your expertise as an Oncology RN and emphasizes your ability to provide excellent care to cancer patients.
Education: Your degree, certification programs, and continuing education related to oncology.
Experience: All relevant nursing experience, especially oncology-specific.
Skills: Any specific oncology-related skills, such as administering chemotherapy, pain management, communication with medical professionals, and patient education.
Accomplishments: Awards, certifications, or achievement that demonstrate your expertise as an Oncology RN.
Professional Affiliations: Any professional organizations or memberships you are a part of.
By including all of these elements in your resume, you will be able to accurately and effectively demonstrate your skills and experience in an Oncology RN role.
What is a good summary for a Oncology RN resume?
When creating a resume for an Oncology RN position, it is important to provide a concise summary of your qualifications for the role. Your summary should include your most relevant experience, skills and qualifications, as well as any certifications or credentials you have. You should also include a brief overview of any volunteer work or special projects you have completed in the field. Be sure to emphasize any experience or specializations you have that are specific to the oncology field. Finally, include any additional key qualifications that make you a strong candidate, such as the ability to provide compassionate patient care or a commitment to staying up to date on the latest treatments and techniques. A well-written summary will help you stand out and get noticed by employers.
What is a good objective for a Oncology RN resume?
When writing an Oncology RN resume, setting an objective is important to accurately reflect the skills and qualifications you possess. A good objective should not only establish you as a qualified candidate, but also showcase your commitment to the field. Here are some tips for writing an effective objective for an Oncology RN resume:
Focus on your qualifications: Highlight specific skills, qualifications, and certifications you have that are relevant to the field.
Hone in on your passions: To demonstrate enthusiasm and dedication, mention your passion and dedication to the field of oncology.
Keep it concise: Make sure the objective is brief and to the point; no more than a few sentences is ideal.
Demonstrate competency: Emphasize specific competencies you possess that are relevant to the field, such as medical terminology, patient care, and medication administration.
By following these tips, you can write an effective objective that accurately reflects your qualifications and commitment to the field of oncology.
How do you list Oncology RN skills on a resume?
As an Oncology RN, you possess specialized skills and experience that can make you an attractive candidate for potential employers. It is important to list these skills on your resume so that employers can easily see the knowledge and qualifications that you bring to the table. Here are some tips for listing your Oncology RN skills on your resume:
Provide a comprehensive list of your clinical skills, including administering chemotherapy, radiation therapy and other treatments, as well as providing patient education and support.
Demonstrate your knowledge of oncology disease processes.
Highlight your experience with the latest medical technologies and treatments.
Boast your ability to work with other healthcare professionals and adhere to medical protocols.
Showcase your expertise in delivering care to oncology patients over a broad age range.
Detail your experience with documentation and documentation systems for oncology patients.
Describe your ability to work with families and caregivers of oncology patients.
Demonstrate your knowledge of palliative care principles and practices.
Showcase your experience with symptom management and symptom control for oncology patients.
Detail your ability to respond effectively in emergency situations.
Describe your cultural competency in interacting with patients from a variety of backgrounds.
Highlight your emotional intelligence when working with oncology patients and their families.
What skills should I put on my resume for Oncology RN?
When it comes to resumes for an Oncology RN position, it is essential to make sure that you include the right skills and qualifications in order to stand out from the competition. Your resume should showcase your experience, abilities, and knowledge that you have acquired throughout your career.
Below are the specific skills that should be included on your resume for an Oncology RN position:
Expertise in cancer treatments, both chemotherapy and radiation
Familiarity with medical terminology related to oncology and cancer research
Knowledge of chemotherapy and radiation safety protocols
Ability to administer chemotherapy and radiation therapy
Experienced in providing patient care and monitoring patient progress
Understanding of oncology practices and procedures
Record keeping and documentation experience
Ability to work with a multidisciplinary team
Excellent communication skills
Compassionate nature and the ability to empathize with patients
By including the most relevant skills on your resume, you can ensure that your application stands out from the competition and increases your chances of getting hired.
Key takeaways for an Oncology RN resume
As an oncology nurse, it is important to have an effective resume that emphasizes your experience and capabilities while also highlighting your success in this field. Here are some key takeaways that should be included when constructing an Oncology RN resume:
Highlight your relevant experience. Your resume should clearly highlight your experience in the field of oncology, including any specializations and any relevant certifications.
Demonstrate your ability to work with patience, compassion, and understanding. Oncology nurses work with patients in a very sensitive position, and it is important to demonstrate the ability to work with empathy and respect for their needs.
Showcase your knowledge. Highlighting any continuing education courses, specializations, research, or other knowledge and skills that you may have obtained in the field will be beneficial.
Outline your communication skills. Oncology nurses must have excellent communication skills in order to interact effectively with both patients and other healthcare professionals.
Describe your commitment. An oncology nurse should be diligent and devoted to patient care and comfort. It is important to demonstrate a commitment to the profession and to patient care.
Include your awards and recognition. If you have won any awards or been recognized in any manner, this should be included in your resume to demonstrate personal achievements.
These key takeaways should be included in any Oncology RN resume. Employers will be looking for evidence of your experience, commitment, and knowledge, so make sure to include relevant information to ensure that you stand out from other applicants.
Let us help you build
your Resume!
Make your resume more organized and attractive with our Resume Builder