Writing a nurse resume can be a daunting task, especially when you consider all the important components that need to be included. A well written, comprehensive resume will showcase your qualifications and career accomplishments to potential employers, as well as show your commitment to the nursing profession. In this guide, we will provide you with an overview of how to write an effective nurse resume, as well as provide you with examples to help you get started.
If you didn't find what you were looking for, be sure to check out our complete library of resume examples.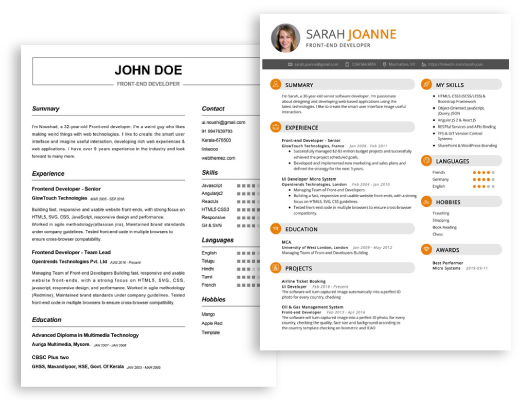 Start building your dream career today!
Create your professional resume in just 5 minutes with our easy-to-use resume builder!
Nurse Resume Examples
John Doe
Nurse
123 Main Street | Anytown, USA 99999 | Phone: (123) 456-7890 | Email: john.doe@email.com
I am a motivated, organized and efficient nursing professional with over 10 years of experience providing compassionate and quality health care to patients. I am a strong leader and have extensive experience working in a team- oriented environment. I have excellent organizational and communication skills, and I am committed to providing the best health care possible. I am confident that my qualifications and dedication to the profession will make me an asset to any health care team.
Core Skills:
Excellent communication and interpersonal skills
Skilled in providing assessment, diagnosis, and treatment of patients
Proficient in EMR and other health care systems
Experienced in providing patient education
Knowledgeable of regulatory and legal standards
Ability to remain calm under pressure
Professional Experience:
Registered Nurse, ABC Medical Center, 2019- present
Assess patients' health and provide treatment
Monitor and adjust treatments based on patient needs
Document patient progress and health records
Educate patients on health care processes and procedures
Registered Nurse, XYZ Hospital, 2014- 2019
Monitored patients' vital signs and provided treatment
Developed and implemented care plans for patients
Educated patients and families on health care processes and procedures
Followed safety and infection control protocols
Education:
Bachelor of Science in Nursing, ABC University, 2014
Associate Degree in Nursing, XYZ College, 2011
Certified Registered Nurse, State Board of Nursing, 2009
Nurse Resume with No Experience
Recent nursing graduate with no prior professional experience yet dedicated to offering patient- centered care while continually developing clinical knowledge and expertise. Proven ability to handle challenging patient care scenarios with efficiency and compassion.
Skills
Patient Care: Demonstrated ability to provide high- quality patient care in a variety of clinical settings.
Clinical Judgment: Skilled in making accurate medical assessments and diagnoses.
Communication: Ability to effectively communicate with patients, families, and health care teams.
Documentation: Ability to accurately document patient care in accordance with established standards.
Teamwork: Demonstrated ability to collaborate with other health care professionals.
Responsibilities
Assisted with patient intake, obtaining vital signs and medical histories.
Assisted physicians and nurses with patient exams and treatments.
Monitored vital signs and administered medications and treatments as prescribed.
Recorded patient progress notes, laboratory test results, and educational materials.
Performed duties in accordance with hospital policies, procedures, and standards.
Nurse Resume with 2 Years of Experience
A dedicated and experienced nurse with two years of experience in providing quality nursing care to a wide range of patients. Experienced in both acute and long- term care, with a specialty in geriatric care. Possesses excellent organizational and communication skills, as well as a commitment to patient- centered care. Effectively utilizes knowledge of medical terminology, standard of care guidelines, and treatment protocols.
Core Skills:
Patient Assessment
Medication Administration
Patient Education
Documentation
Triage
Interpersonal Skills
Teamwork
Responsibilities:
Providing compassionate, competent, and comprehensive care to diverse patient population.
Assessing and monitoring the physical, psychological, and emotional needs of the patient.
Administering medications accurately and safely.
Educating patients and families on health- related topics.
Documenting patient care accurately and timely.
Remaining up- to- date with current standards of care.
Collaborating effectively with other health care providers.
Nurse Resume with 5 Years of Experience
As a Nurse with 5 years of experience, I am an enthusiastic professional dedicated to providing exceptional care and service. I possess an unwavering commitment to patient care and a passion for ensuring a safe, comfortable, and pleasant experience for all. I am highly organized and detail- oriented with the ability to manage multiple tasks and prioritize effectively. My strong communication and interpersonal skills allow me to collaborate with a team of healthcare professionals to provide comprehensive and individualized care.
Core Skills:
Providing superior patient care
Developing comprehensive care plans
Administering prescribed medications
Proficient in health assessment and diagnostics
Conducting patient education and counseling
Documenting patient information and records
Maintaining patient privacy and confidentiality
CPR and First Aid Certification
Responsibilities:
Monitoring and assessing patient conditions
Performing medical tests and evaluations
Developing patient treatment plans
Administering medications and treatments
Coordinating with physicians and other healthcare professionals
Supervising and training other nurses and personnel
Maintaining accurate patient records
Communicating with patients and family members
Providing emotional support and reassurance.
Nurse Resume with 7 Years of Experience
Highly experienced and organized nurse with 7 years of experience providing high quality healthcare to patients. Possesses a proven ability to form strong relationships with all levels of staff and seeks to develop meaningful and long- lasting relationships with patients. Demonstrates a clear commitment to patient safety, comfort, and well- being, with a passion for helping others. Possesses excellent communication skills and the ability to provide compassionate and effective patient care.
Core Skills:
Excellent interpersonal and communication skills
Strong decision- making and problem- solving skills
Strong leadership and organizational skills
Able to remain calm in stressful and emergency situations
Knowledge of medical terminology, anatomy and physiology
Proficient in electronic medical records (EMR)
Responsibilities:
Assessing and evaluating the health status of patients to create a customized plan of care
Administering medications and treatments according to orders from practitioners
Monitoring, recording, and reporting symptoms and changes in patient's condition
Collaborating with other healthcare professionals to coordinate optimal patient care
Educating patients and families on treatments and procedures
Providing emotional support and comfort to patients and families in times of crisis
Maintaining clean and sanitary patient care areas
Nurse Resume with 10 Years of Experience
I am a registered nurse with over 10 years of experience in providing comprehensive care to patients. I have expertise in health promotion, patient and family education, and medical procedures. I am adept at using medical technology to assist with patient care and have a strong commitment to providing quality care. I have extensive experience in assessing, planning, and managing patient care, as well as developing and executing patient care plans. I have a strong work ethic and communication skills, which have enabled me to develop lasting relationships with both patients and colleagues.
Core Skills:
Patient and family education
Patient assessment and care planning
Developing and executing care plans
Medical technology expertise
Strong communication and interpersonal skills
Professionalism and ethical conduct
Time management and organizational skills
Knowledge of medical procedures and terminology
Responsibilities:
Monitoring patient health and providing support
Recording and documenting patient care services
Educating patients and their families on health management
Administering medications and treatments
Collaborating with other healthcare professionals
Documenting progress and changes in patient care plans
Performing diagnostic tests and interpreting results
Maintaining a safe, clean environment and sterile techniques
Nurse Resume with 15 Years of Experience
Highly experienced nurse with 15 years of hands- on experience working in both acute and long- term care settings. Demonstrated expertise in providing compassionate care to patients and their families. Proven track record of monitoring patient health and assisting in the recovery process. Well- versed in nursing standards and procedures, with a strong commitment to quality patient care.
Core Skills:
Patient Assessment
Medication Administration
Wound Care
Charting & Documentation
Infection Control
Critical Thinking
Training and Supervision
Emergency Response
Health Education
Responsibilities:
Developed and implemented individualized patient care plans.
Conducted patient assessments and monitored changes in patient conditions.
Administered medications and treatments as prescribed by physicians.
Performed wound care, including dressing changes and suture removal.
Ensured accurate and timely documentation of patient care in medical records.
Collaborated with interdisciplinary teams to ensure optimal patient care and outcomes.
Assisted in the development of protocols and policies to ensure adherence to regulatory standards.
Educated patients and their families on health maintenance, safety, and illness prevention.
Responded quickly and effectively to emergency situations.
Supervised nursing staff to ensure high standards of patient care.
In addition to this, be sure to check out our resume templates, resume formats, cover letter examples, job description, and career advice pages for more helpful tips and advice.
What should be included in a Nurse resume?
A nurse resume should include all the pertinent information necessary to showcase a candidate's qualifications for a nursing position. It should include sections like the following:
Contact information: This should include name, address, phone number, and email address.
Objective: A brief sentence outlining the applicant's purpose for applying for the job.
Skills: List of all relevant skills, such as licensed nurse, EMR experience, etc.
Education: Include degree, school attended, and year graduated.
Experience: List all relevant work experience. Include job title, dates employed, and list of duties.
Certifications: List any certifications the applicant has obtained such as CPR, BLS, etc.
Specialties: List any specialty areas of nursing the applicant has experience in.
Volunteer Experiences: List any volunteer experiences related to the position.
References: List of references with complete contact information.
A nurse resume should be tailored to the job being applied for and should clearly demonstrate the applicant's qualifications and experience. It should be written in a professional yet engaging manner. Additionally, any relevant accomplishments or awards should be included in the resume.
What is a good summary for a Nurse resume?
A good summary for a Nurse resume should highlight a candidate's skills, experience, and education relevant to the job they are applying for. It should also be brief and to the point, focusing on the top qualifications that make them a great choice for the job. For example, the summary may start off with the number of years of experience and the type of nursing specialty the candidate has. It can then highlight successes throughout their career, such as awards, certifications, and achievements. The summary should also include any additional skills or qualifications that make the candidate stand out from the crowd. Ultimately, a good summary should communicate the nurse's qualifications and experience, while capturing the reader's attention and encouraging them to read the full resume.
What is a good objective for a Nurse resume?
A nurse resume should always start with an objective statement. This statement should be tailored to the employer and the specific job you are applying for. The objective is the first thing an employer will read and should immediately show them the value you can bring to their organization.
A good nurse resume objective should include the following:
A summary of your qualifications and experience
Your career goals and how they align with the position you are applying for
Your passion for the job and your enthusiasm for helping people
Your commitment to upholding high professional standards
Any special skills or certifications you have that are relevant to the position
How you can use your experience and knowledge to benefit the organization
By crafting an objective statement that is focused, clear, and tailored to the job and organization, you will be able to present yourself as an ideal candidate and show employers the value you can bring to their team.
How do you list Nurse skills on a resume?
When applying for a nursing position, it is essential to list the necessary skills that you possess for the role in your resume. Here are some tips for listing nurse skills on your resume.
Include a skills section: This section should be included near the top of your resume and should include general nursing skills as well as any specialized skills you may have.
Use relevant keywords: In order to make your resume stand out, make sure to use keywords from the job posting. This will help employers to quickly identify your qualifications.
Be specific: Make sure to be specific when listing your skills. For example, instead of simply writing "IV insertion", you can specify the years of experience that you have with IV insertion.
Highlight certifications: If you have any certifications or licenses, make sure to list them in your resume. This is a great way to showcase your qualifications and make your application stand out.
Showcase experience: If you have any experience in the field of nursing, make sure to list it in your resume. This will help to demonstrate your knowledge and expertise in the field.
By following these tips, you will be able to effectively list your nurse skills on your resume and make your application stand out among the competition.
What skills should I put on my resume for Nurse?
When applying for a nursing job, there are many important skills and qualifications that potential employers are searching for. Creating a resume that showcases your relevant experience and the qualities that make you an ideal candidate for the position is essential in the job search process. To ensure that your resume is competitive and stands out from the competition, here is a list of important skills to consider including on your resume when applying for a nursing job:
Clinical Skills: Nursing is a hands-on job and requires technical knowledge and clinical experience. Make sure to highlight any clinical skills you have acquired in your resume, such as patient assessments, medical terminology, administering medications, and IV therapy.
Communication Skills: Nursing requires strong communication skills to be able to effectively communicate with patients, families, colleagues, and other healthcare professionals. Make sure to include examples of the communication skills you have acquired in your resume, such as having an effective bedside manner, collaborating with other healthcare professionals, and maintaining professional relationships with patients and families.
Documentation Skills: Nursing requires attention to detail and good documentation skills. Make sure to list any experience you have with medical documentation, such as charting patient records, creating reports, and keeping accurate patient records.
Problem-Solving Skills: As a nurse, you are responsible for recognizing and responding to medical issues quickly and efficiently. Make sure to mention any problem-solving skills you have acquired, such as being able to think critically and make decisions in a fast-paced environment.
Compassion: Compassion is an essential quality for a nurse to possess. Make sure to emphasize your compassion for others and your ability to provide comfort and support to patients and families.
By including the above qualities and skills on your resume, you can demonstrate to potential employers that you have the qualifications they are looking for in a nursing candidate.
Key takeaways for an Nurse resume
If you are an aspiring nurse or are an experienced nurse looking to make a career change, it's important to ensure that your resume stands out. Having an effective, well-crafted resume will help you land an interview and get you one step closer to your dream job. Here are some key takeaways for an effective nurse resume:
Highlight your education and certifications: As a nurse, it's important to showcase your credentials and highlight your educational background and any certifications you have obtained.
Showcase your clinical experience: Showing your clinical experience and the kind of patient care you provide is important to employers. Make sure to list any specialties you have and any procedures or treatments you have experience in.
Describe your accomplishments: It's important to showcase a variety of accomplishments in your resume. Examples of accomplishments can include awards, successful patient outcomes, or even enhancing the patient experience.
Be specific: When describing your roles, responsibilities, and accomplishments, make sure to be specific and provide details. This will help employers gain a better understanding of your capabilities and experience.
Format your resume: It's important to have your resume look professional and well-organized. Many nurses choose to include a summary at the top to highlight their qualifications, followed by a section for experience, education, and certifications.
Tailor your resume: It's important to tailor your resume for the specific job you are applying for. Take the time to research the job and the organization and make sure to highlight relevant experience and skills.
These are some key takeaways to keep in mind when crafting your resume as an aspiring or experienced nurse. With the right approach and a well-crafted resume, you can ensure that you stand out and get the job you want.
Let us help you build
your Resume!
Make your resume more organized and attractive with our Resume Builder