A nurse tech resume is essential for anyone looking to get their foot in the door and become part of the nursing field. It's important to know how to craft a compelling resume that stands out from the competition and showcases your skills and experience. That's why we've put together this guide to help you write a nurse tech resume. In this guide, you'll find helpful tips and sample resumes to use as templates when creating your own. We'll discuss the different sections of your resume and how to include relevant information to show off your qualifications. With this guide, you'll be able to write a nurse tech resume that will make an impact and showcase your qualifications, so you can get that job!
If you didn't find what you were looking for, be sure to check out our complete library of resume examples.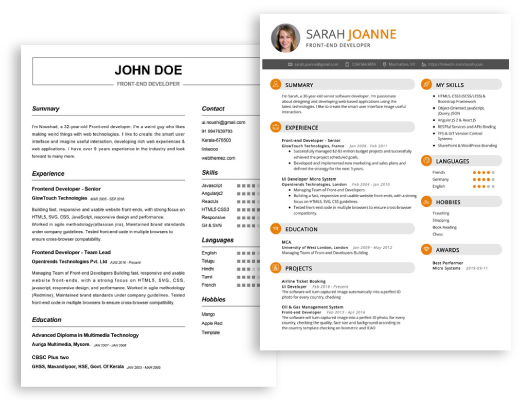 Start building your dream career today!
Create your professional resume in just 5 minutes with our easy-to-use resume builder!
Nurse Tech Resume Examples
John Doe
Nurse Tech
123 Main Street | Anytown, USA 99999 | Phone: (123) 456-7890 | Email: john.doe@email.com
Dynamic, highly motivated Nurse Tech with 5+ years of experience providing direct patient care in busy hospital and outpatient settings. Experienced in working with a diverse patient population and equipped with strong critical thinking and problem- solving skills. Possess strong communication, documentation, and organizational skills with a passion for delivering compassionate patient care. Committed to delivering high- quality patient care and working with a team of healthcare professionals to ensure positive outcomes.
Core Skills:
Patient assessment
Vital signs monitoring
Patient treatments
Medication administration
Laboratory specimen collection
Wound Care
Patient education
Charting, documentation and reporting
Equipment sterilization
Infection Control
Professional Experience:
Nurse Tech, St. Mary's Hospital | October 2016 – Present
Deliver quality patient care and assist nursing staff in providing direct patient care
Administer medications, monitor vital signs and document patient medical records
Assist with laboratory specimen collection and transport
Manage patient treatments including wound care, IVs and other related procedures
Provide patient education regarding preventive care and treatment plans
Perform equipment sterilization and infection control measures
Nurse Tech, St. James Outpatient Center | April 2015 – October 2016
Assisted with patient assessment and charting
Monitored patient vitals and provided patient treatments
Assisted with laboratory specimen collection and transport
Delivered patient education on preventive care, treatments and self- care
Ensured the safety of patients by monitoring for potential risks
Maintained patient records and reported any change in condition immediately
Education:
Bachelor of Science in Nursing, St. Mary's University, August 2012
Registered Nurse License, State of California, June 2015
Certified Nurse Technician,
Nurse Tech Resume with No Experience
Recent nursing school graduate with a passion for providing exceptional patient care. Skilled in navigating various medical software systems and well- versed in patient documentation and medication administration. Ability to work independently in teams or within a large healthcare setting.
Skills
Excellent communication and organizational skills
Proficient in various medical software systems
Compassionate and empathetic
Knowledge of patient documentation and medication administration
Ability to work independently and in teams
Strong critical thinking and problem solving skills
Responsibilities
Provide patient care and assistance with medical procedures
Assist physicians and nurses in day- to- day duties
Administer medications to patients
Maintain patient records, including medical history, progress notes, and discharge instructions
Assist in patient education and provide information about their condition
Monitor patient vital signs, such as heart rate, blood pressure, and respiration
Perform medical tests and document results
Carry out orders from physicians and nurses
Nurse Tech Resume with 2 Years of Experience
Dedicated and compassionate Nurse Tech with two years of experience providing direct patient care in a fast- paced environment. Skilled at delivering quality patient care, maintaining accurate records, and providing great patient education. Possesses a strong attention to detail and a commitment to providing the best possible patient experience.
Core Skills:
Ability to identify and respond to clinical and environmental needs
Excellent communication and interpersonal skills
Knowledge of medical terminology
Proficiency in medical office software systems
Ability to perform vital signs and specimen collection
Ability to perform basic medical tasks
Responsibilities:
Provide direct patient care for inpatient and outpatient care
Assist in the administration of medications and treatments
Perform vital signs, EKGs, physical assessments, and specimen collection
Document accurately and timely in the patient's medical record
Educate and counsel patients and families on health- related issues
Ensure patient safety and comfort while providing care
Nurse Tech Resume with 5 Years of Experience
Highly motivated nurse tech with five years of experience in the field. Seeking a challenging role in a healthcare setting where I can utilize my skills to deliver excellent patient care. Experienced in providing care to a variety of patients and adept at prioritizing tasks and working with a team. Excellent communication, organizational, and problem- solving skills.
Core Skills:
Patient care
Vital signs
Medical terminology
EHR maintenance
Inventory management
Charting
Lab sample collection
Responsibilities:
Assisted patients with activities of daily living, including bathing, dressing, and feeding.
Monitored vital signs and accurately recorded and reported changes to the nursing staff.
Collected laboratory samples and performed basic laboratory tests.
Assisted with patient and family education as directed by the nursing staff.
Maintained patient charts, updated and submitted medical records, and entered information into the EHR system.
Prepared rooms for patient examinations and treatments, including stocking and inventory management.
Nurse Tech Resume with 7 Years of Experience
Highly organized and goal- oriented Nurse Tech with 7 years of experience in providing a wide range of patient care services. Experienced in administering medications, monitoring vital signs, providing wound care and collecting and processing samples. Excellent interpersonal and communication skills with a strong desire to help others.
Core Skills:
Providing patient care services
Administering medications
Monitoring vital signs
Wound care
Collecting and processing samples
Excellent interpersonal and communication skills
Responsibilities:
Assisted nurses and physicians in providing patient care
Monitored and reported changes in patient's vital signs to physicians
Performed wound care, including dressing changes and catheter care
Administered oral, intramuscular, and intravenous medications
Collected and processed blood, urine, and other laboratory samples
Assisted in patient transfers, positioning, and ambulating
Maintained patient confidentiality and a positive bedside manner
Documented patient care in a timely and accurate manner
Nurse Tech Resume with 10 Years of Experience
Highly organized and detail- oriented Nurse Tech with 10 years of healthcare experience. Proven ability to deliver excellent care and promote patient health and well- being. Demonstrated success in providing patient assistance for treatments and management of care plans. Skilled in monitoring patient vital signs and coordinating health care services with physicians and other healthcare professionals. Possess a positive attitude and ability to work well with others.
Core Skills:
Patient Care
Vital Signs Monitoring
Medical Records Maintenance
Treatment Assistance
Medication Administration
Health Care Team Coordination
HIPAA Compliance
Responsibilities:
Provided patient care in accordance with established policies and procedures.
Monitored patient vital signs, including blood pressure, temperature, and respiration.
Assisted nurses and physicians with treatments, examinations, and medical procedures.
Administered medications according to doctor's orders.
Maintained medical records and ensured HIPAA compliance.
Coordinated health care services with other healthcare professionals.
Assisted with patient transport and activities of daily living.
Nurse Tech Resume with 15 Years of Experience
A highly motivated, compassionate, and dedicated nurse tech with 15 years of experience providing excellent care to patients. Possess a deep understanding of medical terminology, medical record maintenance, and patient triage. Able to work with a wide variety of patients and staff in a fast- paced hospital environment. Demonstrate organizational and interpersonal communication skills, time management, and a commitment to providing quality care.
Core Skills:
Patient assessment and triage
Patient record maintenance
Knowledge of medical terminology
Calm and patient demeanor
Excellent organizational skills
Exceptional interpersonal communication
Time management
Responsibilities:
Assisted in patient assessments, triage, and documentation.
Provided patient care and monitored vital signs and overall condition.
Performed routine patient tests and administered prescribed medications.
Recorded patient medical history and assisted in the completion of pre- operative documents.
Assisted the nursing staff in completing patient assessments, treatments, and discharge instructions.
Provided support to patients and their families in a compassionate and understanding manner.
Organized and maintained patient records, medical charts, and lab results.
Assisted physicians with patient exams, treatments, and procedures.
Performed administrative tasks including scheduling appointments, filing paperwork, and answering phones.
Maintained a clean and safe environment to ensure patient comfort and safety.
In addition to this, be sure to check out our resume templates, resume formats, cover letter examples, job description, and career advice pages for more helpful tips and advice.
What should be included in a Nurse Tech resume?
When crafting a resume for a nurse tech position, there are certain key components that should be included in order to demonstrate the necessary skills and qualifications.
Professional Summary: This should be a brief summary of your career history and qualifications as a nurse tech. It should provide a concise overview of your experience, qualifications, and professional accomplishments.
Education: In this section, you should include any relevant educational qualifications that you have obtained, such as a nursing degree or certificate.
Relevant Experience: Here, you should list any relevant experience that you have had as a nurse tech, including any positions held in hospitals, clinics, or other healthcare settings.
Clinical Skills: List any clinical skills you have gained through your experience as a nurse tech, such as administering medication, taking vital signs, or assisting with patient care.
Technical Skills: If you have any technical skills, such as experience with medical software or online databases, list those in this section.
Professional Certifications: If you have any relevant professional certifications, such as a Certified Nursing Assistant (CNA) or Medical Assistant (MA) certification, list them here.
Awards and Honors: If you have received any awards or honors in your career as a nurse tech, include them here.
Make sure to tailor your resume to the job that you're applying for, highlighting the skills and qualifications that make you the ideal candidate for the position. Once your resume is complete, make sure to proofread it for any errors and typos.
What is a good summary for a Nurse Tech resume?
A Nurse Tech resume should be a concise and comprehensive summary of your professional experience and skills as a Nurse Tech. It should be tailored to the job you are applying for, showcasing your most relevant qualifications and experience. Your resume should include your contact information, education, professional experience, and any relevant certifications or licenses. Additionally, you should list any special skills and experience that make you a great candidate, such as experience in a particular area of nursing or expertise in a particular technology. Finally, your resume should accurately and clearly reflect your professional goals and accomplishments, highlighting your ability to provide quality patient care.
What is a good objective for a Nurse Tech resume?
A Nurse Tech resume should always include a clear and concise objective statement that outlines the applicant's career goals and objectives. An effective objective statement should include the following:
Demonstrates the applicant's commitment to becoming a Nurse Tech.
Shows the applicant's proficiency in the medical field, such as having experience in medical terminology, patient care and medical procedures.
Highlights the applicant's ability to work independently, as well as collaborate with other medical team members.
Indicates the applicant's willingness to take on new challenges and grow in the role.
Illustrates the applicant's dedication and commitment to ongoing education and training in the field of nursing.
The objective statement should be tailored to the job being applied for and should be succinct yet informative. It should demonstrate the applicant's knowledge, skills, and experience that align with the job requirements. A good objective statement will provide the employer a snapshot of the applicant's qualifications and will help set the applicant apart from other job seekers.
How do you list Nurse Tech skills on a resume?
When writing a resume, it is important to highlight the skills that are relevant to the job you are applying for. For a Nurse Tech position, it is essential to list any experience and certifications related to patient care or medical skills. A well-crafted resume that lists the right skills can help you stand out and increase your chances of getting an interview.
To list Nurse Tech skills on a resume, start by mentioning your certifications. This could include a Nurse Tech Certificate or any other relevant certifications. You should also list any relevant experience that you have in taking vital signs, monitoring patient health, and assisting with medical treatments.
In addition to experience and certifications, you should also highlight any technical skills you have related to patient care. This could include experience with electronic health records, medical coding, or other medical software.
Finally, list any soft skills that are relevant to the Nurse Tech position. This could include communication skills, working well in a team, problem solving, and having a positive attitude.
Here are some examples of Nurse Tech skills that you might want to include in your resume:
Certified Nurse Tech
Experience with vital signs and patient monitoring
Experience in providing medical treatments
Working knowledge of EHRs, medical coding, and other medical software
Excellent communication and interpersonal skills
Ability to work well in a team
Excellent problem-solving and critical thinking skills
Positive attitude and ability to remain calm in stressful situations
What skills should I put on my resume for Nurse Tech?
When creating a resume for a Nurse Tech position, it is important to include the right skills and experiences to stand out from other candidates. Here are some of the top skills to include on your resume:
Clinical Skills: As a Nurse Tech, you will need to be comfortable working in the clinical setting, including the ability to take vital signs, check patients' medical history and assist with medical procedures.
Communication Skills: You must be able to effectively communicate with patients, medical staff and family members, so be sure to include any experience you have in this area.
Interpersonal Skills: You should be able to work as part of a team and be sensitive to the needs of others.
Time Management Skills: As a Nurse Tech, you will be required to manage multiple tasks at once, so it's important to highlight your organizational and time management skills.
Detail-Oriented: You will need to be attentive to detail to make sure that all paperwork is accurate and up-to-date.
Patience: Patients can often be frustrated or scared, so it is important to be patient and understanding.
Problem-Solving: You will need to be able to think quickly and come up with solutions to problems that arise.
Including these skills on your resume can help you stand out and make a good impression on potential employers.
Key takeaways for an Nurse Tech resume
Nursing technology is changing the healthcare industry, and nurses must be prepared to use it when applying for jobs. If you're applying for a nursing tech position, here are the key takeaways you should include in your resume.
Highlight Your Education and Training: A nursing tech job requires specialized knowledge and skills. Make sure to highlight any educational qualifications, certifications, and training you've received related to nursing technology.
Demonstrate Your Technical Expertise: Employers will want to know that you can effectively use and troubleshoot nursing tech equipment. Make sure to list any technical experience you have on your resume.
Show Your Problem-Solving Skills: Nursing tech jobs require problem-solving skills. Show potential employers that you have what it takes by detailing any challenges you've faced and how you've solved them.
Demonstrate Your Soft Skills: Nursing tech jobs also require strong soft skills such as communication, collaboration, and leadership. Show employers you possess these qualities by providing examples of how you've applied them to your work.
Be Prepared for Interview Questions: Be prepared for questions about your background, experience, and technical skills. Have an answer prepared for how you would handle a typical nursing tech situation.
By following these tips, you can create a nurse tech resume that will stand out and help you land the job. Make sure to include your education, technical and soft skills, and problem-solving experience in order to demonstrate your qualifications for the position. Good luck!
Let us help you build
your Resume!
Make your resume more organized and attractive with our Resume Builder