The job of a nurse supervisor is one of the most important roles within a healthcare setting, and as a result, it is important to ensure your resume reflects the necessary skills, qualifications, and experiences needed for the job. Writing a successful resume for a nurse supervisor position can be a daunting task, but it doesn't have to be. By following this guide, you will have the tips, techniques, and examples you need to create a resume that will get you noticed.
If you didn't find what you were looking for, be sure to check out our complete library of resume examples.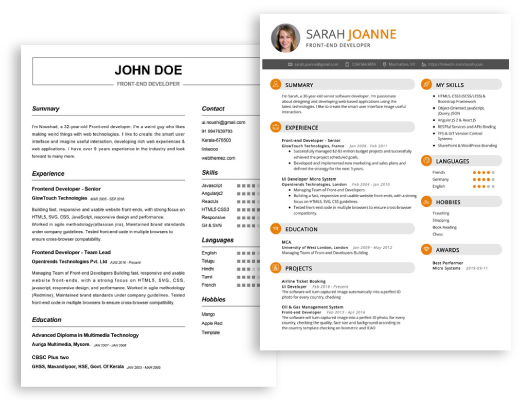 Start building your dream career today!
Create your professional resume in just 5 minutes with our easy-to-use resume builder!
Nurse Supervisor Resume Examples
John Doe
Nurse Supervisor
123 Main Street | Anytown, USA 99999 | Phone: (123) 456-7890 | Email: john.doe@email.com
Dedicated and knowledgeable Nurse Supervisor with 10 years of experience in acute care settings. Skilled in working with a team to develop and implement patient care plans while ensuring optimal patient outcomes. Exceptional leadership abilities and knowledge of healthcare regulations and principles. Committed to providing quality care and outstanding patient service.
Core Skills:
Strong Leadership
Patient Care Plan Development
Quality Assurance
Charting & Documentation
Clinical Trials
Infection Control
Regulatory Compliance
Team Coordination
Professional Experience:
Nurse Supervisor, ABC Hospital, 2020- Present
Oversee the daily operations of the nursing staff
Develop and implement patient care plans
Maintain accurate patient records and documentation
Ensure patient safety and quality assurance standards
Monitor clinical team performance to ensure compliance with regulations
Coordinate and evaluate staff performance
RN Supervisor, XYZ Hospital, 2010- 2020
Developed and implemented patient care plans
Monitored patient charts and kept accurate records
Participated in clinical trials and research projects
Ensured quality assurance and infection control procedures were followed
Supervised and evaluated nursing staff performance
Education:
Bachelor of Science, Nursing, ABC University, 2010
Nurse Supervisor Resume with No Experience
Recent graduate of a Nursing program looking to leverage my education and clinical expertise in a Nurse Supervisor role. Highly organized, detail- oriented professional with excellent problem- solving skills and a strong background in patient care. Possessing strong leadership qualities with the ability to inspire, motivate and mentor staff.
Skills:
Strong clinical skills with a sound understanding of medical terminology and procedures
Excellent communication skills and interpersonal abilities
Knowledge of health regulations and standards
Proficient in the use of computer software, databases and other medical technologies
Ability to lead and manage a team of nurses
Able to handle high- pressure situations with a calm and composed demeanor
Responsibilities:
Supervise nursing staff and oversee the daily workflow of the unit
Ensure compliance with hospital standards and protocols
Monitor patient progress and ensure that all care is administered in accordance with best practices
Provide guidance and support to nursing staff
Develop and implement training programs to ensure that nursing staff are up- to- date on best practices
Assist in developing nursing policies and procedures
Conduct performance reviews and provide guidance to staff
Ensure quality of care is maintained at all times.
Nurse Supervisor Resume with 2 Years of Experience
Dedicated and knowledgeable Nurse Supervisor with 2 years of experience overseeing and managing a team of nurses in a clinical setting. Possesses a deep understanding of patient care and medical procedures. Proven ability to lead and inspire staff to provide superior patient- centered care, maintain cost- efficiency, and foster a positive work environment. Excellent communication and problem- solving skills to effectively address issues and concerns.
Core Skills
Supervisory experience
Patient care
Medical procedures
Cost- efficiency
Team leadership
Communication
Problem- solving
Conflict resolution
Nursing protocols
Professionalism
Responsibilities
Managed a team of nurses providing patient care in a clinical setting.
Ensured nurses were following the most current nursing protocols and standards of care.
Led nurses in providing superior patient- centered care while maintaining cost- efficiency.
Developed and implemented policies and procedures to ensure patient safety and satisfaction.
Monitored nurses' workloads and provided feedback when needed.
Scheduled shifts and assigned tasks to ensure proper coverage.
Handled escalated customer service issues and resolved patient complaints in a timely manner.
Collaborated with medical staff and other departments to ensure optimal patient care.
Motivated and supported the team ensuring a productive, positive work environment.
Trained and mentored new staff members on safety practices and procedures.
Nurse Supervisor Resume with 5 Years of Experience
A talented and dedicated Nurse Supervisor with 5 years of experience in leading and managing nursing teams. Possesses a passion for delivering quality patient care and a proven ability to lead teams through effective communication, collaboration, and problem- solving skills. Possesses a commitment to team development and professional growth opportunities. A natural leader and mentor with a commitment to patient- centric nursing.
Core Skills:
Leadership: Proven ability to lead and manage nursing teams within a hospital setting.
Communication: Excellent verbal and written communication skills, with the ability to build relationships with medical staff and collaborate on patient care plans.
Clinical Knowledge: Comprehensive knowledge of modern nursing practices and procedures.
Team Building: Ability to motivate and develop teams through trust, respect, and clear communication.
Problem Solving: Proven ability to identify problems and develop innovative solutions.
Responsibilities:
Overseeing the day- to- day operations of a nursing team, including staffing, scheduling, and patient care.
Developing and executing nursing policies and procedures to ensure patient safety and quality care.
Monitoring patient care to ensure compliance with nursing standards and protocols.
Collaborating with medical staff to develop and implement patient care plans.
Identifying and resolving clinical issues and disputes between staff members.
Mentoring and coaching nursing staff to ensure professional growth and development.
Ensuring that all patient care activities are carried out in accordance with established standards.
Nurse Supervisor Resume with 7 Years of Experience
An experienced and compassionate nurse supervisor with over 7 years of experience in nursing and providing leadership to nursing staff. Exceptionally organized, with a track record of maintaining high standards of patient care. Proven ability to effectively manage challenging situations as well as to utilize resources to develop innovative solutions. A strong advocate for patient- centered care, with a commitment to provide quality care for all.
Core Skills:
Leadership & Management
Clinical Performance & Safety
Quality Improvement
Staff Management & Training
Emergency Response
Patient Advocacy
Interdisciplinary Collaboration
Responsibilities:
Supervising and directing nursing staff in accordance with established policies and procedures.
Assessing patient care needs and developing plans of care.
Developing and implementing quality improvement initiatives.
Reviewing and evaluating clinical performance, safety, and patient outcomes.
Providing direction and guidance to nursing staff on patient care, policies, and procedures.
Ensuring that nursing staff are adequately trained and competent to provide care.
Responding to patient and family inquiries and complaints.
Facilitating interdisciplinary collaboration to ensure optimal patient care.
Overseeing and coordinating emergency response protocols and procedures.
Nurse Supervisor Resume with 10 Years of Experience
A highly experienced Nurse Supervisor with 10 years of experience in providing care for patients in clinical and in- patient settings. Proven track record of managing and mentoring clinical staff, scheduling, and monitoring patient care programs. Strong knowledge of regulatory standards and quality control, as well as the ability to develop relationships and collaborate with team members, administrators, and other internal and external stakeholders. Possesses a Bachelor of Science in Nursing and a current License to Practice in the state of (insert state).
Core Skills:
Staff Management & Scheduling
Patient Care Coordination
Regulatory Compliance
Quality Control
Interpersonal Communication
Mentoring & Training
Risk & Incident Management
Relationship Development
Administrative & Budgetary Tasks
Responsibilities:
Developed and executed patient care programs in compliance with regulations and accreditation standards
Managed and supervised clinical staff, delegating work and providing guidance, support and mentorship
Applied protocols to assess, analyze and triage patients' needs, ensuring continuity and quality of care
Developed and maintained relationships with other departments, external stakeholders, and vendors
Ensured efficient scheduling of staff, and that all tasks were completed and properly documented in a timely manner
Provided training, performance evaluations and feedback to staff and actively monitored patient care services
Assisted with budgeting and financial planning, as well as resolving any arising issues or complaints
Actively participated in risk and incident management including the reporting and investigation of incidents, as well as the implementation of corrective actions.
Nurse Supervisor Resume with 15 Years of Experience
I am a Registered Nurse Supervisor with 15 years of experience in a variety of healthcare settings. I have a strong background in providing direct and indirect patient care in the acute care setting, and collaborating with and managing other nurses in a leadership role. I have excellent communication and interpersonal skills, with an emphasis on providing outstanding customer service. I am experienced in developing and facilitating patient education, performing clinical and administrative duties, and implementing policies and procedures.
Core Skills:
Leadership and supervision
Organizational and time management
Interpersonal and communication
Advanced patient care
Teaching and training
Regulatory compliance
Responsibilities:
Managed and coordinated patient care activities, ensuring compliance with hospital policies, procedures, and quality assurance standards
Directed and supervised the nursing staff to ensure quality patient care was provided
Supervised the adherence to safety, infection control, and risk management protocols
Coordinated the development, implementation, and evaluation of nursing care plans
Provided support and guidance to nursing staff, assisting them in professional growth and development
Developed, implemented, and monitored policies and procedures for the nursing unit
Participated in clinical governance and quality improvement activities
Promoted best practices and evidence- based clinical practice
Assessed staffing needs and maintained staffing levels to ensure appropriate patient care delivery
Provided clinical and administrative oversight in the absence of the nurse manager and director
In addition to this, be sure to check out our resume templates, resume formats, cover letter examples, job description, and career advice pages for more helpful tips and advice.
What should be included in a Nurse Supervisor resume?
A Nurse Supervisor is a healthcare professional with the responsibility of managing nursing staff and providing medical care. As such, a Nurse Supervisor should have a resume that reflects their knowledge and experience in the field.
To ensure your resume stands out, here are some key points to include:
Education: List all of your relevant qualifications, such as a nursing degree, certification, and/or advanced degree.
Experience: Include any relevant experience in the healthcare field and show how you were able to manage staff and provide medical care.
Leadership: Demonstrate your leadership skills by highlighting any positions of responsibility you have held, such as overseeing a team or running a clinic.
Certification: Demonstrate that you are up-to-date in your field by including any certifications and trainings you may have completed.
Specialties: Highlight any specialties or unique skills that may be relevant to the position, such as research experience or specific medical training.
References: Include a list of references who can attest to your work ethic and experience in the field.
By showcasing your qualifications, experience, and skills, you can create an effective resume that will help you stand out as a Nurse Supervisor.
What is a good summary for a Nurse Supervisor resume?
A Nurse Supervisor resume should be a concise and organized summary of a candidate's professional experience and qualifications in the nursing field. It should include a brief overview of the nurse's career so far, including their current position as a supervisor, as well as any additional qualifications, certifications, and awards they have acquired. It should also list any clinical experiences they have had, such as working in a hospital or long-term care facility. Finally, the resume should detail the nurse's educational background, including any degrees or certificates they have attained. By providing a well-organized and comprehensive summary of a Nurse Supervisor's professional qualifications, employers can quickly assess the candidate's fit for the position.
What is a good objective for a Nurse Supervisor resume?
A Nurse Supervisor is a highly experienced registered nurse (RN) with extensive knowledge, skill and experience in a particular field of nursing. A Nurse Supervisor is responsible for overseeing the day-to-day operations of a medical facility's nursing staff, ensuring that all patients receive quality care.
When writing a resume for a Nurse Supervisor position, it is important to emphasize your experience, education and skills. A good objective for a Nurse Supervisor resume should reflect your commitment to patient care, your ability to manage staff and your expertise in the field.
Here are some examples of objectives for a Nurse Supervisor resume:
To leverage my extensive nursing experience and leadership skills to improve the quality of patient care and staff satisfaction as a Nurse Supervisor.
Seeking a Nurse Supervisor position to utilize my abilities in leading a team of nurses, ensuring quality patient care and improving patient outcomes.
To contribute my years of nursing experience and expertise as a Nurse Supervisor to advance the quality of care provided to patients.
To apply my broad knowledge of nursing standards and procedures as a Nurse Supervisor to ensure excellent patient care in a medical facility.
How do you list Nurse Supervisor skills on a resume?
A Nurse Supervisor is a professional who supervises a team of healthcare workers in a clinical setting. They ensure that patients receive quality care and provide guidance to their subordinates. To be successful in this role, Nurse Supervisors must possess a variety of skills. Here are some skills to list on a resume when applying for a Nurse Supervisor role:
In-depth knowledge of health care practices and procedures: Nurse Supervisors must have a comprehensive understanding of the medical field and its practices in order to provide quality care to patients.
Ability to delegate tasks: Nurse Supervisors will be responsible for delegating tasks to their team and must possess the ability to make sure the right people are assigned to the right job.
Excellent communication skills: Effective communication between a Nurse Supervisor and their team is essential to ensure that everyone is on the same page when it comes to providing care to patients.
Leadership skills: A Nurse Supervisor must have strong leadership skills to motivate their team to deliver the highest quality of care.
Ability to make quick decisions: In an emergency situation, a Nurse Supervisor must be able to make quick decisions to ensure the safety of the patient.
Organizational skills: Nurse Supervisors must possess the ability to organize the workflow of the team in order to optimize efficiency.
Problem-solving skills: As a Nurse Supervisor, you will be expected to be able to troubleshoot any issues that arise during treatment.
Attention to detail: Attention to detail is essential for providing accurate and timely care to patients.
By including these skills on your resume, you can demonstrate to employers that you possess the necessary qualifications to fill the role of a Nurse Supervisor.
What skills should I put on my resume for Nurse Supervisor?
Nurse Supervisors must possess a combination of clinical, managerial, and leadership skills to lead, manage, and direct nursing staff in a health care setting. When preparing a resume for a Nurse Supervisor position, you should be sure to highlight all of your relevant qualifications. Here are some essential skills to include on your resume for a Nurse Supervisor position:
Clinical Skills: As a Nurse Supervisor, you will be responsible for overseeing the quality of patient care. You should demonstrate your clinical expertise by listing your credentials, such as a registered nurse certification, along with any other relevant certifications, such as a certified medical-surgical nurse. You should also include any clinical areas of specialization you have.
Leadership & Managerial Skills: As a Nurse Supervisor, you will need to take responsibility for the overall functioning of the nursing unit, which includes managing personnel and associated paperwork. Be sure to highlight any management or leadership roles you have had, such as developing policies or supervising staff. Also, mention any problem solving techniques you have used to create streamlined processes and identify any awards you have received in this area.
Communication Skills: It is essential for Nurse Supervisors to be able to communicate effectively and build positive working relationships with colleagues, patients, and their families. List any related experience you have in this area, such as teaching or mentoring, or any experience working with diverse groups of people.
Interpersonal Skills: Good interpersonal skills are essential for Nurse Supervisors to be able to deal with the public and sensitive situations. Highlight any experience you have dealing with difficult patients or conflicts between staff.
Organizational Skills: As a Nurse Supervisor, you will need good organizational skills to keep track of staff schedules and maintain patient records. List any experience you have in this area, such as overseeing finances, managing payrolls, or any previous administrative duties.
By including all of these essential skills on your resume
Key takeaways for an Nurse Supervisor resume
The job of a Nurse Supervisor is a highly responsible and rewarding position that requires a range of knowledge and experience. Writing the perfect resume for this position can be daunting, so here are some key takeaways to keep in mind when creating your resume.
First, be sure to highlight your professional experience. Include a detailed list of your qualifications as a nurse, as well as relevant experience in management and supervision. Explain any key accomplishments or awards that you possess, as they can demonstrate your ability to be a successful supervisor.
Secondly, show off your leadership skills. It's important to demonstrate that you have the skills necessary to lead and manage a team of nurses. Detail any projects you've been involved in and how you've been able to lead and motivate your colleagues.
Finally, highlight your communication skills. As a supervisor, it's important to be able to communicate effectively with both your team and your superiors. Explain your ability to communicate efficiently with patients and colleagues, as well as any experience you have in presenting or public speaking.
These key takeaways can help you create a Nurse Supervisor resume that will make you stand out from the competition. Be sure to include any qualifications and past experience that make you the perfect candidate for the job. With these tips, you should be one step closer to securing your desired position. Good luck!
Let us help you build
your Resume!
Make your resume more organized and attractive with our Resume Builder