Writing a resume for a nurse manager role requires a unique blend of technical and communication skills. Being a nurse manager demands a strong understanding of the medical field, as well as the ability to lead a team of nurses and other healthcare professionals. Therefore, it is essential for nurse managers to have a well-crafted resume that highlights their qualifications and experience. This guide will provide you with tips on crafting an effective nurse manager resume, as well as some examples to draw inspiration from.
If you didn't find what you were looking for, be sure to check out our complete library of resume examples.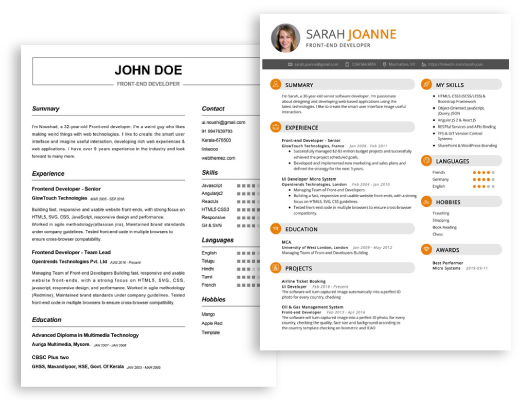 Start building your dream career today!
Create your professional resume in just 5 minutes with our easy-to-use resume builder!
Nurse Manager Resume Examples
John Doe
Job Title
123 Main Street | Anytown, USA 99999 | Phone: (123) 456-7890 | Email: john.doe@email.com
I am an experienced Nurse Manager with over 10 years of experience in the medical field. I have been responsible for managing the day- to- day operations of a busy medical practice, overseeing a team of nurses and clinicians, and providing top- notch patient care. I am an effective communicator, a strong team leader, and a detail- oriented problem- solver. My experience and qualifications make me the ideal candidate for any medical facility looking to appoint a professional and experienced Nurse Manager.
Core Skills:
Leadership
Team Management
Medical Administration
Patient Care
Communication & Interpersonal Skills
Budgeting & Planning
Regulatory Compliance
Professional Experience:
Nurse Manager, ABC Medical Clinic, 2011- Present
Managed a team of nurses and clinicians, ensuring that all patient care needs were met
Supervised the day- to- day operations of a busy medical practice
Provided guidance and assistance to staff members
Ensured compliance with all regulatory requirements
Developed and implemented patient policies and procedures
Conducted regular staff evaluations and performance reviews
Education:
Bachelor of Science in Nursing, University of XYZ, 2006- 2010
Nurse Manager Resume with No Experience
Recent college graduate seeking entry- level nurse manager position, utilizing excellent interpersonal and communication skills, as well as a dedication to patient care and safety.
Skills:
Compassionate, patient- centric attitude
Strong communication skills
Excellent organizational abilities
Knowledge of medical terminology
Able to work independently and in teams
Ability to multi- task
Responsibilities:
Developing and implementing policies and procedures related to patient care
Monitoring and managing daily operations of the department
Ensuring compliance with regulatory standards
Performing financial and operational analyses
Supervising staff and providing guidance and support as needed
Overseeing patient care and ensuring high quality standards
Nurse Manager Resume with 2 Years of Experience
A professional and experienced Nurse Manager with two years of experience in leading and managing nursing operations. Skilled in providing strategic leadership, developing and implementing policies, and managing operations. Committed to delivering the highest quality patient care and promoting a safe and comfortable environment.
Core Skills:
Strategic Leadership
Interpersonal and Communication Skills
Organizational and Time Management
Patient Care
Team Leadership
Budgeting and Resource Management
Responsibilities:
Developing and implementing policies and procedures for nursing operations
Establishing yearly budget plans for the nursing department
Managing and leading nursing staff and medical professionals
Developing and maintaining relationships with healthcare providers and insurers
Supervising and evaluating nursing staff performance
Ensuring compliance with governmental and organizational regulations
Coordinating patient care with other departments
Investigating complaints, analyzing data, and implementing solutions
Developing programs that foster improved patient care and safety
Nurse Manager Resume with 5 Years of Experience
A highly motivated nurse manager with 5 years of experience in the medical field. Strong leadership, communication, and problem- solving skills. Great ability to manage teams, develop plans, and ensure smooth day- to- day operations. Proven success in medical staff training, workflow management, and patient care.
Core Skills:
Leadership
Communication
Problem- Solving
Team Management
Medical Staff Training
Workflow Management
Patient Care
Responsibilities:
Managed daily operations of the nursing unit, including staff, patient care, and scheduling.
Supervised and evaluated nursing staff, providing guidance, support, and feedback.
Developed staff training and development plans, ensuring staff maintained current qualifications.
Developed and implemented workflow processes to ensure efficient delivery of patient care.
Coordinated with other healthcare departments, such as the pharmacy and lab, to ensure the best treatment for patients.
Monitored patient care to ensure it met the standards set by the facility.
Assisted in the interviewing and hiring of new nursing staff.
Ensured patient and staff safety in the unit.
Nurse Manager Resume with 7 Years of Experience
Highly experienced Nurse Manager with 7 years of experience in nursing management and administration. Skilled in developing, implementing and overseeing clinical policies, procedures, and programs. Experienced in developing and coordinating care plans, supervising and training staff, and providing patient education. Outstanding communication, collaboration, and problem- solving skills.
Core Skills:
Advanced knowledge of nursing management principles and best practices
Ability to develop and review nursing policies and procedures
Strong leadership, interpersonal, and organizational skills
Excellent knowledge of medical terminology and information systems
Ability to manage multiple tasks, prioritize effectively, and work on tight deadlines
Strong ability to collaborate and work with other health care professionals
Responsibilities:
Developed and implemented clinical policies, procedures and programs.
Provided direction and leadership to nursing teams.
Managed and maintained patient records.
Developed and coordinated care plans, supervised staff and provided patient education.
Ensured compliance with standards set by regulatory bodies.
Provided support and guidance to clinical teams.
Assisted in the recruitment and performance management of nursing staff.
Monitored and evaluated performance of nursing staff.
Developed and implemented strategies to improve the quality of care and patient outcomes.
Nurse Manager Resume with 10 Years of Experience
Nurse Manager with 10+ years of experience in healthcare industry. A passionate leader with a proven ability to develop teams, set and reach objectives, and provide high- quality patient care. Skilled at leveraging technology to enhance patient safety, outcomes, and processes.
Core Skills:
Leadership
Team Building
Organizational Management
Communication
Problem Solving
Technology Utilization
Responsibilities:
Directing and overseeing nursing staff and operations
Developing policies and procedures to improve operations
Identifying new strategies to increase team efficiency and productivity
Providing guidance to staff on patient care
Ensuring compliance with healthcare guidelines and regulations
Analyzing data and reports to identify areas of improvement
Developing a budget and ensuring fiscal responsibility
Creating and maintaining a positive and collaborative team environment
Nurse Manager Resume with 15 Years of Experience
Highly motivated and experienced Nurse Manager with over 15 years in the healthcare industry. Experienced in developing and implementing nursing policies, procedures, and standards. Possess exceptional patient care skills and a compassionate personality. Proven ability to lead and coordinate staff and coordinate patient care. Demonstrated ability to monitor compliance with hospital policies and procedures.
Core Skills:
Knowledge of healthcare operations
Leadership and management abilities
Excellent communication skills
Advanced computer skills
Strong organizational skills
In- depth knowledge of medical terminology
Compassionate bedside manner
Ability to prioritize and multitask
Responsibilities:
Leading, directing and supervising nursing staff
Developing nursing policies, procedures and standards
Organizing patient care and implementing patient care protocols
Monitoring compliance with hospital policies and procedures
Evaluating and improving the quality of nursing care
Coordinating staff and ensuring adequate staffing
Providing patient care and education
Assessing and responding to patient needs
Administering medications, treatments, and therapies
Documenting patient assessment, care and progress
In addition to this, be sure to check out our resume templates, resume formats, cover letter examples, job description, and career advice pages for more helpful tips and advice.
What should be included in a Nurse Manager resume?
Having the right combination of qualifications and experience is essential for a Nurse Manager. A Nurse Manager resume should include the following information to help you stand out from the competition:
Professional summary: A Nurse Manager should include a brief but comprehensive summary of their overall qualifications, including education, skills, and experience in the field.
Education: A Nurse Manager should list any relevant education, such as a bachelor's degree in nursing and any certifications.
Skills: The skills section is a critical aspect of a Nurse Manager resume as employers look for candidates who have the necessary skills and expertise. Include any relevant skills such as management, communication, problem-solving, and organizational skills.
Work experience: A Nurse Manager should include any relevant job experience in the field. Include job titles, name of organizations, and dates of employment for each position.
Professional affiliations: If you have any professional affiliations, such as with a nursing organization or other healthcare organizations, it should be noted in the resume.
Community involvement: Showing your involvement in the community is an important aspect of a Nurse Manager resume. Include any community service or volunteer work you may have done.
References: Include two to three references on your resume. These should be individuals who can provide professional references that can speak to your qualifications and experience.
What is a good summary for a Nurse Manager resume?
A Nurse Manager's resume should demonstrate their leadership, management, and communication abilities. It should highlight their experience in overseeing multiple teams of healthcare professionals, delegating tasks and responsibilities, implementing quality assurance initiatives, and managing the daily operations of a healthcare unit. It should also showcase their commitment to patient care, their understanding of healthcare regulations and safety protocols, and any additional certifications or training they have. An effective summary should emphasize the nurse manager's ability to provide excellent patient care and ensure the efficient operation of a healthcare unit.
What is a good objective for a Nurse Manager resume?
A nurse manager plays a vital role in the healthcare industry, overseeing the administrative and clinical duties of a nursing unit. When crafting a resume for this position, it's important to provide a detailed objective that demonstrates your qualifications and goals.
Below are some good objectives for a nurse manager resume:
To secure a position as a nurse manager where I can utilize my strong leadership, organizational, and clinical skills to provide quality healthcare in a hospital setting.
To utilize my experience as a registered nurse to help guide the staff of a healthcare organization towards the best patient outcomes.
Seeking a nurse manager position that will allow me to utilize my knowledge of healthcare regulations and experience with budgeting to maintain an efficient and successful nursing unit.
To become a part of a healthcare team where I can help create a positive work environment and provide high-quality patient care.
To join a hospital as a nurse manager and use my interpersonal and problem-solving skills to maintain a successful nursing team.
By including a detailed and thoughtful objective on your resume, you can show employers that you have the knowledge and qualifications to be a successful nurse manager.
How do you list Nurse Manager skills on a resume?
Nursing is an incredibly rewarding profession, and nurse managers are often the backbone of a successful medical team. In order to effectively manage a team of nurses, there are certain skills that are needed. When creating a resume for a nurse manager position, it is important to highlight your skills in order to stand out from other applicants.
Here are some essential skills to include on your resume when applying for nurse manager positions:
Leadership: Nurse managers need to be able to lead and manage a team of nurses, providing guidance and direction.
Communication: Excellent communication skills are necessary in order to effectively provide feedback and instructions to the team.
Problem Solving: Being able to quickly identify and address issues that arise is a vital skill for nurse mangers.
Organization: Being able to stay organized and prioritize tasks is essential in order to keep the team functioning efficiently.
Interpersonal Skills: A nurse manager needs to be able to effectively interact with both patients and staff members.
Clinical Skills: Being knowledgeable about clinical processes and procedures is a must for any nurse manager position.
By including these skills on your resume, you will be able to demonstrate to employers that you are qualified for the nurse manager position. In addition to listing your skills, you should also include any relevant work experience or education that you have. With the right skills and qualifications, you can be well on your way to securing the nurse manager position of your dreams.
What skills should I put on my resume for Nurse Manager?
A nurse manager oversees the daily operations of a healthcare facility, and they require a variety of skills to do so. When constructing your resume, be sure to include the following skills and qualifications to show you are a top candidate for the position:
Leadership: Nurse managers must have strong leadership skills to ensure their employees have the support and guidance they need to complete their tasks. Include any leadership roles you have had in the past, and be sure to emphasize the impact you had on the team or organization.
Clinical Expertise: As a nurse manager, you must have a deep understanding of clinical practices and procedures. Include any relevant certifications or training you have received, as well as any experience you have in the field.
Communication: You must be able to communicate effectively with other healthcare professionals to ensure your team is working together efficiently. Include any public speaking or presentation experience you have, as well as any literature you have published.
Problem-Solving: Nurse managers must be able to quickly identify and resolve issues to keep operations running smoothly. Describe any problem-solving experiences you have had, such as conflicts you have resolved, or any difficult decisions you had to make.
Organization: As a nurse manager, you must be highly organized to ensure there are no delays in the delivery of care. Show that you have strong organizational skills by discussing any tasks or projects you have completed on time.
By including these skills and qualifications on your resume, you can demonstrate that you are the ideal candidate to become a nurse manager.
Key takeaways for an Nurse Manager resume
Nurse Managers are vital to the success of any medical practice and they must be knowledgeable and skilled in both clinical and managerial areas. A strong resume is essential to getting a job as a Nurse Manager, but what should be included? Here are the key takeaways for a Nurse Manager resume:
Include the academic credentials and certifications relevant to the role. For example, a BSN or MSN is often a requirement for Nurse Manager positions. Additionally, certifications such as the Certified Nurse Manager (CNM) or the Healthcare Facility Manager (HFM) can also be listed.
Emphasize team leadership, problem-solving, and critical thinking skills. These are essential for a successful Nurse Manager, as they are responsible for overseeing teams of nurses and ensuring the quality of care provided.
Highlight any related experience. This could include experience as a charge nurse, unit supervisor, or healthcare administrator.
Demonstrate a commitment to staying up to date with the latest industry trends and advancements. Nurse Managers must be knowledgeable of current advancements in care, so any certifications or trainings related to this should be included.
Convey a patient-centered approach in the resume. Nurse Managers must be able to provide excellent care in a compassionate and patient-focused manner.
Following these guidelines and including the key takeaways for a Nurse Manager resume will help create a strong, professional resume that stands out from the competition.
Let us help you build
your Resume!
Make your resume more organized and attractive with our Resume Builder