Writing a resume as a nurse extern can be tricky since you don't have a lot of experience in the field. You want to make sure you highlight your education, skills, and any relevant certifications or hands-on experience you may have. This guide will help you create a resume that highlights all the elements employers are looking for in a nurse extern and provide examples of effective resumes. With the right approach, you can create a standout resume that will help you stand out from the competition.
If you didn't find what you were looking for, be sure to check out our complete library of resume examples.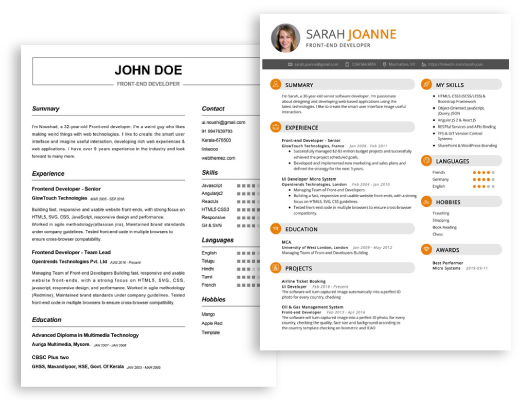 Start building your dream career today!
Create your professional resume in just 5 minutes with our easy-to-use resume builder!
Nurse Extern Resume Examples
John Doe
Nurse Extern
123 Main Street | Anytown, USA 99999 | Phone: (123) 456-7890 | Email: john.doe@email.com
Flexible and organized Nurse Extern with experience in patient care, vitals, and basic nursing responsibilities. Eager to grow professionally and take on increasing levels of responsibility in a medical setting. Possess excellent communication and interpersonal skills, along with a dedication to delivering patient- centered care.
Core Skills:
Patient Care
Vitals
Interpersonal Skills
Teamwork
Basic Nursing Knowledge
Communication
Safety Protocols
Professional Experience:
Nurse Extern, ABC Medical Center, Charleston, SC (July 2020- Present)
Provide direct patient care under the supervision of a Registered Nurse.
Assist in taking vital signs, performing basic nursing care, and managing other medical needs.
Communicate regularly with patients and families to ensure the highest level of safety and comfort.
Perform other duties as assigned, such as stocking supplies and cleaning rooms.
Education:
Bachelor of Science in Nursing, Medical University of South Carolina, Charleston, SC (May 2020)
Clinical Internship: ABC Medical Center, Charleston, SC (Jan 2020- May 2020)
Nurse Extern Resume with No Experience
Recent nursing school graduate with a passion for patient care and a commitment to providing excellent service. Highly organized, able to multitask and prioritize effectively while providing individualized care. Eager to apply my clinical skills in a nurse extern role at a healthcare facility.
Skills
Able to follow instructions and protocols
Proficient in using medical terminology
Excellent communication and interpersonal skills
Able to perform basic patient assessments
Able to give quality patient care
Knowledgeable in nursing standards, policies, and procedures
Responsibilities
Assist in the delivery of patient care
Assist in providing bedside care to patients
Assist in setting up and performing treatments
Assist in providing assistance with routine nursing tasks
Assist in providing patient education
Assist in monitoring vital signs, medication administration, and other patient care activities
Nurse Extern Resume with 2 Years of Experience
Dedicated and motivated Nurse Extern with two years of experience in providing superior patient care. Possess excellent communication, critical thinking, and problem solving abilities to assist in nursing assessments. Knowledgeable in providing basic nursing care and IV therapy. Proven ability to learn quickly, manage time efficiently, and operate in high- pressure environments.
Core Skills:
Patient Care
Vital Signs Monitoring
Medication Administration
Interpersonal Communication
Documentation
Problem Solving
Clinical Judgement
Infection Control
IV Therapy
Responsibilities:
Assisted in nursing assessments, including vital signs and patient history documented in electronic medical records
Administered medications and treatments as instructed by registered nurses
Observed and documented patient condition, changes, and treatments
Assisted with admission, discharge, and transfer of patients
Performed quality control checks on medical equipment and supplies
Developed strong patient relationships while providing compassionate and attentive care
Monitored and reported abnormal results to registered nurses or physicians
Ensured accurate and timely documentation of patient care activities
Nurse Extern Resume with 5 Years of Experience
Versatile Nurse Extern with 5 years of experience providing compassionate and comprehensive nursing care to patients in fast- paced hospital settings. Exceptional communication and decision- making skills. Proven ability to communicate effectively with patients, families, and interdisciplinary healthcare personnel.
Core Skills:
Providing patient care
Performing basic nursing assessments
Administering medications
Documenting patient care
Monitoring vital signs
Educating patients on health promotion
Use of medical equipment and tools
Responsibilities:
Collaborating with physicians and nurses to develop and implement patient care plans
Performing patient assessments and updating medical records with accurate data
Assisting nurses with administering medications, treatments, and therapies
Providing patient instructions on use of medical equipment, diet, and health maintenance
Monitoring vital signs, performing lab work and drawing blood
Assisting with wound care, dressing changes, and other bedside procedures
Providing emotional support and encouragement to patients and family members
Nurse Extern Resume with 7 Years of Experience
A highly experienced and dedicated Nurse Extern with 7 years of experience in the medical field. Experienced working with diverse populations from vulnerable and underserved communities. Possesses excellent communication and problem solving skills with a commitment to providing quality patient care. Skilled in connecting with patients and providing compassionate, individualized care.
Core Skills:
Patient care
Clinical assessment
Nursing procedures
Healthcare documentation
Problem solving
Communication
Responsibilities:
Performing nursing duties and assessments to provide quality care for patients
Conducting clinical assessments, medication management and administration, health education, and wound care
Creating and maintaining patient care plans, charts and records
Reporting patient conditions and changes to the supervising nurse
Communicating with patients' family members and other healthcare providers to deliver comprehensive care
Assisting with diagnostic procedures and treatments
Maintaining patient confidentiality and adhering to HIPAA guidelines
Nurse Extern Resume with 10 Years of Experience
Highly motivated and organized Nurse Extern with 10 years of experience in providing nursing care to patients in a clinical setting. Highly knowledgeable in medical terminology, disease processes, and administering medications. Extensive experience in developing patient care plans and providing patient education. Specialized in communication with patients and families to ensure quality care. Willing to work in a collaborative environment to provide the best possible care for patients.
Core Skills:
Knowledge of nursing processes and medical terminology
Proficient in providing patient care and patient education
Ability to administer medications and maintain patient records
Proficient in communication with patients and families
Excellent organizational, problem solving and critical thinking skills
Responsibilities:
Assisting nursing staff in providing patient care
Providing patient education on disease process and medications
Collaborating with the healthcare team for patient care
Administering medications and treatments as per physician orders
Observing and documenting patient progress
Assisting in discharge planning and providing follow- up care instructions
Ensuring patient comfort and providing emotional support
Maintaining patient records and filing documents as required.
Nurse Extern Resume with 15 Years of Experience
Highly experienced Nurse Extern with over 15 years in the medical field. Skilled in providing direct patient care to meet the physical, emotional and psycho- social needs of patients. Possesses strong organizational and communication skills with the ability to adapt to any medical setting. Compassionate and patient with a strong sense of urgency and level- headedness in both fast- paced and high- pressure situations.
Core Skills:
Clinical Skills
Patient Assessment
Vital Signs
Medical Terminology
Charting & Documentation
Patient Education
Quality Improvement
Patient Advocacy
Emotional Support
Collaboration
Interpersonal Communication
Responsibilities:
Recording patient medical histories
Preparing treatment rooms for patient examinations
Assisting physicians with treatments and procedures
Assisting with admitting and discharging of patients
Administering injections and medication
Assisting with laboratory procedures
Performing basic diagnostic tests
Collecting specimens for laboratory testing
Monitoring patient vitals such as heart rate, temperature and blood pressure
Maintaining patient records and filing documents
Providing emotional support to family members
Assisting with patient transport and transfer to other medical facilities
Assisting in the development and implementation of patient care plans
Providing patient education and instruction on medical treatments and procedures
In addition to this, be sure to check out our resume templates, resume formats, cover letter examples, job description, and career advice pages for more helpful tips and advice.
What should be included in a Nurse Extern resume?
Your Nurse Extern resume should be a concise document that effectively outlines your relevant work experience, education, and qualifications. This should include your contact information, work history, educational background, certifications, skills and any other relevant information that demonstrates your ability to fulfill the job. It should also include any awards or honors, such as the Dean's List, that you have received.
Here are some items that should be included in your Nurse Extern resume:
Contact information: Include your name, address, phone number, and email address
Professional summary: A brief summary of your professional experience and goals
Education: List your academic degrees, relevant coursework, and any honors or awards you have received
Certifications and Licenses: List any certifications or licenses you have obtained
Work History: List any healthcare-related jobs you have held, including your job title, dates of employment, and the duties you performed
Skills: List any relevant skills you have acquired such as medical terminology, patient care, or computer systems
Professional Affiliations: List any professional organizations you are a member of
Other Relevant Experience: Include any other relevant experience such as volunteer work, internships, or other positions you have held
What is a good summary for a Nurse Extern resume?
As a prospective nurse extern, you will need to have an impressive resume to showcase your knowledge, experience, and skills. A good summary for a nurse extern resume should highlight some of your key qualifications, such as your educational background and any relevant clinical experience or certifications. Additionally, your summary should also mention any specialties you may have, such as working with a certain population or type of medical condition. Finally, you should also include any leadership roles or professional affiliations that demonstrate your commitment to the nursing profession. By providing an accurate and comprehensive summary of your qualifications and experiences, you can ensure that your resume will stand out from the crowd and position you as an ideal candidate for the nurse extern position.
What is a good objective for a Nurse Extern resume?
A nurse extern is a health professional who assists nurses with patient care and other duties. A nurse extern resume should detail the candidate's experience, qualifications, and skills in order to make them a competitive applicant. An effective objective should be used to communicate what the candidate has to offer and why they are a good fit for the position.
Below are some examples of objectives that can be used on a nurse extern resume:
To obtain a nurse extern position in a healthcare setting, utilizing my expertise in patient care, clinical skills, and strong communication abilities.
Seeking a nurse extern role where I can develop my nursing skills and care for patients with compassion.
Highly motivated nursing student looking to secure a nurse extern position, where I can apply my academic knowledge and experience to provide excellent patient care.
To use my expertise in patient care, time management, and problem-solving to help provide the best possible care as a nurse extern.
To gain experience in the medical field as a nurse extern, where I can use my strong communication, critical thinking, and organizational skills.
To utilize my compassion, leadership skills, and knowledge of medical terminology as a nurse extern.
How do you list Nurse Extern skills on a resume?
Nursing is a difficult and rewarding field, and nurse externs play an important role in the healthcare system. As a nurse extern, you have a special set of skills and experiences that make you an asset to any medical facility. To get the job you want, you need to include your nurse extern skills on your resume. Here are some tips on how to list your nurse extern skills on your resume.
Demonstrate your strong clinical skills: As a nurse extern, you need to demonstrate your strong clinical skills on your resume. Be sure to include relevant clinical experiences, such as assisting in patient assessments, providing patient care, and administering medications.
Showcase your knowledge of medical terminology: Medical terminology is a fundamental part of nursing, and nurse externs should be able to show that they are proficient in this area. Be sure to list any classes you took related to medical terminology and any certification or course completion that you have earned.
Highlight your attention to detail: Attention to detail is key for nurse externs, as it ensures that patient care is of the highest quality. On your resume, make sure to mention any detail-oriented tasks that you have completed in the past, such as documentation and charting.
Emphasize your communication and interpersonal skills: Nurse externs must have excellent communication and interpersonal skills in order to be successful. On your resume, be sure to include any volunteer or paid work experiences in which you had to interact with patients or other healthcare professionals.
By making sure to list your nurse extern skills on your resume, you can show future employers that you have the knowledge and experience necessary to be a successful nurse extern. With the right skills, you can find the job you've been looking for.
What skills should I put on my resume for Nurse Extern?
Nursing externs are highly sought-after professionals in the healthcare industry. They provide valuable experience and assistance in a variety of hospital and clinical settings. When applying for a nursing extern position, it's important to highlight skills and qualifications that make you a great candidate for the job. Here are some of the key skills and qualifications to include on your resume when applying for a nursing extern role:
Patient Care: As a nursing extern, you must be able to demonstrate strong patient care skills. This includes communicating effectively with patients, demonstrating empathy and compassion, and providing exceptional care.
Clinical Skills: You should have a thorough understanding of clinical skills such as aseptic technique, wound care, administering medications, and taking vital signs.
Knowledge of Medical Terminology: It's important to demonstrate a working knowledge of medical terminology so that you can quickly and accurately understand the instructions of medical professionals.
Interpersonal Skills: As a nursing extern, you must have strong interpersonal skills so that you can work well with a diverse range of patients, colleagues, and medical staff.
Attention to Detail: You should be able to demonstrate attention to detail in all aspects of your work, from double-checking patient charts to ensuring that medication is accurately administered.
Time Management: You should be able to efficiently manage your time in order to complete tasks and responsibilities in a timely manner.
Problem-Solving: Being able to think critically and problem solve is essential for a successful nursing extern. You should be able to quickly analyze patient data and come up with solutions to potential issues.
By highlighting these skills and qualifications on your resume, you can demonstrate to employers that you have the necessary experience and qualifications for a successful nursing extern role.
Key takeaways for an Nurse Extern resume
When writing a Nurse Extern resume, it is important to focus on the key traits that are necessary to be successful as a health care professional. The following key takeaways provide a helpful guide on how to write an effective resume:
Highlight relevant experiences. As a Nurse Extern, you should focus on any relevant experience such as clinical rotations, internships, and volunteer work. Doing so will help demonstrate your competency and readiness to work in the healthcare field.
Include certifications and licenses. It is important for Nurse Externs to include any certifications and licenses that may apply to their area of study and practice. This may include certifications such as Basic Life Support (BLS), Advanced Cardiac Life Support (ACLS), or Pediatric Advanced Life Support (PALS).
Showcase any education and training. A Nurse Extern resume should include any education and training received, such as classes in pharmacology, health assessment, and clinical skills. This shows that you have a strong foundation on which to build your career.
Demonstrate time management and organizational skills. As a Nurse Extern, you must be able to manage multiple tasks at once and prioritize effectively. You should emphasize your time management skills, as well as any organizational systems you use to stay on track.
By following these key takeaways, you can create an effective Nurse Extern resume that will help you stand out from the competition and get the job!
Let us help you build
your Resume!
Make your resume more organized and attractive with our Resume Builder