Writing a resume as a nurse aide can be a difficult task, especially if you're just starting out in the industry. You may be wondering what kind of experience you need to include, or how to make your resume stand out from the crowd. This guide is designed to help you understand what employers expect to see on a nurse aide resume, and provide you with examples of effective resumes. By understanding how to best showcase your experience, skills, and qualifications, you can create an effective resume that will get you noticed.
If you didn't find what you were looking for, be sure to check out our complete library of resume examples.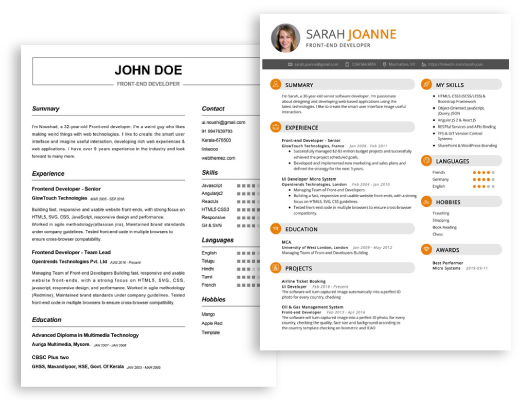 Start building your dream career today!
Create your professional resume in just 5 minutes with our easy-to-use resume builder!
Nurse Aide Resume Examples
John Doe
Nurse Aide
123 Main Street | Anytown, USA 99999 | Phone: (123) 456-7890 | Email: john.doe@email.com
I am an experienced and passionate Nurse Aide with 3 years of experience in caring for elderly and disabled patients. My professional experience includes working in long- term care facilities, assisting with patient care and medical treatments, and providing emotional and physical support. I have a deep understanding of medical terminology and procedures, and am highly capable of providing compassionate care to those in need. I am eager to join a team of healthcare professionals and contribute my knowledge to ensure the best patient outcomes.
Core Skills:
Patient Care
CPR/First Aid Certified
Emotional Support
Medical Terminology
Administrative Tasks
Documentation
Interpersonal Communication
Multitasking
Professional Experience:
Nurse Aide, ABC Long- Term Care Facility, 2017- Present
Assist with patient care, including bathing, dressing, grooming, and feeding
Provide emotional and physical support to elderly and disabled patients
Monitor patient vital signs and administer medications as directed
Document patient progress, treatments, and reactions to medications
Assist with medical treatments and adhere to sanitary and safety procedures
Nurse Aide, XYZ Nursing Home, 2015- 2017
Assisted nurses with patient care, including hygiene, mobility, and nutrition
Provided emotional support and encouragement to elderly and disabled patients
Monitored patient vital signs and reported changes to supervising staff
Assisted with medical treatments and administered medications as directed
Education:
Diploma in Nursing, ABC Technical Institute, 2016
Nurse Aide Resume with No Experience
Recent nursing school graduate seeking a position as a Nurse Aide in a healthcare setting. Dependable, compassionate and able to work in a fast- paced environment.
Skills
Patient Care
Medical Terminology
Compassionate
Organizational Skills
CPR Certified
Record Keeping
Responsibilities
Assist nurses and medical staff with patient care and medical procedures
Monitor vital signs and patient health
Ensure patient comfort and safety
Provide emotional support to patients and their families
Assist with administrative tasks as needed
Maintain clean and organized work environment
Nurse Aide Resume with 2 Years of Experience
Dynamic and adaptable Nurse Aide with 2 years of experience in providing quality patient care. Skilled in handling a variety of medical equipment and completing tasks such as vital sign measurements, wound assessment, and basic patient care. Proven ability to work closely with healthcare professionals and maintain a high standard of patient care. Focused on providing the highest level of patient care and demonstrating a commitment to the healthcare team.
Core Skills:
Vital sign monitoring
Patient care
Wound assessment
Assist with ADLs
Basic medical equipment operation
Medication administration
Bed making
Charting
Blood sugar testing
Responsibilities:
Assisted patients with activities of daily living
Recorded vital signs, blood sugar levels, and other data
Performed basic nursing functions such as wound care, bathing, and feeding
Assisted with simple medical procedures, including dressing changes, EKGs, and catheterizations
Provided emotional support to patients and their families
Administered medications and treatments as prescribed by the doctor
Assisted with the maintenance of medical equipment
Kept patient charts, records, and other documents up to date
Nurse Aide Resume with 5 Years of Experience
I am a passionate Nurse Aide with 5 years of experience providing exceptional care to patients in hospitals, nursing homes, and home health environments. I have a solid understanding of medical terminology, the ability to follow instructions accurately, and excellent interpersonal skills. I am familiar with medical records and am capable of providing a high level of physical care and emotional support. I am highly organized, detail- oriented, and possess strong problem- solving and critical thinking skills.
Core Skills:
Patient Care
Medical Terminology
Interpersonal Communication
Records Management
Attention to Detail
Problem Solving
Critical Thinking
Responsibilities:
Assisted with patient care, including vital checks, bathing, grooming and dressing
Recorded patient information and vital signs in patient medical records
Administered medication and treatments as directed
Monitored patient conditions and reported any changes to medical staff
Assisted patients with mobility, personal hygiene, and other daily activities
Answered questions and provided emotional support to patients and their family members
Assisted medical staff with equipment set- up, patient transport, and other tasks as needed
Nurse Aide Resume with 7 Years of Experience
Dedicated Nurse Aide with seven years of extensive experience providing compassionate and supportive care to elderly patients. Adept at monitoring vital signs, preparing meals, and administering medications. Proven ability to build rapport with patients, families and other members of the healthcare team. Committed to delivering the highest standard of quality care.
Core Skills:
Excellent interpersonal and communication skills
Knowledge of medical terminology and treatments
Patient- focused care
Basic computer proficiency
Ability to operate medical equipment
Strong problem- solving and organizational skills
Responsibilities:
Assisting patients with activities of daily living such as bathing, grooming and toileting
Monitoring patient vital signs, recording health status and reporting changes to nurses
Supporting patients in reaching daily personal goals
Assisting nurses with medical treatments and procedures
Administering prescribed medications, as directed by a nurse
Assisting with transfers, ambulation and range of motion exercises
Providing emotional support and assistance to patients and families
Cleaning and sanitizing patient rooms and equipment
Nurse Aide Resume with 10 Years of Experience
Nurse Aide with 10+ years of extensive experience in providing compassionate care to patients and ensuring their comfort. Highly skilled in providing support to registered nurses and doctors and communicating with patients and their families. A proven record of maintaining accurate medical records, collecting patient data, and administering medications and treatments.
Core Skills:
Patient Care
Efficient Communication
Clinical Documentation
Medical Equipment Operation
Safety and Infection Control
Patient Education
Medication Administration
Bedside Care
Vital Signs Tracking
End of Life Care
Responsibilities:
Assisted with patient admission, transfer, and discharge processes.
Collected and recorded patient vital signs and other medical data.
Assisted patients with daily activities, such as bathing, dressing, and eating.
Reported any changes in patient condition to the registered nurse.
Monitored and documented patient condition, including intake and output, weight, and vital signs.
Administered prescribed medications and treatments, including injections, IVs, and wound care.
Provided comfort and emotional support to patients and family members.
Cleaned and maintained patient rooms and other areas of the facility.
Educated patients and family members on proper treatments and care.
Nurse Aide Resume with 15 Years of Experience
Experienced Nurse Aide with over 15 years' work history in health care settings. Exceptional ability to provide quality care with compassion, accuracy, and efficiency. Skilled in monitoring and recording vital signs, behavioral observations, and meals served. Proficient in managing medical records and administering medications. Established background in providing support for patient activities and emotional needs.
Core Skills:
Medical terminology knowledge
Accurate documentation abilities
Patient assessment skills
Excellent communication skills
Familiarity with medical equipment
Understanding of patient privacy regulations
Ability to work in a fast- paced environment
Responsibilities:
Monitoring vital signs and behavioral observations
Administering medications in a timely and accurate manner
Assisting with personal hygiene and grooming
Assisting patients with activities of daily living
Providing emotional support to patients in need
Maintaining patient records and filing system
Assisting with mobility and transfers
Transporting patients to and from medical appointments
In addition to this, be sure to check out our resume templates, resume formats, cover letter examples, job description, and career advice pages for more helpful tips and advice.
What should be included in a Nurse Aide resume?
A nurse aide resume provides a glimpse into your qualifications and skills as a nursing assistant. It's important to craft a resume that portrays you in a professional and capable light. Here are some things you should include to make your nurse aide resume stand out:
Contact Information: Include your full name, address, phone number, and email address.
Professional Summary: A few sentences that explain your experience, qualifications, and why you'd be a great fit for the job.
Education: List the name of the school, any certifications or degrees you've earned, and the year you completed them.
Relevant Experience: List your previous work experience, including the job title, position, and the year you worked there.
Skills: List any additional skills you have that relate to the job you're applying for.
Awards and Achievements: Include awards you've earned or any other significant achievements.
Volunteer Work: List any volunteer work you've done that is related to nursing.
References: Include two to three references with their contact information.
Your nurse aide resume should provide a complete overview of your experience, education, skills, and any other relevant qualifications. By taking the time to include all of the details, you'll be more likely to secure the position of your dreams.
What is a good summary for a Nurse Aide resume?
Having an effective and eye-catching summary for a Nurse Aide resume is key in order to stand out among the competition. A Nurse Aide resume summary should be a brief section that highlights your qualifications, experience and accomplishments in a professional manner. It should provide the recruiter with a glimpse of who you are and why you are the best person for the job.
Your summary should include your years of experience in the healthcare field, relevant certifications, any additional training and any specialties you may possess. Additionally, you should mention any awards or recognition you may have received while working as a Nurse Aide. Be sure to emphasize any outstanding qualities you possess such as being compassionate and patient-oriented.
Finally, do not forget to include contact information in your summary so that the recruiter can easily get in touch with you. A good summary for a Nurse Aide resume should be concise, well-written and accurately reflect your experience, skills and education. With the right summary, you can be sure to make a great first impression and get your foot in the door.
What is a good objective for a Nurse Aide resume?
A Nurse Aide resume is an important tool for any nursing professional looking to break into the industry. It outlines your qualifications, experience, and skills to a potential employer, and can be a great way to demonstrate your commitment and expertise. Crafting a good objective for your Nurse Aide resume is a key component in ensuring that your resume is noticed.
Highlight your experience: Your objective should focus on your professional experience as a Nurse Aide. Emphasize the years of experience you have, as well as any specialized knowledge or training that you have received.
Show your commitment: Demonstrate to employers that you are committed to the profession of nursing and that you will be a dedicated and reliable employee.
Mention your skills: Show employers that you have the skills and knowledge necessary to be an effective Nurse Aide. Be sure to mention any certifications or specializations that you possess.
Illustrate your ambition: Express your interest in further developing your career as a Nurse Aide and your desire to learn and grow within the profession.
By crafting a well-thought-out objective, you can make sure that your Nurse Aide resume stands out among the competition. Doing so will help you get one step closer to achieving your career goals.
How do you list Nurse Aide skills on a resume?
Nursing aides provide direct care to patients, from helping with daily activities to providing medical services. When applying for a position in the nursing field, it is important to list your relevant nurse aide skills on your resume. Here are some of the key skills you should include:
Patient Care: The primary responsibility of a nurse aide is to care for patients. This includes providing emotional support, monitoring vital signs, checking for any changes in the patient's condition, and assisting with personal hygiene tasks.
Communication: Strong communication skills are essential to provide quality care to patients. A nurse aide must be able to communicate clearly and effectively with other members of the healthcare team, as well as with the patient.
Documentation: Nurse aides must be able to accurately document patient care and other data in a timely and professional manner. This includes recording vital signs, noting changes in a patient's condition, and writing progress notes.
Interpersonal Skills: A nurse aide must be able to interact with patients and their families in a compassionate and caring manner. It is important to be able to build relationships with patients, which requires excellent interpersonal skills.
Problem Solving: A nurse aide must be able to problem solve in order to provide the best care for a patient. This includes being able to recognize when something is wrong and being able to take the necessary steps to address it.
By including these key nurse aide skills on your resume, you will be able to demonstrate your qualifications for the position you are applying for.
What skills should I put on my resume for Nurse Aide?
When writing your resume for a Nurse Aide position, you should include skills that are tailored to the job. Here are some essential skills that you can include in your Nurse Aide resume:
Patient Care: Nurse Aides are responsible for providing direct patient care under the supervision of a Registered Nurse. Include any related patient care experience you have, such as assisting with activities of daily living, hygiene and grooming, monitoring vital signs, and providing nutritional support.
Observation and Documentation: As a Nurse Aide, you need to be able to observe changes in a patient's condition and document them in the patient's medical records.
Communication: You should include any experience you have in communicating with patients and their families, as well as with other healthcare professionals.
Interpersonal Skills: Nurse Aides need to be able to interact effectively with those in the healthcare team, including patients and their families.
Organization and Time Management: As a Nurse Aide, you need to be able to work in a fast-paced environment and be able to prioritize tasks.
Basic Medical Knowledge: A Nurse Aide needs to have a basic understanding of medical terminology, anatomy, physiology, and other medical topics.
Problem-Solving: As a Nurse Aide, you need to have the ability to identify problems and develop solutions.
Compassion: A Nurse Aide needs to have strong interpersonal skills and be able to demonstrate empathy and compassion.
By including these skills on your resume, you can show potential employers that you are well-suited for the Nurse Aide position.
Key takeaways for an Nurse Aide resume
When it comes to creating a successful nurse aide resume, there are a few key takeaways that can make it stand out from the rest. Here are the key elements that should be included in your nurse aide resume:
Professional Summary – Your professional summary should succinctly explain why you are a great asset as a nurse aide. Summarize your qualifications and experience in a few sentences and highlight why you are the perfect candidate for the position.
Core Competencies – Make sure to include your core competencies, such as medical terminology, patient care, medical recordkeeping, and other related skills in your resume. This will help potential employers understand the depth of your knowledge and abilities.
Education and Certifications – Education and certifications help demonstrate your commitment and knowledge of the field. Make sure to include your degrees and certifications in the resume.
Work Experience – Include a list of your past work experience. Even if you are new to the field, make sure to include any related volunteer work or internships you may have completed.
Professional Affiliations – List any professional affiliations or memberships you may have. This can demonstrate your commitment to your field and how actively engaged you are.
By including the above key takeaways on your nurse aide resume, you will have a better chance of getting noticed and standing out from the competition.
Let us help you build
your Resume!
Make your resume more organized and attractive with our Resume Builder