Writing a resume for a nurse position at a Neonatal Intensive Care Unit (NICU) can be a challenging task, as recruiters and hiring managers will be looking for candidates with specific qualifications, experience and skills. This blog post serves as a guide to help those interested in applying to become a NICU nurse create a resume that stands out from the competition and showcases all the necessary information in a concise and organized manner. We will provide resume examples that are tailored to the NICU nurse position, as well as provide useful tips and advice on what should and should not be included on your resume. By the end of this post, you will have the knowledge and confidence to write a persuasive resume that will help you land the job.
If you didn't find what you were looking for, be sure to check out our complete library of resume examples.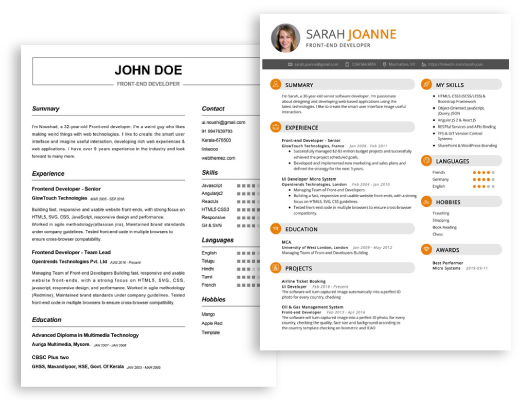 Start building your dream career today!
Create your professional resume in just 5 minutes with our easy-to-use resume builder!
NICU Nurse Resume Examples
John Doe
NICU Nurse
123 Main Street | Anytown, USA 99999 | Phone: (123) 456-7890 | Email: john.doe@email.com
I am an experienced NICU nurse with a passion for providing dedicated and compassionate care to premature infants and their families. I am certified in Neonatal Resuscitation, Neonatal Advanced Life Support, and Pediatric Advanced Life Support. I have extensive experience in a Level III NICU caring for infants born premature or with congenital anomalies. My strong clinical skills and knowledge, combined with my patient- centered and family- focused approach, make me an ideal candidate for your NICU position.
Core Skills:
Knowledge of advanced medical terminology, medications, and treatments
Solid clinical skills including vital signs assessment, physical examinations, wound care, and patient/family education
Ability to work quickly and calmly in emergency situations
Excellent interpersonal skills including communication, collaboration, and problem solving
Proficient in the use of EMR systems
Professional Experience:
NICU Nurse, ABC Hospital, City, State (2020 – Present)
Assessed, monitored, and provided medical care to premature infants and newborns in a Level III NICU
Administered medications, IVs, and specialized nutrition
Collaborated with other health- care professionals such as physicians, midwives, dietitians, and social workers to develop and implement individualized care plans
Educated families on infant care and parenting techniques
Documented patient care, histories, and progress notes accurately and timely
Education:
Bachelor of Science in Nursing, XY University, City, State (2016)
Neonatal Resuscitation Program (NRP) Certification (2017)
Neonatal Advanced Life Support (NALS) Certification (2018)
Pediatric Advanced Life Support (PALS) Certification (2019)
NICU Nurse Resume with No Experience
Recent graduate with an Associate of Science in Nursing looking to start a career as an NICU nurse. Experienced in caring for high- risk newborns, as well as providing emotional support to parents of infants in critical condition. Possess a positive attitude, empathy, and strong critical thinking skills.
Skills
Patient and family- oriented
Excellent communication and interpersonal skills
Knowledge of medical terminology
Experience with caring for high- risk newborns
Ability to handle emotionally charged situations
Strong critical thinking and decision- making skills
Awareness of infection control guidelines
Knowledge of infant nutrition and growth
Responsibilities
Monitor infant vital signs and provide prompt medical intervention as needed
Administer medications, IV fluids, and treatments as prescribed by a physician
Assist with newborn assessments, including Apgar scores and head circumference measurements
Assist parents with infant care instructions, including feeding, bathing, and changing diapers
Monitor infant's progress and consult with physicians on any changes in condition
Provide emotional support to parents of infants in critical condition
Maintain accurate medical records and document interactions with patients
NICU Nurse Resume with 2 Years of Experience
NICU nurse with 2 years of experience providing compassionate, competent care to premature and ill infants. Excels in monitoring patient conditions, providing treatments, and performing daily care activities under the direction of physicians and nurses. Possesses excellent communication skills and experience in assessing patient conditions and developing individualized treatment plans.
Core Skills:
Knowledge of the principles of neonatal nursing and best practices
Ability to provide care to premature and critically ill infants
Holistic approach to patient care
Strong communication skills
Ability to work collaboratively with physicians and other healthcare professionals
Good problem- solving and critical thinking skills
Compassionate and caring bedside manner
Responsibilities:
Assessed patient conditions and developed individualized treatment plans
Monitored and documented patient vital signs and conditions
Provided treatments such as IVs, oxygen therapy, catheterization, and respiratory therapy
Administered medications, immunizations, and other treatments as directed by physicians
Coordinated and communicated with physicians, family members, and other healthcare professionals
Maintained clean, sanitary, and safe work environment
Followed established protocols and procedures for quality patient care
NICU Nurse Resume with 5 Years of Experience
Experienced NICU Nurse with 5 years of experience providing comprehensive care for newborns in a Neonatal Intensive Care Unit. Adept at performing advanced medical procedures, communicating effectively with families and colleagues, and providing compassionate care. Possesses a keen attention to detail, excellent organizational skills and a passion for helping others.
Core Skills:
Critical Thinking
Interpersonal Communication
Data Collection
Medical Documentation
Patient Assessment
Leadership
Responsibilities:
Provided care for newborns in the NICU, including administering medications, taking vital signs, and managing medical equipment
Performed advanced medical procedures such as intubations, chest tube insertions, and central line placements
Communicated with patients' families regarding their newborns' medical needs and provided emotional support
Coordinated with a multidisciplinary team to develop and carry out patient care plans
Created detailed medical records and documents in accordance with HIPAA regulations
Assessed patient condition and monitored vital signs, lab results, and other health data
Provided education and guidance to families and colleagues on best practices for newborn care
NICU Nurse Resume with 7 Years of Experience
Highly experienced NICU Nurse with 7 years of experience in providing medical care to premature newborns and their mothers. Adept in monitoring vital signs, administering medications, and coordinating with physicians and families. Possesses excellent interpersonal and communication skills for providing patient and family education. Experienced in applying evidence- based nursing practices and guidelines to provide optimal level of care.
Core Skills:
Vital sign monitoring
Administering medications
Family and patient education
Evidence- based nursing practices
Developing care plans
Maintaining patient records
Newborn care
Responsibilities:
Assessed vital signs and physical condition of newborns and monitored changes
Provided nursing care to premature and critically ill infants
Provided emotional support to newborns and their families
Educated parents and family members on infant care
Documented patient care and communicated important details to other healthcare professionals
Developed and implemented individualized care plans for newborns
Assisted physicians with procedures and treatments
Coordinated with multidisciplinary teams to provide the best outcomes for infants
Administered medications, vaccinations and other treatments as prescribed by physicians
Provided emotional support and comfort to newborns and their families
NICU Nurse Resume with 10 Years of Experience
Highly experienced and dedicated NICU Nurse with 10 years of experience providing quality care to newborns in a neonatal intensive care unit setting. Skillfully assesses the condition of newborns, administers medications, monitors vital signs, and works collaboratively with a multidisciplinary team to ensure the best health outcomes for babies. Committed to maintaining a safe and supportive environment for both patients and families.
Core Skills:
Patient Assessment
Vital Signs Monitoring
Medication Administration
Patient Education
Critical Care
Multidisciplinary Collaboration
Charting and Documentation
Clinical Decision- Making
Compassionate Bedside Care
Problem- Solving
Responsibilities:
Assess newborns for critical signs, such as respiration, temperature, pulse, and blood pressure
Monitor and assess patient's vital signs and document changes in patient's condition
Perform diagnostic tests and interpret results
Administer medications, as prescribed by physicians
Educate families on newborn care and provide emotional support
Assist with medical procedures and treatments as needed
Work collaboratively with a multidisciplinary team to ensure optimal health outcomes
Develop and implement individualized patient care plans
Chart patient information accurately and comprehensively
Provide compassionate bedside care to newborns
Respond to emergency situations and provide prompt medical care
NICU Nurse Resume with 15 Years of Experience
A NICU nurse with 15 years of experience in neonatal critical care. Skilled in providing care for premature and critically- ill infants, prioritizing care and monitoring vital signs. A team player with excellent communication and problem- solving skills. Committed to providing the best possible care for each patient and their families.
Core Skills:
Patient Care
Neonatal Care
Charting and Documentation
Interdisciplinary Collaboration
Advanced Treatment Protocols
Advanced Life Support
Compassionate Interaction
Crisis Management
Responsibilities:
Assessing, monitoring and providing care for premature and critically- ill infants
Administering medications, intravenous fluids, and blood products
Observing, evaluating and recording symptoms and patient reactions
Performing diagnostic tests and treatments, such as intubation, phototherapy and respiratory therapy
Collaborating with interdisciplinary team to plan and implement patient care
Educating families on infant care, treatment and follow- up care
Maintaining patient records and documentation
Identifying potential health risks and developing treatment plans
Responding to emergency medical situations and providing advanced life support when needed
In addition to this, be sure to check out our resume templates, resume formats, cover letter examples, job description, and career advice pages for more helpful tips and advice.
What should be included in a NICU Nurse resume?
A Neonatal Intensive Care Unit (NICU) Nurse resume should include a few crucial elements to ensure the information is clear and concise. These elements include:
Education: A NICU Nurse's resume should include a listing of all relevant education and certifications required for their role. This could include a degree in Nursing, specialized certifications, or any training programs completed for the NICU specialization.
Work Experience: Any prior work experience in nursing or related roles should be included. Detail any experience working in an NICU, or in any specialized care settings.
Professional Skills: A NICU Nurse should list any relevant technical and professional skills which could include electronic health record systems and therapeutic procedures specific to babies in neonatal care.
Specializations: If the NICU Nurse has any specialized certifications or specializations within the field of neonatal care, those should be included and highlighted.
Patient Care: Include any specific experience, metrics, or results related to patient care in the NICU.
By ensuring all of these elements are included in a NICU Nurse resume, the applicant can ensure they are displaying the most relevant and up-to-date information to potential employers.
What is a good summary for a NICU Nurse resume?
A NICU Nurse resume should include summaries that highlight the individual's knowledge and experience in neonatal care. It should emphasize their ability to provide specialized care to infants in a fast-paced, high-stress environment. An ideal summary should also mention any qualifications and certifications acquired by the applicant, as well as any specializations, such as advanced neonatal life support or management skills. The summary should also mention any previous experience with high-risk pregnancies and premature infants, as well as any hands-on experience with the NICU equipment. Finally, the summary should mention the applicant's commitment to delivering quality patient care and providing a safe, supportive environment for both infants and their families.
What is a good objective for a NICU Nurse resume?
A resume objective is an important part of a NICU nurse resume as it clearly states your career goals and objectives. A good objective should be tailored to the job you are applying for and should clearly demonstrate your qualifications and experience. Here are some examples of good objectives for a NICU nurse resume:
To leverage my extensive clinical experience and specialized education in pediatric and neonatal nursing to provide outstanding care to the neonatal population and their families.
To use my passion for helping others, strong clinical skills, and knowledge of the latest technology to provide the best possible care to newborns, their families, and the healthcare team.
To use my expertise in providing safe, quality, and compassionate care to newborns and their families in a NICU setting.
To use my leadership skills, problem-solving abilities, and advanced neonatal knowledge and experience to improve patient outcomes and promote a positive work environment.
To employ my communication, interpersonal, and organizational skills to ensure the highest quality of care to newborns and their families in the NICU.
How do you list NICU Nurse skills on a resume?
The NICU (neonatal intensive care unit) is a specialized area of nursing that requires a high level of expertise and skill. Working in a NICU requires nurses to be adept at providing medical care, interacting with families, and managing complex patient care scenarios. When writing a resume for a NICU nurse position, it is important to list skills that demonstrate your ability to perform effectively in the NICU. Below are a few specific skills to consider listing on your resume:
Excellent bedside manner: NICU nurses must be able to provide compassionate and caring care for infants and their families.
Strong communication skills: NICU nurses must be able to quickly and effectively communicate with infants, parents, and other healthcare providers.
Ability to multi-task: In the NICU setting, nurses must often work with multiple patients at once.
Knowledge of advanced medical equipment: NICU nurses must be familiar with the specialized medical equipment used in the NICU.
Expertise in neonatal care: NICU nurses must have a detailed understanding of the care and treatment of premature infants.
Ability to work well in teams: NICU nurses must be able to work well with other healthcare professionals in order to provide the best care possible.
By including these specific skills on your resume, employers will have a better understanding of your level of expertise and experience in the NICU setting.
What skills should I put on my resume for NICU Nurse?
As a NICU nurse, you are responsible for providing care to babies born prematurely or with medical complications. When creating your resume, you need to showcase the skills that you have that make you the best candidate for the position. Here are some key skills to include on your resume as a NICU nurse:
Knowledge of newborn and infant care: As a NICU nurse, you must have a thorough understanding of newborn and infant care including the ability to monitor vital signs and administer treatments.
Neonatal resuscitation skills: You should highlight your knowledge of neonatal resuscitation and be prepared to demonstrate those skills during an interview.
Communication skills: Being a NICU nurse often involves interacting with families of patients. You must be able to communicate clearly and effectively with families to reassure them and provide updates on their baby's health.
Compassion: Compassion is an important trait for a NICU nurse as you will be providing care to babies who may be in critical condition.
Adaptability: Every baby is different and requires a unique treatment plan. As a NICU nurse you must be flexible and able to adjust to changing needs.
By highlighting these skills, you will demonstrate your experience and make yourself a more attractive candidate for the role.
Key takeaways for an NICU Nurse resume
When making a resume for a NICU Nurse position, there are some key takeaways that you should consider to make sure you stand out to potential employers.
Make sure that your resume highlights your experience in the NICU. As a NICU Nurse, you have a specialized set of skills and knowledge that makes you an asset to the team. Be sure to emphasize your expertise in the field, including any certifications or special trainings that you have completed.
Describe any additional skills or knowledge that you have. Being a NICU Nurse requires a combination of technical and interpersonal knowledge. Make sure to include any specialized training or certifications that you have in addition to your nursing background.
Showcase your communication and leadership skills. As a NICU Nurse, you will be expected to be a leader in the unit. Make sure to highlight any leadership roles that you have taken on in the nursing field and any communication skills that you have that would make you an asset to the team.
Showcase any volunteer or extracurricular activities that you have done. Having experience outside of the nursing field can be beneficial to potential employers. Make sure to list any volunteer activities or extracurricular activities that you have done that would contribute to your ability to be a successful NICU Nurse.
By following these key takeaways, you can ensure that your resume will be noticed by potential employers and you will be considered for the role. Good luck in your job search!
Let us help you build
your Resume!
Make your resume more organized and attractive with our Resume Builder