Writing a resume is an important part of the job search process, and it can be especially daunting for those entering the medical field. An MDS Nurse, in particular, must demonstrate a unique set of skills and qualifications that are specific to their area of specialty. This guide provides an overview of the resume writing process for MDS Nurses, from format and structure to content and tips, with examples to guide you along the way. With the right resume in hand, you'll be well on your way to securing your dream job.
If you didn't find what you were looking for, be sure to check out our complete library of resume examples.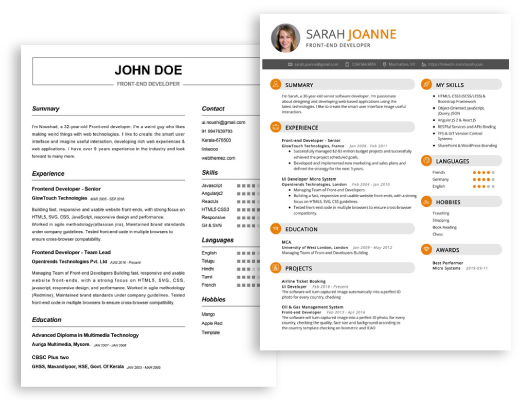 Start building your dream career today!
Create your professional resume in just 5 minutes with our easy-to-use resume builder!
MDS Nurse Resume Examples
John Doe
MDS Nurse
123 Main Street | Anytown, USA 99999 | Phone: (123) 456-7890 | Email: john.doe@email.com
A highly experienced MDS Nurse with over 10 years of experience working in long term care facilities. Expertise in conducting RAI assessments, care plan reviews, and interdisciplinary rounds. Skilled in applying clinical knowledge, best practice guidelines, and creative problem solving to ensure quality of care for all residents. Passionate about collaborating with other healthcare professionals and providing excellent customer service.
Core Skills:
MDS 3.0 Knowledge and Proficiency
Care Plan Development and Review
Clerical Management
Rehabilitation Services
Interdisciplinary Rounds
Quality Assurance and Improvement
Professional Experience:
MDS Nurse, ABC Long Term Care Facility – May 2008 to Present
Conduct and document assessment using MDS 3.0
Create and review care plans, ensuring the plans meet regulatory standards
Maintain accurate and up- to- date resident medical record
Facilitate interdisciplinary rounds with Physicians, Nursing, Rehabilitation and Social Services
Conduct quality of life assessments and develop care plans
Provide exceptional customer service to residents and families
Education:
Bachelor of Science in Nursing, University of XYZ – May 2007
MDS Nurse Resume with No Experience
Hardworking and compassionate Nurse with excellent patient care and communication skills. Currently pursuing a diploma in Nursing with a dedication to providing patient- centered care. Possess strong organizational and time management skills, with an ability to multitask and prioritize tasks efficiently.
Skills:
Excellent patient care
Strong communication skills
Organizational skills
Time management
Multitasking
Prioritizing
Computer proficiency
Responsibilities:
Provide patient- centered care
Assist nurses and doctors in patient care
Documenting medical information
Assessing patient conditions
Instructing and educating patients
Ensuring patient safety
Maintaining patient confidentiality
Administering medications
Monitoring vital signs
Assisting with patient examinations
MDS Nurse Resume with 2 Years of Experience
Dynamic and self- motivated MDS Nurse with two years of experience in providing skilled nursing services, conducting assessments, and developing personalized care plans for elderly and rehabilitation patients. Adept at utilizing innovative techniques to meet the individual needs of the patient, as well as acting as a valuable member of an interdisciplinary healthcare team.
Core Skills:
Excellent assessment, clinical, and documentation skills
Knowledge of Medicare, Medicaid, and other insurance
Ability to manage multiple tasks effectively
Excellent communication and interpersonal skills
Strong knowledge of medical terminology
Responsibilities:
Completing and submitting MDS assessments accurately and in a timely manner.
Analyzing resident data, patient evaluation information, and medical chart information to assign appropriate MDS codes.
Monitoring patients' conditions and providing care plans accordingly.
Providing assessment and care to elderly and rehabilitation patients.
Developing and maintaining effective communication with patients and family members.
Facilitating interdisciplinary team meetings and providing recommendations to other healthcare providers.
Tracking changes in patient condition and informing family members or other healthcare professionals in a timely manner.
Assisting with admissions and transfers of residents.
Serving as a valuable resource to other healthcare providers.
MDS Nurse Resume with 5 Years of Experience
A knowledgeable and experienced MDS Nurse with 5 years of experience in assessing and coding patient care, developing patient care plans, and providing comprehensive care coordination. Possesses excellent communication and interpersonal skills and is comfortable working with diverse patient populations. Skilled in utilizing the latest technologies and trends in the healthcare field to help identify and address patient needs.
Core Skills:
Assessing and coding patient care
Developing patient care plans
Effective communication and interpersonal skills
Ability to work with diverse patient populations
Utilizing the latest technologies and trends in the healthcare field
Implementing and monitoring quality improvement systems
Responsibilities:
Assess and assess the resident's health and functional status, using the MDS and other available information
Develop, request and review MDS assessments, care plans and care plans related to the care of each resident
Prepare and submit accurate and timely MDS evaluations and care plans
Monitor and review MDS assessments for accuracy and compliance with regulations
Implement and monitor quality improvement systems and processes
Assist in the development and implementation of standards for the evaluation, monitoring and improvement of resident care
Provide education and training to staff about MDS regulations and care plans
Maintain knowledge of current trends and developments in the field of MDS
Communicate with other healthcare providers to coordinate patient care.
MDS Nurse Resume with 7 Years of Experience
Dynamic and passionate MDS Nurse with 7 years of experience providing quality patient care and delivering comprehensive assessments in nursing homes and long- term care facilities. Adept at using the MDS system, InterQual Criteria, and CMS regulations to develop care plans for residents. Experienced in training and educating staff on MDS processes, including assessments and care planning. Possess a strong commitment to providing quality patient care and excellent customer service.
Core Skills:
MDS Systems
InterQual Criteria
CMS Regulations
Care Plans
Assessment
Patient Care
Customer Service
Staff Training
Responsibilities:
Assessment of patient needs using the MDS system and InterQual Criteria
Development of care plans to meet individual needs
Implementation of care plans in accordance with CMS regulations
Supervision of nursing staff in the completion and submission of MDS paperwork
Training and educating staff on MDS processes, assessments and care plans
Monitoring patient progress and providing regular updates to the medical team
Ensuring adherence to quality assurance procedures and policies
Providing excellent customer service and ensuring patient satisfaction
MDS Nurse Resume with 10 Years of Experience
Seasoned nurse with 10 years of experience providing high- quality care in the hospital, community, and home settings. Proven track record of consistently delivering compassionate, evidence- based care and providing assistance to patients and their families. Highly organized and detail- oriented, adept in creating individualized care plans and collaborating with interdisciplinary teams to ensure optimal patient outcomes.
Core Skills:
Patient Care
Comprehensive Assessment
Documentation
Interdisciplinary Collaboration
Therapeutic Communication
Quality Improvement
Infection Control
Medication Administration
Health Education
Crisis Management
Responsibilities:
Assessed patient health needs and developed individualized care plans.
Administered prescribed medications, monitored side effects and observed responses to treatment.
Monitored vital signs, including temperature, pulse, respiration, blood pressure and weight.
Performed physical exams, collected samples and composed progress notes.
Evaluated patient progress and provided appropriate interventions.
Developed and implemented educational programs to promote health and wellness.
Assisted physicians with examinations and treatments.
Educated patients and families on health promotion and disease prevention.
Collaborated with interdisciplinary team to coordinate care and ensure patient safety.
Managed and monitored Infection Prevention and Control program.
Implemented Quality Improvement initiatives.
Leveraged a variety of therapeutic communication techniques to effectively interact with patients.
MDS Nurse Resume with 15 Years of Experience
Highly experienced Nurse professional with a successful 15 year career in the medical field. Skilled in providing exceptional patient care and contributing to a positive healthcare experience. Possess strong clinical knowledge and excellent communication, organization, and multitasking abilities. Adept at utilizing technology to improve patient care and efficiently handle administrative tasks. In recognition of outstanding performance, received multiple awards for excellence in patient care.
Core Skills:
Patient Care
Clinical Knowledge
Communication
Organization
Multitasking
Technology Utilization
Administrative Tasks
Responsibilities:
Assisted physicians with patient examinations
Monitored patient vital signs
Administered prescribed medications and treatments
Performed triage assessment of incoming patients
Developed and implemented patient medical plans
Documented patient health records and medical histories
Educated patients on medical conditions and treatments
Managed staff and daily operations
Coordinated patient referrals to specialists and other medical facilities
In addition to this, be sure to check out our resume templates, resume formats, cover letter examples, job description, and career advice pages for more helpful tips and advice.
What should be included in a MDS Nurse resume?
A Medical and Dental Services (MDS) Nurse resume should stand out from the competition and highlight your experiences and achievements in the field of medical and dental nursing. It should be tailored to each job that you apply for, and should include the following:
Profile Summary: A concise statement that speaks to your experiences and qualifications as an MDS Nurse.
Education: Outline your educational qualifications, including all relevant degrees, certificates, and other medical or dentistry related coursework.
Licensure and Certifications: Include any licenses or certifications that you hold, such as Registered Nurse (RN) or Licensed Practical Nurse (LPN).
Work Experience: Describe any relevant work experience, including the duties and responsibilities associated with each position.
Skills: Highlight any particular skills or abilities that you have related to the field of medical and dental nursing.
Achievements: Provide examples of any awards, honors, or recognition that you have received for your work as an MDS Nurse.
Memberships: List any memberships in professional medical or dental organizations that you may have.
References: Provide the contact information of any professional or academic references that you may have.
By including all of these elements in your MDS Nurse resume, you can ensure that it will accurately reflect your experience and qualifications. Additionally, you can also include any additional information that you feel might be relevant to the job you are applying for.
What is a good summary for a MDS Nurse resume?
A Medical-Surgical Nurse, or MDS Nurse, resume summary should be a succinct and comprehensive overview of a candidate's professional experience and achievements. It should highlight their specialties, unique qualifications, and professional accomplishments. It should also mention any certifications, awards, or accomplishments that showcase the candidate's professionalism and dedication to their role. Additionally, the summary should include any relevant information that would make the candidate stand out from other MDS Nurses. This could include a strong academic background, experience working in particular medical settings, or leadership roles. The summary should show the employer why this candidate is the best fit for the job and should be crafted to capture the employer's attention.
What is a good objective for a MDS Nurse resume?
A good objective for a MDS Nurse resume should clearly demonstrate the applicant's ability to provide accurate assessments and documentation of resident care, as well as their knowledge of all applicable regulations and standards of care. It should also highlight the applicant's ability to work effectively with interdisciplinary teams and commit to ethical care.
To that end, the ideal MDS Nurse resume objective should include the following:
Demonstrate knowledge of the Minimum Data Set (MDS) process
Show commitment to providing accurate documentation of resident care
Explain ability to interpret data and assign RUGs categories accurately
Highlight experience with interdisciplinary teams and care coordination
Exhibit commitment to provide ethical patient care
Demonstrate strong communication and organizational skills
Explain ability to stay current with regulations and standards of care
By incorporating these points into a MDS Nurse resume objective, applicants can clearly showcase their qualifications and experience and make a great first impression with potential employers.
How do you list MDS Nurse skills on a resume?
MDS nurses play an invaluable role in the nursing community by collecting and analyzing patient information to create comprehensive care plans. A well-written MDS nurse resume should effectively convey a nurse's unique set of skills and qualifications to a potential employer. Here are some tips for making sure your resume stands out:
Highlight certifications and qualifications: Make sure to list any specific MDS nursing certifications or qualifications you possess. This might include Certified MDS Coordinator or Registered Nurse with MDS experience.
Demonstrate your expertise in assessment and data analysis: Potential employers will want to know that you're able to accurately assess patients and analyze and interpret data. List any experience you have in this area, such as training in the RUG-IV system or proficiency in using MDS software.
Show your ability to communicate and collaborate: MDS nurses need to be able to communicate effectively with patients, families, and colleagues. List any experience you have in setting up patient care plans, coordinating with other nurses, or providing patient education.
Demonstrate your knowledge of coding and reimbursement: To be successful as an MDS nurse, you need to have a thorough understanding of coding and reimbursement regulations. List any experience you have in this area, such as experience with auditing and reviewing reimbursement claims.
By highlighting your unique set of skills, your resume will stand out and demonstrate to potential employers that you're a qualified and capable MDS nurse.
What skills should I put on my resume for MDS Nurse?
MDS (Minimum Data Set) Nurses play a critical role in long-term care facilities, as they are responsible for accurately assessing the care needs of patients and helping to develop care plans. When writing a resume for a MDS Nurse position, it is important to highlight the relevant skills and experience that demonstrate your qualifications. Here are some skills to consider including on your MDS Nurse resume:
Skilled in interpreting MDS 3.0 assessments and accurately coding the data
Extensive experience in developing effective care plans for patients
Expert in both Medicare and Medicaid regulations
Proven ability to use data collection software to track patient care
Knowledge of quality assurance standards and commitment to meeting them
Excellent communication and interpersonal skills to build relationships with team members
Ability to work independently and as part of a multidisciplinary team
Dedicated to providing compassionate and compassionate care to patients
Proficient in electronic medical records software and Microsoft Office Suite
Key takeaways for an MDS Nurse resume
As a Medical Documentation Specialist (MDS) Nurse, your resume should be tailored to highlight your qualifications and experience in a way that appeals to potential employers. To ensure that your resume stands out for the right reasons, here are some key takeaways for how to create the perfect resume:
Keep it clean and organized. Your resume should be easy to read and follow, with consistent formatting and clear sections. This will make it easier for employers to quickly scan your resume and understand your background and experience.
Highlight your skills and qualifications. Make sure to include your nursing experience, any certifications, and other relevant skills and qualifications. Be sure to provide details on each of these to demonstrate why you're the right fit for the position.
Use keywords. Many employers use applicant tracking systems to filter out resumes. Make sure to include keywords related to the MDS Nurse position throughout your resume, like "medical documentation" and "electronic health records".
Focus on results. Whenever possible, provide examples of how you used your skills and qualifications to achieve results. This will help potential employers see the value that you can bring to the position.
By following these tips, you can create an effective MDS Nurse resume that will stand out to potential employers and help you land the job you want.
Let us help you build
your Resume!
Make your resume more organized and attractive with our Resume Builder