Writing a resume is a daunting task, especially when you need to market yourself as a Licensed Vocational Nurse. The key to success is to create a resume that will highlight your education and training as well as your work experience and skills. This guide will provide you with all the information you need to create a compelling and effective resume that will help you stand out and get you the job you want. With examples and tips for crafting an effective resume, you'll be ready to apply for the job of your dreams.
If you didn't find what you were looking for, be sure to check out our complete library of resume examples.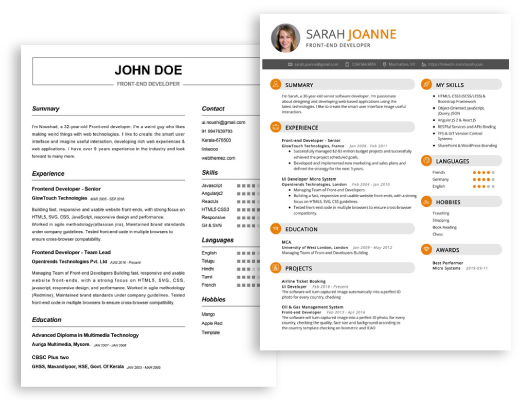 Start building your dream career today!
Create your professional resume in just 5 minutes with our easy-to-use resume builder!
Licensed Vocational Nurse Resume Examples
John Doe
Licensed Vocational Nurse
123 Main Street | Anytown, USA 99999 | Phone: (123) 456-7890 | Email: john.doe@email.com
Dedicated and experienced Licensed Vocational Nurse with more than 8 years of in- depth clinical experience in the delivery of patient care. Proven ability to assess and execute patient care plans, support patient health needs and ensure compliance with standards of care. Utilizes strong organizational and communication skills to effectively collaborate with multidisciplinary team members and provide quality patient care.
Core Skills:
Comprehensive knowledge of nursing fundamentals, methods, and techniques
Exceptional patient assessment and care planning abilities
Proficient in performing minor medical procedures and administering medications
Excellent organizational, communication, and interpersonal skills
Ability to work independently and with a healthcare team
Strong critical thinking, problem- solving and multitasking skills
Professional Experience:
Licensed Vocational Nurse, 2018 – Present
Metropolitan Health Services, California
Provide comprehensive nursing care to a diverse patient population, including assessment, planning, implementation, and evaluation
Ensure patient safety and comfort by monitoring vital signs, administering medications, and providing appropriate patient- centered care
Perform minor medical procedures and assist with long- term care planning
Collaborate effectively with physicians, other healthcare professionals, and family members to ensure quality patient care
Document patient care accurately and effectively in accordance with organizational and regulatory standards
Licensed Vocational Nurse, 2015 – 2018
Los Angeles Community Health Center, Los Angeles, CA
Assessed and monitored the health of patients in an outpatient setting
Provided direct patient care, including physical assessments, administering medications, initiating treatments, and providing education
Maintained accurate patient records according to guidelines and regulations
Assisted with the development of patient care plans and implemented prescribed treatments
Collaborated with interdisciplinary teams to ensure optimal patient care
Education:
University of California, Los Angeles, CA
Licensed Vocational Nurse Resume with No Experience
Recent nursing school graduate seeking to use dedication to patient care and established nursing skills as a Licensed Vocational Nurse.
Skills:
Ability to assess patient health and prioritize needs
Familiarity with medical terminology
Proficient in patient care and monitoring
Excellent communication and interpersonal skills
Compassionate and patient- focused
Responsibilities:
Assisted physicians and registered nurses with patient care
Performed basic clinical tasks, including taking vital signs, administering injections, and monitoring patient health
Provided emotional support to patients and their families
Monitored patient progress and reported changes to medical staff
Ensured patient safety and comfort throughout the care process
Adhered to the highest standards of patient care in accordance with medical protocols
Licensed Vocational Nurse Resume with 2 Years of Experience
I am an experienced Licensed Vocational Nurse looking to expand my knowledge and skills in a new environment. I possess excellent patient care and interpersonal skills, which I developed through my 2 years experience in a variety of healthcare settings. I am committed to providing quality care to all patients and am experienced working with vulnerable populations. Additionally, I have knowledge in a variety of medical terminology and procedures, including wound care and patient assessments.
Core Skills:
Patient Care
Interpersonal Communication
Wound Care
Medical Terminology
Patient Assessments
Responsibilities:
Providing patient care in accordance with standards of practice
Assisting patients with daily activities such as bathing and dressing
Monitoring vital signs and providing basic treatment
Administering oral and intramuscular medications
Documenting patient medical records accurately and completely
Providing patient and family education on medical conditions and treatments
Assisting physicians and nurses in performing patient assessments and treatments
Licensed Vocational Nurse Resume with 5 Years of Experience
A dedicated and compassionate Licensed Vocational Nurse with 5 years of experience in the healthcare industry. Possessing excellent communication and interpersonal skills, a proven ability to work with a wide variety of patients, and a deep knowledge of medical procedures and treatments. Committed to providing the highest quality of care to patients and their families and maintaining excellent documentation of patient care and care plans.
Core Skills:
Medical Terminology
Patient Assessment
Patient Education
Medication Administration
Wound Care
Minor Procedures
Patient Care Planning
Documentation
CPR and First Aid
Teamwork
Time Management
Responsibilities:
Assisting physicians with medical treatments and examinations
Administering medications and treatments, monitoring patient progress and reporting changes to program directors
Educating patients, families and caregivers on disease processes, treatments and self- care techniques
Assessing patient needs, developing and implementing care plans, and evaluating care plans for effectiveness
Maintaining detailed documentation of patient care and care plans
Conducting health screenings, providing first aid and CPR when necessary
Monitoring patient vital signs, such as pulse, temperature, and blood pressure
Providing emotional support and encouragement to patients and families
Licensed Vocational Nurse Resume with 7 Years of Experience
Highly motivated and committed Licensed Vocational Nurse with seven years of experience in the healthcare industry. Experienced in providing direct patient care, administering medications, monitoring patient vital signs, and charting patient medical records. Skilled in assessing patient needs and working collaboratively with other healthcare professionals in providing comprehensive patient care. Excellent communication, organizational, and time management skills.
Core Skills:
Patient Assessment
Medication Administration
Wound Care
Vital Sign Monitoring
Charting
Patient Education
Collaborative Teamwork
Responsibilities:
Performed comprehensive assessments of patient health needs and developed individualized treatment plans.
Administered medications, monitored patient vital signs, and provided wound care.
Educated patients on treatment methods, lifestyle changes, and self- care procedures.
Collaborated with physicians and other healthcare professionals to provide comprehensive patient care.
Recorded and maintained accurate documentation of patient care in the medical chart.
Provided emotional support for patients and family members.
Ensured high quality of care was maintained in accordance with established standards and regulations.
Licensed Vocational Nurse Resume with 10 Years of Experience
Licensed Vocational Nurse with 10+ years of professional experience providing care to patients in varied medical settings. Experienced in delivering quality patient care under supervision of a registered nurse and physician. Accustomed to working with diverse patient populations and adapting to ever- changing healthcare regulations.
Core Skills:
Performing physical exams
Administering medications
Monitoring vital signs
Providing patient education
Documenting patient care
Initiating resuscitative measures
Handling emergencies
Infection control processes
Responsibilities:
Assisting physicians with examinations and treatments
Providing bedside care to patients
Administering medications and treatments as prescribed
Collecting vital signs and patient medical histories
Carrying out physician- prescribed treatments
Assisting with wound care and other medical procedures
Maintaining accurate patient records and notes
Assisting in patient transfer activities
Providing emotional support and counseling to patients
Demonstrating good communication skills
Initiating resuscitative measures in emergency situations
Complying with all regulatory policies and procedures
Providing patient education regarding their care and treatments
Administering prescribed medications and observing patients for reactions
Licensed Vocational Nurse Resume with 15 Years of Experience
I am a Licensed Vocational Nurse with 15 years of experience providing attentive and compassionate care to my patients. I have extensive experience in geriatric, pediatric and pediatric oncology, including administering medications, administering treatments, providing health education, and monitoring vital signs. Additionally, I am well- versed in providing emotional support to patients and families, performing rehabilitative care, and ensuring that the patients' quality of care is maintained at the highest standards. I am adept at juggling multiple tasks and prioritizing patient care in order to ensure that all needs are met.
Core Skills:
Compassionate patient care
Administration of medication
Rehabilitative care
Monitoring vital signs
Providing emotional support
Health education
Prioritizing patient care
Knowledge of pediatric and geriatric care
Responsibilities:
Conducting patient assessments
Creating and updating patient care plans
Administering medications
Monitoring vital signs and providing health education
Providing emotional support to patients and families
Performing rehabilitative care
Collaborating with other healthcare professionals for the best possible patient care
Maintaining patient records and charting progress
Adhering to healthcare protocols and safety standards
Maintaining a safe and clean environment
In addition to this, be sure to check out our resume templates, resume formats, cover letter examples, job description, and career advice pages for more helpful tips and advice.
What should be included in a Licensed Vocational Nurse resume?
When it comes to writing a resume for a Licensed Vocational Nurse (LVN) position, there are certain elements that should be included to highlight your qualifications and experience. Here are some essential elements to include in your resume:
Professional Summary: Your professional summary should be a short statement at the top of your resume that expresses your experience and qualifications for the role of an LVN. It should also emphasize any special qualifications or certifications you have.
Education: Here you should include any educational qualifications you have, including any nursing courses you have completed. Be sure to include the school or institution you attended and the years you attended.
Experience: Here you should list any previous experience you have in the nursing field, such as working as an LVN or any other nursing-related roles. Include the name of the facility, the dates you worked there, and a brief description of your role and responsibilities.
Skills: Here you can list any special skills you have that may be relevant to the role of an LVN. This can include any software programs you are familiar with or any specialized medical skills you may have.
Awards/Certifications: List any awards or certifications you have received related to the nursing field. This can include any specialized courses you have taken or certificates you have earned.
By including all of these elements in your resume, you can create a comprehensive and compelling resume that will make you stand out from the competition.
What is a good summary for a Licensed Vocational Nurse resume?
A Licensed Vocational Nurse (LVN) resume should include a concise summary that highlights your nursing skills and experience. The summary should emphasize your ability to provide compassionate patient care, administer medications, and perform medical treatments. It should also include any certifications or special training you have received, such as in CPR or wound care. Your summary should emphasize your commitment to patient safety, your strong work ethic, and your excellent communication and organizational skills. Finally, be sure to include any awards or honors you have received in the field of nursing. By providing a clear, concise summary of your qualifications, you will be well-positioned to stand out to employers in the nursing field.
What is a good objective for a Licensed Vocational Nurse resume?
Writing a resume as a Licensed Vocational Nurse (LVN) can be daunting. It's important to have an objective that clearly outlines what type of position you are looking for, and differentiates your qualifications from other candidates.
Here are some tips for crafting a strong objective for an LVN resume:
Keep it concise: An objective should be no more than two sentences long. Focus on the most relevant information and leave the extra details for your cover letter or the rest of your resume.
Highlight your qualifications: Make sure to emphasize the qualifications that make you stand out from other LVN candidates. Focus on the skills you've acquired in your field, any special training you've completed, and any relevant certifications.
Mention the type of job you're looking for: Make sure to specify the type of position you are looking for, such as "Seeking a full-time LVN position in a pediatric hospital setting."
Show enthusiasm: Express your interest and enthusiasm for the position and make sure to mention how you will use your skills and qualifications to make a positive impact on the organization.
With these tips in mind, you'll be able to craft a strong and effective objective for your LVN resume. Good luck!
How do you list Licensed Vocational Nurse skills on a resume?
When writing your resume as a Licensed Vocational Nurse (LVN), you will want to be sure to list the special skills you possess that are beneficial to nursing. Here are some skills to consider adding:
Understanding of anatomy and physiology
Ability to accurately take and record vital signs
Knowledge of medical terminology and abbreviations
Familiar with medication administration and documentation
Knowledge of basic laboratory procedures
Ability to perform physical assessments
Skilled in patient teaching and education
Experienced in providing therapeutic and supportive care
Proficient in the use of medical equipment
Ability to provide emotional and psychosocial support to patients
Understanding of infection control and prevention techniques
Skilled in providing patient care in a variety of settings
Experienced in administering treatments and medications as prescribed
Ability to assess a patient's condition and provide care accordingly
Ability to prioritize and organize patient care
Proficient in dealing with patients and families in stressful situations
Excellent communication and interpersonal skills
Skilled in multitasking and effective time management
Experienced in basic wound care and management
Knowledge of health and safety regulations in the workplace
Ability to work collaboratively as part of a healthcare team
Knowledge of patient privacy laws and patient rights
By including these skills on your resume, you will show employers that you are a well-rounded and competent LVN and an asset to their team.
What skills should I put on my resume for Licensed Vocational Nurse?
When applying for a position as a Licensed Vocational Nurse (LVN), it is important to include skills on your resume that demonstrate your proficiency in the field. To ensure your resume stands out, include the following skills on it:
Patient Care: As an LVN, you will be responsible for the comfort, care, and safety of patients. Make sure to emphasize any prior experience you may have in patient care.
Medication Administration: You should also highlight any experience you have administering medication to patients. This could include administering injections, intramuscular or subcutaneous therapies, and IV treatments.
Documentation: As an LVN, you will be responsible for keeping accurate records of patient care. Be sure to emphasize your ability to keep meticulous records and maintain confidentiality of patient information.
Communication: Excellent communication is essential for successful patient care. Demonstrate your ability to communicate effectively with patients, families, and other medical professionals.
Clinical Skills: Discuss any clinical skills you may have learned during your training, such as taking vital signs, performing diagnostic tests, and collecting patient data.
Including these skills on your resume will show potential employers that you are qualified and knowledgeable in the field of Licensed Vocational Nursing. As you gain experience in the field, you should update your resume to reflect your new skills and knowledge.
Key takeaways for an Licensed Vocational Nurse resume
If you are an Licensed Vocational Nurse (LVN) seeking a new job opportunity, you need to create a resume that highlights your skills and experience in the field. Your resume should demonstrate to potential employers that you are the best candidate for the job. Here are some key takeaways when writing your LVN resume:
Highlight Your Education: As an LVN, you need to have completed a one-year vocational nursing program and have a valid license. Make sure to include your educational background in your resume, including the name of your program, the certification you have obtained, and any other relevant credentials you may have.
Emphasize Your Experience: Potential employers want to know that you have experience in the field. Make sure to include any relevant experience you may have, such as inpatient care, nursing home care, or rehabilitation care. Describe your roles and responsibilities in each position and include any accomplishments you may have achieved.
Detail Your Skills: Highlight the skills you have acquired in your previous roles. Include any special skills or certifications you may have, such as CPR certification or knowledge of electronic medical records.
Showcase Your Personality: Employers want to hire candidates who are passionate and motivated. Include any volunteer work or special interests you may have that demonstrate your enthusiasm for the field.
Make It Professional: Make sure your resume is professional, with no typos or grammatical errors. Use a standard format and font and make sure to include contact information so employers can reach you.
Following these tips will ensure that your resume stands out from the competition and helps you secure a job as an LVN.
Let us help you build
your Resume!
Make your resume more organized and attractive with our Resume Builder