Do you need help drafting a winning resume as a Hedis Nurse? Crafting an effective resume is essential for any job search. It's the first impression you make on potential employers, and can make or break your chances at getting an interview. The resume should be tailored to the job you're applying for and highlight the specific qualifications and skills that make you the perfect candidate. Drafting the perfect resume can be daunting, but it doesn't have to be. This guide provides tips for writing a stellar Hedis Nurse resume, along with a few examples to get you started.
If you didn't find what you were looking for, be sure to check out our complete library of resume examples.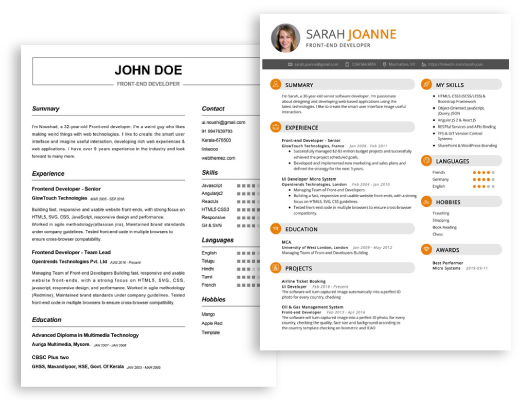 Start building your dream career today!
Create your professional resume in just 5 minutes with our easy-to-use resume builder!
Hedis Nurse Resume Examples
John Doe
Hedis Nurse
123 Main Street | Anytown, USA 99999 | Phone: (123) 456-7890 | Email: john.doe@email.com
I am a Hedis Nurse with an extensive background in providing care to patients. I have a compassionate and patient- centered approach to healthcare, and I have a strong background in data analysis and auditing. I have excellent communication skills, both in person and on the phone, and I am experienced in working with both non- clinical and clinical staff. I am highly organized and detail- oriented, and I strive to provide the best possible patient care experience.
Core Skills:
Data Analysis/Auditing
Excellent Written and Oral Communication
Patient- Centered Care
Knowledge of Healthcare Policies
Time Management/Organizational Skills
Interpersonal Skills
Professional Experience:
Hedis Nurse, ABC Healthcare, 2017- Present
Conduct and analyze data collection and reporting processes, including timelines and data discrepancies
Audit medical records and patient charts to ensure accuracy and consistency
Review and evaluate healthcare policies and procedures
Provide technical assistance to healthcare providers and staff
Assist in the development of quality improvement initiatives
Education:
Bachelor of Science in Nursing, ABC University, 2015
Hedis Nurse Resume with No Experience
Recent college graduate seeking to leverage strong patient care experience and communication skills to become a Hedis Nurse. Proven track record of providing excellent customer service and maintaining comprehensive records. Passionate about helping each patient receive optimal care and improve overall health.
Skills
Knowledge of Hedis Regulations
Excellent communication and customer service skills
Ability to interpret data and records
Proficient in Microsoft Office, databases, and other software
Excellent bedside manner
Patient and empathetic
Responsibilities
Assist in ensuring compliance with Hedis standards and providing accurate data to external auditors
Collect data from medical records and other sources to complete Hedis measures
Maintain records of data collection and analyses
Perform quality assurance checks and audits
Provide feedback on findings to staff as well as patients
Identify possible areas for improvement and develop strategies for improvement
Attend team meetings with other healthcare providers and staff
Assist with identifying areas of risk and recommending changes to the care plan
Assist with educating and training staff on Hedis measures and regulations
Hedis Nurse Resume with 2 Years of Experience
HEDIS Nurse with 2 years of experience in healthcare data analysis, data collection and data abstraction. Skilled in using HEDIS software and reporting tools such as Excel, Power BI and Tableau. Proven ability to plan, implement and monitor HEDIS projects to ensure accurate data capture. Experienced in conducting chart reviews, analyzing data and generating reports to track performance and identify areas for improvement. Possesses excellent communication, problem- solving, and organizational skills to ensure successful project completion.
Core Skills:
HEDIS software
Healthcare data analysis
Data collection
Data abstraction
Chart reviews
Excel
Power BI
Tableau
Communication
Problem- solving
Organization
Responsibilities:
Assisted in the development, implementation and maintenance of HEDIS projects
Collected and analyzed healthcare data using HEDIS software
Generated reports to track performance and identify areas of improvement
Monitored data accuracy and quality
Conducted chart reviews for accuracy and completeness
Developed processes and procedures for efficient data collection and abstraction
Identified data discrepancies and resolved issues
Developed and maintained effective working relationships with internal and external stakeholders
Hedis Nurse Resume with 5 Years of Experience
A highly experienced Hedis Nurse with 5 years of experience in healthcare data collection, analysis, and reporting. Expert in working with multiple software programs to track and document patient data, monitoring patients for compliance rates, and conducting gap analysis to identify areas of improvement. Possesses strong interpersonal and organizational skills and proven ability to work in a fast- paced environment.
Core Skills:
Healthcare data collection, analysis, and reporting
Hedis auditing
Software programs
Interpersonal and organizational skills
Gap analysis
Patient monitoring
Responsibilities:
Responsible for performing thorough review of the medical records and pharmacy claims of patients, verifying accuracy of data, and implementing corrective action when necessary
Gather and analyze patient data to determine compliance rates and identify patterns in healthcare utilization
Set up and maintain patient records in accordance with guidelines, and ensure data accuracy and audit readiness
Conduct gap analysis to determine program improvement opportunities and make recommendations to leadership
Monitor patients for adherence to treatment plans and health goals, and provide feedback to providers
Assist with the development and implementation of program improvement strategies and ensure their successful execution
Collaborate with other healthcare team members and stakeholders to ensure patient care goals are met
Hedis Nurse Resume with 7 Years of Experience
I am an experienced HEDIS Nurse with over 7 years of professional experience managing HEDIS metrics and providing nursing services to patients. I have extensive experience in establishing and maintaining HEDIS performance standards, performing quality assurance audits and assessing patient care to ensure compliance with standards. I have a well- rounded set of skills related to HEDIS nursing, including data analysis, healthcare management, and quality improvement. I am a team player, with excellent organizational, communication, and problem- solving skills, as well as the ability to work with all types of healthcare professionals.
Core Skills:
Data Analysis
Healthcare Management
Quality Improvement
Quality Assurance Auditing
Establishing and Maintaining HEDIS Performance Standards
Patient Assessment
Communication
Organizational
Problem- Solving
Responsibilities:
Review medical records and other documentation to ensure that HEDIS standards are met
Analyze patient care data to identify areas of improvement and develop strategies to improve quality
Develop and review process and procedures to ensure compliance with HEDIS standards
Monitor and report on quality assurance audits
Train staff on HEDIS standards and processes
Provide feedback and guidance to staff to improve performance
Collaborate with other healthcare professionals to develop evidence- based interventions
Prepare and submit HEDIS performance reports to upper management
Respond to inquiries from patients and healthcare providers regarding HEDIS standards and procedures
Review and update patient care plans to ensure compliance with HEDIS standards.
Hedis Nurse Resume with 10 Years of Experience
Hedis Nurse with 10 years of experience in healthcare quality improvement and management, as well as patient- centered care coordination and assessment. Skilled in data collection and analysis, process improvement and implementation, and continuous quality assessment and improvement. Experienced in developing and leading multidisciplinary teams and managing organizational initiatives. Excellent organizational and communication skills, and a proven ability to work collaboratively with diverse groups of stakeholders while achieving quality outcomes.
Core Skills:
Healthcare Quality Assurance
Data Collection and Analysis
Process Improvement and Implementation
Continuous Quality Improvement
Project Management
Multidisciplinary Team Leadership
Patient- Centered Care Coordination
Stakeholder Collaboration and Management
Organizational Communication
Responsibilities:
Coordinated patient care initiatives by collecting and analyzing data, determining patient- centered quality improvement goals, and creating individualized action plans.
Developed and led multidisciplinary teams to improve quality outcomes and facilitate organizational initiatives.
Implemented and maintained continuous quality improvement initiatives and programs to ensure compliance with standards.
Managed project activities, evaluated progress, and reported outcomes to stakeholders.
Provided direction and support to staff and stakeholders to ensure patient safety and quality of care.
Conducted data- driven assessments of patient population and analyzed results to identify trends and opportunities for improvement.
Developed and implemented strategies to improve the quality of patient care and optimize the delivery of services.
Hedis Nurse Resume with 15 Years of Experience
A highly experienced Hedis Nurse with 15 years of experience in providing evidence- based health care and patient education in accordance with Health and Human Services standards. Expertise in quality assurance and data collection, as well as experience in electronic medical record reviews and patient chart audits. Proven ability to build trust and credibility while developing and maintaining key relationships. Highly organized, detail- oriented and equipped with comprehensive problem- solving skills.
Core Skills:
Quality Assurance
Data Collection
Patient Education
Electronic Medical Records
Chart Audits
Relationship Building
Problem- solving
Documentation
Responsibilities:
Collect and review patient health information to identify opportunities to improve care quality
Educate patients on preventative healthcare and chronic disease management
Implement quality assurance processes for data collection and validation
Audit patient charts for compliance with established protocols and standards
Ensure compliance with Health and Human Services standards by conducting periodic reviews
Analyze and interpret data from medical records to identify potential areas for improvement
Compile reports to document quality improvement initiatives
Create and maintain patient databases for data collection and reporting
Collaborate with healthcare providers to ensure quality of patient care
In addition to this, be sure to check out our resume templates, resume formats, cover letter examples, job description, and career advice pages for more helpful tips and advice.
What should be included in a Hedis Nurse resume?
When crafting your resume to become a HEDIS nurse, there are several key components you should include to stand out from other applicants. Here are the essential elements to highlight in your resume:
Excellent communication skills: As a HEDIS nurse, you will work with a variety of different healthcare providers, as well as patients and their families. Having strong communication skills is essential to ensure that all parties understand the treatment plan.
Computer proficiency: HEDIS nurses frequently need to use a variety of computer programs to complete their duties. It is important to demonstrate your comfort using different software and hardware.
A wide range of experience: HEDIS nurses should have experience in a variety of medical settings. This could include time spent in a hospital setting, in a clinical setting, or even in a research setting.
Detail-oriented: HEDIS nurses must pay close attention to detail in order to ensure accuracy in the data they collect and report. Demonstrating your ability to pay close attention to detail is key to succeeding in this role.
Medical record keeping: HEDIS nurses are responsible for keeping accurate and up-to-date medical records for each patient. It is important to show your experience in record keeping and your ability to ensure accuracy.
Quality assurance: As a HEDIS nurse, you will also be tasked with ensuring that the quality of care provided is up to the standards of the organization. Showing your experience with quality assurance will help you stand out from other applicants.
By highlighting these key components, you can demonstrate to potential employers that you are the ideal candidate for the HEDIS nurse position.
What is a good summary for a Hedis Nurse resume?
A Hedis Nurse resume should summarize the nurse's qualifications, experience, and education in the field of health care. It should focus on the nurse's ability to track, monitor, and report on quality indicators related to patient care. The summary should also showcase the nurse's ability to analyze, interpret, and explain data in order to improve outcomes and quality of care. Additionally, the resume should highlight the nurse's ability to develop and implement quality improvement initiatives. The summary should also include any specialized training, certifications, or skills that are relevant to the position. Finally, the resume should demonstrate the nurse's commitment to quality assurance, patient safety, and customer service.
What is a good objective for a Hedis Nurse resume?
Writing a resume for a Hedis nurse can be difficult as you need to tailor your resume to the job you are applying for. When it comes to creating the objective of your resume, there are a few things to keep in mind.
A good objective statement for a Hedis nurse resume should reflect your experience and skills, while also highlighting your ability to meet the needs of the employer. Here are a few tips to consider when creating your objective:
Highlight your experience as a Hedis nurse. This will show employers that you are knowledgeable and experienced in the field.
Focus on the needs of the employer. You should make sure to include keywords and phrases that demonstrate how you can specifically meet the needs of the employer.
Demonstrate your knowledge of the role. Show employers that you understand the role of a Hedis nurse and can hit the ground running in the position.
Demonstrate your passion for healthcare. Employers want to see that you are passionate about your work and interested in making a difference in the field.
By following these tips and crafting an effective objective statement, you can ensure that your resume stands out among other applicants and that you make a great first impression with employers.
How do you list Hedis Nurse skills on a resume?
When writing a resume, it is important to include your skills and qualifications as a HEDIS (Healthcare Effectiveness Data and Information Set) Nurse. HEDIS Nurses are committed to providing quality healthcare for patients and improving the quality of care in a variety of settings.
A HEDIS Nurse's resume should include the following skills and qualifications:
Knowledge of HEDIS regulations and standards: HEDIS Nurses must be familiar with HEDIS regulations and standards in order to properly assess and monitor patient care.
Understanding of healthcare performance measures: HEDIS Nurses should have a good understanding of healthcare performance measures, such as HEDIS quality indicators, in order to track and evaluate patient care.
Analytical and problem-solving skills: HEDIS Nurses must have strong analytical and problem-solving skills to analyze data and develop solutions to improve patient care.
Excellent communication and interpersonal skills: HEDIS Nurses must be able to communicate effectively with patients and colleagues, as well as have strong interpersonal skills to build relationships and work in a team setting.
Computer literacy: HEDIS Nurses should have a good understanding of computer systems to enter and analyze data, as well as to use electronic health records.
By including these skills and qualifications on your resume, you will demonstrate your commitment to excellence as a HEDIS Nurse.
What skills should I put on my resume for Hedis Nurse?
Having the right skills on your resume can make you stand out from the competition as a Hedis Nurse. These skills can help you transition into a nursing position and ensure you're prepared for any challenge that comes your way.
To make sure you demonstrate the relevant qualifications for the role, here are some skills that you should include on your resume as a Hedis Nurse:
Knowledge of quality metrics and performance improvement: As a Hedis Nurse, you need to have a deep understanding of quality metrics and performance improvement. You should have knowledge of relevant best practices, protocols, standards, and regulations in order to assess and improve patient care.
Excellent organizational and time management skills: It's important to be able to manage your time efficiently and stay organized when working in a fast-paced environment. You should be able to prioritize tasks, meet deadlines, and work with a sense of urgency.
Ability to work independently: Hedis Nurses must be able to take initiative and work independently, without supervision. This means being able to solve problems, think on your feet, and quickly adapt to changing situations.
Strong communication skills: You should be able to effectively communicate with patients, colleagues, and other healthcare professionals. This includes being able to effectively interpret and explain complex medical information in a way that's easy to understand.
Teamwork and collaboration: As a Hedis Nurse, you must be able to work well as part of a team and collaborate with fellow healthcare professionals. You should have the ability to foster positive working relationships and be willing to share knowledge and insights.
By highlighting these skills on your resume, you can demonstrate your qualifications as a Hedis Nurse and show employers that you're the right candidate for the job.
Key takeaways for an Hedis Nurse resume
A Hedis Nurse resume should emphasize your experience and qualifications in health care management, coding, and data analysis. As a Hedis Nurse, you are responsible for conducting quality reviews, collecting and analyzing data, and working with insurers to ensure quality care. In order to stand out from other applicants and show potential employers that you are the best fit for the role, here are some key takeaways to include in your resume:
Experience in healthcare management and administration, such as overseeing quality assurance, coding, and data management
Detailed knowledge of nursing protocols, including patient care, documentation, and emergency procedures
Proficiency in healthcare information systems, including coding and data entry
Skilled in data analysis, report writing, and clinical documentation
Adept in using Hedis software, tools, and techniques to analyze data and make recommendations
Ability to identify areas of improvement in quality standards and make suggestions to improve patient care
Excellent communication, problem solving, and organizational skills
Let us help you build
your Resume!
Make your resume more organized and attractive with our Resume Builder