Writing a resume as a Flight Nurse can be tricky as there are a lot of skills and experiences that you may want to include. Flight Nurses are responsible for taking care of critically ill or injured patients while in transit between healthcare facilities, meaning they have a lot of responsibility and should always strive to exemplify their qualifications on their resume. In this blog post, we will provide a guide on how to write a professional Flight Nurse resume, covering everything from the structure to the experiences you should include. With our tips and examples, you will be able to create a resume that stands out and effectively showcases your qualifications.
If you didn't find what you were looking for, be sure to check out our complete library of resume examples.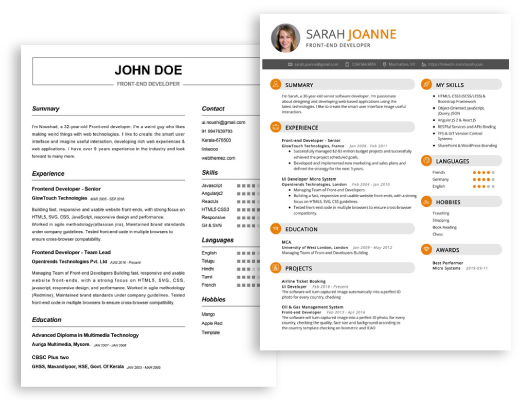 Start building your dream career today!
Create your professional resume in just 5 minutes with our easy-to-use resume builder!
Flight Nurse Resume Examples
John Doe
Flight Nurse
123 Main Street | Anytown, USA 99999 | Phone: (123) 456-7890 | Email: john.doe@email.com
I am a highly experienced flight nurse, with more than 10 years of experience. I have acquired the necessary certifications and licensures throughout my career that are essential to the nursing profession. My experience has enabled me to develop strong technical skills, strong communication abilities, and the ability to work under pressure. I am an enthusiastic and dedicated professional, determined to provide the highest quality of care to the patients I have served.
Core Skills:
Exceptional bedside manner
Strong communication and collaboration skills
Advanced clinical knowledge
Ability to work in a fast- paced environment
Proficient in EMR systems
Knowledge of medical terminology
Ability to assess patient conditions
Professional Experience:
Flight Nurse, ABC Hospital, 2020- Present
Responsible for providing medical care and treatment to critically ill or injured patients in the air
Assess patient's medical condition and provide medical treatments in accordance with established protocols
Perform patient assessments, administer medications, and provide treatments to the patient
Communicate with the patient and their relatives to update them on the patient's condition
Maintain patient records and document all medical treatments safely and accurately
Assist in the development and implementation of policies and procedures for the flight team
Education:
Bachelor of Science in Nursing, ABC University, 2020
Certified Flight Nurse, XYZ Organization, 2016
Associate of Science in Nursing, ABC University, 2015
Flight Nurse Resume with No Experience
Recent nursing school graduate with a passion for providing exceptional patient care. Demonstrates exceptional communication, critical thinking and problem solving skills. Possesses a desire to expand my knowledge base and contribute to a team of healthcare professionals.
Skills:
Demonstrates knowledge of medical terminology, procedures and treatments
Excellent patient assessment, triage and treatment skills
Critical thinking, problem solving and decision making skills
Ability to work independently in a fast paced environment
Excellent documentation and record keeping skills
Strong interpersonal and communication skills
Adaptable to changing medical environments
Ability to multitask and prioritize patient care needs
Responsibilities:
Assess, triage and provide patient care in emergency situations
Administer medications and treatments as prescribed by physicians
Provide patient education on medications, treatments and procedures
Develop and implement patient care plans
Monitor vital signs and document patient care
Maintain patient privacy, confidentiality and safety
Collaborate with physicians and other healthcare staff
Provide emotional and psychological support to patients and families
Flight Nurse Resume with 2 Years of Experience
Dynamic and highly motivated Flight Nurse with 2+ years of experience in providing a wide range of nursing services to critically ill and injured patients. Posses excellent assessment, diagnostic, and treatment skills and have a proven track record of successfully coordinating with other healthcare professionals to maximize patient outcomes. Possess the ability to stay calm and professional in emergency situations and have a strong knowledge base in medications, treatments, and procedures in a pre- hospital environment.
Core Skills:
Outstanding knowledge of emergency medical procedures and treatments
Proven ability to stay calm under pressure and in emergency situations
High level of critical thinking and problem- solving skills
Ability to prioritize tasks as well as multi- task in a fast- paced environment
Excellent communication and interpersonal skills
Proficient in EHR software, medical terminology, and medical coding
Responsibilities:
Assessing, monitoring, diagnosing, and treating critically ill and injured patients
Executing advanced airway management and CPR
Documenting patient complaints, treatments, and medications used
Utilizing EHR software and medical terminology to document patient care
Administering medications and additional treatments as prescribed
Coordinating with other healthcare professionals in order to provide quality patient care
Ensuring that all equipment is maintained and kept in proper functioning condition
Flight Nurse Resume with 5 Years of Experience
Highly experienced Flight Nurse with over 5 years of experience providing quality healthcare in a range of roles. Skilled in emergency and critical care medicine, administering medications, and maintaining patient records. Proficient in emergency care and triage procedures, and in developing effective treatment plans. Proven ability to remain calm and professional in high- pressure situations. Committed to delivering the highest standards of patient care in the most efficient and compassionate manner possible.
Core Skills:
Emergency and critical care medicine
Medication administration
Patient record- keeping
Emergency and triage care
Treatment plan development
Superior interpersonal skills
Excellent time management
Strong problem- solving skills
Responsibilities:
Responsible for providing quality medical care to patients in a flight environment.
Administering medications and treatments as prescribed.
Ensuring that medical records are updated and accurate.
Assessing patient needs and developing treatment plans based on individual cases.
Providing emergency and triage care as needed.
Maintaining a calm demeanor in high- stress situations.
Conducting pre- flight and post- flight safety checks.
Discharging patients upon arrival and following up with post- flight care.
Flight Nurse Resume with 7 Years of Experience
Experienced Flight Nurse with 7 years of experience in providing excellent medical care in high- stress environments. Possesses strong clinical knowledge, critical thinking skills and a passion for helping others. Proven ability to stay calm under pressure and to respond quickly and professionally to emergency situations. Able to provide quality care to patients during transportation and has a proven track record of successful patient outcomes.
Core Skills:
Patient Care
Emergency Medical Services
Flight Nursing
Advanced Cardiac Life Support
Critical Care Nursing
Injury Prevention
Pain Management
Aircraft Safety
Teamwork
Responsibilities:
Assisted physicians in providing care to critically ill patients during flight operations
Monitored and evaluated vital signs and administered medications as prescribed by physicians
Administered intravenous fluids and medications to patients in- flight
Observed and responded to changes in patient condition during flight and provided necessary treatment
Provided education to patients and their families on pre- and post- flight care
Provided emotional support and reassurance to families of critically ill patients during flight
Assisted in the loading and unloading of patients onto and from aircraft
Adhered to all safety regulations, policies and procedures and inspected aircraft prior to each flight for safety and medical equipment
Flight Nurse Resume with 10 Years of Experience
Highly experienced Flight Nurse with over 10 years of providing medical care and emergency medical services in the air. Skilled in effective communication with medical teams, patients, and their families, as well as organizing and managing medical supplies and equipment. Possesses a comprehensive understanding of flight safety regulations and protocols and the ability to remain calm and composed during high- stress situations.
Core Skills:
Excellent clinical and organizational skills
Advanced knowledge of medical terminology
Demonstrated ability to remain calm under pressure
Proven commitment to patient safety
Exceptional critical thinking and problem- solving skills
Strong interpersonal and communication skills
Proficiency in stocking and restocking medical supplies
Responsibilities:
Assess, diagnose, and treat patient's medical conditions throughout the flight
Administer medications and treatments according to physicians' instructions
Document patient care and progress
Ensure accuracy and safety of medical supplies
Provide instructions to passengers and flight crew in times of distress
Monitor patient- condition changes and respond accordingly
Maintain a sanitized and safe environment
Stay up- to- date on medical protocols and standards
Coordinate with medical teams on the ground to ensure continuity of care
Flight Nurse Resume with 15 Years of Experience
Highly experienced Flight Nurse with 15 years of experience providing comprehensive care in both inpatient and outpatient settings. Skilled in crisis management, critical care, and advanced patient assessment. Skilled in managing complex medical issues, providing critical support, and performing advanced medical interventions to support patient care. Focused on delivering the highest quality of care in a safe and efficient manner.
Core Skills:
Advanced patient assessment
Crisis management
Critical care
Advanced medical interventions
Patient care coordination
Emergency response
Problem solving
Quality assurance
Professional communication
Regulatory compliance
Responsibilities:
Caring for critically ill and injured patients in an airborne environment
Performing physical examinations, diagnostic tests, and medical procedures in order to assess patient condition
Administering medications, treatments, and other medical interventions as needed
Coordinating with medical facilities to arrange for patient transfers and medical care
Providing patient education and safety instructions
Monitoring patient progress and responding to changes in condition
Ensuring compliance with all applicable regulations and protocols
Staying abreast of current medical developments and technologies
In addition to this, be sure to check out our resume templates, resume formats, cover letter examples, job description, and career advice pages for more helpful tips and advice.
What should be included in a Flight Nurse resume?
As a Flight Nurse, you are responsible for providing care to patients in an air medical transport setting. As such, it is important that your resume includes key information that will help you stand out to potential employers. Here is what should be included in a Flight Nurse resume:
Professional Summary: A brief summary of your experience and qualifications as a Flight Nurse.
Education: Any degrees or certifications related to Flight Nursing, such as BSN, RN, and/or Flight Nursing certification.
Work Experience: List any prior experience as a Flight Nurse, as well as any other healthcare experience you may have.
Skills: Include any relevant skills that can be used in a Flight Nursing setting, such as critical thinking, communication, and problem-solving.
Professional Affiliations: List any professional organizations in which you participate.
Licensure & Certification: Include any licensure and certification you possess that is relevant to Flight Nursing.
Awards & Recognition: List any awards and recognition you have received for your work as a Flight Nurse.
Other: Any other information that may be relevant, such as military service or specialized training.
What is a good summary for a Flight Nurse resume?
A Flight Nurse is a medical professional responsible for providing emergency medical care and services in a variety of airborne healthcare settings. Flight Nurses must be highly knowledgeable about the medical needs of their patients and be able to provide medical care in any situation. To be considered for a Flight Nurse position, a resume should include a summary of qualifications that highlights the candidate's relevant experience and training.
A good summary for a Flight Nurse resume should include the following information:
• Experience providing medical care in airborne settings, preferably in an emergency situation
• Knowledge of advanced lifesaving techniques, such as Advanced Cardiac Life Support (ACLS) and Pediatric Advanced Life Support (PALS)
• Ability to diagnose and treat medical conditions in-flight
• Proficiency in operating and monitoring medical equipment, such as ventilators and monitors
• Excellent communication skills to effectively communicate with medical personnel, patients, and family members
• Ability to remain calm and composed when faced with difficult or high-pressure situations
• Flexibility and adaptability to work in a variety of environments
• Ability to work well with a team, as well as independently
Including this information in a Flight Nurse resume summary can help to showcase a candidate's qualifications and expertise, and demonstrate his or her commitment to providing safe and high-quality medical care in airborne healthcare settings.
What is a good objective for a Flight Nurse resume?
A Flight Nurse resume should have a clear and concise objective that outlines the skills and accomplishments that make the candidate an ideal choice for the role. A good objective should include:
Demonstrating expertise in the field of emergency, critical care, and trauma nursing
Providing top-level patient care in a highly specialized environment
Possessing strong critical thinking and problem-solving skills
Utilizing excellent patient assessment, communication, and organizational skills
Possessing the required certifications and licenses necessary for the position
Experienced in medical evacuation procedures and protocols
Knowledgeable in the relevant technological systems related to the job
Working as part of a team to ensure the best possible patient outcomes
By highlighting the qualities, experience, and qualifications that make an individual a great fit for the role of Flight Nurse, an effective objective statement can help a candidate stand out among the competition.
How do you list Flight Nurse skills on a resume?
Flight nursing is one of the most rewarding and challenging roles a nurse can take on. While the role requires specialized training and certification, you'll need to effectively showcase your flight nurse skills on your resume in order to stand out from the rest. Here are some ways to list your flight nurse skills on your resume:
Specialized training and certification in flight nursing, including experience performing flight nursing duties across a variety of air medical transport systems
Experience providing comprehensive nursing care to critically ill or injured patients in pre-hospital and hospital settings
Excellent communication, critical thinking, and problem solving skills
Proficiency in monitoring and managing vital signs and airway management
Knowledge of FAA rules and regulations and their application to air medical transport
Ability to maintain professional composure in high-pressure and challenging situations
Proficiency in using medical equipment and medical software programs
Ability to work collaboratively in multi-disciplinary teams
Experience in providing patient education and instruction on proper medical care
What skills should I put on my resume for Flight Nurse?
, for example:- Flight Nurse experience
Blog:
As a Flight Nurse, you are a highly trained medical professional who specializes in the care of patients being transported by air. Your resume should showcase your experience and qualifications to potential employers who may be looking to hire a Flight Nurse. To ensure your resume stands out, there are certain skills that should be included.
Flight Nurse Experience: This should be the first and most important criterion on your resume. List any experience you have working as a Flight Nurse, including the years of experience, the type of aircraft used, the unique challenges you faced and the successful outcomes you achieved.
Critical Thinking Skills: Being a Flight Nurse requires you to assess and make decisions quickly, often with limited information. Include any experience you have with problem-solving, risk assessment and decision making.
Communication Skills: Flight Nurses must be able to effectively communicate with the patient, medical personnel and pilots. List any experience you have in communication, such as with patients, doctors, medical teams and families.
Administrative Skills: Flight Nurses often must manage medical records, paperwork and logistics. Include any experience you have with these tasks, such as organizing medical records or scheduling flights.
Teamwork: Flight Nurses are often part of a larger medical team and must be able to work together well. Demonstrate any experience you have with collaboration and leading teams.
Aircraft Knowledge: Flight Nurses must have an understanding of aircraft systems and be able to work in a variety of aircraft. List any experience you have with aircraft maintenance and safety.
By including these skills on your resume, you can show potential employers that you are qualified to be a Flight Nurse and that you are the right person for the job.
Key takeaways for an Flight Nurse resume
Flight nursing is a highly specialized field that requires a unique set of skills and experience. For those looking to break into this field, creating a resume that accurately reflects their qualifications can be a challenge. To make the process of creating an effective flight nurse resume easier, here are some key takeaways:
Highlight Your Unique Skills: When creating a flight nurse resume, it's important to highlight the specific skills that make you a great fit for the job. Flight nurses must possess a unique blend of medical knowledge, critical thinking skills, and interpersonal communication abilities. Be sure to emphasize any special skills or certifications that you have that set you apart from other candidates.
Focus on Relevant Experience: Flight nurses typically work in high-pressure environments, so listing any relevant experience on your resume is essential. Focus on any jobs or volunteer activities that demonstrate your skills and qualifications for the job.
Emphasize Your Education: Flight nurses must have a BSN degree or higher and must be certified by the National Board of Certified Flight Nurses. Be sure to list any degrees and certifications that you have on your resume to demonstrate your qualifications for the job.
Include Your Accomplishments: Flight nurses often work in situations where lives are on the line, so employers will want to know that you can handle the pressure. Make sure to include any accomplishments on your resume, such as awards or recognition you've received for your work.
By following these key takeaways, you can create an effective flight nurse resume that will help you stand out from other applicants. With the right resume, you can increase your chances of getting the job you want and start your career as a flight nurse.
Let us help you build
your Resume!
Make your resume more organized and attractive with our Resume Builder