Writing the perfect resume for a nursing educator position can be daunting. When you apply for a job, your resume is a chance to showcase your qualifications, knowledge, and experience in the nursing field. To help you create the best resume, this guide will provide you with instructions and examples on how to write a nursing educator resume. It will cover specific areas such as what information to include, best practices for formatting, and tips to make your resume stand out from the competition. With these tips, you will be able to craft a resume that will help you get the job you want.
If you didn't find what you were looking for, be sure to check out our complete library of resume examples.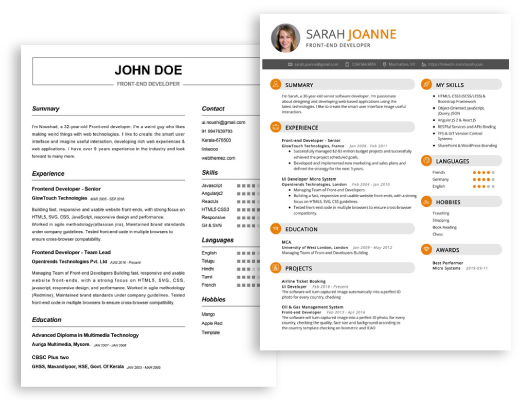 Start building your dream career today!
Create your professional resume in just 5 minutes with our easy-to-use resume builder!
Nursing Educator Resume Examples
John Doe
Nursing Educator
123 Main Street | Anytown, USA 99999 | Phone: (123) 456-7890 | Email: john.doe@email.com
A highly experienced and caring Nurse Educator with 10+ years' experience, providing educational and clinical guidance to nursing students. Skilled in developing and implementing nursing curriculums, mentoring new and existing staff, analyzing and assessing student performance, and developing new strategies to improve the quality of nursing education. A dedicated professional with excellent organizational and communication skills and a commitment to providing quality patient care.
Core Skills:
Excellent interpersonal and communication skills
Clinical instruction and teaching
Curriculum development
Student assessment and evaluation
Program management
Mentoring and coaching
Strategic planning
Policy and procedure development
Patient advocacy
Professional Experience:
Nursing Educator, XYZ Medical Center, 2020 – Present
Develop and implement curricula that meets the standards of the nursing program
Instruct nursing students in the classroom and clinical settings
Evaluate student performance and provide feedback
Monitor student progress and provide guidance when needed
Collaborate with other faculty members to ensure quality of care
Develop and maintain policies and procedures
Mentor new and existing staff
Nursing Instructor, ABC Medical Institute, 2015 – 2020
Developed and delivered nursing education curriculum
Assessed student performance and provided feedback
Collaborated with healthcare professionals to ensure quality patient care
Developed and maintained policies and procedures
Mentored new and existing staff
Advised students on academic progress and career paths
Education:
Bachelor of Science in Nursing, ABC University, 2010
Master of Science in Nursing Education, XYZ University, 2015
Nursing Educator Resume with No Experience
A passionate nursing educator with no experience and a commitment to inspiring students to become compassionate, knowledgeable and dedicated professionals. Seeking to leverage strong analytical and communication skills to provide students with a quality educational experience.
Skills
Excellent communication and interpersonal skills
Knowledge of the nursing field
Strong analytical and problem- solving skills
Organizational and time management skills
Computer competency including Microsoft Office Suite
Ability to work independently
Ability to work in a team setting
Responsibilities
Develop and teach nursing courses
Demonstrate and provide instruction on the most current and evidence- based practices to nursing students
Assess student performance in all nursing courses
Educate nursing students on the principles and theories of nursing
Evaluate student progress and provide feedback on their performance
Guide and mentor nursing students to ensure understanding and mastery of course material
Facilitate student- teacher conferences to discuss course progress and goals
Nursing Educator Resume with 2 Years of Experience
A highly- skilled and experienced nursing educator with 2 years of experience in teaching and mentoring nursing students. Possessing excellent communication, problem- solving and leadership skills with a demonstrated ability to develop and deliver engaging lectures and lab sessions to promote a better understanding of medical theory and clinical practice. A proven ability to evaluate the knowledge and skills of students to ensure that the educational needs of students are met and that they reach their full potential.
Core Skills:
Lecture planning and delivery
Classroom management
Student assessment
Curriculum development
Medical theory and clinical practice
Problem- solving
Leadership
Communication
Responsibilities:
Designing, developing and delivering lecture sessions and lab sessions on medical theory and clinical practice
Developing assessment programs to evaluate the knowledge and skills of nursing students
Reviewing and updating course materials to ensure curricula are up- to- date and relevant
Mentoring and coaching students to ensure they reach their full potential
Planning and executing extracurricular activities to enhance learning and engagement
Liaising with clinical staff to maintain and improve teaching standards
Ensuring that all students are given equal learning opportunities
Ensuring that all teaching and learning activities are in compliance with relevant regulations and safety standards.
Nursing Educator Resume with 5 Years of Experience
Dynamic and results- driven Nursing Educator with 5 years of experience in higher education and clinical training. Skilled in developing, implementing, and evaluating nursing programs to ensure effectiveness and compliance with regulations. Committed to maintaining excellence in teaching, student support, and academic advisement. Possesses a thorough understanding of the most advanced pedagogical techniques, medical terminology and best practices.
Core Skills:
Curriculum Development
Effective Communication
Instructional Design
Clinical Training
Problem Solving
Motivating Learners
Learning Theory
Active Learning Strategies
Student Assessment
Responsibilities:
Develop, implement, and evaluate nursing education programs.
Create lesson plans, course syllabi and instructional materials.
Monitor and evaluate student performance.
Provide individualized instruction and support to learners.
Design and conduct assessments to measure student outcomes.
Mentor and advise students in order to provide guidance and support.
Facilitate lectures, group discussions, seminars, and lab sessions.
Prepare and deliver lectures on nursing topics and related topics.
Maintain records and documentation of students' progress.
Research and develop new teaching methods and materials.
Nursing Educator Resume with 7 Years of Experience
Dedicated and experienced nursing educator with 7 years of clinical experience in a variety of health care settings. Adept in creating and delivering evidence- based nursing education programs to nurses and healthcare professionals. Proven ability to develop and lead effective educational sessions and to evaluate student performance. Acknowledged for excellent communication, conflict resolution, and problem- solving skills.
Core Skills:
Clinical teaching
Presentation and facilitation
Leadership
Instructional design
Critical thinking
Program evaluation
Course development
Responsibilities:
Developed and implemented educational programs for nurses and health care professionals
Created instructional materials, including lectures and presentations, to meet the learning needs of the students
Coordinated continuing education programs and workshops
Assessed and evaluated student performance
Monitored and provided feedback on clinical performance
Provided guidance and mentorship to students
Developed and implemented online course content
Facilitated learning by providing support to students in the classroom and clinical settings.
Oversaw the selection and evaluation of clinical sites and faculty
Nursing Educator Resume with 10 Years of Experience
Experienced nursing educator with 10+ years of experience in developing and delivering educational programs for nurses and other healthcare professionals. Demonstrated expertise in designing evidence- based curricula, delivering lectures, and mentoring students to ensure they reach their full potential in the nursing field. Skilled in developing and maintaining relationships with local healthcare organizations, hospitals, and employers to provide students with real- world experiences.
Core Skills:
Curriculum and course development
Lecturing and teaching
Mentoring and instructional coaching
Student advisement and counseling
Educational assessment and evaluation
Healthcare regulations and standards
Research and data analysis
Public relations and outreach
Organizational and time management
Responsibilities:
Developed and implemented curriculum, course materials, and lesson plans to meet academic standards.
Delivered lectures and provided guidance to students on topics such as nursing practices, healthcare regulations, and medical procedures.
Mentored and coached students to develop their skills and knowledge in the healthcare field.
Conducted educational assessments and developed strategies to improve student performance.
Advised students on the academic paths that would best meet their goals.
Collaborated with local healthcare organizations, hospitals, and employers to provide students with clinical experiences.
Drafted and executed policies and procedures for curriculum planning and development.
Maintained communication with students and faculty to ensure the successful completion of academic programs.
Participated in research projects and data analysis to improve the quality of nursing education.
Nursing Educator Resume with 15 Years of Experience
Meticulous and experienced Nursing Educator with 15 years of experience in training and developing nurses. Proven ability to design and deliver clinical and theoretical education programs, utilizing innovative teaching methodologies. Adept at examining and evaluating the student's performance and providing constructive feedback. Skilled in building collaborative relationships with colleagues and students.
Core Skills:
In- depth knowledge of clinical education principles and methods
Ability to create student- focused curricula and teaching plans
Excellent leadership and communication skills
Extensive experience in assessing and evaluating student performance
Strong organizational and time management skills
Proven ability to work in multi- disciplinary teams
Responsibilities:
Developing and delivering patient- centric curriculum for nursing students
Overseeing and monitoring student clinical placements and practice
Designing, facilitating and evaluating nursing education programs
Assessing student skills and knowledge through practical examinations
Evaluating student performance and providing feedback
Maintaining up- to- date knowledge of the latest healthcare technologies and methodologies
Keeping records of student progress and attendance
Providing support to students in their academic work
Collaborating with other professionals to design and implement effective nursing education programs
In addition to this, be sure to check out our resume templates, resume formats, cover letter examples, job description, and career advice pages for more helpful tips and advice.
What should be included in a Nursing Educator resume?
Nursing educators should have extensive knowledge of the nursing field, including current trends and educational resources. They should also demonstrate strong organizational, communication, and leadership skills. When writing a resume for a nursing educator position, the following items should be included:
Experience: List the types of classes taught, current or previous roles, and any relevant accomplishments.
Education: Detail the academic qualifications specific to the nursing profession, such as a Bachelor's degree in Nursing, a Master's degree in Nursing Education, or a Doctorate in Nursing Education.
Certifications: Include any certifications or licenses required to teach.
Training: Describe any specialized training or continuing education related to teaching, such as courses in patient assessment, health care systems, or instructional technology.
Skills: Demonstrate any applicable skills, such as instructional design, curriculum development, classroom management, and student evaluation.
Volunteer work: If applicable, list any volunteer work related to the nursing field.
Memberships: Include any memberships with professional organizations related to nursing education.
References: Provide references related to the nursing profession.
What is a good summary for a Nursing Educator resume?
The purpose of a Nursing Educator resume is to highlight the skills and experiences that are applicable to a career in nursing education. It should provide a snapshot of the individual's credentials and qualifications. A good summary should include the individual's education, work experience, current certifications, and other relevant experience. It should also provide examples of the individual's teaching, training, and professional development activities. Any additional achievements, honors, or awards should also be included. The summary should be concise and informative and should demonstrate how the individual's qualifications make them an ideal candidate for a nursing educator position.
What is a good objective for a Nursing Educator resume?
A nursing educator provides instruction and guidance to nursing students and health care professionals in a variety of settings. Crafting an effective objective statement for a nursing educator resume can help you stand out to potential employers and highlight the skills and experience most relevant to the position.
To obtain a position as a nursing educator that allows me to utilize my knowledge of nursing and experience in the field to help prepare students for their future health care careers.
To leverage experience in curriculum development and lesson planning to create meaningful learning experiences for nursing students.
To employ expertise in nursing theory and patient care to develop and implement educational programs.
To utilize experience in mentorship and evaluation to create a learning environment that fosters student growth and development.
To pursue a position as a nursing educator that allows me to contribute to the development of the nursing profession.
How do you list Nursing Educator skills on a resume?
If you are a nursing educator, you will want to make sure you have the right skills listed on your resume in order to make the best impression on potential employers. Here are some tips for listing your nursing educator skills on a resume:
Clearly define your skills. Make sure to include both clinical skills, such as patient assessment, diagnosis, and treatment, as well as teaching skills, such as lesson planning and curriculum design.
Include your qualifications. Make sure to include any certifications or qualifications that you may have, such as a nursing degree or teaching certification.
Highlight past successes. If you have been a successful nursing educator in the past, make sure to include any awards or achievements that you have received.
Demonstrate technical proficiency. Make sure to list any software, websites or systems that you are proficient in.
Detail your communication skills. As a nursing educator, you must be able to communicate effectively with your students. Make sure you list any language skills you have, as well as any public speaking or teaching experience.
By following these tips, you can ensure that your resume clearly outlines your nursing educator skills and qualifications, so that potential employers can easily see that you are the right candidate for the job.
What skills should I put on my resume for Nursing Educator?
As a nursing educator, there are certain skills and qualifications that should be highlighted on your resume. Having the right skills and qualifications will help you stand out among other educators and show potential employers that you are the right fit for the position. Here are some essential skills and qualifications to include on your resume for a nursing educator:
Demonstrated teaching experience: As a nursing educator, you will need to show employers that you have experience teaching nursing concepts and procedures. List any teaching experience you have such as teaching in an academic or clinical setting, leading workshops, or facilitating simulation labs.
Knowledge of the healthcare industry: Have you worked in the healthcare field before? If so, list your experience in the healthcare industry on your resume. This will demonstrate to employers that you understand the various aspects of the healthcare field and can apply them in the classroom.
Excellent communication skills: Nursing educators must have strong communication skills in order to effectively teach and engage their students. Be sure to highlight any communication training or experience you have in order to demonstrate your ability to communicate effectively.
Ability to use technology: As a nursing educator, you will need to be comfortable using technology in order to create engaging lesson plans and activities. List any technology experience or certifications you have to show employers that you are comfortable using technology.
Empathy and compassion: Nursing educators must be empathetic and compassionate as they work with their students. Highlight any empathy and compassion training or experience you have to demonstrate your ability to relate to your students.
By including these skills and qualifications on your resume for a nursing educator, you will be in the best position to land the job.
Key takeaways for an Nursing Educator resume
When creating a resume as a nursing educator, there are a few key takeaways that you should consider in order to make the most impact.
First and foremost, your resume should emphasize your education and credentials in the field of nursing. Include any degrees or certifications related to nursing and any relevant experience in the role of an educator. Having a solid understanding of teaching strategies is also a must.
Your resume should also include any relevant professional experience such as working in a clinical setting or teaching in a nursing program. Listing any teaching or research projects you have completed is also important. Additionally, any awards or recognitions you have received in the field of nursing should be included.
Finally, be sure to go into detail about any special skills or abilities that you have that could be useful in a nursing educator role. Examples of this could include familiarity with medical terminology, ability to build strong relationships with students, or knowledge of health care regulations and protocols.
Overall, your resume should be tailored specifically to the role of a nursing educator and showcase your expertise in the field. Highlighting your qualifications, experience, and any special skills that you can bring to the role is essential. By following these key takeaways, your resume will be sure to make a strong impression.
Let us help you build
your Resume!
Make your resume more organized and attractive with our Resume Builder