Are you a registered nurse who is considering a dialysis nursing career? Writing an effective resume is essential for getting the attention of potential employers. To help you get started, this dialysis RN resume writing guide provides useful tips, along with some examples to help you craft the perfect resume for this specialized field. With the right information and tools, you can create a resume that showcases your abilities, experience, and education, and highlights the unique skills needed for this specialized nursing position.
If you didn't find what you were looking for, be sure to check out our complete library of resume examples.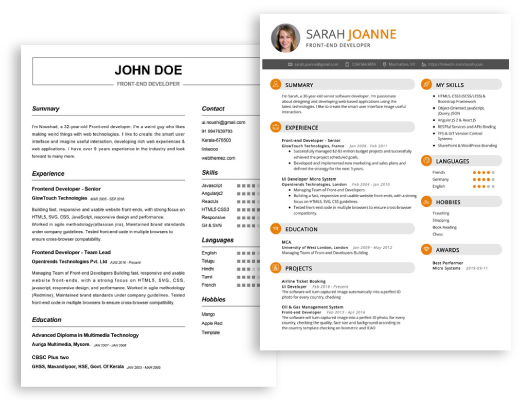 Start building your dream career today!
Create your professional resume in just 5 minutes with our easy-to-use resume builder!
Dialysis RN Resume Examples
John Doe
Dialysis RN
123 Main Street | Anytown, USA 99999 | Phone: (123) 456-7890 | Email: john.doe@email.com
I am an experienced Dialysis RN with a strong background in patient care, teaching, and quality management. I have a long history of caring for patients with end- stage renal disease, helping them understand their treatment and disease management. I am also a great communicator and educator, which is an integral part of the dialysis nurse role. I have an established track record of providing the highest quality of teaching and patient care while also advocating for my patients.
Core Skills:
Patient Assessment & Monitoring
Patient Education
Dialysis Treatment
Vascular Access & Care
Infection Control Protocols
Documentation & Reporting
Patient Advocacy
Professional Experience:
St. John's Dialysis Center, Dallas, TX
Dialysis RN, August 2016 – Present
Provide dialysis treatments to patients with end- stage renal disease
Monitor patient progress and alert physicians to any changes
Educate patients and their families on dialysis protocols
Administer prescribed medications and adjust dosages as needed
Maintain patient records and ensure accuracy of patient information
Baptist Medical Center, Dallas, TX
Dialysis RN, March 2013 – August 2016
Performed dialysis treatments and monitored patients during treatment
Provided patient education and support
Administered prescribed medications and adjusted dosages as needed
Maintained accurate patient records and ensured accuracy of patient information
Ensured a safe and clean environment for both patients and staff
Education:
Bachelor of Science in Nursing, University of Texas, Dallas, TX
Associate Degree in Nursing, South Texas College, McAllen, TX
Registered Nurse License, State of Texas
Dialysis RN Resume with No Experience
Recent nursing graduate with a passion for the dialysis profession looking to contribute to a successful team. Experienced in patient care, medical terminology, and medical coding. Possesses excellent communication skills, a strong work ethic and a desire to succeed.
Skills
Excellent communication skills
Ability to learn quickly
Proficiency in medical coding
Knowledge of medical terminology
Ability to work in a fast- paced environment
Familiarity with dialysis equipment
Responsibilities
Perform routine dialysis treatments
Monitor patient's vital signs and report any abnormal findings
Teach patients about proper diet and fluid intake
Educate patients on the importance of medication and lifestyle changes
Perform blood draws for laboratory tests
Provide emotional support to patients during treatments
Ensure patient safety during treatments and properly maintain dialysis equipment
Dialysis RN Resume with 2 Years of Experience
I am a dedicated and organized Dialysis RN with two years of experience. I have extensive experience in hemodialysis and peritoneal dialysis, as well as managing patients with kidney- related issues. I am excellent at multitasking, problem solving and rapidly adapting to change. I have the ability to work in high- stress and high- acuity environments and have proven to be a reliable source of care for patients.
Core Skills:
Patient care
Hemodialysis
Peritoneal dialysis
Effective communication
Multitasking
Problem solving
Adapting to change
Responsibilities:
Assessing and planning care for patients in dialysis
Administering medications and treatments
Educating patients and families on disease, treatments, and self- care
Monitoring and recording patient vital signs, hydration status, and other indicators
Creating and updating patient records
Consulting with physicians, nurses, and other healthcare professionals
Ensuring patient safety and comfort during dialysis treatments
Establishing and maintaining positive relationships with patients
Providing emotional support to patients and their families
Dialysis RN Resume with 5 Years of Experience
Highly experienced Dialysis RN with over 5 years of experience providing quality care to patients. Skilled in patient assessment, dialysis treatments, medication administration, and patient education. Possesses excellent communication and multitasking abilities. Dedicated to providing a safe and comfortable environment for patients while adhering to best practices and standards.
Core Skills:
Dialysis Nursing
Patient Assessment
Medication Administration
Team Collaboration
Patient Education
Clinical Documentation
Responsibilities:
Assessed patient condition and developed and implemented individualized care plans.
Performed dialysis treatments according to individual patient's history and needs.
Administered medications, monitored and recorded patient vital signs, and provided patient education.
Collaborated with multidisciplinary team to ensure optimal patient care.
Updated and maintained patient medical records and ensured compliance with regulations.
Performed hemodialysis, peritoneal dialysis, and related procedures.
Dialysis RN Resume with 7 Years of Experience
Highly experienced Dialysis RN with 7 years of experience providing professional nursing care to patients undergoing dialysis treatment. Skilled in assessing patient needs and delivering solutions tailored to individual cases, administering dialysis treatments and conducting patient assessments. Adept at analyzing patient data and developing strategies for improving treatments and outcomes. Demonstrated ability to work collaboratively with physicians and other healthcare professionals in delivering exceptional patient care.
Core Skills:
Excellent clinical and communication skills
Ability to work in a fast- paced environment
Knowledge of dialysis treatment systems and protocols
Compassionate and patient- centered care
Experience in developing patient treatment plans
Strong organizational and multitasking skills
Proficient in medical software and EHR systems
Responsibilities:
Monitoring patient vital signs and dialysis treatments
Assisting patients with dialysis access procedures
Administering medications and other treatments
Assisting physicians during dialysis treatments
Documenting patient progress and treatments
Providing patient education and discharge instructions
Developing patient care and treatment plans
Collaborating with healthcare professionals to provide optimal care
Performing laboratory tests, such as blood cell counts and urinalysis
Staying updated on professional best practices and dialysis treatments
Dialysis RN Resume with 10 Years of Experience
Dynamic and patient- focused Dialysis RN with 10+ years of experience in dialysis clinics, delivering high- quality care to patients with end- stage kidney failure. Skilled in health assessments, patient treatments, medication administration, and patient education. Proven ability to establish strong collaborative relationships with patients and healthcare team members to deliver tailored care services.
Core Skills:
Extensive knowledge of dialysis treatments and procedures
Ability to educate and counsel patients on treatments and lifestyle modifications
Well- versed in monitoring and adjusting dialysis machines
Skilled in administering medications and managing medical equipment
Familiar with electronic medical record (EMR) software
Excellent communication and interpersonal skills
Proficiency in data collection and analysis
Responsibilities:
Consistently assessed, monitored, and documented patient vital signs, medical history, and treatment progress
Collaborated with physicians, nurse practitioners, and other medical staff to provide coordinated patient care
Utilized dialysis machines, perform hemodialysis, monitor dialysis treatments, and troubleshoot equipment malfunctions
Educated patients and family members on healthcare topics, such as nutrition, lifestyle modifications, and treatments
Administered medications, monitored reactions, and managed medical equipment
Updated and maintained accurate patient records and medical documentation in the EMR system
Provided emotional and psychological support to patients and family members
Dialysis RN Resume with 15 Years of Experience
I am an experienced Dialysis RN with over 15 years of experience providing dialysis care to patients with chronic kidney disease. I have extensive knowledge of dialysis equipment, treatment protocols, and patient safety standards. I have a passion for holistic patient care and strive to ensure each patient receives the highest quality of care. My compassionate nature and excellent communication skills allow me to provide comfort and support to my patients during their dialysis treatments.
Core Skills:
Experienced Dialysis RN with 15+ years of experience
Thorough understanding of dialysis equipment, treatment protocols, and patient safety standards
Excellent interpersonal and communication skills
Highly organized with strong attention to detail
Compassionate, empathetic, and patient- centered approach
Ability to work in fast- paced environment while remaining focused
Proficient in EMRs and other medical software
Responsibilities:
Assess patient's condition before and after dialysis treatments
Monitor patient's vital signs during treatment
Administer medications as prescribed by physicians
Educate patients on their treatment plan and provide emotional support
Utilize critical thinking skills to identify and address any potential risks
Ensure accurate and detailed documentation of patient's condition
Maintain a clean, organized, and safe environment for patients
Collaborate with other healthcare professionals to ensure effective care
In addition to this, be sure to check out our resume templates, resume formats, cover letter examples, job description, and career advice pages for more helpful tips and advice.
What should be included in a Dialysis RN resume?
(•)When writing a resume for a Dialysis RN position, it is important to highlight your qualifications, skills, and abilities. Your resume should showcase your experience in renal dialysis and your ability to provide high-quality care to patients with kidney disease. Here are some key points to include in a Dialysis RN resume:
Up-to-date RN licensure with a valid state license
Professional experience in renal dialysis, critical care, and cardiac care
Knowledge of dialysis machines and equipment
Comprehensive understanding of dialysis treatments, medications, and nutrition
Ability to monitor patient vital signs and provide emotional support
Ability to work collaboratively with physicians, nurses, and other healthcare professionals
Excellent communication, problem-solving, and organizational skills
Demonstrated record of providing patient-centered care with a high level of attention to detail
Working knowledge of Electronic Health Records (EHR) and other health information systems
CPR certification
Relevant certifications such as Certified Nephrology Nurse (CNN) or Certified Dialysis Nurse (CDN).
What is a good summary for a Dialysis RN resume?
A Dialysis Registered Nurse (RN) is responsible for providing care to patients with kidney failure. An effective summary for a Dialysis RN resume should highlight the candidate's skill set and qualifications related to the specialty. The summary should include the candidate's experience in the dialysis field, such as administering hemodialysis treatments and managing dialysis patients. Additionally, it should include any certifications or specialized training related to dialysis, as well as any experience working in a related field, such as nephrology or gerontology. Finally, it should emphasize the candidate's interpersonal skills and ability to work with a variety of individuals, including patients and other healthcare professionals. By providing an accurate summary of a candidate's qualifications and experience, the resume will stand out and show the candidate's dedication to providing quality care to dialysis patients.
What is a good objective for a Dialysis RN resume?
or numberWriting an effective resume for a Dialysis RN can be daunting. However, taking the time to craft a powerful objective statement at the top of your resume can make all the difference. A good objective should succinctly communicate your qualifications, years of experience, and career aspirations. Here are a few tips you should keep in mind when crafting your Dialysis RN resume objective:
-Include your relevant qualifications and certifications: Demonstrate your qualifications and certifications to employers in your objective statement.
-Highlight your experience: Demonstrate your knowledge and expertise in dialysis nursing in your objective statement.
-State your career goals: Express your career ambitions and the trajectory you hope to take in your dialysis nursing career.
-Focus on the needs of the employer: Show that you understand the needs of the employer and how you can help them.
By following these tips, you can craft a powerful objective statement that will draw employers to your resume and showcase why you are the ideal candidate for the job.
How do you list Dialysis RN skills on a resume?
When applying for a Dialysis RN job, it is important to showcase your skills and experience on your resume. Even if you have never worked as a Dialysis RN before, employers will be looking for evidence that you have the necessary skills and knowledge to do the job.
Here are some tips for listing your Dialysis RN skills on your resume:
Summarize: In the summary section of your resume, include a concise overview of your Dialysis RN experience, qualifications, and any relevant certifications and education.
Focus: Highlight the skills most relevant to the Dialysis RN role, such as experience in maintaining accurate medical records, skilled in both inpatient and outpatient dialysis settings, and excellent patient-care skills.
Detail: Provide detailed examples of how you have used your Dialysis RN skills in previous roles. For example, describe how you successfully implemented a new dialysis protocol or how you effectively managed a team of Dialysis RNs.
Certifications: Make sure to list any certifications or licenses that are relevant to the job, such as the Certified Dialysis Registered Nurse (CDRN) designation.
By demonstrating your Dialysis RN skills in your resume, you will be better prepared to land the job you are targeting. With the right approach, you can prove to employers that you have all the skills and experience necessary to excel in the role!
What skills should I put on my resume for Dialysis RN?
When writing a resume for a Dialysis RN role, there are many skills you should include that demonstrate your expertise in this field. A few key skills that employers are likely to look for include:
Patient Assessment: As a Dialysis RN, you will be responsible for assessing patients' conditions and needs, so it is important to highlight your expertise in this area. Include any relevant experience you have in diagnosing and evaluating patients.
Administration of Dialysis Therapy: If you have experience administering dialysis treatment to patients, be sure to include this on your resume. Highlight your ability to safely and accurately administer treatments, manage patient records, and monitor patient responses to treatments.
Knowledge of Dialysis Equipment: Being knowledgeable of dialysis machines and equipment can come in handy when working in this role. List any experience you have in setting up and maintaining dialysis machines and ensuring that they are in proper working order.
Interpersonal Communication Skills: As a Dialysis RN, you will be interacting with patients on a regular basis and need to have excellent communication skills. List any experience you have in providing patients with support and guidance during treatment and explain your ability to create a trusting environment.
Clinical Skills: As a Dialysis RN, you will need to have a strong understanding of clinical procedures and protocols. Include any experience you have in performing clinical assessments and administering intravenous medications or treatments. Be sure to highlight your knowledge of clinical practice guidelines.
Key takeaways for an Dialysis RN resume
Developing a resume for a Dialysis RN is an important part of your job search. A resume should be tailored to the specific job you are applying for and showcase your experience, skills, and qualifications. Here are some key takeaways for creating a Dialysis RN resume:
• Highlight Your Education: Be sure to list any nursing certifications or degrees you have, such as a BSN or RN. Include any specialties or advanced training you may have taken in Dialysis.
• Include Your Experience: Include relevant clinical experience, such as any Dialysis-specific experience you may have. Also, list any jobs you held that utilized your nursing skills.
• Showcase Your Skills: Demonstrate your Dialysis-specific skills, such as dialyzing treatment, creating patient care plans, and monitoring patient vital signs. Additionally, list any other nursing skills that demonstrate your knowledge.
• Show Your Professionalism: Include any professional organizations you may be a member of, such as the American Nephrology Nurses Association. This shows that you are a dedicated professional and committed to your field.
• Emphasize Your Achievements: Showcase any awards, honors, or accomplishments you have achieved in your career. This is a great way to demonstrate your commitment to excellence.
Following these key takeaways will help you create a resume tailored to the job you are applying for and that stands out from the competition. Good luck with your job search!
Let us help you build
your Resume!
Make your resume more organized and attractive with our Resume Builder