Nurses are essential to providing quality healthcare to the public. As a result, employers are always on the lookout for nurses with the right skill set and experience. If you're looking to become a company nurse and stand out from the competition, you'll need an impressive resume. To help you get started, this blog post will provide a comprehensive guide to writing a nurse resume, along with examples of what an effective nurse resume should look like. It will cover important topics such as formatting, content, and guidelines to make sure you have the best possible resume.
If you didn't find what you were looking for, be sure to check out our complete library of resume examples.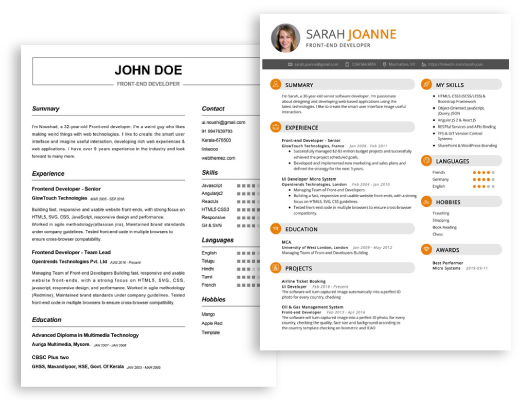 Start building your dream career today!
Create your professional resume in just 5 minutes with our easy-to-use resume builder!
Company Nurse Resume Examples
John Doe
Company Nurse
123 Main Street | Anytown, USA 99999 | Phone: (123) 456-7890 | Email: john.doe@email.com
I am a professional and experienced Company Nurse with over 8 years of experience providing quality care to a range of patients. I am experienced in assessing, diagnosing, developing care plans and administering medications. I am proficient in applying evidence- based nursing practices, patient education, and infection control protocols. I am committed to providing a safe and comfortable environment for my patients and I am passionate about ensuring their well- being.
Core Skills:
Clinical expertise
Patient assessment
Medication administration
Evidence- based nursing practices
Patient education
Infection control protocols
Quality improvement measures
Clinical documentation
Electronic medical records
Coordinating with other healthcare providers
Professional Experience:
Company Nurse, Big Healthcare Provider, 2017 – Present
Provide quality care to a range of patients in a hospital setting
Monitor vital signs, diagnose and treat acute and chronic illnesses
Educate patients about their condition, provide follow- up care, and coordinate with other healthcare providers
Ensure safety and comfort of patients by adhering to infection control protocols
Administer medications and treatments as prescribed in accordance to standards
Staff Nurse, ABC Hospital, 2013 – 2017
Assessed, diagnosed and developed care plans for patients with acute and chronic health conditions
Administered medications and treatments in accordance to established protocols
Educated patients and their families on the patient's condition and available treatments
Participated in quality improvement initiatives and clinical research projects
Maintained accurate and detailed clinical documentation in electronic medical records
Education:
Bachelor of Science in Nursing, University of Florida, 2013
Company Nurse Resume with No Experience
Dedicated nursing professional with a passion for providing quality care to patients. Possess extensive background in healthcare, including medical terminology and anatomy. Highly organized and detail- oriented with a strong work ethic and excellent communication skills.
Skills
Excellent patient care
Compassionate and empathetic
Ability to multitask
Strong communication skills
Proficient in medical terminology
Knowledge of anatomy
Organizational and time management skills
Basic medical office procedures
Ability to work in a fast- paced environment
Attention to detail
Responsibilities
Provide quality care to patients
Assist with basic nursing tasks such as taking vital signs and administering medications
Maintain accurate and up- to- date patient records
Provide patient education regarding medications, treatments, and home care
Collaborate with other healthcare professionals to ensure patient needs are met
Maintain a safe and sanitary healthcare environment
Evaluate patient responses to treatments and medications
Administer medications and treatments as prescribed by the physician
Observe and report any changes in patient conditions
Assist with daily patient care tasks such as bathing, feeding, and repositioning
Company Nurse Resume with 2 Years of Experience
A highly motivated and dedicated nurse with two years of experience providing direct patient care in a fast- paced emergency room setting. Possesses a deep understanding of patient care needs, excellent communication and collaboration skills, and a commitment to providing the highest quality of care to all patients. Strives to create a positive and supportive environment for patients and staff alike.
Core Skills:
Patient Care
Patient Assessment
Medical Terminology
IV Administration
Patient Education
Collaboration
Critical Thinking
Communication
Emergency Room Procedures
Responsibilities:
Provided direct patient care, including assessment, diagnosis, treatment, and follow- up
Communicated with physicians and other healthcare professionals to ensure the best care for the patient
Monitored vital signs and other patient data, ensuring any concerning results were reported promptly
Performed IV administration, including insertion, maintenance, and discontinuation
Educated patients on proper care, treatments, and medication use
Assisted in maintaining a clean and orderly environment in the emergency room
Performed laboratory tests, including blood draws, urinalysis, and cultures
Responded quickly and accurately to emergent patient situations
Worked collaboratively with other healthcare team members to ensure patient comfort and safety
Company Nurse Resume with 5 Years of Experience
Highly organized Registered Nurse with 5 years of experience working in medical practices and hospitals. Skilled in delivering quality patient care, developing patient care plans, and providing instruction to patients and families. Excels in working effectively with diverse populations, and is committed to providing professional patient care.
Core Skills:
Patient Care
Patient Care Plans
Medical Charting
Documentation
Interpersonal Skills
Problem Solving
Critical Thinking
Initiative
Teamwork
Responsibilities:
Assessed patient health problems and needs, developed and implemented nursing care plans and maintained medical records.
Monitored and reported changes in patient symptoms or behavior, instituted appropriate interventions and documented observations, interventions and evaluations.
Administered prescribed medications and treatments in accordance with approved nursing techniques.
Observed and recorded patient vital signs, monitored intake and output, and performed glucose monitoring.
Provided patient education, instruction to family members and training to peers.
Collaborated with interdisciplinary team members to ensure proper patient care.
Performed minor laboratory tests and other procedures as required.
Assisted with various administrative tasks as needed.
Company Nurse Resume with 7 Years of Experience
A highly- experienced and certified Company Nurse with 7 years of experience providing medical and nursing care to employees of corporate companies. Experienced in developing and administering health policies, identifying and addressing health issues, and providing emergency medical care. Possesses excellent organizational, communication, and problem- solving skills, as well as a passion for preventive health care.
Core Skills:
Emergency Medical Care
Occupational Health
Health Policies
First Aid
Medical Administration
Workers' Compensation
Infection Control
Health Education
Disease Prevention
Responsibilities:
Assessing and responding to employees' health needs in a professional and timely manner
Performing physical exams and filing medical reports
Administering medications and providing first aid as necessary
Developing and implementing health policies, procedures, and strategies
Maintaining accurate health records of employees
Providing health- related counseling and information on safety and health awareness
Identifying workplace hazards, conducting workplace inspections, and assessing risk factors
Assisting with workers' compensation claims, disability management, and return- to- work programs
Developing preventive health programs and promoting healthy lifestyle habits among employees.
Company Nurse Resume with 10 Years of Experience
An experienced and dedicated Registered Nurse with 10 years of experience in the healthcare industry, specializing in providing compassionate care for the elderly. A strong team player with excellent communication and interpersonal skills, able to work efficiently both independently and in a team environment. Demonstrates consistent professional behavior, treating all patients with respect, dignity, and compassion. Possesses a deep knowledge and passion for providing quality patient care and promoting a healthy lifestyle.
Core Skills:
Patient assessment, vital signs and monitoring
Medication administration and management
Ability to quickly assess and respond to medical emergencies
Patient education and discharge planning
Excellent communication and interpersonal skills
Able to work in both independent and team settings
Responsibilities:
Provide direct care to patients, including administering medications and treatments
Monitor patients' symptoms, condition and response to medications and treatments
Evaluate and document patient progress
Develop and implement nursing care plans
Educate patients and family members about health promotion, disease prevention and management
Communicate with physicians and other personnel to ensure quality patient care
Participate in quality improvement initiatives and patient care conferences
Comply with safety guidelines and legal regulations
Company Nurse Resume with 15 Years of Experience
Highly organized and motivated Company Nurse with 15 years of experience providing excellent patient care. Proven ability to effectively prioritize and manage duties in both independent and team- oriented environments. Detail- oriented problem solver with an aptitude for quickly and accurately interpreting and responding to changing needs. Possesses a strong commitment to patient safety, comfort, and confidentiality.
Core Skills:
Excellent patient assessment and care
Strong clinical and communication skills
Proficient in medical documentation
Team player with excellent interpersonal skills
Ability to prioritize and multitask
Knowledge of regulatory guidelines and standards
Strong customer service skills
Ability to maintain a professional demeanor
Responsibilities:
Provided patient care and triage services
Assessed patients' physical and emotional needs and documented symptoms
Administered medications and treatments as prescribed by doctors
Provided patient and family education on diagnosis, treatments, medications and lifestyle changes for prevention and management
Conducted patient health assessments, developed individualized care plans, and maintained accurate records
Collaborated and consulted with other team members to ensure that patient needs were met
Utilized strong communication skills to effectively address patient concerns
Maintained patient safety and confidentiality in accordance with all policies, laws and regulations
In addition to this, be sure to check out our resume templates, resume formats, cover letter examples, job description, and career advice pages for more helpful tips and advice.
What should be included in a Company Nurse resume?
A Company Nurse is a highly specialized role, and the resume you submit should reflect this expertise. A strong resume will highlight your relevant experience and qualifications to show potential employers you are the right person for the job. Here are a few key points to consider when crafting your Company Nurse resume.
Professional Summary: A concise summary of your experience, qualifications and certifications as a Company Nurse.
Education and Training: Include a list of all nursing education and training you have completed. Include relevant certifications, awards, and other educational accomplishments.
Experience: Detail all your previous experience as a Company Nurse. Include your specific duties and responsibilities, any specializations you may have, and the results of any projects you completed.
Specialization: Highlight any areas of specialization you have, such as occupational health, emergency medical services, or geriatric care.
Professional Development: List any additional professional development or continuing education courses you have taken related to your role as a Company Nurse.
Skills and Qualifications: Include any relevant skills or qualifications you have that could be beneficial in your role as a Company Nurse.
References: Include references from previous employers or colleagues who can vouch for your experience and qualifications as a Company Nurse.
What is a good summary for a Company Nurse resume?
A Company Nurse resume summary should highlight your experience in providing healthcare services for a corporate setting. You should emphasize your qualifications, such as experience in employee health assessments, occupational health and safety protocols, and medical management. You should also emphasize your expertise in providing compassionate, cost-effective healthcare services to employees, as well as your communication skills and record-keeping abilities. By including a well-crafted summary in your resume, you can demonstrate to potential employers that you are the right fit for the position.
What is a good objective for a Company Nurse resume?
As a company nurse, you're responsible for providing medical treatments and care for employees. To be a successful candidate for a company nurse role, your resume should include an objective that clearly outlines your qualifications and experience. Your objective should also demonstrate a passion for your profession and a commitment to providing quality care for those in need.
A good objective for a Company Nurse resume should include the following:
Demonstrate experience in providing quality medical care and treatments for employees
Committed to creating a safe and comfortable work environment
Possess excellent communication and interpersonal skills
Skilled in monitoring patient health and vital signs
Knowledgeable in administrative tasks, such as filing medical records and completing paperwork
Demonstrate a strong ability to juggle multiple tasks and prioritize effectively
Possess a valid nursing license and current CPR certification
How do you list Company Nurse skills on a resume?
When applying for a nursing job, it is important to have a resume that showcases all of the skills and qualifications that you possess. As a Company Nurse, you need to have a range of specialized skills that make you stand out as a qualified applicant. Here are some of the essential skills that should be listed on your resume when applying for a Company Nurse role:
Patient Care: Company Nurses must have a comprehensive knowledge of patient care, including the ability to provide treatment, administer medications and track patient progress.
Communication: Excellent communication is essential for Company Nurses, as they need to be able to effectively communicate with patients, colleagues, and healthcare professionals.
Documentation: Company Nurses must be able to accurately document patient progress, treatments and medications.
Organization: Company Nurses need to possess strong organizational skills to ensure that everything runs smoothly in the workplace.
Time Management: The ability to manage time effectively is crucial for Company Nurses so that they can meet patient needs in a timely manner.
Problem-Solving: Company Nurses must be able to quickly assess and solve problems in order to provide the best care for their patients.
Interpersonal Skills: As a Company Nurse, you must be able to work with a wide variety of people, including patients, doctors, and other medical professionals.
Empathy: As a Company Nurse, you must have strong empathy and compassion in order to successfully provide care to patients.
What skills should I put on my resume for Company Nurse?
When applying for a position as a Company Nurse, it is important to demonstrate the necessary skills and qualifications on your resume. To help you get the job, here are the important skills and qualifications to include:
Knowledge of medical terminology, procedures, and treatments: Company Nurse should be knowledgeable in medical terminology, procedures, and treatments in order to provide care to patients and communicate effectively with other medical professionals.
Excellent interpersonal and communication skills: Company Nurse must possess excellent interpersonal and communication skills to interact effectively with patients, other medical professionals, and support staff.
Good organizational and problem-solving skills: As a Company Nurse, you will be expected to manage multiple tasks and prioritize tasks efficiently. You should have good organizational skills and problem-solving skills to ensure patient safety and quality of care.
Ability to work independently and as part of a team: Company Nurse must be able to work independently as well as part of a team. You should have the ability to collaborate with other medical professionals and support staff to ensure quality care.
Ability to remain calm in stressful situations: Company Nurse may be required to work in stressful situations, so it is important to be able to remain calm and professional.
Computer proficiency: Company Nurse must be proficient with computers in order to manage patient records, schedules, and other tasks.
By including these qualifications and skills on your resume, you will demonstrate to employers that you are qualified for the position of Company Nurse.
Key takeaways for an Company Nurse resume
When it comes to writing a resume for a company nurse position, there are a few key elements that should be included to make sure you have a stronger chance of getting the job. Here are a few key takeaways for company nurse resumes to help you get started:
Highlight your relevant work experience: Highlighting your relevant work experience is an essential part of any resumes, especially for a company nurse resume. Make sure you list any experience that is related to nursing, patient care, and/or medical terminology.
Showcase your technical skills: Company nurses must possess a wide range of technical skills, such as the ability to use specialized medical equipment, administer vaccinations, and understand medical and health-related laws. Showcase these skills in your resume, as employers value employees who can utilize these skills.
Focus on customer service: As a company nurse, customer service is an integral part of the job. Make sure to emphasize your customer service skills, such as your ability to communicate effectively with patients and work well with colleagues.
Showcase any relevant certifications: If you have any certifications related to nursing, such as being a Registered Nurse, make sure to include them in your resume. These certifications can go a long way in helping you stand out from other applicants.
By including these key takeaways for a company nurse resume, you can make sure that your resume is as strong as possible and give yourself a better chance of getting the job. Good luck!
Let us help you build
your Resume!
Make your resume more organized and attractive with our Resume Builder