Are you looking to write a winning resume as a Community Nurse? If so, you've come to the right place! Writing a resume for a community nurse position can be quite a challenge, as the job requires a vast array of skills and experience. This guide will provide you with all the tips and tricks you need to make sure your resume stands out and will provide you with examples to help you craft the perfect resume.
If you didn't find what you were looking for, be sure to check out our complete library of resume examples.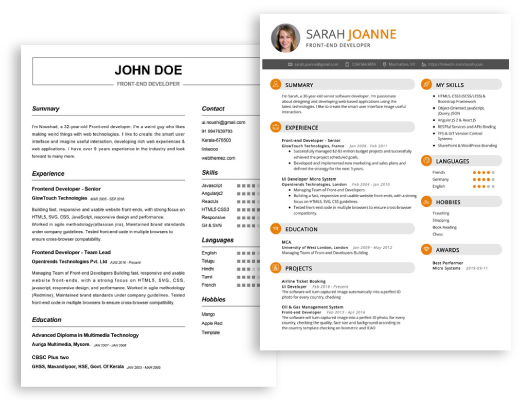 Start building your dream career today!
Create your professional resume in just 5 minutes with our easy-to-use resume builder!
Community Nurse Resume Examples
John Doe
Community Nurse
123 Main Street | Anytown, USA 99999 | Phone: (123) 456-7890 | Email: john.doe@email.com
Community nurse with 5 years of experience providing care for diverse populations. Skilled in identifying health care needs and providing efficient, quality care. Proven track record for meeting and exceeding patient satisfaction goals.
Core Skills:
Patient Assessment
Medication Administration
Wound Care
Patient Advocacy
Care Planning
Infection Control
Charting
Professional Experience:
Community Nurse
ABC Health Care, Miami, FL
August 2015 – Present
Provide nursing care to patients in the community setting, including home visits, hospice care, and nursing home visits.
Perform assessments to identify patient needs and develop appropriate care plans.
Administer medications and treatments, including wound care, injections, and IV therapy.
Educate patients and families on preventative health care and disease management.
Collaborate with other health care professionals to ensure comprehensive patient care.
Document patient care in accordance with policy and procedures.
Education:
BSN in Nursing
University of Miami, Miami, FL
May 2015
Community Nurse Resume with No Experience
Recent nursing graduate looking to gain experience as a Community Nurse. Highly knowledgeable in patient care, medical terminology and disease processes. Strong ability to provide compassionate care to patients and their families.
Skills
Excellent communication skills
Well- versed in medical terminology
Proficient in basic medical procedures
Knowledgeable in disease processes
Able to adapt to changing environments
Demonstrated ability to work in teams
Responsibilities
Provide safe and effective patient care
Monitor patient vital signs
Assist in administering medications
Assess patient needs and develop nursing care plans
Collaborate with physicians and other healthcare personnel to coordinate patient care
Maintain patient records and update progress notes
Educate patients and families on disease processes and treatment plans
Community Nurse Resume with 2 Years of Experience
Dynamic and driven Community Nurse with 2 years of experience providing healthcare and wellness services to diverse populations. Skilled in developing and managing patient plans, delivering quality patient- centered care, and providing education and support to individuals and families. Expertise in caring for the elderly, disadvantaged, and those with chronic health conditions. Committed to using evidence- based practices to improve the lives of patients.
Core Skills:
In- depth knowledge of community nursing practices and principles
Excellent assessment and triage skills
Highly organized and detail- oriented
Strong problem- solving and communication skills
Proficient in using electronic medical records (EMR)
Skilled in patient advocacy and education
Excellent interpersonal and relationship- building skills
Responsibilities:
Delivered direct care to community members in home and in clinical settings
Developed plans of care and implemented treatment regimens
Assisted with community health initiatives, including health screenings and vaccinations
Facilitated access to healthcare, including referrals and follow- up care
Provided support and education to patients and families
Collaborated with interdisciplinary teams to ensure quality patient- centered care
Utilized evidence- based practices to improve patient outcomes
Community Nurse Resume with 5 Years of Experience
Highly motivated and well- experienced Community Nurse with 5 years of experience providing comprehensive care and support to individuals, families and communities. Possessing excellent communication skills, I am able to effectively collaborate with my team, coordinate with multiple stakeholders and build strong relationships with patients and their families. My experience encompasses providing direct patient care, identifying healthcare needs, developing strategies to address them, and conducting health promotion activities. I am passionate about improving the wellbeing of individuals through providing quality care.
Core Skills:
Clinical Assessment & Documentation
Patient Education
Community Health Promotion
Interdisciplinary Collaboration
Evidence- Based Practice
Risk Management & Quality Assurance
Responsibilities:
Assess, plan and implement individualized care plans for patients
Deliver patient education and counseling to promote health and prevent illness
Identify community health needs and develop strategies to address these needs
Maintain accurate records of patient care activities
Participate in interdisciplinary team meetings to develop an integrated care plan
Collaborate with healthcare professionals to ensure quality care
Utilize evidence- based practice to guide clinical decisions
Monitor and assess patient outcomes
Develop and implement health promotion initiatives in the community
Community Nurse Resume with 7 Years of Experience
I'm an experienced community nurse with seven years of experience in providing nursing care to marginalized and vulnerable communities. I'm passionate about helping my community and have a strong understanding of the health and social needs of individuals, families, and groups. I'm highly skilled in assessing, providing, and coordinating the care of patients in their home settings. I'm adept at providing education and resources to clients, families, and healthcare providers. Additionally, I have a strong commitment to patient safety and quality care.
Core Skills:
Patient Assessment
Health Assessment and Care Planning
Nursing Care
Collaboration and Communication
Quality Improvement
Documentation and Reporting
Education and Resource Provision
Responsibilities:
Assessing, planning and providing holistic patient care
Developing, implementing and evaluating nursing care plans
Establishing and maintaining patient and family relationships
Collaborating with other healthcare professionals
Coordinating and monitoring patient care plans
Providing patient and family education and resources
Maintaining accurate and timely documentation of patient care
Participating in quality improvement activities
Managing patient care resources, both financial and physical
Ensuring patient safety and quality of care
Responding to and resolving patient care issues
Community Nurse Resume with 10 Years of Experience
Dedicated and compassionate Community Nurse with 10+ years of experience providing patients with high quality healthcare services in home settings. Extensive knowledge of disease management and geriatric care. Skilled in effectively communicating medical instructions to elderly and disabled patients in a way they can understand. Successful in developing and maintaining strong relationships with patients and their families.
Core Skills:
Disease management
Geriatric care
Patient and family relations
Patient assessment
Home care
Psychosocial assessments
Health education
Infection control
Time management
Responsibilities:
Assessed patients' conditions and developed individualized care plans
Monitored patients' health through physical examinations, lab tests and patient interviews
Administered medication and treatments in accordance with established protocols
Educated patients and their families about disease management, treatments, nutrition and lifestyle modifications
Provided psychosocial assessments to evaluate patient's emotional wellbeing
Developed and maintained strong relationships with patients and their families
Followed infection control protocols to prevent health hazards
Assisted patients with daily activities such as bathing, grooming and dressing
Referred patients to other specialists as needed
Maintained records of patient care, condition, progress and concerns
Community Nurse Resume with 15 Years of Experience
A dedicated and experienced Community Nurse with 15 years of experience providing personalized, patient- focused care in a variety of settings. Demonstrated ability to build positive working relationships with patients, families and other healthcare providers, hospitals, and community agencies. Excellent communication and organizational skills coupled with the ability to deliver sensitive and compassionate care to ensure optimal patient outcomes.
Core Skills:
Patient Assessment and Care Planning
Wound Care and Infection Control
Family Education and Support
Health Promotion and Education
Clinical Documentation and Charting
Medication Administration and Pain Management
IV Insertion and Care
Patient Advocacy
Case Management
Collaboration with Interdisciplinary Teams
Responsibilities:
Evaluate patient physical and mental health conditions, and collaborate with physicians and other healthcare professionals to develop individualized care plans
Provide patient care and education, in accordance with established standards of practice
Monitor patient progress, and make necessary adjustments to care plans as needed
Provide wound care, including dressing changes and infection control
Educate patients and families on health maintenance and promotion, as well as treatments and medications
Administer medications, and provide IV care and insertion
Provide case management services and patient advocacy
Maintain accurate and updated clinical documentation, patient charts and medical records
Build positive working relationships with patients, families and other healthcare professionals
Assist with interdisciplinary patient care rounds and other meetings
Assist in orienting and training new Community nurses and students.
In addition to this, be sure to check out our resume templates, resume formats, cover letter examples, job description, and career advice pages for more helpful tips and advice.
What should be included in a Community Nurse resume?
Writing a resume for a Community Nurse requires a special set of skills and experiences. As a Community Nurse, you need to demonstrate your knowledge and expertise in a variety of health care settings and organizations. Here are some key elements that should be included in your resume.
Professional Summary: Provide a brief summary of your qualifications and experience that illustrates your ability to provide high quality, comprehensive nursing care.
Education and Licensure: Include a list of the licenses and certifications that you have. Also list the professional organizations that you are a member of, as well as any special training or continuing education courses you have taken.
Clinical Experience: List any clinical experience that you have in a variety of health care settings. Include the type of care you provided, the size of the organization, and the length of your employment.
Community Care: Detail any experience that you have providing care to individuals or groups in a community setting. Be sure to include the types of services you provided, the length of time you served, and the organizations or individuals you worked with.
Professional Accomplishments: List any awards, honors, or other recognitions you have earned during your career.
Volunteer Experience: Include any volunteer experience that you have in a health care setting.
Leadership and Management: Include any leadership or management roles that you have held in a health care setting.
By including the above information in your resume, you will be able to showcase your experiences and qualifications as a Community Nurse. Your resume should demonstrate your commitment to providing quality health care in a wide range of health care settings.
What is a good summary for a Community Nurse resume?
A community nurse is a specialized healthcare professional who provides medical care to individuals in a variety of settings, including homes, schools, and other community facilities. Writing a comprehensive and impactful summary for a community nurse resume is essential for standing out from the competition.
A good community nurse summary should begin with a brief introduction to the individual's background. For example, the summary should include information such as the number of years in the profession, the type of patients the individual has cared for, and any unique certifications that the individual may have.
The summary should then focus on the individual's expertise and accomplishments as a community nurse. This should include information about the individual's ability to manage care for a variety of patients and illnesses, as well as their ability to work with diverse populations. The summary should also include any awards or recognition the individual may have received in the past, such as a Nurse of the Year award or recognition from a local patient advocacy group.
Finally, the summary should include a brief statement of why the individual would be the best choice for the position. This should include a summary of their qualifications and highlights their commitment to providing excellent care to their patients.
By following these guidelines, a community nurse can create a powerful summary that will help them stand out from the competition and land the job they want.
What is a good objective for a Community Nurse resume?
Community nurses are highly sought after professionals who provide specialized nursing care to individuals in both home and community settings. As such, a well-constructed objective on a community nurse resume should demonstrate a commitment to providing comprehensive patient care and an understanding of the unique needs of the community.
A good objective for a community nurse resume should focus on the following key points:
Demonstrate a commitment and passion for providing community health care
Showcase an understanding of the unique needs of the community
Highlight experience providing both direct patient care and community health education
Demonstrate the ability to collaborate and communicate effectively with other medical professionals and community members
Emphasize a commitment to the highest standards of patient care
By emphasizing these qualities, a community nurse can showcase their commitment to providing quality healthcare services to individuals in the community. With a well-crafted objective, a community nurse can set themselves apart from other applicants and demonstrate their dedication to providing compassionate, evidence-based care.
How do you list Community Nurse skills on a resume?
When applying for a Community Nurse position, it is essential to highlight your relevant skills and qualifications on your resume. Here are some examples of Community Nurse skills that you can list on your resume:
Skilled in assessing and managing patients' medical and psychosocial needs
Knowledgeable in public health and community nursing principles and practices
Expertise in nursing care plans, health education and promotion, and patient education
Ability to provide comprehensive nursing care in home, school, or other community settings
Proficient in administering medications, wound care, injections, and other treatments
Ability to work independently and collaboratively with other healthcare professionals
Excellent communication and interpersonal skills
Ability to provide compassionate care to patients and families
Skills in time management and prioritization
Proficient in the use of various medical equipment and technologies
Ability to maintain accurate records and documentation
Experienced in providing health screenings and health assessments
What skills should I put on my resume for Community Nurse?
A resume for a Community Nurse showcases the professional's experience and expertise in providing healthcare services to patients in their homes, nursing homes, and other care facilities. An effective resume should highlight the nurse's experience in providing both primary and preventive care, as well as any specialized skills in caring for the elderly, those with chronic illnesses, those with special needs, and those with mental health issues. Here are some skills that should be included on a Community Nurse resume:
Knowledge of medical terminology
Experience conducting physical assessments
Expertise in providing medical care to patients in their homes or care facilities
Knowledge of chronic disease management
Ability to coordinate care between multiple healthcare providers
Skilled in developing treatment plans for patients
Ability to recognize signs of abuse and report them to the proper authorities
Ability to provide emotional support to patients and their families
Knowledge of home health equipment
Expertise in providing health education and teaching self-care strategies
Experience in providing safety assessments
Ability to work effectively with other healthcare professionals
Expertise in electronic medical records systems
Excellent written and verbal communication skills
Key takeaways for an Community Nurse resume
When you create your resume as a community nurse, there are a few key takeaways that you want to make sure to highlight. Your resume is an important tool in helping you get the job you want, so make sure you spend some time making sure it is accurate and up-to-date. Here are some key takeaways for a community nurse resume:
Highlight Your Education and Experience. Make sure to include information about your education and experience. Include information about any certifications or degrees you have received and any experience you have working in the community. This will show potential employers that you are prepared to handle the job.
Emphasize Your Expertise. If you have any specialty areas in community nursing, make sure to emphasize those in your resume. Include details about any specialized training or experience you have in these areas. This will help make you stand out from other candidates for the job.
Show Leadership Skills. If you have had any leadership roles in community nursing, make sure to include those as well. This shows potential employers that you can handle responsibility and that you are a team player.
Demonstrate Your Personal Skills. Community nursing requires a lot of interpersonal skills. Make sure to include information about any volunteer work or activities you have done that demonstrate your interpersonal skills. This shows potential employers that you are well-rounded and well-prepared for the job.
These are just a few of the key takeaways for a community nurse resume. Make sure to include information about your education and experience, emphasize your expertise, show your leadership skills, and demonstrate your personal skills. With the right information on your resume, you can be sure to make a great impression with potential employers.
Let us help you build
your Resume!
Make your resume more organized and attractive with our Resume Builder