A well-crafted resume is the key to success when it comes to applying for a job. Your resume should showcase your accomplishments, skills, and experience in a way that will make employers take notice. Writing a resume can be a daunting task, but with this comprehensive guide on CNS resume writing you can create a compelling resume that will help differentiate you from the competition. This guide will provide you with resume writing tips, best practices, and examples of resumes that have been successful. With these resources you can ensure that your resume will make a strong impression on any potential employer.
If you didn't find what you were looking for, be sure to check out our complete library of resume examples.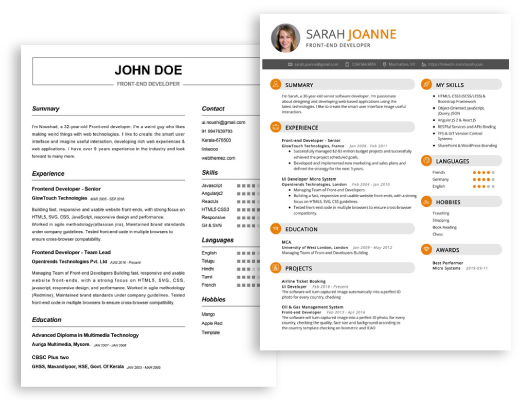 Start building your dream career today!
Create your professional resume in just 5 minutes with our easy-to-use resume builder!
CNS Resume Examples
John Doe
CNS
123 Main Street | Anytown, USA 99999 | Phone: (123) 456-7890 | Email: john.doe@email.com
I am an experienced Clinical Nurse Specialist (CNS) with 8 years of experience in providing medical care and support, as well as helping to coordinate and manage patient care services. I have extensive knowledge and understanding of medical conditions, diagnoses and treatments and have the ability to work with all levels of medical staff, including doctors, nurses, and other health professionals. I am a motivated and compassionate individual who strives to ensure that quality patient care is provided and that patient needs are adequately met.
Core Skills:
Excellent patient assessment and management skills
Knowledge of healthcare regulations and standards
Strong clinical knowledge and understanding
Superb communication and interpersonal skills
Ability to work effectively as part of a team
Proficient with EMR systems
Professional Experience:
Clinical Nurse Specialist – St. Mary's Hospital (2013 – present)
Provide medical care, assessment, and treatment of patients in the hospital's intensive care unit
Develop and implement patient care plans in collaboration with other health professionals
Educate patient and families on health issues
Coordinate patient care services and manage patient records
Develop and maintain quality assurance and improvement processes
Clinical Nurse – Mayo Clinic (2010 – 2013)
Assessed and provided medical care to patients in the hospital's acute care facility
Worked closely with doctors and other healthcare professionals to develop patient care plans
Provided patient education and support as needed
Monitored and documented patient progress
Education:
Bachelor of Science in Nursing – University of Minnesota (2008 – 2010)
Associate of Science in Nursing – Minneapolis Community College (2006 – 2008)
Certified Clinical Nurse Specialist – American Nurses Credentialing Center (2010)
CNS Resume with No Experience
Recent college graduate seeking to start a career as a Customer Service Representative. Applying strong organizational, communication and problem- solving skills to help customers and create a positive customer experience.
Skills
Customer service
Strong communication skills
Organizational skills
Problem- solving ability
Computer proficiency
Leadership
Responsibilities
Greet customers with enthusiasm and create a positive customer experience
Provide customers with timely and accurate information
Manage customer inquiries, complaints and requests in a timely manner
Resolve customer issues quickly and efficiently
Handle incoming calls, emails and chats
Ensure customer satisfaction by providing helpful and friendly service
Maintain accurate records of customer interactions
Stay up to date with product and service knowledge.
CNS Resume with 2 Years of Experience
I am a highly motivated and qualified individual with two years of professional experience working in customer service and support positions. I am passionate about helping people, and strive to ensure that everyone I interact with has a positive experience. I am a hard working and dedicated employee, and have been successful in my positions by providing excellent customer service and technical support. My core skills include problem solving, communication, and customer service, as well as a good understanding of the latest technologies.
Core Skills:
Excellent problem solving and troubleshooting abilities
Strong verbal and written communication skills
Customer service expertise
Knowledge of industry trends and the latest technologies
Ability to multitask and prioritize workload
Responsibilities:
Assisted customers with technical issues in a timely and efficient manner
Provided customer service to ensure customer satisfaction
Created and maintained accurate records for customer service interactions
Diagnosed customer problems and provided solutions to resolve them
Monitored customer service trends to identify any areas in need of improvement
Coordinated with other departments to ensure customer inquiries were addressed promptly
CNS Resume with 5 Years of Experience
A highly experienced and results- driven professional with 5+ years of experience in the field of Clinical Nurse Specialist (CNS) providing superior patient care, developing and executing treatment plans, and providing guidance and training to medical staff. Skilled in patient assessment, diagnosis, and treatment, as well as EMR management. Possesses a deep understanding of operations and procedures, as well as excellent communication and problem- solving abilities.
Core Skills:
Clinical Nursing & Patient Care
Assessment, Diagnosis & Treatment
EMR/EHR Management & Documentation
Training & Development
Regulatory & Compliance Standards
Patient Advocacy
Team Leadership
Communication & Interpersonal Skills
Problem Solving & Time Management
Responsibilities:
Provided expert clinical care, developing and monitoring patient programs and treatment plans
Utilized EMR/EHR for gathering, analyzing, and documenting patient information
Developed and maintained a comprehensive knowledge of all nursing protocols, regulatory standards and compliance
Assisted with training and mentoring new nursing staff to ensure standard of care is met
Managed patient caseloads to ensure optimal patient care
Served as a liaison between patients, family and medical staff, advocating for patients and their families
Led the nursing team in activities and initiatives to ensure quality patient care
CNS Resume with 7 Years of Experience
I am an experienced professional with over 7 years of experience in the CNS field. My expertise lies in assessment, diagnosis and treatment of mental, emotional and behavioral disorders in diverse populations. I have a proven track record of successful treatment outcomes, and I am highly skilled in utilizing evidence- based treatment interventions. Additionally, I have the ability to provide comprehensive psychotherapeutic services including individual and family therapy. My strong interpersonal and communication skills enable me to effectively collaborate and consult with other professionals and community resources.
Core Skills:
Extensive clinical and therapeutic experience
Knowledge of evidence- based treatment interventions
Strong interpersonal and communication skills
Ability to effectively collaborate with other professionals
Excellent assessment and diagnostic skills
Flexibility to work with diverse populations
Responsibilities:
Develop and maintain an open, honest, and therapeutic relationship with clients
Assess, diagnose, and treat mental, emotional, and behavioral disorders
Collaborate with other professionals and community resources
Provide individual and family therapy
Utilize evidence- based treatment interventions
Document treatment plans and progress according to agency standards and regulations
Develop treatment plans and discharge plans
Provide crisis intervention services, when needed
CNS Resume with 10 Years of Experience
I am a highly experienced Clinical Nurse Specialist (CNS) with over 10 years of experience working in various medical settings. Throughout my career, I have taken on a variety of roles, which has allowed me to expand my knowledge and skillset. My core competencies include advanced nursing practice, evidence- based research, patient advocacy, and critical thinking. I am also experienced in nursing education and professional practice development. My passion is to provide the highest level of care and to ensure the best possible outcomes for patients.
Core Skills:
Advanced nursing practice
Evidence- based research
Patient advocacy
Critical thinking
Nursing education
Professional practice development
Excellent communication skills
Ability to collaborate with a multidisciplinary team
Responsibilities:
Providing advanced nursing care for acutely ill patients
Evaluating care plans, policies, and procedures to ensure best practice
Assisting with the development and implementation of nursing protocols
Educating nurses and other healthcare professionals on evidence- based practices
Collaborating with multidisciplinary teams to create and monitor patient care plans
Providing support to patients and their families to ensure the best possible outcomes
Maintaining effective communication with all stakeholders to ensure optimum collaboration
Researching and analyzing data to inform and develop best practices
Participating in quality improvement initiatives and programs
CNS Resume with 15 Years of Experience
I am a seasoned and experienced professional with over 15 years of experience in the field of Cognitive Neuroscience. I specialize in designing and conducting research experiments, analyzing data, interpreting results, and presenting findings. My experience has provided me with a deep understanding of the principles of neuroscience, as well as a strong background in computer- aided design, statistical modelling, and data management. I also possess excellent interpersonal and communication skills, and work well in both collaborative and independent settings.
Core Skills:
Experienced in conducting research experiments
Digitized data collection, analysis, and interpretation
Expertise in computer- aided design and statistical modelling
Excellent interpersonal and communication skills
Highly organized and efficient
Responsibilities:
Designing experiments and collecting data from participants
Establishing accurate methods of data collection and recording
Developing and conducting statistical tests for data analysis
Interpreting and presenting results to colleagues and other stakeholders
Creating and maintaining databases for data storage and analysis
Collaborating and communicating with other researchers
Utilizing computer- aided design (CAD) software
In addition to this, be sure to check out our resume templates, resume formats, cover letter examples, job description, and career advice pages for more helpful tips and advice.
What should be included in a CNS resume?
A Clinical Nurse Specialist (CNS) resume should include information that highlights your education, skills, and experience in the field. When it comes to creating a successful resume, these are the key elements to consider:
Education: List your higher education and any specialized degrees, certifications, licenses, or courses that you have completed.
Professional experience: Describe any work experience related to health care, such as previous positions in hospitals, clinics, or other health care facilities.
Leadership roles: Include any leadership roles you have held in nursing or health care, such as supervisor or manager.
Specialized skills: Highlight any specialized skills you have that are relevant to the position, such as experience with electronic health records or advanced nursing techniques.
Professional development: Include any special projects or activities you have completed in the field of nursing or health care.
Awards and honors: List any awards or honors you have received related to nursing or health care.
References: Provide contact information for professional references.
What is a good summary for a CNS resume?
A concise and effective summary for a CNS resume should include key accomplishments and relevant experience that show off the applicant's skills and qualifications. The summary should be tailored to the job role, highlighting the applicant's core competencies. Additionally, the summary should communicate the applicant's career objectives, skills, and knowledge related to the position. It should include information about the applicant's clinical experience, educational background, certifications, and any special leadership or research experience. Finally, it should succinctly demonstrate the applicant's passion for the work and their commitment to providing the best patient care.
What is a good objective for a CNS resume?
A resume objective statement is a brief introduction to your career goals, highlighting the most relevant skills and experiences you have to offer a potential employer. For a Clinical Nurse Specialist (CNS), this should include specialized knowledge, training, and accomplishments in the field of nursing.
Below are a few examples of objectives for a CNS resume:
Utilize advanced nursing knowledge and experience to provide superior patient care as a Clinical Nurse Specialist.
Seek to use experience in geriatric care and mental health to lead a top-notch nursing team.
To gain a position in an esteemed health care institution utilizing my expertise in clinical nursing and patient care.
Leverage over 8 years of experience in intensive care to provide the highest quality of patient care.
Leverage my experience in providing medical education to nurses and nursing students to improve the quality of patient care.
How do you list CNS skills on a resume?
No matter what type of job you're applying for, having a well-crafted resume listing your skill set is essential to success. If you are applying for a job in the Clinical Nurse Specialist (CNS) field, you need to include your specialized skills on your resume.
To ensure you highlight your CNS skills in the best way, there are certain tips and tricks you can use. Here is a guide for how to list your CNS skills on a resume:
Focus on the job ad. Before you begin to craft a new resume, take a look at the job ad and the skills it states are required for the position. This should help you to understand how to list your CNS skills in a way that closely matches the job posting.
Include relevant experience. In addition to any credentials you may have, you will also want to include any relevant experience. Think about any work you have done in the past that could be applicable to the CNS role you are applying for.
Highlight your continuing education. Many nurse specialists take continuing education courses to stay on top of the latest developments in the nursing profession. Be sure to highlight any special certifications or courses in your resume.
Connect your skills to the job. After you've listed your credentials and experience, it's important to make sure that the skills you've listed are connected to the job you're applying for. Try to think about how your skills can be used in the job and explain it in your resume.
By following these tips, you'll be sure to craft a resume that highlights your Clinical Nurse Specialist skills in the best way possible. Good luck!
What skills should I put on my resume for CNS?
The career of a Clinical Nurse Specialist (CNS) is one of the most rewarding in the healthcare industry. As a CNS, you need to be able to use specialized skills to provide the best care possible to patients. Here are some key skills and abilities you should include on your resume when applying for a CNS position:
Clinical Assessment: As a CNS, you must be able to assess a patient's condition, diagnose their illness, and provide the right treatment plan.
Leadership: You must be able to lead and manage a team of nurses and other healthcare staff to ensure a high quality of care is provided to all patients.
Communication: Being able to communicate effectively with both patients and healthcare professionals is essential in this role. You must be able to provide clear instructions and be able to understand and interpret patient feedback.
Research: As a CNS, you must be able to stay up-to-date with current medical research and trends, as well as understand how to use evidence-based practice to provide the best care.
Teaching: You must be able to teach and educate both patients and healthcare staff on important clinical topics.
Problem-Solving: You need to be able to think critically and come up with solutions to any problems or challenges that may arise.
By showcasing these skills and abilities on your resume, you can demonstrate to employers that you are the best candidate for the job.
Key takeaways for an CNS resume
Having a comprehensive resume plays an essential role in getting through the initial screening process and standing out from the competition when applying for jobs in the Clinical Nurse Specialist (CNS) field. The resume should be tailored to the specific background of the individual and the CNS position they are applying for. In order to ensure that the resume stands out, there are a few key takeaways that should be included.
First, highlight any clinical experience that is related to the desired CNS position. This could include any specialized clinical certifications, board certifications, or certifications in specialty areas. Additionally, include any work that has been done in the relevant field, such as research projects, teaching experience, or any other experience that would make the individual stand out in the field of CNS.
Second, emphasize any knowledge and skills that the candidate has that are related to the CNS position. This could include any educational courses related to CNS, any advanced degrees, or any additional certifications. It is also important to demonstrate an understanding of the organization and its goals in the resume. This can be done by showing a commitment to the profession in the form of committee or volunteer work, or it can be demonstrated by listing any accomplishments that have been achieved in the past.
Finally, emphasize any professional development activities that the candidate has participated in that are related to the CNS field. This could include any conferences, presentations, or workshops that were attended. It is also important to highlight any leadership roles that have been held in the past, as this will show that the individual is capable of taking on a leadership role in the CNS field.
By following these key takeaways, an individual can ensure that their resume stands out from the competition and can help them land the job they desire.
Let us help you build
your Resume!
Make your resume more organized and attractive with our Resume Builder