Writing a great resume is an important part of the job search process, but especially so when you are looking to become a baby nurse. A baby nurse resume should highlight your qualifications, experience, and skills, while also demonstrating your passion for providing compassionate care to infants and their families. This guide will provide you with helpful tips and examples of baby nurse resumes that will help you to create a standout resume that will get you noticed by potential employers.
If you didn't find what you were looking for, be sure to check out our complete library of resume examples.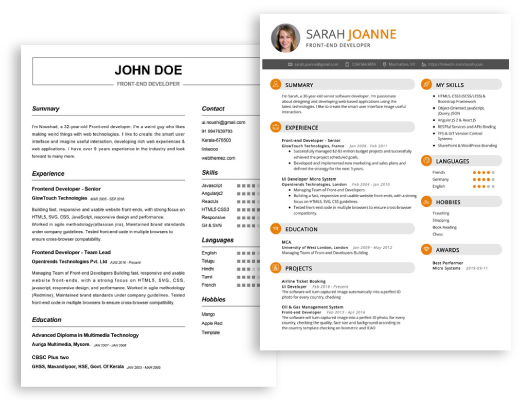 Start building your dream career today!
Create your professional resume in just 5 minutes with our easy-to-use resume builder!
Baby Nurse Resume Examples
John Doe
Baby Nurse
123 Main Street | Anytown, USA 99999 | Phone: (123) 456-7890 | Email: john.doe@email.com
I am a dedicated and compassionate Baby Nurse with 5+ years of experience helping families care for their newborns. I specialize in providing both physical and emotional support to families, and I am comfortable working with a wide range of infants, including premature and full- term babies. I have expertise in soothing and calming infants, helping mothers with lactation and breastfeeding, and administering baby care tasks such as diaper changing, bathing, and feeding. I am committed to providing a safe and nurturing environment for all babies in my care.
Core Skills:
Extensive knowledge of infant nutrition, proper hygiene, and health management
Ability to provide parental support and education
Excellent communication, organization, and multitasking skills
Strong critical thinking and problem- solving capabilities
Flexibility to work in shifts and on call
Current CPR and First Aid certifications
Professional Experience:
Baby Nurse
Newborn Family Care, Chicago, IL
April 2017- Present
Provide physical and emotional support to new mothers and families
Assist with breastfeeding, bottle feeding, and providing nutrition
Change diapers, bathe infants, and ensure proper hygiene
Monitor babies' vital signs and report any abnormalities to the physician
Provide education to families on infant safety and development
Education:
Bachelor of Science in Nursing, University of Chicago, 2016
Baby Nurse Resume with No Experience
Recent college graduate passionate about providing quality care and support for babies in need. Possessing excellent communication and problem- solving skills, and the ability to work well in a team environment.
Skills
Proficient in Microsoft Office Suite
Excellent organizational and time management skills
Strong interpersonal and communication abilities
Ability to multi- task
Calm under pressure and in crisis situations
Adept at following instructions
Knowledge of infant health and safety regulations
Responsibilities
Assisting parents with nurturing, feeding and cleaning of newborns
Providing care, support and guidance to babies
Monitoring the health and safety of babies
Keeping detailed records of babies' activities, eating habits, and health
Bathing and changing diapers as needed
Creating a safe and comfortable environment for babies
Administering medications as directed by parents or physicians
Assisting babies with developmental activities and milestones
Baby Nurse Resume with 2 Years of Experience
Experienced and reliable Baby Nurse with more than two years of professional experience, providing comprehensive and compassionate care for infants and their families. Possess a nurturing and patient personality, enabling the ability to establish rapport and positive connections with parents, ensuring their needs are met and their baby is in safe hands. Adept at multitasking, performing vital signs checks, changing diapers, administering medications, and providing nutritional advice.
Core Skills:
Compassionate, nurturing, and patient
Extensive knowledge of infant development
Ability to multitask and prioritize
Data entry and excellent record- keeping
Proficient in infant basic care
Excellent communication and interpersonal skills
Skilled in administering medications
Ability to follow instructions precisely
Flexible and reliable
Responsibilities:
Supervised and cared for infants according to each baby's individual needs
Monitored and documented infant's vital signs and other health indicators
Changed diapers, washed clothes, and bathed infants
Assisted parents with newborn care techniques, such as swaddling, burping, and other techniques
Assisted mothers with breastfeeding techniques
Administered medications and monitored the condition of infants
Recorded and maintained detailed records of infants' food intake
Educated parents on proper nutrition and exercise for infants
Collaborated with health care professionals to monitor the progress of infants
Baby Nurse Resume with 5 Years of Experience
I am a highly experienced Baby Nurse with a vast experience of 5 years in providing comprehensive care to newborns and infants. I am experienced in establishing feeding and sleeping schedules, monitoring the health and development of babies, and providing parent education. I am passionate about providing neonatal care and creating a safe, nurturing, and stimulating environment for newborns and their families. I am a team player and able to work closely with other healthcare professionals, as well as collaborate with parents and other family members to ensure the best outcomes for newborns.
Core Skills:
Expert in providing comprehensive neonatal care
Knowledge of health promotion for newborns
Experienced in establishing feeding and sleeping schedules
Proficient in monitoring the health and development of infants
Effective communication with parents and other family members
Ability to work closely with other healthcare professionals
Advanced understanding of safety protocols for newborns
Responsibilities:
Provide comprehensive care to newborns and infants
Monitor and record vital signs of infants
Administer vaccinations, medications, and treatments as prescribed
Perform nutritional assessments and establish appropriate feeding schedules
Develop and implement plans for infant growth and development
Evaluate infant's progress and adjust care plans accordingly
Educate parents on newborn care and safety protocols
Respond to emergency and critical situations
Maintain a safe and clean environment
Perform other duties as assigned by supervisors.
Baby Nurse Resume with 7 Years of Experience
With over seven years of experience as a baby nurse, I bring extensive knowledge and professionalism to the role. I am experienced in providing 24/7 care to newborns and infants, breastfeeding assistance, and working with families to ensure the infant's health and development. I'm also knowledgeable in establishing routines, monitoring vitals, and answering parental questions about the infant's health. I have excellent organizational and communication skills and am dedicated to providing a safe, nurturing, and stimulating environment for infants.
Core Skills:
Newborn and Infant Care
Breastfeeding Assistance
Establishing Routines
Monitoring Vitals
Excellent Communication Skills
Excellent Organization Skills
Knowledgeable in Health and Development
Responsibilities:
Provide 24/7 care for newborns and infants
Prepare and administer necessary medications
Assist in establishing routines for feeding, bathing, and sleeping
Monitor vital signs such as temperature, heart rate, and respiratory rate
Assist with breastfeeding and changing diapers
Assist with developmental milestones
Answer parental questions regarding the infant's health and development
Maintain a clean, safe, and stimulating environment for the child
Baby Nurse Resume with 10 Years of Experience
Highly experienced Baby Nurse with 10 years of experience in providing newborn care in a variety of settings. Proven ability to build strong relationships with families, providing them with the education and support they need to best care for their babies. Skilled at providing a safe and healthy environment for newborns, while providing comprehensive newborn assessments and monitoring.
Core Skills:
Professional and compassionate care for newborns
Clinical assessment of newborns
Newborn bathing
Newborn nutrition
Newborn safety
Relationship building with families
Supporting breastfeeding
Performing infant assessments
Responsibilities:
Educating new parents on newborn care
Monitoring the temperature, weight, and height of newborns
Keeping a daily record of the newborns' progress
Implementing health and safety regulations
Assisting in breastfeeding
Performing daily assessments of newborns
Organizing daily schedules for newborns
Tracking newborns' growth and development
Administering medications and vaccinations according to doctors' orders
Baby Nurse Resume with 15 Years of Experience
Dynamic and passionate Baby Nurse with 15+ years of experience providing quality childcare and medical care to infants and young children. Demonstrates an ability to form trusting relationships with children and their families, providing assurance and comfort during times of transition and medical treatment. Possess expertise in managing a variety of complex medical and emotional issues, including colic, reflux, allergies, sleep deprivation, and post- surgical care.
Core Skills:
Infant and Children Care
Medical Care
Preventative Care
Patient Education
Feeding and Nutrition
Medical Equipment Management
Home Safety Practices
Documentation and Reporting
Safety Practices
Responsibilities:
Assessed the general health of infants and young children to identify medical and emotional needs
Administered medical treatment and care, including administering medication, changing dressings, and providing wound care
Communicated regularly with parents and caregivers to ensure that they were informed of the child's progress and medical needs
Monitored child's progress, charting daily observations and changes in development
Developed and implemented individualized care plans for each patient, incorporating both medical and personal needs
Provided nutrition and hydration support, as well as guidance on feeding practices and nutrition needs
Assisted with developmental activities, including play and sensory stimulation
Assisted with transitioning to home care, providing guidance on home safety practices and medical equipment management
In addition to this, be sure to check out our resume templates, resume formats, cover letter examples, job description, and career advice pages for more helpful tips and advice.
What should be included in a Baby Nurse resume?
Having a baby nurse resume ready to go when you're looking for a new job can make the entire process much smoother. A baby nurse resume should include all of the qualifications, skills, and experience that you have to offer. Here are some tips for what to include in your baby nurse resume:
Education: Your most recent academic qualifications, including any degrees or certifications related to baby care.
Experience: Any relevant work experience that you have in the field of baby care, from internships to full-time employment.
Skills: List any skills that you possess that would be beneficial as a baby nurse, such as CPR training, first aid knowledge, or baby care techniques.
References: Include two or three professional references that can speak to your experience in baby care.
Personal Details: Include basic information such as your full name, address, contact information, and date of birth.
Availability: State your availability in terms of hours or days you are available to work.
By including all of these details in your baby nurse resume, you can be assured that potential employers will have access to all of the information they need to make an informed decision about hiring you.
What is a good summary for a Baby Nurse resume?
A Baby Nurse is a highly-skilled professional who is responsible for caring for newborns and providing support to their families. A successful Baby Nurse should have experience with newborn care, be knowledgeable in infant nutrition, and possess strong interpersonal skills.
A strong Baby Nurse resume should include a summary that highlights the applicant's experience, credentials, and accomplishments. This summary should be concise and include information such as the applicant's relevant experience, any certifications or degrees, and any pertinent volunteer work or specialized trainings. Furthermore, the summary should convey the applicant's ability to handle newborn care and provide emotional, physical, and educational support to families.
In addition, the resume should include a section on experience, detailing the applicant's past work in the field. This section should include the names of the employers, the job titles, and the dates of employment. An education section should also be added, outlining any certifications, degrees, and educational trainings. Furthermore, a section on special skills and knowledge should be included, such as language fluency or specialized trainings or certifications.
Finally, any other relevant experience should be included. This could include volunteer work, special projects, or any awards or recognitions received. With the right summary and the right formatting, a Baby Nurse can create a resume that will stand out to employers and increase the chances of being hired.
What is a good objective for a Baby Nurse resume?
A Baby Nurse resume objective is a statement that sets a goal for the applicant and communicates the applicant's ambitions to the hiring manager. It tells the employer what you are looking for, and sets the tone for the rest of your resume.
When crafting your objective, it is important to make sure that it is specific and tailored to the needs of the employer. Here are some examples of good objectives for a Baby Nurse resume:
To use my 5+ years of experience as a Baby Nurse to provide high-quality care and support to infants and their families.
To apply my expertise and knowledge of infant care to a rewarding role as a Baby Nurse and become a valuable asset to the organization.
Seeking a Baby Nurse position at a leading hospital and utilizing my nursing skills to provide quality care to infants and their families.
To obtain a position as a Baby Nurse and use my strong background in newborn care to improve the quality of life for infants and their families.
These objectives communicate to the employer that the applicant has the experience and expertise needed for the role. Additionally, they demonstrate that the applicant is familiar with the duties of a Baby Nurse and is able to use their knowledge and skills to improve the quality of life for infants and their families.
Crafting a well-written objective is essential to standing out in the job market, and can help you get your foot in the door and begin your journey as a Baby Nurse.
How do you list Baby Nurse skills on a resume?
When writing a resume for a Baby Nurse position, it is important to highlight the skills you have that make you a great candidate for the job. Here are some tips for listing your Baby Nurse skills on your resume:
Include any relevant certifications or licenses – Make sure to include any certifications or licenses associated with your Baby Nurse role. This could include certifications for infant CPR, First Aid, or newborn care.
Highlight your educational background – If you have a degree or other relevant certifications related to the Baby Nurse field, highlight these credentials on your resume. This will demonstrate that you have the necessary education and training to handle the job.
Describe specific skills – Be sure to list any specific skills that you have that are applicable to the Baby Nurse field, such as experience with newborns, formula and bottle preparation, diapering, and postpartum care.
Detail your experience – Include any previous work experience that you may have in the Baby Nurse field. Even if you have not formally worked as a Baby Nurse, any experience you have with babies and infants is pertinent.
By including these skills on your resume, you will be able to demonstrate to potential employers that you have the knowledge and experience necessary to be a successful Baby Nurse.
What skills should I put on my resume for Baby Nurse?
Having experience as a baby nurse can be an advantage when it comes to finding the perfect job. A resume for a baby nurse should illustrate the special skills and qualifications that you have to offer. Here are some skills to consider including on your baby nurse resume:
Knowledge of infant care: As a baby nurse, you should have a solid understanding of the many aspects of infant care. This includes dressing, feeding, bathing, and changing diapers. Additionally, you should be aware of the various health concerns that can arise with infants, and know how to respond to them.
Communication skills: Baby nurses need to be able to communicate effectively with parents, other healthcare professionals, and of course, the babies themselves. You should be able to explain medical and care instructions in a clear and concise manner, as well as handle any difficult conversations that may arise.
Interpersonal skills: Working with infants and their families requires excellent interpersonal skills. You should be patient and understanding, and be able to build trust and rapport with the families you are working with.
Leadership: Baby nurses should be able to take initiative in order to ensure the safety and well-being of the infant. You should have the ability to lead in times of crisis, while also being able to delegate tasks to other staff members.
Flexibility: As a baby nurse, you should be able to adapt to different situations and handle any unexpected developments. You should have the ability to think on your feet and use your clinical knowledge and experience to make the best decisions for the patient.
Including these skills on your resume can help you stand out from other candidates and demonstrate that you have what it takes to be a successful baby nurse.
Key takeaways for an Baby Nurse resume
If you're looking to land a job as a baby nurse, having a strong resume is essential. Your resume should highlight your experience with babies and demonstrate your knowledge of the industry. Here are some key takeaways for an effective baby nurse resume:
Include relevant certifications and training. Showcase any relevant certifications or training you have completed that relate to baby nursing. This will demonstrate to employers that you are qualified for the job and that you understand the subtleties of the role.
Highlight your experience with babies. When crafting your resume, make sure to include details about any previous experience you have working with babies. This could include volunteering at a daycare, working as a nanny, or any other related experience.
Demonstrate your knowledge of safety protocols. As a baby nurse it is important that you can ensure the safety of the babies in your care. Showcase any safety protocols or techniques you are familiar with to demonstrate your knowledge and understanding of the safety needs of babies.
Demonstrate a caring attitude. Employers want to know that you are a compassionate and caring nurse who will be able to provide the best possible care for their babies. Make sure to include examples of your caring attitude in your resume to show employers that you are the right fit for the job.
By following these tips, you can create an effective baby nurse resume that will make you stand out from the competition. With a strong resume, you can demonstrate to potential employers that you are the right person for the job.
Let us help you build
your Resume!
Make your resume more organized and attractive with our Resume Builder