Writing an effective resume is essential to get hired as an agency nurse. An agency nurse is a professional who provides temporary, short-term nursing care to individuals and families. As an agency nurse, it is important to showcase your experience and qualifications in a way that stands out to employers. This blog post will provide a guide to writing an agency nurse resume, from tips on what to include to examples of resumes that you can use for reference. With the right strategies and materials, you can craft a winning resume that will attract the right employers.
If you didn't find what you were looking for, be sure to check out our complete library of resume examples.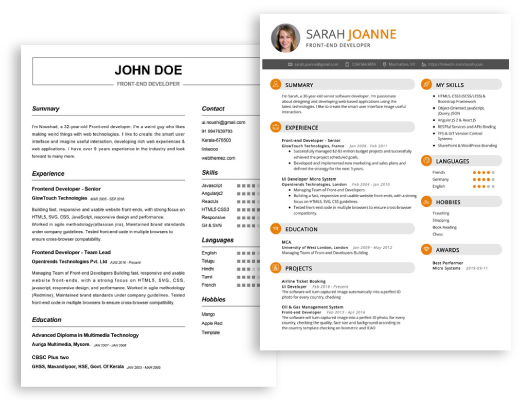 Start building your dream career today!
Create your professional resume in just 5 minutes with our easy-to-use resume builder!
Agency Nurse Resume Examples
John Doe
Agency Nurse
123 Main Street | Anytown, USA 99999 | Phone: (123) 456-7890 | Email: john.doe@email.com
A highly experienced Agency Nurse with 5+ years of experience providing nursing services in a variety of settings. Experienced in providing individualized care to a variety of patients with a wide range of conditions. Demonstrates excellent communication and problem- solving skills to ensure the highest quality of care.
Core Skills:
Patient Assessment
Advanced Cardiovascular Life Support
Medication Administration
Patient Education
Infection Control
Documentation
Time Management
Critical Thinking
Professional Experience:
Agency Nurse
ABC Medical Center, Birmingham, AL (2015- Present)
Provide nursing services to patients in a variety of settings, including acute care, long- term care, and rehabilitation
Perform patient assessments and provide individualized care plans
Monitor patient progress and adjust care plans as needed
Administer medications and treatments as prescribed
Educate patients and families about disease processes and treatments
Implement infection control protocols
Ensure accuracy and completeness of documentation
Education:
Bachelor of Science in Nursing
University of Alabama, Birmingham, AL (2010- 2014)
Agency Nurse Resume with No Experience
Recent nursing graduate with a passion for patient care, eager to contribute to the medical team as an agency nurse. A fast learner with excellent communication and problem- solving skills, who is a team player and can work well in high- pressure environments.
Skills
Exceptional communication and critical thinking
Strong documentation skills
Excellent interpersonal skills
Ability to multitask
Knowledge of medical terminology and processes
Ability to respond to medical emergencies
Responsibilities
Provide patient care in accordance with the scope of practice
Document observations and patient progress in medical records
Administer medication and treatments as prescribed
Provide emotional support to patients and families
Maintain a clean, organized, and safe environment within the medical facility
Monitor vital signs and assess patient condition
Assist with diagnostic tests and procedures
Collaborate with other medical team members to ensure patient safety.
Agency Nurse Resume with 2 Years of Experience
Agency Nurse with 2 years of experience providing quality healthcare services in home health, acute care, and long- term care settings. Skilled in assessment and management of patients of all ages and in post- operation treatment and instruction. Demonstrated strengths in patient communications, patient education, and record- keeping. Seeking to use experience and knowledge to serve as an Agency Nurse with a nationally recognized healthcare organization.
Core Skills:
Patient Assessment
Medication Administration
Post- Operation Care
Treatment Planning
Wound Care
Equipment Maintenance
Charting/Record Keeping
Patient Education
IV Insertion/Maintenance
Responsibilities:
Observe, assess, and document patient status and responses to care and treatments
Administer prescribed medications and treatments in accordance with nursing standards
Provide patient and family education, counseling, and instruction regarding patient outcomes
Assist in post- operation care and dressings
Assist with patient transfers, positioning, and mobility
Maintain accurate and up- to- date patient records
Monitor vital signs and other patient health indicators
Provide comfort, safety, and support to patients and families
Agency Nurse Resume with 5 Years of Experience
Dedicated and professional Agency Nurse possessing 5 years of experience in the healthcare field. Possessing a strong commitment to the highest standards of patient care, with a demonstrated ability to quickly adapt to new and different work environments. Proven track record of delivering superior care experience for nursing staff and patients alike. Possess excellent organizational skills and a strong understanding of medical terminology, protocols and patient- care techniques.
Core Skills:
Excellent patient care
Medical terminology
Adaptability
Strong organizational skills
Ability to multitask in a fast- paced environment
Excellent interpersonal and communication skills
Responsibilities:
Assess patient condition, administer medications, and provide patient care according to physician orders.
Monitor, record and report patient vital signs, symptoms, and other changes in condition.
Provide education and advice to patients on health- related issues.
Collaborate with healthcare professionals to assess and provide patient care.
Perform diagnostic tests and document results.
Administer prescribed medications, and update patient records.
Participate in the development of patient- care plans and implement interventions.
Prepare and submit patient charts, reports, and other required documents.
Agency Nurse Resume with 7 Years of Experience
Experienced and compassionate Agency Nurse with 7 years of experience in providing quality healthcare to patients in hospital settings. Adept at multitasking and providing medical assistance in emergencies. A team player with excellent critical thinking skills and a commitment to providing the best possible care for patients.
Core Skills:
Clinical Documentation
Vital Signs Monitoring
Patient Care & Assessment
Emergency Response
Patient Education
Medication Administration
Infection Control
Responsibilities:
Assisted physicians with patient examinations and provided direct nursing care.
Monitored patient's vital signs and administered medications.
Assisted patients with treatments and prescribed medications.
Educated patients on medical treatments and aftercare instructions.
Responded to medical emergencies and provided life- saving interventions.
Documented patient information and provided daily care reports.
Maintained infection control standards and ensured a safe environment for patients.
Agency Nurse Resume with 10 Years of Experience
Experienced Agency Nurse with 10 years of experience in providing quality healthcare services to patients in various clinical settings. Possesses strong interpersonal skills with clients and medical staff, as well as a knack for quickly learning new medical technologies. Proven ability to accurately and effectively document inpatient/outpatient care, administer medications and injections, and provide medical treatments. Excellent organizational and problem- solving skills, as well as a commitment to providing compassionate care.
Core Skills:
Assessment and Documentation
Patient Care and Treatment
Infection Control and Safety
Medication Administration and Injections
Patient Education and Counseling
Interpersonal and Communication
Computer Proficiency
Time Management
Problem Solving
Responsibilities:
Assessed patients' medical condition and created comprehensive patient care plans.
Documented patient care services and maintained accurate medical records.
Administered medications and injections, including IVs and subcutaneous injections.
Provided patient education and counseling on medical treatments, medications, and lifestyle changes.
Promoted a safe and healthy environment for patients by following infection control and safety protocols.
Assisted with the transportation of patients to and from their appointments.
Worked collaboratively with other healthcare professionals to ensure quality patient care.
Maintained up- to- date knowledge of the latest medical technologies and treatments.
Agency Nurse Resume with 15 Years of Experience
Agency Nurse with 15 years of experience providing quality nursing care to patients in a variety of settings. Possess a high degree of skill in administering medications, performing medical procedures, and providing excellent patient care. Highly adept at working effectively with diverse patient populations, using advanced nursing assessment techniques, as well as utilizing best practices to provide safe and efficient care. Committed to providing holistic care and maintaining the highest levels of patient safety.
Core Skills:
Patient care & assessment
Medication administration
Excellent communication skills
Critical thinking & problem solving
Ability to multitask
Customer service & patient advocacy
Clinical documentation
Infection control & safety
Responsibilities:
Perform comprehensive patient assessments and develop individualized treatment plans.
Administer a variety of medications and monitor patient responses.
Provide compassionate care to patients in a variety of settings.
Educate patients and family members on proper medical care.
Maintain accurate clinical documentation and follow established protocols.
Monitor and respond to changes in patient condition.
Assess and document vital signs, pain and other symptoms.
Comply with safety protocols and infection control procedures.
Provide safe and efficient care to all patients.
In addition to this, be sure to check out our resume templates, resume formats, cover letter examples, job description, and career advice pages for more helpful tips and advice.
What should be included in a Agency Nurse resume?
When creating a resume for an Agency Nurse, it is important to ensure that you include all of the key elements employers will want to see. Agency Nurses are in high demand, so making sure your resume stands out and highlights your qualifications is essential. Here is a list of some important elements you should include in your Agency Nurse resume:
Professional Summary: In a few sentences, provide a summary of your experience in nursing and the primary skills that make you a successful Agency Nurse.
Education: List your educational qualifications, including degrees and certifications.
Special Skills: Agency Nurses typically have specialized skills and certifications. Highlight any extra training or certifications you have that are related to Agency Nursing.
Experience: List any experience you have as an Agency Nurse and include your duties and achievements.
Availability: Indicate your availability for Agency Nursing jobs, such as whether you can take on short or long-term assignments.
Professional Memberships: Include any professional organizations you are a member of, such as the American Nurses Association.
When you craft your resume, make sure that it is tailored to the specific Agency Nurse job you are applying for. Paying attention to detail and highlighting your qualifications will ensure that your resume stands out.
What is a good summary for a Agency Nurse resume?
Agency Nursing is a career field that is becoming increasingly popular in the healthcare industry. Agency nurses are those who provide temporary medical care in a variety of settings, such as hospitals, clinics, nursing homes, and private homes. They help bridge the gap between temporary staffing shortages and regular staff members.
A good summary for an Agency Nurse resume should include experience in the medical field, such as a nursing degree, certification, or related experience. It should also highlight any specializations, such as caring for the elderly, working with children, or providing specialized medical care in specific areas. Additionally, the summary should list any relevant job skills, such as being able to work independently, handle multiple tasks and deadlines, and provide excellent patient care. Finally, the summary should emphasize the ability to adapt to different environments and the willingness to travel when needed.
What is a good objective for a Agency Nurse resume?
Agency Nurse resume objectives should focus on the specific skills and abilities the employer is seeking. It's important to highlight your ability to provide quality patient care in a variety of settings, your flexibility and advanced knowledge of medical procedures and protocols, and your commitment to patient safety and satisfaction. Here are some examples of good objectives for an Agency Nurse resume:
To use my experience in providing quality care to patients in various settings and my advanced knowledge of medical procedures and protocols to provide excellent nursing care.
To utilize my ability to work as part of a team as well as independently to ensure the highest level of patient safety and satisfaction.
To contribute my knowledge of medical terminology and best practices to provide the best care for patients in a variety of settings.
To employ my strong organizational and communication skills to ensure patient records are accurate and up-to-date.
To utilize my flexible approach to working in different settings and my ability to adapt to new environments quickly and efficiently.
How do you list Agency Nurse skills on a resume?
When creating a resume for a position as an Agency Nurse, it is important to showcase your relevant skills, qualifications, and experience. To do this effectively, focus on the type of nursing position you are applying for and the specific requirements of the job.
Including a 'Skills' section on your resume is a great way to highlight your relevant qualifications for an Agency Nurse position. Here are some skills you can consider listing in this section:
Ability to build rapport with patients and staff
Excellent organizational and time management skills
Knowledge of patient safety, infection control, and safety protocols
Ability to take accurate patient histories
Expertise in nursing procedures and techniques
Proficient in the use of medical technology and software
Ability to work independently with minimal supervision
Excellent problem-solving and decision-making abilities
Excellent communication and interpersonal skills
Including a 'Skills' section on your resume can help to highlight the specific qualifications and abilities you possess that are relevant to the Agency Nurse role. Make sure to tailor your skills to the specific job requirements mentioned in the job posting to ensure your resume stands out and lands you an interview.
What skills should I put on my resume for Agency Nurse?
Agency nursing is a demanding job that requires a unique set of skills. When crafting your resume, you want to make sure to include the skills that agencies look for in potential candidates. Here are some skills you should consider including on your resume for an agency nurse role:
Ability to work independently: Agency nurses are often given the responsibility of managing their own workload and time, so it is important to demonstrate that you possess the ability to accomplish tasks independently.
Organization and multitasking: Agency nurses must often juggle multiple tasks at once and handle unpredictable situations. A strong sense of organization and multitasking abilities can help set you apart from other candidates.
Critical thinking: Agency nurses must be able to quickly assess a situation and make decisions that are in the best interest of the patient. Showcase your critical thinking skills on your resume to demonstrate your preparedness for this role.
Proficiency with technology: Many hospitals and health care facilities are now utilizing electronic medical records, so you should also include any experience and/or knowledge of EMR systems on your resume.
Excellent communication: Agency nurses must be able to effectively communicate with both patients and medical professionals. Be sure to include any experience you have in communication, such as working as a patient advocate or health educator.
By including these skills on your resume, you can help set yourself apart from other agency nurse applicants. Showcase your knowledge and experience in the field to make sure you are the top candidate for the job.
Key takeaways for an Agency Nurse resume
When preparing your resume as an Agency Nurse, there are a few key takeaways that you should consider.
Highlight Your Education & Qualifications: Agency Nurses often have to be prepared to work in a variety of settings, so it's important to demonstrate that you have the skills and qualifications necessary for the job. Make sure to include your educational background and any certifications or licenses you have.
Showcase Your Experience: Agency Nurses often have to work with a variety of patient populations in a short amount of time. It's important to highlight your experience of working in different settings and with different types of patients.
Highlight Your Adaptability: Agency Nurses need to be able to adapt to different settings and patient needs quickly. Make sure to showcase your ability to adjust to new situations and provide top-notch care.
Demonstrate Your Professionalism: Agency Nurses need to demonstrate a level of professionalism that is beyond the scope of the standard nursing position. Make sure to highlight any professional development courses you've taken or any awards or recognition you've received that shows your dedication to the field.
By following these key takeaways, you can create a resume that is sure to impress any potential employer. By highlighting your education, experience, adaptability and professionalism, you can show that you're the ideal Agency Nurse for the position.
Let us help you build
your Resume!
Make your resume more organized and attractive with our Resume Builder