Writing a resume for a teaching position can be a daunting task for many job seekers. With the right knowledge, resources and guidance, it can be easy to craft an effective and impressive teaching resume that will help get you noticed. This guide will provide you with tips and examples to help you create a resume that displays your experience, qualifications and accomplishments in the best possible way. You will also find advice on how to tailor your resume to the job you are applying for. With this guide, you can be sure to impress potential employers and land your dream teaching job!
If you didn't find what you were looking for, be sure to check out our complete library of resume examples.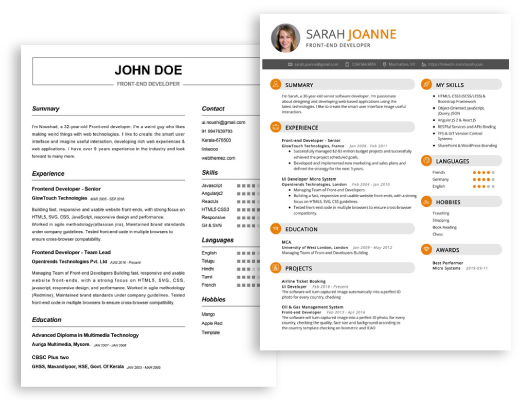 Start building your dream career today!
Create your professional resume in just 5 minutes with our easy-to-use resume builder!
Teacher Resume Examples
John Doe
Teacher
123 Main Street | Anytown, USA 99999 | Phone: (123) 456-7890 | Email: john.doe@email.com
A highly experienced and certified teacher with over ten years of teaching experience across the elementary, middle and high school levels, specializing in teaching mathematics and Science. Possesses extensive knowledge in developing and implementing lesson plans, student assessment, and provide individualized instruction to ensure all students reach their learning goals. Possesses excellent communication and interpersonal skills, with a commitment to providing the best educational experience for all students.
Core Skills:
Curriculum Development
Classroom Management
Instructional Design
Multi- age Group Instruction
Technology Integration
Student Assessment
Interpersonal Skills
Collaborative Learning
Professional Experience:
Math and Science Teacher, ABC School, August 2012 – Present
Developed and implemented innovative and engaging lesson plans that incorporated technology, multimedia, and collaborative learning activities.
Assessed student progress, provided individualized instruction, and created action plans for underperforming students.
Monitored student progress and provided regular feedback to parents and guardians.
Collaborated with school administrators and other teachers in developing and implementing curriculum.
Worked with students individually to correct behavioral issues and improve academic performance.
Education:
Bachelor of Science in Mathematics and Science Education, University of New York, 2008
Teacher Resume with No Experience
Recently graduated college student with a passion for teaching and imparting knowledge to others
Highly motivated, organized, and eager to make a positive impact in the classroom
Excellent communication and interpersonal skills
Dedicated to creating a safe and supportive learning environment for students
SKILLS
Strong organizational skills and the ability to prioritize tasks
Ability to work collaboratively in a team- oriented environment
Excellent written and verbal communication skills
Proficient in Microsoft Office Suite and computer- based learning tools
Ability to learn and adapt quickly in new situations
Responsibilities
Developing lesson plans and presenting material to students in a comprehensive and engaging manner
Providing individualized instruction and support to students
Encouraging a positive classroom environment through positive reinforcement
Assisting students with homework and other related tasks
Monitoring student behavior and intervening when appropriate
Evaluating student performance and providing feedback to students and parents
Collaborating with other teachers and staff to ensure the best learning outcomes for students
Teacher Resume with 2 Years of Experience
An accomplished and organized educator with two years of experience teaching in a diverse classroom environment. Possesses a strong ability to create engaging lesson plans and motivate students of all ages and backgrounds. Skilled in fostering a collaborative and open learning environment to maximize student engagement and learning outcomes.
Core Skills:
Classroom Management
Curriculum Development
Assessment & Evaluation
Student Engagement
Collaboration
Communication
Technology Integration
Responsibilities:
Developed and taught engaging lesson plans for multiple grade levels
Created innovative assignments and activities to stimulate student learning
Monitored student progress and provided feedback to improve their academic standing
Ensured a safe and collaborative learning environment for all students
Communicated with parents and guardians about student progress
Integrated technology into classroom instruction for increased engagement and learning
Utilized positive reinforcement to motivate students and foster a positive learning climate
Teacher Resume with 5 Years of Experience
I am an experienced teacher with 5 years of experience in teaching and developing curricula for students. My extensive experience in the classroom has reinforced my commitment to encouraging students to reach their full potential. I specialize in developing lesson plans that are tailored to individual student needs, while promoting a positive and engaging learning environment. I have a strong passion for teaching and take pride in being able to reach out to my students and motivate them to become the best they can be.
Core Skills:
Knowledge of subject matter and pedagogy.
Interpersonal and communication skills.
Organizational and problem- solving skills.
Ability to work in a collaborative environment.
Creativity and enthusiasm.
Patience and flexibility.
Responsibilities:
Developing curricula, lesson plans, and activities tailored to individual student needs.
Facilitating a positive learning environment.
Assigning and grading homework.
Monitoring student progress and providing feedback.
Organizing field trips and other extracurricular activities.
Communicating with parents and other educational professionals.
Developing and maintaining relationships with students and colleagues.
Teacher Resume with 7 Years of Experience
I am a highly motivated teacher with seven years of experience in the field of education. I have a proven track record of helping students reach their academic potential and developing innovative teaching strategies to engage learners. My core skills include lesson planning and delivery, student assessment, and behavior management. I am also adept at leveraging technology to create a stimulating learning environment. I enjoy working in diverse and multicultural settings and am passionate about helping my students achieve success.
Core Skills:
Lesson Planning and Delivery
Student Assessment
Behavior Management
Technology Integration
Problem Solving
Communication
Creativity
Responsibilities:
Develop and implement engaging lesson plans for students
Assess student performance to track progress
Encourage students to develop critical thinking skills
Adapt course content according to student needs
Maintain classroom discipline and create a positive learning environment
Utilize technology to enhance student learning
Establish and maintain strong relationships with students, parents and colleagues
Provide guidance to students on academic and career paths
Teacher Resume with 10 Years of Experience
I am an experienced and passionate educator, with 10 years of experience teaching in a diverse range of educational settings. I have demonstrated success in the design and implementation of innovative teaching strategies, instructional programs, and curriculum- based assessments. My commitment to ongoing professional and pedagogical growth has allowed me to continually expand and refine my teaching practices. I have a profound dedication to the academic and social- emotional development of each student.
Core Skills:
Knowledge of current teaching methods and educational pedagogy
Strong classroom management skills
Excellent written and verbal communication abilities
Skilled at developing and implementing curriculum
Proficient in technology integration
Ability to assess and modify instructional strategies
Responsibilities:
Develop and implement lesson plans that promote student learning and engagement
Monitor student progress and provide feedback
Establish and enforce classroom rules and expectations
Facilitate student- led activities and discussions
Create a positive learning environment
Teach students through lectures, discussions, and demonstrations
Incorporate technology within the classroom
Collaborate with other educators, parents, and administrators
Teacher Resume with 15 Years of Experience
A seasoned educator with over 15 years of experience teaching at the elementary level. Skilled in classroom management, lesson plan development, and assessment strategies. Committed to creating a positive learning environment that is conducive to student success.
Core Skills:
Classroom Management
Lesson Planning
Assessment Strategies
Curriculum Development
Positive Learning Environment
Responsibilities:
Developed and implemented daily and long- term lesson plans to meet the academic needs of students
Instructed students in class sizes of up to 30 students
Created a positive and productive learning environment for students
Established clear expectations for classroom behavior and discipline
Developed assessments to measure student progress and inform instructional strategies
Collaborated with administrators and other educators to develop curriculum
Facilitated student understanding of the material by providing additional resources and support
Integrated technology into the classroom to create an engaging learning environment
Maintained complete and accurate records of student performance
Encouraged student involvement in school- wide activities and initiatives
In addition to this, be sure to check out our resume templates, resume formats, cover letter examples, job description, and career advice pages for more helpful tips and advice.
What should be included in a Teacher resume?
A teacher's resume should highlight their teaching experience and educational background. Here are some of the items that should be included in a teacher resume:
Education: List the degrees and certifications you have obtained and the institutions you attended.
Work Experience: Provide details of your teaching experience, such as grade levels and subjects you have taught. Include any administrative duties you have performed in the past.
Professional Development: Showcase any professional development courses or workshops you have taken.
Special Skills: List any special skills you possess, such as fluency in multiple languages or experience with special needs students.
Awards and Achievements: Showcase any awards you have received and any achievements you have accomplished.
References: Provide contact information of people who have worked with you in the past and can speak positively about your teaching experience.
These are just a few of the items that should be included in a teacher's resume. By including all of the above, you can ensure that your resume stands out from the competition.
What is a good summary for a Teacher resume?
A good summary for a teacher resume should highlight a candidate's qualifications, teaching experience, and areas of expertise. It should demonstrate the teacher's knowledge of the subject matter and their ability to effectively communicate and engage with students. The summary should also include any additional certifications, experience outside the classroom, and other special skills that could be beneficial to the position. Ultimately, a teacher's resume should provide a comprehensive overview of their qualifications, teaching experience, and special skills, all of which should be communicated in a concise and effective summary.
What is a good objective for a Teacher resume?
A teacher resume is an important document that outlines the skills and experience of an individual looking to work in the education sector. It is important to clearly define what a good objective for a teacher resume is, so that the reader can easily understand the individual's ambitions and qualifications.
A good teacher resume objective should include:
A clear statement of the applicant's educational background and experience
A strong commitment to teaching and learning
An enthusiasm for fostering a positive learning environment
An ability to collaborate with other teachers and staff members
An innovative and creative approach to teaching
A desire to contribute to the school's overall progress and success
A commitment to staying up to date with the latest trends and technologies in education
An eagerness to develop professionally and take on new challenges.
By including these key points in a teacher resume objective, applicants can demonstrate their enthusiasm, qualifications and dedication to the teaching profession. This can help ensure that they stand out from the competition and secure the job they desire.
How do you list Teacher skills on a resume?
When writing a resume, it is important to highlight the skills you possess that are relevant to the teaching profession. Your skills should demonstrate your ability to effectively interact with students, develop engaging lesson plans, and use technology to enhance teaching. Here are a few tips to help you list your teacher skills on your resume.
Professionalism: Demonstrate a high level of professionalism in the classroom, while still managing to establish an engaging learning environment.
Interpersonal Skills: Ability to communicate effectively with students, parents, and co-workers.
Organizational and Planning Skills: Demonstrate the ability to plan, organize and prioritize tasks.
Flexibility: Adapt to changing situations, such as the introduction of new technology or the need to modify lesson plans.
Classroom Management: Ability to maintain an orderly classroom environment and manage student behaviour.
Instructional Design: Develop lesson plans and instruction materials that are engaging and meaningful.
Technology Experience: Demonstrate knowledge and experience with educational technology, such as online learning platforms, interactive whiteboards, and educational software.
Assessment and Evaluation Skills: Ability to assess and evaluate student performance, as well as provide meaningful feedback.
By listing these skills on your resume, you show employers that you possess the necessary skills to be an effective teacher. With these tips, you can easily highlight your teacher skills on your resume.
What skills should I put on my resume for Teacher?
When applying for a teaching position, it is important to highlight what makes you an exceptional teacher – your unique skills and experiences. Having a resume that outlines the relevant skills and experiences that make you a great candidate is the first step to getting hired.
When creating your resume for a teaching position, it is important to include the following skills and experiences:
Classroom Management: Show that you have the ability to manage and maintain a positive learning environment.
Teaching Techniques: Demonstrate your experience in various teaching methods and techniques.
Communication Skills: Showcase your ability to effectively communicate with students, parents, and other faculty members.
Technology Skills: Highlight your experience and skills with classroom technology, such as interactive whiteboards, computers, software, and more.
Organizational Skills: Show that you have the ability to plan and organize lessons, activities, and other teaching tasks.
Interpersonal Skills: Demonstrate your ability to interact and get along with students, colleagues, and other stakeholders.
Subject Knowledge: Highlight your knowledge of the subject you will be teaching.
Having a resume that conveys your skills and experiences as a teacher is essential for getting hired. Including the correct skills and experiences on your resume will help you stand out as a great candidate and give you the best chance of landing the job.
Key takeaways for an Teacher resume
Writing a teacher resume can be overwhelming. As there's so much to consider. What should you include? What should you leave off? What are the most important components to include? To help make the process easier, here are some key takeaways to keep in mind when writing a teacher resume.
First and foremost, make sure to highlight your teaching experience. This should include any teaching duties you've held in the past, such as classroom instruction, lesson planning, and assessment. Additionally, it's important to include any teaching certifications or professional development courses you've completed. This information can help demonstrate your commitment to your professional development, as well as your qualifications for the position.
It's also important to showcase your educational background. This can include any college degrees you hold, as well as any specializations or minors that you may have. Be sure to list any awards or honors you've received as well.
Don't forget to include a list of any extracurricular activities or volunteer work you've participated in. This can help demonstrate your commitment to education, as well as your willingness to go the extra mile for your students.
Finally, make sure to include references. This can be from past employers, colleagues, or students. These references can help validate your experience and qualifications.
By keeping these key takeaways in mind when writing your teacher resume, you can ensure that you're including all of the important information that will help you land the job. With a well-crafted teacher resume, you'll be sure to stand out from the competition.
Let us help you build
your Resume!
Make your resume more organized and attractive with our Resume Builder