Finding the right words to convey your singing skills on a resume can be a daunting task. Whether you're looking to break into the music industry or just want to ensure you're putting your best foot forward, the right resume can make the difference. This guide will provide you with the tips and tricks to create a compelling and professional singer resume, as well as provide a few examples drawn from popular singers' resumes. With this guide, you'll be equipped with all the necessary tools to craft a stellar singer resume that'll help you stand out from the competition.
If you didn't find what you were looking for, be sure to check out our complete library of resume examples.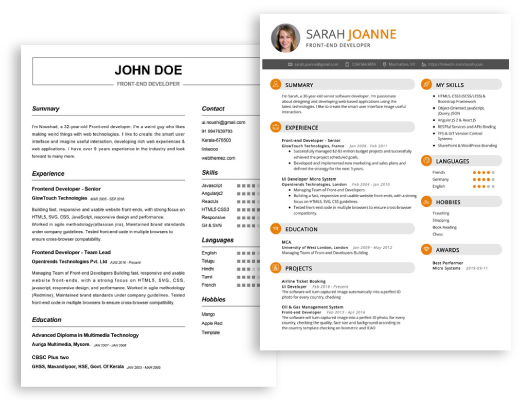 Start building your dream career today!
Create your professional resume in just 5 minutes with our easy-to-use resume builder!
Singer Resume Examples
John Doe
Singer
123 Main Street | Anytown, USA 99999 | Phone: (123) 456-7890 | Email: john.doe@email.com
A passionate singer with over 10 years of experience, I specialize in performing both classical and contemporary works. I'm a versatile vocalist with a broad range of abilities and styles to bring life to any musical arrangement. My vocal range is 3 octaves and I'm comfortable singing in any genre. I am highly experienced in studio recording, live performances, and accompaniment. To compliment my singing, I'm also well versed in the guitar and piano, so I'm able to add layers of sound and texture to my vocal stylings.
Core Skills:
Vocal Performance
Studio Recording
Live Performance
Accompaniment
Guitar
Piano
3 Octave Range
Professional Experience:
Vocalist, Walt Disney World, Orlando, FL (2016 – Present)
Perform alongside a live band providing vocals for a variety of genres including classical, pop, and rock.
Studio Vocalist, Warner Brothers Records, Los Angeles, CA (2008 – 2015)
Recorded vocals for studio projects in multiple genres including jazz, pop, and rock.
Accompanist, Broadway Theater, New York, NY (2009 – 2013)
Accompanied singers on the guitar, piano, and other instruments for multiple musical theater productions.
Education:
Bachelor of Music, Long Beach State University, Long Beach, CA (2005 – 2009)
Associate of Music, College of the Canyons, Valencia, CA (2003 – 2005)
Singer Resume with No Experience
Recent college graduate with no experience in the industry looking for an entry- level position as a singer. Possesses a strong passion for music, a melodic singing voice, and a wide vocal range. Eager to work with a team to contribute to the success of a project.
Skills
Vocal Range: Soprano to Alto
Strong sense of rhythm
Ability to harmonize
Proficient in harmony and improvisation
Able to read music and study scores
Knowledgeable about a variety of genres
Experience with acapella singing
Experience performing live
Responsibilities
Perform live and record vocals in studio
Practice and rehearse with other singers
Study and practice different styles of music
Attend concerts and open mics
Collaborate with musicians and producers to create and perform
Develop ideas and create original music
Maintain a positive attitude and work ethic while performing and recording
Singer Resume with 2 Years of Experience
A passionate and experienced singer with two years of experience performing in various venues throughout the country. Possessing a strong vocal range and the ability to captivate audiences with unique takes on classic tunes. Committed to using music to create a connection between artist and listener, and bring joy to all.
Core Skills:
Strong vocal range
Adaptable vocal style
Confident performance ability
Excellent improvisation
Musical arrangement
Stage presence
Responsibilities:
Vocal warm ups and practice
Learning and performing songs
Engaging with the audience
Collaborating with musicians and other artists
Improvisation and ad- libbing
Adapting to any crowd and venue type
Developing and rehearsing musical arrangements
Singer Resume with 5 Years of Experience
With five years of experience in the music industry, I have developed a wide range of skills in singing, songwriting, vocal performance, and recording techniques. I have been an integral part of many professional musical ensembles, and have worked as a session singer for several major labels. I am highly organized, efficient, and able to handle pressure in a professional manner. I possess a solid understanding of music theory, and I am capable of taking direction and adapting to changing circumstances.
Core Skills:
Vocal Performance
Songwriting
Recording Techniques
Music Theory
Performance Preparation
Client Relations
Organizational Skills
Adaptability
Responsibilities:
Perform songs and interpret music with vocal accuracy and clarity.
Write original works with creativity and emotion.
Record vocal tracks with studio quality sound.
Utilize knowledge of music theory to interpret and analyze music.
Prepare for performances with rehearsal and practice.
Establish and maintain positive relationships with producers, clients, and collaborators.
Organize musical projects and manage time efficiently.
Adapt quickly to changing circumstances and adjust performance accordingly.
Singer Resume with 7 Years of Experience
A talented and experienced singer with seven years of performance experience in both solo and group settings. Recognized for having an extensive vocal range and a powerful stage presence, able to connect with crowds of all sizes. An experienced communicator adept at developing and adapting performances to fit the needs of the event.
Core Skills:
Vocal Range & Performance
Adapting to Different Settings
Creative Songwriting
Music Theory & Notation
Leadership & Collaboration
Stage Presence
Responsibilities:
Performing at various venues and events
Developing and adapting performances to fit the needs of the event
Writing and arranging original melodies and lyrics
Leading and collaborating with other singers/musicians
Teaching and mentoring vocal students
Planning and executing vocal practices
Leading rehearsals to ensure a successful performance
Taking part in promotional activities related to singing
Performing in a variety of musical styles for different audiences
Analyzing and interpreting songs to improve the quality of singing
Rehearsing songs for upcoming performances
Ensuring proper care of stage equipment and vocal equipment.
Singer Resume with 10 Years of Experience
I am an experienced Singer with over 10 years of experience performing live in various music venues. I have experience singing in a variety of genres and have had the opportunity to perform on many stages. I have a strong voice that I have been able to develop over the years and I have an excellent sense of melody and harmony. My vocal range is wide, enabling me to sing in a wide range of genres. Additionally, I have a great stage presence and ensure that the audience is engaged in the performance.
Core Skills:
Strong vocal range
Ability to sing in different genres
Excellent sense of melody and harmony
Warm and engaging stage presence
Ability to engage an audience
Knowledge of music theory
Knowledge of various recording techniques
Responsibilities:
Prepare for and deliver live performances
Research and select music for performance
Record and mix audio for live and studio performances
Perform original songs as well as cover songs
Interact with audiences and create an engaging atmosphere
Collaborate with other musicians and artists to create new music
Rehearse songs for optimal performance and sound
Singer Resume with 15 Years of Experience
With 15 years of professional experience, I am a well- rounded and highly accomplished singer who is dedicated to providing high- quality performances. I am a reliable and disciplined artist who has a passion for music and is skilled in a variety of musical styles. I have experience in producing, performing, and recording music, as well as teaching music and providing vocal instruction. My knowledge and skills have been developed through a variety of performance opportunities, including touring, festivals, and studio sessions. I am confident that my expertise will be an asset to any organization.
Core Skills:
Vocal Performance
Music Production
Music Theory
Music Arrangement
Vocal Instruction
Recording Studio Experience
Responsibilities:
Develop and practice vocal technique, including breath control, articulation, and dynamics
Perform in a variety of styles, including classical, jazz, and contemporary
Create original compositions and arrangements
Provide vocal instruction to students
Record and produce music in a studio setting
Collaborate with other musicians on projects
Prepare and rehearse for live performances
Develop and maintain professional relationships with music industry contacts
Maintain an active performance schedule, including local and national tours, festivals and special events
Provide customer service and sales support for music products.
In addition to this, be sure to check out our resume templates, resume formats, cover letter examples, job description, and career advice pages for more helpful tips and advice.
What should be included in a Singer resume?
Your resume is an important part of your career as a singer. It is the first thing employers and casting agents will take a look at before deciding if you're a good fit for their project. Here are some of the key elements that should be included in a singer's resume:
Personal Information: Include your full name, address, phone number, email address, and website (if available).
Performance Experience: List any professional singing engagements you have had, such as concerts, operas, musicals, or recordings. Include the name of the venue/production, dates, and any other relevant information.
Education: List any formal training you have received, such as music theory classes, singing lessons, or choir/ensemble experience.
Voice Type: Specify your vocal range and voice type (i.e. soprano, alto, tenor, etc).
Special Skills: Include any other relevant skills you have that may be of benefit to a potential employer, such as musical theater, foreign language singing, or other related performance skills.
References: Provide contact information for two or three professionals who can vouch for your skills as a singer.
By taking the time to make sure that your resume is complete and up-to-date, you'll be able to put your best foot forward and show employers why you are the best candidate for their project.
What is a good summary for a Singer resume?
A good summary for a Singer resume should be concise and provide a snapshot of the singer's background, experience, and skill set. It should include information relevant to the type of singing the artist is looking to be hired for, such as genres of music they specialize in, any notable performances they have had, and any awards or recognition they have received. It should also list any education or training they have received in their field. The summary should be tailored to the specific job the singer is applying for and demonstrate a passion for the craft of singing. Additionally, the summary should emphasize any leadership experience, such as directing a choir or teaching singing lessons, if applicable.
What is a good objective for a Singer resume?
A singer's resume should be designed to showcase their individual talent and ability to potential employers. The objective of a singer's resume should set the stage for the contents of the document and should demonstrate the individual's professional goals.
Demonstrate the singer's knowledge, skills, and experience in their craft
Highlight their performances and accomplishments
Showcase the singer's ability to engage an audience
Emphasize the singer's dedication to the music industry
Describe the singer's ambition to pursue a career as a professional singer
Show the singer's commitment to pursuing excellence in their work
Present the singer's skills in a clear and concise manner
Demonstrate the singer's dedication to learning and developing their craft
Showcase the singer's ability to contribute to a successful performance
Showcase the singer's ability to work independently or as part of a team
Showcase the singer's ability to make effective use of technology
Showcase the singer's ability to work well under pressure and adjust to demanding situations
Showcase the singer's willingness to contribute to the success of their team
Demonstrate the singer's drive to take initiative and assume leadership roles
How do you list Singer skills on a resume?
When you're applying for singing positions, it's important to show employers that you have the right skills and experience. One of the best ways to do this is to list your singing skills on your resume. Here are some tips on how to list your singing skills on a resume:
Include any professional or academic training you have received in music or singing. This could include degrees and certificates, classes you have taken, certifications, and awards.
List any performance experience that you have. This could include any professional or amateur performances, recitals, choirs, or musicals that you have been a part of.
Mention any special skills or techniques you have in singing. This could include vocal range, flexibility, improvisation, and vocal production skills.
Highlight any roles you have taken on in the past. This could include roles such as lead singer, backup singer, choir director, or musical director.
Mention any musical instruments you play. This could include piano, guitar, bass, drums, and any other instruments you know how to play.
List any technology you are familiar with that is related to music and singing. This could include recording software, editing software, and music notation software.
By including these details on your resume, you can give employers a good sense of the skills and experience you can bring to a singing position.
What skills should I put on my resume for Singer?
When applying for a Singer position, it's important to emphasize the relevant skills you have that can make you successful in the role. Make sure to highlight these skills on your resume so employers are able to quickly recognize your talent and qualifications. Here are some key skills to include on your Singer resume:
Singing Ability: Obviously, your singing ability is the most important skill you need to succeed as a Singer. Be sure to highlight your range, sound quality, style, and any awards or recognition you may have received for your singing.
Music Theory Knowledge: To be a successful Singer, you should have a basic understanding of music theory and be able to read music. Showcase your knowledge of musical notation, scales, chords, and other music fundamentals.
Performance Skills: In addition to singing, you must be able to entertain an audience. This includes being able to move and engage with the audience, as well as be able to work with a band or other musicians.
Interpersonal and Collaboration Skills: Working with other musicians and bands is a key part of being a Singer. Showcase your ability to collaborate and communicate with team members and other professionals in the music industry.
Business Skills: As a Singer, you'll have to be able to handle the business side of things. This includes everything from negotiating contracts to booking gigs and managing your finances. Showcase your business acumen on your resume.
Auditioning Skills: Most Singers will have to go through an audition process. Your auditioning skills should include your ability to quickly learn and memorize songs, as well as your confidence when performing in front of a panel.
By highlighting these skills on your resume, you'll be able to demonstrate to potential employers that you are the right fit for the Singer position.
Key takeaways for an Singer resume
A singer resume is a great way to showcase your vocal talents and experience to potential employers. A well-crafted resume can help singers stand out from the competition and land auditions and jobs. Here are some key takeaways for an effective singer resume.
Include Your Relevant Experience: Make sure to include any professional singing experience you have, such as performing in a choir, auditioning for plays, or participating in competitions. This helps employers understand your vocal range, singing style, and experience.
List Your Education: Include information about any vocal training or education you have had. This helps employers understand the level of training you have and your knowledge of music theory.
Highlight Your Strengths: Don't be afraid to showcase your strongest vocal abilities. Include recordings of performances or a link to a video of you singing. This allows employers to get a better understanding of your vocal range and style.
Include Career Goals: Explain your career goals in your resume. This can help employers understand what type of vocal roles you are looking for and if you have any particular ambitions.
Keep it Professional: Make sure to keep your resume professional and concise. Don't include any irrelevant information or personal details. Also, be sure to proofread your resume to ensure there are no typos or grammatical errors.
By following these key takeaways, you can create an effective singer resume that will help you stand out and land the singing job you're looking for. Good luck!
Let us help you build
your Resume!
Make your resume more organized and attractive with our Resume Builder