Having a well-written and structured resume is a key factor in landing your dream job. As a professor, your resume is a document that outlines your qualifications and highlights your experience, skills, and accomplishments to potential employers. It's your chance to showcase your expertise and demonstrate why you are the best candidate for the job. In this professor resume writing guide, we will provide examples and tips on how to create a resume that will help you stand out from the competition.
If you didn't find what you were looking for, be sure to check out our complete library of resume examples.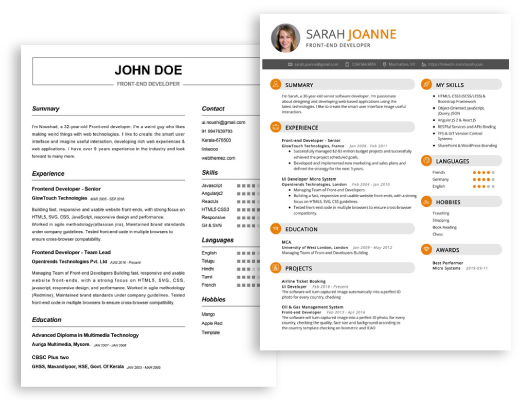 Start building your dream career today!
Create your professional resume in just 5 minutes with our easy-to-use resume builder!
Professor Resume Examples
John Doe
Professor
123 Main Street | Anytown, USA 99999 | Phone: (123) 456-7890 | Email: john.doe@email.com
A highly experienced professor with a deep knowledge of teaching methodology, educational systems, and curriculum development. A detail- oriented individual who is adept at problem solving, critical thinking, and creative problem solving. With expertise in developing and delivering educational materials and utilizing a variety of teaching techniques, I am an excellent choice for any professor position.
Core Skills:
Creative teaching methods
Strong communication and leadership skills
Excellent problem solving and critical thinking
Advanced knowledge of educational systems
Highly organized and efficient
Strong attention to detail
Professional Experience:
Served as professor of English at a community college for 12 years
Developed curriculum for English literature and composition courses
Delivered lectures, presented lectures, and taught workshops
Managed and supervised students, providing guidance and support
Assisted in the development of new educational materials
Conducted research and wrote papers on the English language
Education:
Ph.D in English Literature from Stanford University
Masters in Education from University of California, Irvine
Bachelor of Arts in English from Harvard University
Professor Resume with No Experience
Experienced professor adept in teaching, research, and mentoring students. Accomplished in delivering engaging lectures, assessing student progress and preparing engaging course material. Highly organized and capable of managing multiple tasks while maintaining accuracy and attention to details.
SKILLS
Expertise in educational assessments, lesson planning, and curriculum development
Knowledge of educational technology and software
Excellent communication and problem- solving skills
Well- developed interpersonal skills
Strong written and verbal presentation skills
Time management and organizational skills
Ability to work well in a team environment
Responsibilities
Develop and deliver engaging lectures and course materials
Create and manage assessments and tests for students
Monitor and assess student performance
Prepare and grade assignments and papers
Lead discussions and seminars
Develop and implement study aids
Supervise and mentor students
Serve on committees and advise students
Research and publish scholarly papers
Professor Resume with 2 Years of Experience
A dedicated and hardworking professor with two years of experience in teaching and mentoring students at both the undergraduate and graduate levels. Highly knowledgeable in the areas of engineering, mathematics and physics with an enthusiastic approach to learning and teaching. Possesses an excellent ability to manage classes with a focus on creativity, critical thinking and problem solving. Excellent communicator and collaborator who is committed to the success of all students.
Core Skills:
Effective communication and presentation
Ability to organize and motivate students
Comprehensive knowledge of engineering, mathematics and physics
Experience in teaching and mentoring students
Demonstrated problem solving and critical thinking skills
Excellent collaboration and interpersonal skills
Responsibilities:
Design and deliver engaging lectures and seminars on engineering, mathematics and physics
Facilitate student- led group discussions and projects
Assist in grading exams and assignments
Supervise and mentor undergraduate and graduate students
Monitor student performance and provide feedback
Engage students in debates and discussions to encourage critical thinking and independent learning
Professor Resume with 5 Years of Experience
With 5 years of experience as a Professor, I am an expert in providing educational services to students. In my current role as a Professor, I have honed my teaching skills while managing my responsibilities with accuracy and efficiency. With my innovative methods of teaching, I have been able to increase student knowledge and understanding of the material content. Additionally, I am adept in using modern technology to engage students and create an enjoyable learning environment.
Core Skills:
Strong ability to identify and address different learning needs
Strategic development of lesson plans and class materials
Knowledgeable in the use of modern technology in teaching
Excellent verbal and written communication
Proven ability to meet and exceed course objectives
Ability to engage students and stimulate their interest
Ability to motivate and guide students in their studies
Responsibilities:
Preparing lesson plans, lectures and other teaching materials
Delivering lectures and guiding discussions in classrooms
Assessing students' performance through exams, quizzes and other tests
Identifying and addressing different learning needs of students
Creating and developing teaching materials, such as presentations and handouts
Designing and implementing online teaching methods and technologies
Establishing and maintaining professional relationships with students, parents, and colleagues
Providing guidance and support to students with academic and social issues
Participating in professional development activities and workshops
Professor Resume with 7 Years of Experience
With seven years of experience as a Professor, I possess a unique combination of knowledge and expertise in the fields of literature, philosophy, and religion. My teaching and research have taken me across the globe, allowing me to bring a unique perspective to my classes. I have a passion for teaching, connecting with students, and helping them develop an appreciation of academic work, as well as a love of learning. My comprehensive understanding of interdisciplinary topics and my enthusiasm for lifelong learning make me an ideal professor.
Core Skills:
Exceptional knowledge of literature, philosophy, and religion
Experienced in teaching a variety of courses
Excellent ability to communicate with students of all levels
Proven problem- solving and critical thinking skills
Ability to develop inspiring and thought- provoking curriculum
Innovative approaches to teaching and learning
Responsibilities:
Develop and deliver innovative lectures, seminars, and tutorials
Lead dynamic student discussions and activities
Provide comprehensive feedback for student assignments
Create and maintain engaging course materials
Supervise student research projects
Maintain a safe and productive learning environment
Actively encourage student participation in class activities
Professor Resume with 10 Years of Experience
A highly experienced Professor with 10 years of experience in teaching and research, an outstanding record of developing students and increasing student engagement. An experienced leader with a commitment to excellence, innovative educational methods, and an unwavering dedication to the success of students. Possess excellent communication and interpersonal skills, as well as a passion for learning and teaching.
Core Skills:
Strong leadership and organizational capabilities
Solid understanding of educational theory and curriculum development
Excellent communication, writing and presentation skills
Proficient in modern technology and teaching tools
Creative problem- solving and analytical skills
Responsibilities:
Developing and delivering lecture- based courses, as well as interactive and hands- on learning experiences.
Creating and revising course materials, such as syllabi, reading lists, and assessment methods.
Designing and evaluating innovative learning activities to increase student engagement and comprehension.
Researching and publishing scholarly work in peer- reviewed journals.
Developing and coordinating student projects, service- learning initiatives, and extracurricular programs.
Advising students on academic and career paths.
Mentoring new professors and teaching assistants
Professor Resume with 15 Years of Experience
A highly experienced professor of 15 years, with an extensive background in teaching liberal arts, sciences, and humanities. Known for creating innovative learning materials, developing engaging lesson plans, and fostering an environment of academic excellence. Skilled at increasing student engagement, managing classroom behavior, and leveraging technology for improved learning outcomes. Possesses a Bachelor of Arts in English and a Master of Science in Education.
Core Skills:
Curriculum Design and Development
Classroom Management
Student Engagement
Instructional Technology
Student Assessment
Written and Verbal Communication
Responsibilities:
Developing and delivering lesson plans and assessments
Planning and delivering lectures and seminars
Facilitating student- led discussion and activities
Providing academic guidance and support to students
Administering and evaluating student assessments
Developing and managing curriculum documents
Utilizing technology to improve teaching and learning
Maintaining records of student performance and attendance
In addition to this, be sure to check out our resume templates, resume formats, cover letter examples, job description, and career advice pages for more helpful tips and advice.
What should be included in a Professor resume?
A professor's resume should be comprehensive and tailored to their specific academic qualifications. It should not be a generic document that is used for any type of job. It is important to include information that will showcase the professor's qualifications, teaching experience, and research achievements. The following are some of the main items that should be included in a professor's resume:
Education: This should include all post-secondary education, including degrees, specializations, and any additional training or certifications.
Teaching Experience: This should list all teaching positions, including any classes taught, as well as any student evaluation scores.
Research and Publications: This should include any research experience, including any grants or awards received, as well as any published articles or books.
Professional Development and Conferences: This should include any workshops attended or presentations made. It should also include any conferences attended and any awards received.
Other Relevant Experience: This can include volunteer work, service on committees, or any other activities that are relevant to the position.
References: This should include at least three references, with contact information.
What is a good summary for a Professor resume?
A good summary for a professor resume should provide a succinct overview of your qualifications and experience that are relevant to the position. It should also emphasize important skills and qualities that make you an ideal candidate for the job. Your summary should include your areas of expertise, research interests, teaching methods, and accomplishments. Additionally, it should be tailored to the specific field you are applying to, so that potential employers can easily understand your experience and competencies. Finally, the summary should be written in a professional, positive tone that demonstrates your enthusiasm for the role. A well-crafted summary will make your resume stand out among the competition and make you an attractive candidate for the position.
What is a good objective for a Professor resume?
A professor resume should be well-crafted to showcase the candidate's teaching and research experience, as well as their professional qualifications and expertise.
The objective of a professor resume should be to demonstrate the candidate's skills, qualifications, and teaching experience to potential employers in higher education.
When crafting a professor resume, consider the following objectives:
Demonstrate a mastery of the subject matter and its application to the teaching profession
Highlight relevant teaching and research experience
Showcase the ability to create and implement a successful teaching plan
Demonstrate an ability to mentor and supervise students
Demonstrate a commitment to high standards of teaching excellence
Show an ability to stay up-to-date on industry trends and pedagogical developments
Exhibit an appreciation for diversity and a commitment to helping students of all backgrounds succeed
Showcase strong communication and interpersonal skills to work effectively with colleagues, administrators, and students.
How do you list Professor skills on a resume?
When looking to list professor skills on a resume, it is important to think carefully about the skills you possess and how they are applicable to the job you are applying for. Professors need to be able to demonstrate a variety of skills related to the position, including communication, organization, classroom management, and an ability to understand and interpret educational theories.
Here are some sample skills you may want to include on your resume:
Strong communication skills: Professors need to be able to effectively communicate with students and colleagues, as well as to provide clear feedback.
Organizational abilities: Professors need to be able to manage their time and resources effectively, as well as to plan and complete projects successfully.
Classroom management: Professors must be able to manage the classroom environment and keep students on track and engaged in the material.
Knowledge of educational theories: Professors must stay up-to-date on the latest educational theories and be able to apply them to their teaching.
Technology proficiency: Professors may need to be able to use technology, such as online learning programs or lecture slides, to best facilitate their classes.
Including these skills on your resume, along with any other relevant skills you possess, can help potential employers gain a better understanding of your qualifications and how you can make a positive contribution to their organization.
What skills should I put on my resume for Professor?
When applying for a professor job, you will need to ensure your resume showcases your experience and qualifications. There are certain skills that should be highlighted so that your resume stands out. Here are some key skills you should include on your professor resume:
Extensive knowledge of your field: As a professor, you will be expected to have a deep understanding of the subject you will be teaching. Be sure to list any degrees, certifications, or publications that demonstrate your expertise in the field.
Ability to communicate ideas effectively: Professors must be able to communicate complex concepts to their students in a way that is easy to understand. Include any teaching-related experience that demonstrates your excellent communication and presentation skills.
Organization and planning: Professors must be organized and able to plan out course materials and lectures in advance. Highlight any experience you have that demonstrates your ability to plan and manage your time effectively.
Patience and problem-solving: Teaching students can be a challenge, and professors must be patient and able to think on their feet. Mention any experience you have that shows off your problem-solving skills and ability to handle difficult situations.
Adaptability: As a professor, it's important to be able to adjust to changing environments and new technologies. List any experience or certifications that demonstrate your ability to learn quickly and stay up-to-date with the latest advancements.
By including these skills on your professor resume, you can ensure your application stands out to potential employers. Good luck!
Key takeaways for an Professor resume
A resume for a professor position is a key tool for highlighting your credentials to potential employers, so it's important for it to be well-crafted and effective. Here are some key takeaways to help you create a professor resume that stands out from the competition:
Display your credentials prominently. Make sure that employers can easily see your educational background and qualifications. Include highlights such as degrees and certifications, as well as any publications or research you have completed.
Emphasize the skills you have acquired. A professor resume should showcase the skills you have developed to be successful in this role. Highlight skills such as teaching, research, communication, and problem-solving.
Demonstrate your experience. If you've held professor positions in the past, be sure to provide details on what you did and how you succeeded. If you've been teaching online, include details on your online teaching experience.
Showcase your accomplishments. If you have awards or recognitions from your past teaching experiences, include them on your professor resume. This will demonstrate to potential employers that you are an outstanding professor.
Focus on keywords. Employers often use keywords to search for candidates when sorting through resumes. Make sure that you include relevant keywords in your professor resume to make sure you get noticed.
By following these key takeaways, you will be able to create a professor resume that stands out from the competition and helps you secure the top professor position you are applying for. Best of luck in your job search!
Let us help you build
your Resume!
Make your resume more organized and attractive with our Resume Builder