Writing a great production resume is essential for any job seeker in the production industry. A well-crafted production resume can help you stand out from the competition, and make a great first impression on a potential employer. This guide will provide you with tips and examples on how to write a resume for a production job. The guide will cover topics such as the different sections that should be included in a production resume, resume format and design tips, what to include in each section, and a few examples of production resumes to help you get started.
If you didn't find what you were looking for, be sure to check out our complete library of resume examples.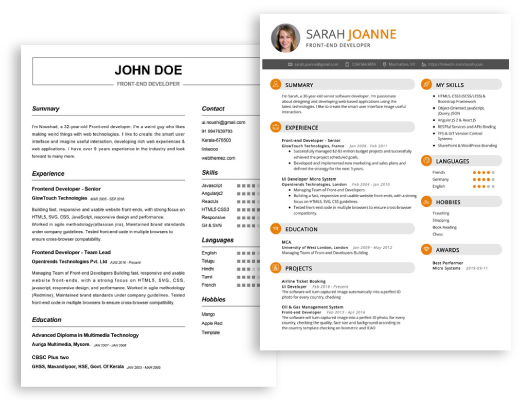 Start building your dream career today!
Create your professional resume in just 5 minutes with our easy-to-use resume builder!
Production Resume Examples
John Doe
Production
123 Main Street | Anytown, USA 99999 | Phone: (123) 456-7890 | Email: john.doe@email.com
A highly organized and detail- oriented Production Assistant with 5 years of experience in the film and television industry. Experienced in a variety of production roles, from coordinating cast and crew to managing production equipment, creating and tracking budgets, and organizing paperwork. Possesses a keen eye for detail and a strong work ethic, plus the ability to stay calm and organized in any production situation.
Core Skills:
Production Management
Budgeting and Accounting
Project Coordination
Scheduling and Logistics
Equipment Maintenance
Communication and Negotiation
Quality Assurance
Professional Experience:
Production Assistant, ABC Studios, Los Angeles – 2015- 2020

Acted as liaison between production personnel and management, coordinating cast, crew and equipment
Developed and maintained production schedules and budgets
Negotiated contracts with vendors and managed equipment inventory
Assisted with cast and crew production paperwork, including releases and agreements
Oversaw production equipment quality assurance and maintenance
Education:
Bachelor of Arts in Film Production, UCLA, Los Angeles, CA – 2011- 2015
Production Resume with No Experience
Energetic and enthusiastic recent graduate of University of XYZ, with a Bachelor of Arts in Film. Seeking to leverage strong organizational, communication, and creative skills in a Production role. Passionate about the production process and eager to learn as much as possible.
Skills
Strong organizational and communication skills
Creative problem- solving
Collaborative attitude
Time management
Ability to take direction
Strong understanding of media production
Adept with Adobe Creative Suite
Responsibilities
Assist in media production
Organize and catalog media into a database
Collaborate with other members of the production team
Assist with pre- and post- production tasks
Run errands for the production team
Ensure timely delivery of media to clients
Provide support to production team as needed
Production Resume with 2 Years of Experience
A talented production professional with over two years of experience in technical production roles. Demonstrated a strong capacity for effectively managing all aspects of production from pre- production to post- production and a passion for delivering an exceptional final product. Possesses excellent interpersonal skills as well as strong technical skills, and a proven ability to work in fast- paced environments while meeting tight deadlines.
Core Skills:
Proficient in Adobe Creative Cloud
Ability to manage multiple projects at once
Excellent communication and problem- solving
In- depth knowledge of production equipment
Strong organizational and time- management skills
Ability to work under pressure and in a team environment
Responsibilities:
Planning and organizing production schedules
Operating various production equipment, such as cameras, lights, and audio equipment
Setting up and testing equipment before filming or recording
Collaborating with producers and directors to ensure quality production
Editing and composing audio and video footage
Evaluating footage for quality assurance
Ensuring production stays within budget and meets deadlines
Assisting with the coordination of production shoots
Working with a team to ensure the final product is successful
Production Resume with 5 Years of Experience
Exceptionally organized and detail- oriented production professional with 5+ years of experience in the production field. Expertise in planning and executing production processes and equipment maintenance. Experienced in leading production teams and developing cost- effective strategies to complete projects. Strong ability to communicate effectively in English and Spanish, as well as a record of successful production goals.
Core Skills:
Project Planning
Budgeting
Equipment Maintenance
Leadership
Team Building
Communication
Organization
Problem- Solving
Responsibilities:
Created and managed production schedules and budgets
Evaluated production processes and equipment and identified areas of improvement
Coordinated with personnel and vendors to ensure quality assurance standards
Developed and implemented cost- saving initiatives to maximize efficiency
Monitored and adjusted production equipment to ensure optimum performance
Provided training and support to production staff and conducted performance evaluations
Managed and maintained production data records and documents
Ensured compliance with safety regulations and industry standards.
Production Resume with 7 Years of Experience
Dynamic and energetic production professional with 7 years of experience in the manufacturing industry. Possesses excellent problem- solving skills, a commitment to safety, and knowledge of production methods, processes, and quality control standards. Adept at working with a wide array of personnel, from front- line workers to senior- level executives. Focused on improving operational efficiency and customer satisfaction.
Core Skills:
Production planning
Product quality control
Process improvement
Purchasing and supply chain management
Safety and compliance
Leadership
Team building
Data analysis
Responsibilities:
Develop and implement production plans to maximize efficiency and meet customer demands.
Ensure product quality by establishing and enforcing safety standards, conducting regular inspections, and corrective action plans.
Analyze data to identify areas of process and quality improvement.
Collaborate with vendors and suppliers to ensure timely delivery of materials and components.
Train, mentor, and motivate team members to build morale and improve performance.
Ensure compliance with company policies and safety regulations.
Collaborate with senior management to develop strategic plans for long- term growth and objectives.
Production Resume with 10 Years of Experience
A production professional with 10 years of experience in the field. An extensive background in managing production projects and teams, implementing safety protocols, and sourcing materials. Highly organized and skilled in problem solving and decision making. Adept at developing effective solutions to resolve production issues and optimizing workflow processes.
Core Skills:
Production management
Safety protocols
Problem solving
Decision making
Planning and scheduling
Resource allocation
Supply chain management
Quality control
Process optimization
Technology implementation
Responsibilities:
Developed and implemented safety protocols to ensure a safe and productive production environment.
Planned and scheduled production projects and allocated resources accordingly.
Managed and supervised production teams in order to optimize workflow processes.
Sourced materials from vendors and suppliers to meet production requirements.
Implemented new technologies to streamline production processes and reduce costs.
Monitored production operations and quality control systems to ensure quality standards were met.
Identified opportunities for process optimization and developed appropriate solutions.
Developed effective strategies to resolve production issues and improve production efficiency.
Prepared regular reports and provided regular updates to management on production progress.
Production Resume with 15 Years of Experience
Experienced Production Manager with 15 years of experience in the production industry. Proven ability to drive production and reduce costs by leading and developing efficient systems and processes throughout the entire production life cycle. Possess strong communication skills and the ability to collaborate with various departments and personnel to ensure smooth production operations and successful product launches.
Core Skills:
Leadership and organizational skills
Knowledge of manufacturing principles and processes
Project management
Cost reduction and analysis
Inventory management
Analytical problem- solving
Quality assurance and control
Strong communication skills
Responsibilities:
Develop and implement effective production plans and processes
Monitor and analyze production performance to ensure efficiency and accuracy
Manage inventories of raw materials and finished products
Ensure proper maintenance of equipment and machinery
Train and supervise production staff
Develop and implement cost- reduction initiatives
Develop and maintain relationships with vendors and suppliers
Analyze production data and suggest improvement plans
Implement quality assurance measures to ensure high standards of production
In addition to this, be sure to check out our resume templates, resume formats, cover letter examples, job description, and career advice pages for more helpful tips and advice.
What should be included in a Production resume?
A production resume should be tailored to the particular job you are applying to, but should generally include the following sections:
Education: Include college degrees or certificates related to production and any relevant coursework, apprenticeships, or other training.
Experience: List any production-related positions you've held, including the company name, your role, and a brief summary of your responsibilities.
Technical Skills: List any production-related software or tools that you are familiar with, as well as any other relevant technical skills.
Problem-Solving Skills: Demonstrate your problem-solving capabilities, such as solving complex technical issues or working with a team to find creative solutions to production challenges.
Time Management Skills: Showcase any experience managing timelines and schedules, as well as any experience with multitasking and prioritizing tasks.
Attention to Detail: Production work often requires keen attention to detail and precision. Showcase any experience working with precise measurements, dealing with intricate components, or working on very precise timelines.
Communication Skills: Production work often involves working with different teams to coordinate tasks. Highlight any experience working with different teams, dealing with clients, or providing direction.
Including these sections on your production resume will help demonstrate your suitability for the job and give employers an understanding of your capabilities.
What is a good summary for a Production resume?
A production resume should include a clear and concise summary of the skills and experience of the individual. It should provide an overview of the individual's ability to manage complex production processes and to utilize the latest tools and technologies. The summary should also highlight any specialties, such as project management, cost control, and troubleshooting, as well as any experiences in areas such as engineering, manufacturing, and logistics. Additionally, the summary should also include a comprehensive list of accomplishments, such as successful projects or cost savings. By including a well-crafted summary, a production resume can stand out from the competition and help an individual secure a new job.
What is a good objective for a Production resume?
A resume objective is a great way to quickly tell potential employers what you have to offer them in terms of the production field. It should be customized to the position you are applying for, and can be used to showcase your skills and experience.
Here are a few examples of good objectives for a production resume:
To obtain a production position utilizing my experience in video editing and 3D modeling
Seeking a production role where I can use my graphic design skills to create visually appealing content
Seeking to use my expertise in digital media production to help produce engaging content
To gain a position in production which will allow me to use my experience in audio production
To apply my knowledge of video and audio editing to a production role
To utilize my knowledge of project management and animation in a production role
By displaying your skill set in the objective of your resume, you can show employers that you have what it takes to be a successful production professional. Good luck in your job search!
How do you list Production skills on a resume?
When it comes to listing Production skills on a resume, it is important to highlight the specific skills and experiences that demonstrate your proficiency in this area. Production skills can encompass a variety of different roles, such as production planning, process engineering, and quality control, and should be tailored to reflect the skills that are most relevant to the role you are applying for.
Including production skills on your resume can help add value to your candidacy and demonstrate to employers your ability to excel in production roles. Here are some tips for how to list production skills on your resume:
Include details of the specific production roles you have held, such as process engineer, production planner, or quality control.
List the processes, technologies, and tools you are proficient in and highlight the specific production software you are familiar with.
Describe the results of your work in the production environment and any awards or recognition you have received for your accomplishments.
Showcase any production-specific certifications or qualifications you have completed and any additional training or education related to production.
Highlight any production-specific accomplishments and the ways you have helped to improve productivity or processes within the production environment.
By following these tips, you can ensure that your resume accurately reflects your production skills and competencies. In addition, you can also use online job boards and other resources to get an idea of some of the most sought-after production skills employers are looking for.
What skills should I put on my resume for Production?
Your resume is the first impression you make to employers, and the skills section is a key factor in your success. When creating a resume for a production-related job, it is important to showcase your accomplishments and knowledge of the field. Here are some skills you should include in your resume for a production-related job:
Knowledge of production software: Whether you are proficient in Adobe Creative Suite, Autodesk Maya, or any other software related to production, be sure to showcase your proficiency.
Organizational skills: In the production field, organization is key. Showcase your ability to stay organized and prioritize tasks efficiently.
Experience with cameras and lenses: This is especially important if you are applying for a job related to video production.
Knowledge of lighting: Lighting plays an important role in production, so be sure to showcase your knowledge of lighting techniques.
Ability to troubleshoot: Production isn't always smooth sailing, so it is important to demonstrate your ability to problem solve and troubleshoot.
Strong multitasking skills: Production often involves working on multiple projects at once, so be sure to demonstrate your ability to multitask.
Creativity: Many production jobs require creative solutions, so showcase your ability to think outside of the box.
Excellent communication skills: This is essential in any job, but especially in production. Showcase your ability to communicate with colleagues and clients.
Key takeaways for an Production resume
A production resume is a valuable document when it comes to showcasing your talents, exceptional work ethic, and organizational skills. Your production resume should provide clear details on your skills, qualifications, and experience in the industry. Whether you are applying for a position on a production team, or simply updating your current production resume, there are a few key takeaways that will ensure you make a great impression.
Highlight Your Qualifications: Make sure to highlight your specific industry qualifications and certifications in your production resume. These should be at the top of your resume, in an easy-to-read format, as they are essential to the production industry.
Be Specific: Be sure to include specific details about your experience in the production industry, such as the types of equipment you have experience working with, the productions you have worked on, and any awards or honors you have received.
Showcase Your Soft Skills: Working in the production industry requires excellent communication, negotiation, and organizational skills. Make sure to highlight these soft skills in your production resume.
Include Your Technical Skills: The production industry is a highly technical field. It is essential that you showcase your technical skills, such as experience with software programs, video editing tools, and other tools used in the production industry.
Demonstrate Your Creativity: Lastly, be sure to showcase the creative aspects of your work. This could include your film treatments, scripts, and other creative projects. Showcasing your creativity can help you stand out from the other applicants.
By following these key takeaways, you can ensure that your production resume will make a great impression. Make sure to highlight your qualifications, provide specific details, showcase your soft and technical skills, and demonstrate your creativity in order to stand out from other applicants.
Let us help you build
your Resume!
Make your resume more organized and attractive with our Resume Builder