Having a great resume is essential for any aspiring piano teacher. A resume should be well-structured and contain accurate and up-to-date information about your unique skills, qualifications and experience. So, if you are in the market to apply for a job as a piano teacher, it's important to have a well-crafted resume that highlights your credentials. This guide will provide tips and advice on how to write an effective piano teacher resume, including examples that can be tailored to your needs.
If you didn't find what you were looking for, be sure to check out our complete library of resume examples.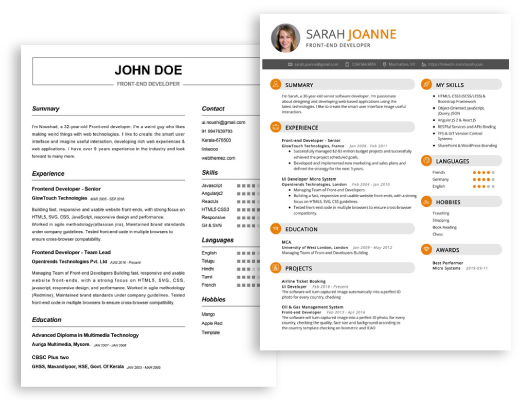 Start building your dream career today!
Create your professional resume in just 5 minutes with our easy-to-use resume builder!
Piano Teacher Resume Examples
John Doe
Piano Teacher
123 Main Street | Anytown, USA 99999 | Phone: (123) 456-7890 | Email: john.doe@email.com
I am an experienced piano teacher with a passion for music and the teaching of it. I have been teaching piano for over 8 years, both privately and in group settings. I pride myself in providing the best instruction possible for my students, with the goal of developing a strong foundation for them to continue to improve their piano skills. I have worked with all levels of students, from beginners to advanced players, and have been able to help them reach their individual goals. I have a strong knowledge of music theory, and have great experience in teaching both classical and modern styles.
Core Skills:
Expert knowledge of music theory
Experience teaching a variety of styles, including classical and modern
Ability to develop and implement individualized lesson plans
Strong interpersonal and communication skills
Excellent organizational and multitasking capabilities
Positive and patient teaching style
Professional Experience:
Private Piano Teacher, Private Music School, 2012- present
Taught piano to students of all levels, from beginner to advanced
Developed individualized lesson plans tailored to each student
Encouraged student growth, creativity and expression
Monitored student progress and wrote evaluations
Prepared students for recitals, competitions and other performance opportunities
Education:
Bachelor of Music, Piano Performance, 2010
University of the Arts
Summa Cum Laude
Piano Teacher Resume with No Experience
Recent college graduate with a passion for music who offers enthusiasm and dedication to the teaching of piano. A highly motivated and creative individual, who has a strong desire for learning new skills and exploring new creative possibilities.
SKILLS
Knowledgeable in basic music theory
Experienced in playing various instruments
Excellent communication and leadership skills
Proficiency in multiple music software programs
Responsibilities
Developing and implementing effective teaching strategies
Maintaining a positive learning environment
Assessing student performance, providing feedback and adjusting teaching strategies accordingly
Providing students with individual guidance and help
Guiding and encouraging students to reach their personal goals
Ensuring all materials needed for lessons are prepared in advance
Piano Teacher Resume with 2 Years of Experience
A passionate and dedicated Piano Teacher with 2 years of experience in teaching students from beginners to advanced levels. Proven record of developing innovative teaching strategies to engage students and improve their learning experiences. Core competencies include providing personalized instruction, motivating students, and fostering a positive learning atmosphere. Highly skilled in communicating with students, parents, and other teachers.
Core Skills:
Piano teaching
Developing innovative teaching strategies
Providing personalized instruction
Motivating students
Developing positive learning atmosphere
Communicating with students and parents
Knowledge of music theory
Responsibilities:
Plan and deliver engaging lessons according to the lesson plan
Monitor student progress and adjust teaching approach when needed
Provide personalized instruction based on each student's individual needs
Help students develop musical skills such as sight- reading, music theory and performance
Manage practice and performance schedules for students
Assess student performance and provide feedback
Maintain student records and update as needed
Attend staff meetings and participate in professional development activities
Piano Teacher Resume with 5 Years of Experience
A passionate and dedicated Piano Teacher with 5 years of experience developing effective learning plans, providing individual and group instruction, and fostering a safe, engaging learning environment. Possesses excellent communication, organizational and problem- solving skills that help to ensure successful and efficient music instruction. A strong advocate of music education, and eager to join a team of instructors to create and deliver an engaging and dynamic program.
Core Skills:
5 years of experience teaching piano
Ability to customize lessons to meet individual needs
Expertise in classical, jazz, and popular music
Ability to assess student progress
Ability to develop and implement curriculum
Excellent communication and organizational skills
Understanding of music theory and techniques
Responsibilities:
Develop and implement personalized learning plans for students of all ages and abilities
Provide individual and group piano instruction
Prepare students for performances and auditions
Utilize a variety of methods and techniques to teach music fundamentals
Evaluate student progress and provide assessments
Foster a safe and engaging learning environment
Create and administer assessments and evaluations
Attend music workshops, events and conferences to stay current on teaching methods
Piano Teacher Resume with 7 Years of Experience
Dedicated piano teacher with 7 years of experience in instructing students of all ages and skill levels. I have a passion for teaching and inspiring students to pursue their musical goals. I am a patient and encouraging educator who is able to break down complex concepts into an understandable and achievable level. My varied teaching methods ensure that every student is able to reach their musical goals in a way that works best for them.
Core Skills:
Music theory and ear training
Able to work with students of all ages and levels
Vast knowledge of Piano repertoire, improvisation and composition
Creative teaching strategies to help engage students
Knowledge of music notation and sight- reading
Responsibilities:
Develop and implement lesson plans tailored to individual student needs
Provide feedback on student progress, encourage and motivate students
Assist students in learning and mastering piano technique and repertoire
Teach music theory and ear training
Assess student abilities and provide feedback to achieve desired goals
Demonstrate and instruct students on proper performance techniques, such as dynamics and expression.
Piano Teacher Resume with 10 Years of Experience
Experienced Piano Teacher with 10 years of experience in teaching a variety of musical concepts and skills to children of all ages. Dedicated to enriching lives through music and providing a safe learning environment. Passionate about developing creative and collaborative teaching methods that engage students and foster their growth as musicians.
Core Skills:
Expert in piano teaching and performance
Ability to develop and implement lesson plans tailored to each student
Skilled in working with students of all ages and skill levels
Knowledge of music theory and composition
Ability to create an effective and safe learning environment
Excellent communication and organizational skills
Responsibilities:
Prepared and taught piano lessons to students of all ages and skill levels
Developed lesson plans that incorporate musical concepts and techniques
Assessed student skills and provided feedback and guidance
Monitored student progress and provided motivation
Encouraged students to practice and participate in performances
Assisted in the selection of musical materials and resources
Assisted in the organization of musical events and activities
Piano Teacher Resume with 15 Years of Experience
I am an experienced and passionate piano teacher with 15 years of teaching experience. I have a deep passion for teaching music and for helping students reach their full potential. I have a strong commitment to continuing education and professional development and have attended workshops, seminars and conferences to stay abreast of the latest innovations in music education. I have a strong track record of success in teaching, curriculum planning and assessment. I am an enthusiastic team player who is eager to collaborate with colleagues and staff to create an effective and successful learning environment.
Core Skills:
Music Education
Curriculum Development
Assessment
Student Engagement
Time Management
Teamwork
Organizational Skills
Mentoring
Responsibilities:
Develop and implement lessons plans and activities to engage students in learning
Assess student progress and provide feedback
Communicate with staff and parents about student progress
Collaborate with colleagues in developing successful teaching strategies
Create a positive learning environment conducive to student success
Mentor students, helping to develop their musical knowledge and skills
Implement safe and effective teaching practices
Monitor student behavior and implement appropriate disciplinary actions
Maintain accurate records of student progress
In addition to this, be sure to check out our resume templates, resume formats, cover letter examples, job description, and career advice pages for more helpful tips and advice.
What should be included in a Piano Teacher resume?
When applying for a job as a piano teacher, having an up-to-date and well-written resume is essential. A piano teacher resume should provide employers with an overview of your experience, qualifications, and skills. Here are some of the key areas to include in a piano teacher resume:
Professional Experience: This section should include any experience you have teaching piano, including the duration, the type of lessons provided, and any additional tasks or responsibilities you had.
Education: Detail any qualifications you may have in piano teaching or related fields.
Skills: Include any musical skills, technical skills, teaching methods, and musical genres you are proficient in.
Musical Accomplishments: List any awards, accolades, or performances you have achieved throughout your teaching career.
References: Provide contact information for two or three professional references who can attest to your teaching abilities and qualifications.
A professional, comprehensive resume can help you stand out from the crowd and land the perfect piano teaching job. Be sure to include all of the above information to make sure your resume is as strong as it can be.
What is a good summary for a Piano Teacher resume?
A good summary for a Piano Teacher resume should include a detailed list of qualifications and experience that is relevant to the job. It should emphasize the teacher's ability to communicate effectively with students and parents, as well as their technical proficiency in teaching the piano. It should also highlight any awards, honors, or certifications that the teacher may have. Finally, a good summary should emphasize the teacher's passion for music and their ability to inspire their students to reach their full potential. A good summary should be concise and compelling, and should give the reader a good sense of the teacher's qualifications, experience, and enthusiasm for teaching.
What is a good objective for a Piano Teacher resume?
A piano teacher must possess a deep knowledge of music theory and technique, as well as strong communication and interpersonal skills. For anyone seeking a position as a piano teacher, a strong career objective should focus on showcasing these qualifications.
Demonstrate an extensive knowledge of piano and music theory
Possess strong communication, interpersonal, and teaching skills
Utilize creative approaches to the teaching of piano
Foster an enjoyable and safe learning environment
Develop and implement individualized lesson plans
Manage and track student progress
Remain up-to-date on current pedagogical and technological advancements
Commit to continuing professional development
Foster a passion for music in all students
How do you list Piano Teacher skills on a resume?
When applying for a piano teaching job, it's important to show potential employers that you have the skills they're seeking. One way to do that is to list your piano teaching skills on your resume. Here are some essential skills to consider including:
Patience: Teaching a musical instrument is often a slow and challenging process. It's important to have patience and understanding with your students so that they can learn at their own pace.
Knowledge of Piano: A good piano teacher should be knowledgeable about the instrument, including its history and how to play it.
Creativity: Creative thinking is an essential part of teaching piano. You should be able to find creative ways to engage your students and create interesting lesson plans.
Musicality: A great piano teacher should understand the fundamentals of music theory, such as rhythm, harmony, and melody.
Performance Skills: A piano teacher should be able to play the instrument confidently and accurately in order to demonstrate proper technique to their students.
Communication: Good communication is key when it comes to teaching piano. A piano teacher should be able to clearly explain concepts and techniques to their students.
By including these skills on your resume, you can show potential employers that you have the skills and experience necessary to be a successful piano teacher.
What skills should I put on my resume for Piano Teacher?
The piano is a beloved instrument, and a piano teacher is a talented one. Whether you're just starting out as a piano teacher, or you're an experienced one looking to get a new position, having the right skills on your resume is essential. Here are the top skills that should be included on your resume for a piano teaching position:
Music Theory Knowledge: A solid understanding of music theory is essential for any piano teacher, as it forms the foundation of effective teaching. Your employer will want to know that you can explain basic music concepts such as note reading, scales, chords, and harmony.
Teaching Experience: Teaching experience in any capacity can be beneficial when applying for a piano teaching position. Employers will want to know that you have experience guiding students and leading a classroom.
Patience and Flexibility: Playing the piano is hard work and takes a lot of practice and dedication. As a teacher, you'll be working with students of all skill levels and ages. Having the patience and flexibility to work with a variety of students is essential.
Communication Skills: Being able to clearly and effectively communicate with your students is key. Your employer will want to see that you have strong verbal and written communication skills.
Passion for Music: It goes without saying that you should have a passion for music. Employers will want to know that you're passionate about the piano and music in general, and can impart that enthusiasm to your students.
By having these skills on your resume, you'll show employers that you're the right person for the job. With the right skills and dedication, you'll be sure to find the perfect piano teaching position.
Key takeaways for an Piano Teacher resume
As a piano teacher, you have a unique skill set that you can use to stand out from other applicants. When writing resumes for a piano teacher position, there are a few key takeaways that you should keep in mind to ensure your resume stands out among the competition.
First and foremost, highlight your experience teaching piano. Include the number of years you have been teaching, the type of classes you have taught, the ages of your students, and any awards you have won for teaching. This will show employers that you are a qualified and experienced teacher.
Secondly, include any relevant certifications and qualifications you may have. These could include certifications from music organizations or any related certificates or degrees. Employers want to know that they are hiring a professional and qualified teacher.
Third, emphasize any special skills you may have that could make you an even better piano teacher. This could include performance experience, music theory knowledge, or the ability to teach multiple instruments or styles. Show employers that you are an experienced teacher with a wide range of skills.
Finally, be sure to include any non-musical skills that could be beneficial to a piano teaching position. This could include communication, organization, and problem-solving skills. Demonstrate to employers that you have the qualities needed to be an effective teacher.
By following these key takeaways, you can ensure that your resume is a standout among other applicants. With experience, certifications, special skills, and non-musical skills, you will be able to demonstrate to employers that you are the perfect candidate for the job.
Let us help you build
your Resume!
Make your resume more organized and attractive with our Resume Builder