Playing the piano is an art form that requires careful practice and dedication to perfect. In order to stand out and showcase your talents, you need to have an up-to-date and attractive pianist resume. As a pianist, your resume should illustrate your unique skill set, experience, and achievements in a professional and organized manner. This guide will provide helpful tips and examples on how to effectively compose a pianist resume. With this guide, you can make sure that your resume stands out from the crowd and showcases your accomplishments in a compelling way.
If you didn't find what you were looking for, be sure to check out our complete library of resume examples.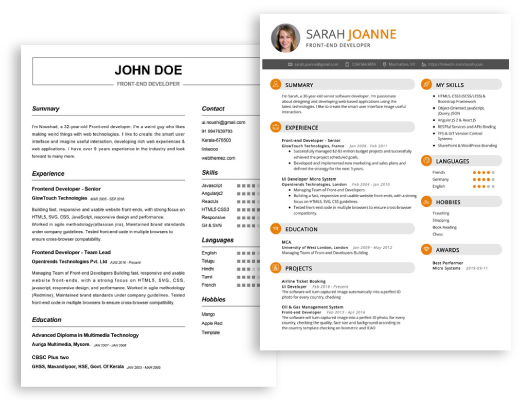 Start building your dream career today!
Create your professional resume in just 5 minutes with our easy-to-use resume builder!
Pianist Resume Examples
John Doe
Pianist
123 Main Street | Anytown, USA 99999 | Phone: (123) 456-7890 | Email: john.doe@email.com
A highly motivated and enthusiastic Pianist with years of experience performing in a variety of venues and styles. Possessing strong technical and improvisational skills, as well as a solid knowledge of music theory, composition and arranging. Ready to take on a new challenge and collaborate with others to create unique, inspiring performances.
Core Skills:
Excellent keyboard, improvisational and composition skills
Proficient in a variety of genres including classical, jazz, rock and pop
Strong sight- reading and sound production abilities
Experienced with digital and acoustic instruments
Excellent communication and interpersonal skills
Professional Experience:
Performed in numerous jazz clubs, restaurants and other venues for over ten years.
Collaborated with different groups and orchestras on a variety of projects, including recordings and live performances
Composed and arranged music for multiple ensembles
Engaged in teaching and coaching students in piano and music theory
Education:
Master's Degree in Piano Performance, University of Southern California
Bachelor of Music in Jazz Studies, Berklee College of Music
Certificate in Music Theory and Composition, University of California, Los Angeles
Pianist Resume with No Experience
Eager and enthusiastic Pianist seeking an opportunity to learn and grow in a professional environment.
Dedicated to exploring the depths of music and inspirations to create unique and powerful melodies.
Able to collaborate with others to create captivating pieces while also demonstrating individual creativity.
SKILLS
Proficient in playing a wide range of contemporary and classical genres.
Proficient in sight reading and improvisation.
Able to work well with other musicians and provide guidance to them.
Strong understanding of music theory and notation.
Excellent reading and comprehension skills.
Good organizational and multitasking abilities.
Responsibilities
Practice and develop piano skills and techniques.
Sight read and perform various genres of music.
Teach and mentor students on playing the piano.
Collaborate with other musicians to create original compositions.
Perform live in various venues.
Interpret musical scores of various styles.
Pianist Resume with 2 Years of Experience
A passionate and experienced pianist with two years of experience in performing and teaching, I am looking to continue my career in music by furthering my knowledge in music theory and performance. I have honed my skills as a pianist and have an eagerness to learn more. I am confident I can bring my knowledge and experience to any situation and excel in any chance I get to perform or teach.
Core Skills:
Extensive knowledge of music theory and history
Outstanding ability to sight- read
Skilled in improvisation and composition
Excellent performance technique
Ability to teach beginner, intermediate, and advanced students
Responsibilities:
Providing piano accompaniment for solo singers, bands, and choirs
Teaching students of all ages and skill levels
Leading rehearsals for ensembles
Performing in concerts, recitals, and other events
Composing and arranging music
Pianist Resume with 5 Years of Experience
A highly experienced pianist with 5 years of experience playing classical, jazz and other genres. Possesses an innate ability to read and interpret music as well as a strong ear for chordal progressions. Well- versed in various styles, techniques, and accompaniment techniques, providing accompaniment to a variety of ensembles. Has experience in performing for various live events, studio sessions, and solo recordings. Possesses a strong communication skills and is comfortable working with a variety of musicians.
Core Skills:
Advanced jazz improvisation techniques
Deep knowledge of various musical genres
Strong sight- reading ability
Excellent ear for chordal progressions
Expertise in various accompaniment techniques
Professional recording studio experience
Advanced knowledge of MIDI and sequencing
Ability to transpose and arrange music according to need
Responsibilities:
Perform solo piano concerts
Accompany ensembles and soloists in a variety of styles
Create and record original compositions
Provide accompaniment for live events
Transpose and arrange music
Prepare and lead rehearsals
Participate in regular workshops and masterclasses
Produce and record tracks for various projects
Pianist Resume with 7 Years of Experience
An experienced pianist with over 7 years of performance experience, specializing in classical, jazz, and popular music. Possesses a wide range of musical abilities with a special attention to detail and musicality, offering a high quality performance in any musical setting. Adept at working with a variety of instruments, styles, and audiences.
Core Skills:
Excellent sight- reading and improvisation skills
Knowledge of classical, jazz and popular music
Competency in multiple genres, including but not limited to pop, rock, and soul
Ability to accompany vocalists, instrumentalists, and choirs
High level of proficiency in music theory and performance practice
Able to work in a professional setting
Responsibilities:
Accompany vocalists, instrumentalists, and choirs in a variety of performances
Perform solo repertoire in live and studio settings
Participate in rehearsals, recordings, and other musical engagements
Demonstrate an ability to read and interpret written and/or recorded music
Provide accompaniment and/or solos in a variety of musical genres
Transpose, arrange, and transcribe music to create unique musical arrangements
Develop individual musical parts for each section of the ensemble
Pianist Resume with 10 Years of Experience
A highly experienced pianist with 10 years of performance experience. Skilled in interpreting sheet music, improvisation and sight- reading, as well as performing for live audiences. Experienced in both classical and modern styles of music and able to collaborate effectively with other musicians, conductors, and vocalists. Adept at utilizing a variety of musical instruments and delivering high- quality performances.
Core Skills:
Extensive experience in piano performance
Extensive knowledge of classical and modern styles of music
Ability to play with great accuracy and dexterity
Proficient in sight- reading and improvisation
Excellent interpersonal, communication and collaboration skills
Ability to work in a team and adjust to different musical requirements
Advanced performance techniques
Ability to create inspiring, engaging performances
Responsibilities:
Performing on piano for live audiences and recordings
Accurately reading sheet music and performing pieces as written
Memorizing and rehearsing pieces prior to performance
Creating improvisations according to the style of music being performed
Collaborating with other musicians to ensure a unified performance
Practicing regularly to maintain skills and develop new ones
Researching different styles of music to broaden repertoire
Working with conductors to ensure a smooth performance
Adapting performance to suit different musical requirements
Pianist Resume with 15 Years of Experience
A highly experienced Pianist with 15 years of industry experience, I have a profound understanding of music theory and am comfortable performing a wide range of musical styles. I have performed in and out of the studio in various settings, such as venues, concerts, events, private events, and more, and am adept at teaching music to private and group students. I am a dedicated, passionate performer, and am eager to continue to pursue opportunities and learning in the musical field.
Core Skills:
Superior musical knowledge and theory
Exceptional performance skills
Ability to teach music
Ability to learn and read music quickly
Proficient sight- reading skills
Ability to collaborate with other musicians
Responsibilities:
Perform at events, venues, and concerts
Create music arrangements and compose pieces
Create and teach music lessons to private and group students
Provide accompaniment and support to vocalists and other instrumentalists
Lead rehearsals and performances
Assist in the studio with recording, mixing, and mastering
In addition to this, be sure to check out our resume templates, resume formats, cover letter examples, job description, and career advice pages for more helpful tips and advice.
What should be included in a Pianist resume?
A pianist resume should include all of the skills and experience necessary to show potential employers that you are qualified for the job. Pianists must be proficient in playing the piano and have experience in teaching and performing. Here are the key elements a pianist resume should include:
Education: A pianist should list all levels of education, including special piano-related training, and any special licenses, certificates, or awards.
Experience: This is where a pianist should list performance experience, teaching experience, and any other related roles you have held. Include venues, dates, and any awards or accolades earned.
Repertoire: A well-rounded pianist should be able to play a wide variety of styles and genres. Listing your repertoire will demonstrate your versatility and skill.
Musical Equipment: Be sure to list any equipment you are familiar with or have access to.
References: Including a list of references from previous employers, colleagues, and students is important.
Interests: Include any other interests that may help you stand out from other pianists or make you more attractive to potential employers.
By including all of these key elements in your resume, you can ensure that employers will get a clear and comprehensive picture of your qualifications as a pianist.
What is a good summary for a Pianist resume?
A pianist's resume should provide an overview of their skills, experience, and education. It should be succinct and easy to read, so it's important to include only pertinent information that represents the pianist's qualifications. The resume should include the pianist's name, contact information, a summary of their skills, performance experience, and educational background.
The summary should be brief yet informative. It should explain the pianist's experience and skills, including the types of concerts and recitals they've performed, the techniques and styles they're familiar with, their ability to sight-read, their proficiency in pedal and touch technique, and any improvisational or composition skills. It should also include any awards, scholarships, or accolades they've received.
The summary should also include any teaching experience or musical education the pianist may have. This information can include the classes taught, the schools attended, any degrees or certificates earned, and any other relevant items.
Finally, the resume should include any additional information that could help demonstrate the pianist's qualifications. This can include links to websites or recordings, references or endorsements, and any memberships or affiliations they may have with professional organizations or clubs.
By providing a well-thought-out summary of their skills and experience, the pianist can ensure that their resume stands out from the competition.
What is a good objective for a Pianist resume?
Writing a resume for a pianist can be a daunting task for someone who is new to the job market. But having a good objective statement is essential for catching the attention of potential employers. An objective statement is a short, concise statement that states the job seeker's career goals. It should reflect the qualifications and experience that make the applicant the best candidate for the job.
An effective pianist resume objective should be tailored to the specific job the applicant is applying for. Below are some tips to help you create an effective objective statement:
Showcase your experience and qualifications: A good objective should emphasize the skills, experience and qualifications that make you the best candidate for the job. Include details such as any performances or recitals you have done, any awards or recognitions you have received, and any music lessons you have taken.
Highlight your abilities: Make sure to emphasize your strengths as a pianist. This could include your ability to sight-read music, your experience with different piano styles, or your proficiency in improvisation.
Demonstrate your enthusiasm and passion: Show employers that you are eager and passionate about the job. Emphasize your enthusiasm for playing the piano and your commitment to excellence.
Focus on the job: Try to avoid generic statements that don't relate to the job you are applying for. Make sure your objective statement is focused on the particular job you are applying for.
By following these tips, you can craft a compelling objective statement that will help your resume stand out from the competition. With an effective objective statement, you can show employers that you are the perfect candidate for the job.
How do you list Pianist skills on a resume?
When applying for a job as a pianist, it is important to highlight the skills you possess on your resume. Having the right skills listed can help you stand out from other applicants and draw the attention of potential employers. Here are a few tips to help you make sure your resume is up to par when listing pianist skills:
Include any music theory knowledge you have, such as knowledge of scales, chord progressions, and key signatures.
List any music reading skills you have, such as sight-reading, transposition, and improvising.
Mention any specific styles of music you are proficient in, such as classical, jazz, or popular music.
Demonstrate your understanding of the various components of piano playing, such as dynamic control, phrasing, and articulation.
Highlight any additional skills you may have, such as composing, arranging, and teaching other musicians.
By including these skills on your resume, you will be able to make a strong impression on potential employers. With the right list of skills, you will be able to set yourself apart from the competition and land the perfect job as a pianist.
What skills should I put on my resume for Pianist?
When applying for a position as a pianist, there are certain skills that employers will be looking for on your resume. It is important to make sure that your resume accurately reflects your skill level, in order to demonstrate that you are the right candidate for the job. Here are some skills to consider including on a resume for a pianist:
Skillful playing: Pianists must have a strong understanding of musical notation, be able to play a variety of pieces with ease, and have a good ear for music.
Musical knowledge: Knowing the history of music, the different styles of playing, and being familiar with a variety of musical genres is important.
Sight-reading: Being able to sight-read sheet music and understand what each note means is essential for a pianist.
Performance: Pianists must be able to read an audience, adjust their playing to fit the occasion, and be able to handle the pressures of a performance.
Collaboration: Pianists must be able to work well with others, such as a band or orchestra.
Adaptability: Being able to adapt to different styles and environments is an important skill for a pianist.
Technical: Being technically proficient and having an understanding of piano maintenance and tuning is beneficial.
Key takeaways for an Pianist resume
A pianist resume is a document that outlines the educational, professional, and creative background and accomplishments of a pianist. It should be comprehensive and tailored to the specific needs of the hiring organization or event planner.
Key takeaways for a pianist resume include:
Highlight your education and professional training: This is one of the most important aspects of your resume. Include any formal schooling, classes, and workshops that you've taken to improve your skills as a pianist.
Focus on your performance experience: This should include any live performances that you've done as well as recordings and collaborations that you've been a part of.
Demonstrate your genre versatility: Showcase the different styles of music that you are comfortable playing. This could include jazz, classical, pop, rock, etc.
Detail your strengths: Make sure to talk about the unique skills that you bring to the table. This includes any special techniques that you have mastered or instruments that you play.
Showcase any awards or recognition: If you have received any awards or honors, make sure to mention them on your resume.
By following these key takeaways, you will be able to create a comprehensive and targeted pianist resume that will impress potential employers. With this resume, you'll be able to showcase your skills and accomplishments and increase your chances of being hired.
Let us help you build
your Resume!
Make your resume more organized and attractive with our Resume Builder