Organists are a unique type of musician whose skills and experience are special and require a unique resume to properly reflect their qualifications. Writing an organist resume can be intimidating, and there is an art to creating an effective document that communicates your talent and experience. This guide will provide an overview of the components of an organist resume and provide example resumes to act as a reference. Whether you're a classical organist or a contemporary rock organist, this guide will help you create an organist resume that will get you noticed.
If you didn't find what you were looking for, be sure to check out our complete library of resume examples.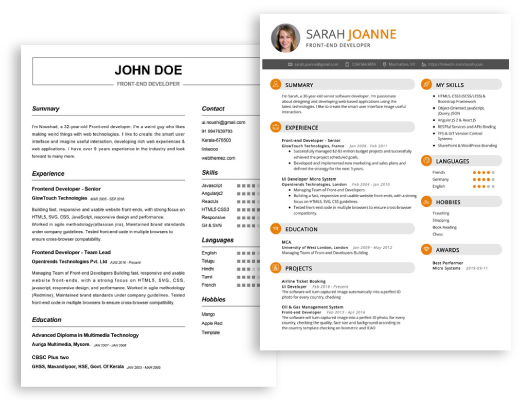 Start building your dream career today!
Create your professional resume in just 5 minutes with our easy-to-use resume builder!
Organist Resume Examples
John Doe
Organist
123 Main Street | Anytown, USA 99999 | Phone: (123) 456-7890 | Email: john.doe@email.com
I have an exemplary track record as an Organist, with over 10 years of experience in playing the organ and providing accompaniment for church services, concerts, and other celebratory events. I am a skilled musician with a passion for creating beautiful music. I have a great ear for music and am very familiar with a variety of musical genres and styles. I am also proficient in music theory and composition. With my strong organizational and interpersonal skills, I am confident I can provide a professional and enjoyable musical experience for all audiences.
Core Skills:
Excellent organ playing skills
Proficiency in music theory
Composition and arrangement
Knowledge of a variety of musical genres
Excellent organizational and interpersonal skills
Ability to work independently or as part of a team
Professional Experience:
Organist at Church of Our Lady of the Sacred Heart, San Antonio, TX, 2017- present
Play organ accompaniment for weekly mass, weddings, and special services
Provide music arrangement and composition when needed
Organist at St. Francis of Assisi Catholic Church, Houston, TX, 2012- 2017
Play organ accompaniment for weekly mass, weddings, and special services
Part of the church choir and was often asked to lead
Organist at St. Mark United Methodist Church, Austin, TX, 2009- 2012
Play organ accompaniment for weekly mass and special services
Assist in selecting a repertoire of appropriate songs for special services
Education:
Bachelor of Music, Organ Performance, University of Texas, 2009
Associates of Music, Organ Performance, Austin Community College, 2006
Organist Resume with No Experience
Recent Music Performance graduate with a passion for the organ and an enthusiasm for music. A hardworking and dedicated individual, looking to develop and hone my musical and organizational skills as an organist.
Skills:
Strong musical background in classical and contemporary music
Proficient in Microsoft Office and other music software
Excellent organizational and problem- solving skills
Ability to read and interpret musical notation
Excellent interpersonal and communication skills
Responsibilities:
Ensure that all music is delivered in a timely and professional manner
Organize and prepare music for performance
Assist in the preparation and maintenance of the music library
Provide support for church activities and events
Collaborate with other music staff to ensure excellent performances
Provide assistance in recruiting and training new organists
Organist Resume with 2 Years of Experience
Organist with over two years of experience playing for church services, weddings, and other special events. Highly proficient in leading worship and connecting with congregations of all sizes through skillful performance on the organ. Possesses a passion for music and strives to use it as a tool to bring people closer to God.
Core Skills:
Excellent command of organ playing
Ability to play music of various genres
Capable of sight- reading
Experience with accompanying choirs and soloists
Proficient in leading worship and connecting with audience
Responsibilities:
Provide organ music for church services, weddings, and special events
Accompany choirs and soloists
Select appropriate music to fit the occasion
Teach music classes and provide private lessons as needed
Train and lead church organists and other musicians
Provide musical instruction for musical ministries and special projects
Maintain and repair organs as needed
Organist Resume with 5 Years of Experience
A professional organist with 5 years of experience in playing the organ for a variety of events and services. I have a passion for performing music and leading worship for people of all ages. My expertise lies in music selection, interpretation of hymns, and technical skills. I am well- versed in all aspects of organ playing and have experience in programming, sound engineering, and editing music files. I am a highly motivated and dedicated individual with excellent communication and organizational skills.
Core Skills:
Proficient in playing the organ
Sound engineering
Music selection
Edit music files
Interpretation of hymns
Programming
Communication
Organizational
Responsibilities:
Accurately playing music for services and special events
Leading worship
Rehearsing and performing music for services
Collaborating with church staff to ensure a smooth worship experience
Assisting with sound engineering for live services or recordings
Programming music files for special services or events
Preparing music files for rehearsals or performances
Troubleshooting any issues related to the organ or other sound equipment
Ensuring that all technical details are taken care of
Finding ways to enhance the musical experience for church members
Recording and editing musical tracks for use in services or recordings
Organist Resume with 7 Years of Experience
Organist with 7 years of experience in leading congregations in music and worship. Expertise in a wide variety of styles, including traditional and contemporary, as well as improvisation and composition. Skilled in both keyboard and pipe organ performance. Strong ability to lead rehearsals and instruct choirs. Possesses a good ear and an excellent understanding of music theory.
Core Skills:
Organ Performance
Choral Direction
Music Theory
Improvisation
Composition
Rehearsal Direction
Leadership
Responsibilities:
Lead congregations in traditional and contemporary worship
Perform keyboard and pipe organ music
Direct vocal and instrumental choirs
Compose and arrange music
Instruct choirs and ensembles
Conduct rehearsals
Provide musical support during worship services
Emcee special services and programs
Organist Resume with 10 Years of Experience
Organist with 10+ years of experience playing a variety of instruments in churches, churches, and other religious institutions. Possesses exceptional ability to coordinate hymns and prayers, use multiple instruments, and play during special services. Skilled in directing choirs and ensembles, providing accompaniment to vocalists, and creating a beautiful atmosphere. Fully knowledgeable in music theory, sight- reading, and improvisation techniques.
Core Skills:
Advanced knowledge of music theory
Excellent sight- reading skills
Proficient in using multiple instruments
Ability to coordinate hymns and prayers
Ability to direct choirs and ensembles
Ability to provide accompaniment to vocalists
Excellent improvisation techniques
Remarkable ability to create a beautiful atmosphere
Responsibilities:
Playing a variety of instruments in churches, churches, and other religious institutions
Organizing special services
Leading choirs and ensembles
Providing accompaniment to vocalists
Organizing hymns and prayers
Teaching music theory
Conducting choirs and ensembles
Creating musical pieces for special services
Improvisation techniques
Developing musical pieces during services
Leading worship services
Write Resume…
Organist Resume with 15 Years of Experience
A highly motivated and organized Organist with 15 years of experience in providing worship music services to various settings. Proficient in playing hymns, traditional/classical, and contemporary styles of music. Possesses a strong knowledge of liturgy and liturgical music, as well as the ability to collaborate and coordinate with clergy, choirs, and other musicians. Excellent communication, interpersonal, and problem- solving skills.
Core Skills:
Proficiency in playing traditional and contemporary styles of music
Knowledge of liturgy and liturgical music
Excellent interpersonal and communication skills
Knowledge of music theory
Ability to collaborate with musicians and clergy
Proficiency in a variety of instruments
Responsibilities:
Planning and leading worship music services
Organizing music for special services
Collaborating with choirs, clergy, and other musicians
Selecting appropriate music for services
Ensuring the quality of music performance
Teaching music to choirs and other musicians
Planning and conducting rehearsals with choirs and other musicians
Organizing and maintaining music libraries
Assisting in the training of other music staff
Developing and implementing special music programming
Troubleshooting and resolving musical problems
Providing guidance and support to other musicians
In addition to this, be sure to check out our resume templates, resume formats, cover letter examples, job description, and career advice pages for more helpful tips and advice.
What should be included in a Organist resume?
Organists are responsible for providing musical accompaniment for religious services, ceremonies, and other events. To help you get noticed by potential employers, it is important to create a comprehensive and effective resume. Here are some tips for creating a strong organist resume:
Include a professional summary: Summarize your qualifications and experience by highlighting your main skills and areas of expertise.
Include your educational background: Include any degrees or certificates you have earned related to organ playing.
List experience: Include relevant experience such as churches and venues you have performed at, musical organizations you have been a part of, and any awards or recognitions you have received.
Specify repertoire: Provide a list of works you have performed on the organ.
Describe your technical skills: List any technical skills related to organ playing, such as pedal technique, transposing skills, voicings, improvisation, and sight-reading abilities.
Include any other skills: Include any other skills that may be beneficial for the position, such as teaching, conducting, arranging, or accompanying.
Provide references: List references from current or former employers or music teachers.
Creating a comprehensive and effective organist resume will help you get noticed by potential employers. By including the information mentioned above, you can ensure your resume stands out in the crowd.
What is a good summary for a Organist resume?
A good summary for an Organist resume should include your most relevant qualifications and experience related to the job. This could include details of relevant instrumental performances or recitals, work as a church or concert organist, teaching experience, or knowledge of music theory. It should also include information about the type and model of the organ you are proficient in playing and any awards or accolades you have received for your performances. Additionally, include any special skills or certifications related to the job, such as sound engineering or computer-based music composition. Finally, provide a brief overview of your professional and/or academic background and any other related experience that is pertinent to the job. A strong and concise organist resume summary will demonstrate your unique qualifications and highlight why you are the right person for the job.
What is a good objective for a Organist resume?
A church organist has the important job of leading and inspiring the congregation through music during worship. When writing a resume for this role, a good objective should highlight the relevant experience and skills you bring to the job.
Below are some tips for writing a great objective for an organist resume:
Emphasize your musical abilities: Make sure to emphasize your abilities as a musician, such as your ability to read music, proficiency in multiple instruments, and knowledge of different genres of music.
Demonstrate your ability to lead: Showcase your ability to lead, inspire, and motivate a congregation through music. Include any experience leading a choir or other music groups in your objective.
Mention your experience: If you have any experience working in a church setting, make sure to mention it. Include any relevant experience working with a church organ, playing for services, and collaborating with other church staff.
Highlight your organizational skills: As a church organist, you will need to be organized and able to manage a large workload. Demonstrate your organizational skills by mentioning your ability to plan services and events, keep track of music, and coordinate with other church staff.
By emphasizing your relevant experience and skills, you can create an objective for your organist resume that will highlight your qualifications and make you an attractive candidate for the job.
How do you list Organist skills on a resume?
When you're applying for an organist position, it is important to showcase your knowledge and experience with the instrument on your resume. To make your qualifications stand out, list your organist skills in a dedicated section of your resume. This section should include both your technical skills as well as your knowledge of various genres and styles.
Use the following tips to list your organist skills on your resume:
Write a distinct section titled "Organist Skills" and place it near the top of your resume.
Include your technical skills such as sight-reading and improvisation.
Mention any special abilities beyond playing the organ such as conducting and arranging music.
Highlight any concert hall, church, or other venues you have performed in.
List any instruments you play in addition to the organ.
Describe your knowledge of various music genres, such as classical, jazz, or rock.
Include any awards or honors you have received related to your organist skills.
By taking the time to list your organist skills on your resume, you will be better prepared to impress potential employers and land meaningful job opportunities.
What skills should I put on my resume for Organist?
Writing a resume for an organist position can be intimidating, especially if you're just starting out in the field. As an organist, you'll need to have a wide range of skills to perform in different venues. From knowledge of chords and scales to the ability to sight read and transpose music, you'll need to demonstrate a comprehensive set of skills to be successful. Here are some key skills you should include on your resume:
Knowledge of music theory: Organists should have a solid understanding of music theory and be able to read music notation. This includes knowledge of notes, chords, scales, and rhythms.
Experience playing the organ: The main requirement for an organist position is experience playing the organ, so if you've had the opportunity to play in the past, make sure to include it on your resume.
Ability to sight read: Being able to quickly and accurately sight read music is an important skill for organists. This includes being able to read music quickly and accurately, as well as transpose music on the fly.
Skills in improvisation: Organists should have a good understanding of various musical styles and be able to improvise in any style.
Familiarity with different keyboard instruments: As an organist, you should be familiar with a variety of keyboard instruments and be able to play them with proficiency.
Comfortable with technology: Modern organs are often equipped with a variety of electronic components and computer technology. Being able to use these tools efficiently will help you stand out from the crowd.
By including these skills on your resume, you'll be able to demonstrate to employers that you're a well-rounded and experienced organist. Good luck!
Key takeaways for an Organist resume
Organists are a vital part of the religious music industry, and their resumes need to reflect their experience. A well-written resume can be the difference between a successful career as an organist or one filled with disappointments. Here are a few key takeaways for crafting a successful organist resume:
Include any technical abilities you have. As an organist, you will need to be comfortable with a variety of technical skills such as playing the organ, tuning it, and repairing it if necessary. Make sure to include these skills on your resume.
Emphasize any relevant music education you have. Whether you have gone to college for music or taken private lessons, make sure to mention this on your resume.
Highlight any performances or recordings you have made. If you have performed in any churches or musical venues or recorded any music, make sure to include this on your resume. This is a great way to demonstrate your experience and abilities.
Explain any experience you have with church music. If you have experience leading choirs, organizing music for services, or playing music for special occasions, make sure to include this on your resume. This will show potential employers that you are familiar with the types of duties they may need you to perform.
Demonstrate your commitment. Show potential employers that you are serious about your career by listing any awards or recognition you have received, any special training you have done, or any special events or performances you have been involved in.
By following these key takeaways, you can craft a successful resume that will make you stand out from the competition and get you the job you desire.
Let us help you build
your Resume!
Make your resume more organized and attractive with our Resume Builder