Writing a resume can be a daunting task for anyone, particularly for opera singers. After all, your singing skills and accomplishments have to be articulated in such a way as to stand out from other singers. The good news is that there are tips and tricks to make sure your resume stands out and captures a potential employer's attention. This guide will provide advice on how to write the most effective opera singer resume, and provide you with some examples to get you started.
If you didn't find what you were looking for, be sure to check out our complete library of resume examples.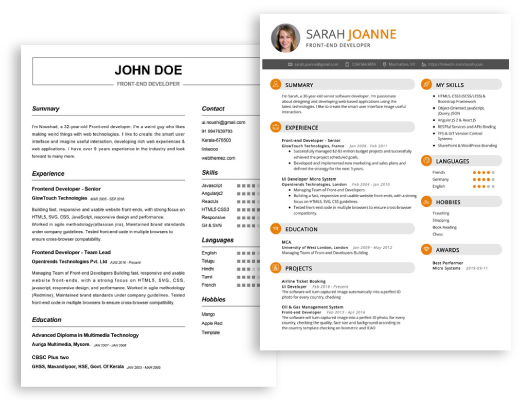 Start building your dream career today!
Create your professional resume in just 5 minutes with our easy-to-use resume builder!
Opera Singer Resume Examples
John Doe
Opera Singer
123 Main Street | Anytown, USA 99999 | Phone: (123) 456-7890 | Email: john.doe@email.com
I am an experienced opera singer with a passion for music and the arts. I have performed in several operas and concerts throughout my career and have the ability to captivate and engage audiences. I have excellent vocal control, range and articulation, along with strong sight reading and musical interpretation skills. I am known for my commitment and dedication to the art form and enjoy working with others in a professional setting.
Core Skills:
Vocal Performance
Sight Reading
Musical Interpretation
Articulation
Range
Vocal Control
Involvement in Opera and Concerts
Working with a Team
Professional Experience:
Opera Singer, 2018 – Present
Perform in various operas and concerts
Rehearse and practice pieces to develop and improve singing
Sight read music and interpret musical pieces
Engage and captivate audiences
Education:
Bachelors of Music – Opera Performance, 2017
University of California, Berkeley
Opera Singer Resume with No Experience
Talented and passionate opera singer with a desire to excel in the music industry
Excellent vocal range and ability to create beautiful harmonies
Strong sense of musicality and skilled in the interpretation of a wide variety of musical styles
Flexible and able to adapt to any situation that may arise
SKILLS
Vocals: Expert in singing a wide variety of musical styles
Musicality: Possess a strong sense of musicality and can easily interpret musical scores
Performance: Experienced on stage and able to engage and captivate an audience
Rehearsal: Skilled in rehearsing and preparing for performances
Responsibilities
Vocal warm- ups: Perform vocal exercises and warm- ups to prepare for performances
Practice: Rehearse songs and practice singing regularly
Performance: Engage and captivate an audience with powerful singing
Teamwork: Work closely with other musicians to ensure a successful performance
Opera Singer Resume with 2 Years of Experience
An accomplished Opera Singer with two years of experience in the field. Having experience in classical and contemporary musicals, I have the ability to perform a wide range of musical styles. I am well versed in stage direction and musical interpretation and possess an excellent vocal range. I also have a good understanding of the history of opera and the opera house. I am committed to delivering the highest standards of performance in every performance.
Core Skills:
Exceptional vocal range
Excellent understanding of Opera and Music Theory
Strong stage presence
Ability to interpret and deliver a wide range of musical styles
Proven ability to work in a team environment
Proficient in sight- reading music
Responsibilities:
Perform in a variety of Opera and Musical productions
Practice and prepare for performances
Deliver high quality performance in every performance
Coordinate with other performers and production crew
Uphold the highest standards of performance
Maintain an understanding of Opera and Music Theory
Opera Singer Resume with 5 Years of Experience
Talented, versatile and passionate opera singer with over 5 years of experience in performing a wide repertoire of classical, opera and musical theatre pieces. Possess a wide vocal range, excellent stage presence, excellent communication skills and a vast knowledge of the opera and musical theatre genres. Posses the ability to learn new pieces quickly and to bring life to any character.
Core Skills:
Vast vocal range
Excellent stage presence
Excellent communication skills
Ability to learn new pieces quickly
Ability to bring life to any character
Ability to work collaboratively
Excellent sight- reading skills
Knowledge of Italian, French, German and Spanish
Responsibilities:
Preparing for performances by memorizing and rehearsing musical scores
Performing classical and opera pieces in front of live audiences
Collaborating with musical directors, choreographers and other production personnel
Interpreting musical scores accurately and sensitively
Developing new vocal techniques and styles
Auditioning for new roles and venues
Maintaining comprehensive knowledge of current and upcoming operas
Mentoring and instructing students in singing and vocal technique
Opera Singer Resume with 7 Years of Experience
A highly experienced opera singer with 7 years of professional experience performing in a variety of settings, from acapella concerts to full operatic productions. Possesses a wide range of vocal abilities, including dramatic and lyrical singing as well as improvisation and a wide range of musical styles. Proven ability to learn and perform new pieces in a short amount of time. Excellent stage presence, with an understanding of the audience and ability to engage them.
Core Skills:
Vocal Performance
Musical Interpretation
Improvisation
Stage Presence
Music Theory
Performance Preparation
Repertoire Memorization
Responsibilities:
Perform a wide range of vocal pieces, including operas, arias, duets, and other vocal music
Read, comprehend, and interpret complex musical notation
Train and prepare for performances, including memorizing complex pieces
Interpret and portray characters in operatic works
Engage with the audience and create a captivating performance
Rehearse and practice with other vocalists in order to achieve a cohesive sound
Collaborate with other performers in order to create the best possible performance
Opera Singer Resume with 10 Years of Experience
I am an experienced Opera Singer with 10 years of professional experience in performing and creating music. I specialize in lyric soprano and have extensive experience in creating both new and traditional opera pieces. I have a passion for performing and the technical capabilities to make singing a truly powerful experience. I am a master of musical expression, vocal production, and interpretation of emotions through singing. My strong attention to detail and precise approach to musical interpretation has enabled me to create compelling performances with detailed accuracy.
Core Skills:
Vocal Production
Musical Expression
Interpretation of Emotions
Detailed Accuracy
Lyric Soprano
Technical Evaluations
Musical Interpretation
Creative Writing
Performance Delivery
Repertoire Development
Responsibilities:
Developing and performing both traditional and new operatic pieces
Performing musical pieces with exceptional accuracy, expression, and emotion
Leading rehearsals and providing feedback to cast members
Crafting creative and compelling stories to express a libretto's intended purpose
Working with music directors and performing a range of musical pieces
Coordinating and collaborating with other members of the production
Conducting vocal warmups and vocal exercises prior to performances
Maintaining vocal health and practicing healthy singing habits
Auditioning for roles and maintaining a high standard of performance
Developing and maintaining a repertoire of operatic pieces
Developing effective strategies for memorizing and interpreting music
Opera Singer Resume with 15 Years of Experience
Dynamic and experienced opera singer with 15 years of performance experience, ranging from local theatrical productions to international tours. Possess excellent vocal range and ability to bring emotion and expression to diverse operatic works. Proven ability to bring audiences to their feet with emotionally captivating performances. Possess strong organizational skills, and a passion for teaching music and performance.
Core Skills:
Vocal Performance
Interpretation & Expression
Musical Fluency
Rehearsal & Practice
Stage Presence
Audience Engagement
Responsibilities:
Prepare for performances by learning and rehearsing the necessary music and lines.
Develop and practice vocal techniques to enhance performance quality.
Ensure safe and efficient set up of sound systems, props, and other equipment as needed.
Engage audiences with emotive and compelling performances.
Collaborate with conductors and director to ensure rehearsals and performances run smoothly.
Teach music and performance to students of all ages and skill levels.
Organize and lead group practice sessions.
Communicate with music directors and accompanists to ensure flawless synchronization of music and vocals.
Ensure propriety of performance material in accordance with copyright laws.
In addition to this, be sure to check out our resume templates, resume formats, cover letter examples, job description, and career advice pages for more helpful tips and advice.
What should be included in a Opera Singer resume?
A resume for an opera singer should highlight their vocal training and performance experience to demonstrate their musical talent to potential employers. When crafting the resume, the singer should ensure to include the following:
Contact information: including name, address, phone number and email address
Professional experience: a list of previous performances, recordings, and voice lessons, as well as any awards or accolades achieved
Education: school, conservatory, or other vocal training
Technical proficiencies: music notation software, audio equipment, instruments, etc.
Repertoire: a list of songs and arias the singer is comfortable performing
Language fluency: if the singer is bilingual and able to perform in multiple languages
Professional references: contacts and music teachers who can vouch for the opera singer's talent and experience
What is a good summary for a Opera Singer resume?
A good summary for an opera singer resume should highlight the singer's key skills, talents, and experience. It should demonstrate their vocal range, experience in performing a variety of operatic styles, and their ability to work in a collaborative and creative environment. Additionally, it should provide a brief overview of their training and academic background, including vocal coaching and other performance-related courses taken. The summary should also mention any notable performances the singer has given, as well as any awards or recognitions they have received. Finally, it should show the singer's commitment to their chosen craft, and illustrate the dedication and passion they have for opera.
What is a good objective for a Opera Singer resume?
A good objective for an Opera Singer resume should clearly outline the singer's unique talents and experiences, as well as his or her goals. A well-crafted objective can help set the tone of the resume and help hiring managers understand why the singer is a great fit for the role. When crafting an objective for an Opera Singer resume, the following points should be considered:
Demonstrate your expertise in the opera genre, including knowledge of various styles and techniques
Highlight your vocal range and ability to perform in different languages
Showcase any awards or accolades you have received for your singing
Mention any performances or recordings you have done, as well as any professional organizations or societies you are a member of
Express your desire to contribute to the success of the company you are applying to
Demonstrate your commitment to the art of opera and your enthusiasm for singing.
By emphasizing these points, a singer can create an objective for their resume that will help him or her stand out from the crowd and make a strong impression on potential employers.
How do you list Opera Singer skills on a resume?
When creating a resume for an opera singer, it is important to include a section detailing your skills and abilities. Below is a list of skills that should be included:
Vocal Range and Tone Quality: Demonstrate a strong vocal range and a well-developed tone quality.
Musicality: Demonstrate an understanding of musical terminology and musical notation.
Acting & Movement: Demonstrate ability to follow direction, as well as ability to act and move naturally.
Sight-Reading: Demonstrate ability to read and comprehend music quickly and accurately.
Languages: Demonstrate fluency in any foreign language that may be needed for a particular role.
Collaboration: Demonstrate the ability to work with a team, including conductors, directors, and other performers.
Professionalism: Demonstrate a high level of professionalism and respect for others in the industry.
Stamina: Demonstrate a high level of physical and vocal stamina to sustain long performances.
By including these skills on your resume, you can show potential employers that you have the necessary skills and abilities required for an opera singer.
What skills should I put on my resume for Opera Singer?
Having the right skills on your resume as an opera singer can make a big difference in your career. Your resume should demonstrate your vocal skills as well as your collaboration and communication abilities. Here are some key skills to consider including on your resume:
Experience with a wide range of vocal styles: As an opera singer, it's important to be able to demonstrate a variety of vocal techniques. This could include operatic, musical theater, and classical singing styles.
Proficiency in many languages: Opera singers often need to be able to sing in multiple languages. Being able to read and understand a foreign language is also important, as opera often requires singing of foreign works.
Musicianship and performance skills: Opera singers need to be able to read and understand music, as well as have the ability to interpret it and perform it confidently on stage.
Collaboration experience: Working with other singers, conductors, and instrumentalists is an important part of opera singing. You should be able to work as part of a team and show your ability to collaborate on a project.
Public speaking skills: As an opera singer, you'll need to be comfortable with performing in front of an audience. Being able to speak clearly and confidently about your work is important.
These are the key skills to include on your resume as an opera singer. Highlighting these abilities will help you stand out from the crowd and make a great impression on potential employers.
Key takeaways for an Opera Singer resume
Opera is a demanding performing art that requires both vocal ability and theatrical skill. If you are an opera singer, you will need to have a resume and portfolio to showcase your talent and experience. Here are a few key points to keep in mind when creating your opera singer resume:
Highlight your technical singing skills. Your vocal technique and range are an essential part of your resume. Make sure to list any special training you have taken, and any awards or recognition you have received for your singing talents.
Showcase your repertoire. Opera singing requires a wide range of repertoire knowledge. Make sure to include a list of pieces you have performed and any roles you have taken on in past productions.
List your experience. Include any formal training or performance experience you have. If you have performed in any major productions, make sure to list the name of the production and any notable roles you have taken on.
Add a headshot. A professional headshot or performance shot can help potential employers get a better idea of what you look like and your talent potential.
Proofread. Make sure your resume is free of errors. This is essential for any professional document and will show potential employers that you take your work seriously.
By following these simple tips, you can create an effective resume that will help you get noticed by potential employers. Good luck!
Let us help you build
your Resume!
Make your resume more organized and attractive with our Resume Builder