Writing a resume for a mobile DJ job can be a challenging task. Mobile DJs need to be organized, reliable and possess the technical skills to operate a range of sound and lighting equipment. Not only do they need to know how to mix and blend music, they need to have a deep knowledge of the music industry and know how to work well with diverse groups of people. In this blog post, we will provide a step-by-step guide on how to write a resume that will help you stand out from the crowd. We'll also provide some resume examples to help you get started.
If you didn't find what you were looking for, be sure to check out our complete library of resume examples.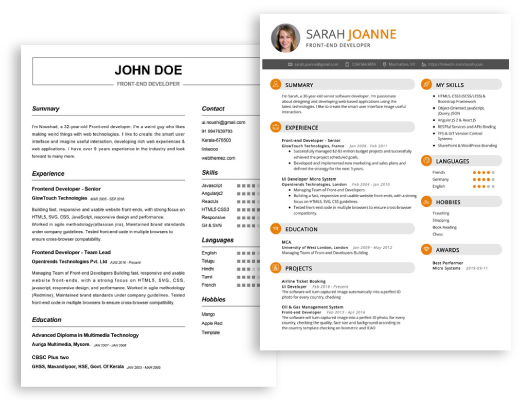 Start building your dream career today!
Create your professional resume in just 5 minutes with our easy-to-use resume builder!
Mobile Dj Resume Examples
John Doe
Mobile Dj
123 Main Street | Anytown, USA 99999 | Phone: (123) 456-7890 | Email: john.doe@email.com
A highly motivated and organized Mobile DJ with 10+ years of professional experience. Seeking to use my exceptional music production, technical, and interpersonal skills to provide an unforgettable entertainment experience for audiences. A proven track record of delivering high- quality sound and keeping audiences engaged and entertained.
Core Skills:
Expert music production and mixing
Advanced technical knowledge of audio equipment
Interpersonal and customer service
DJ software, including Serato and Traktor
Music curation, including genres such as EDM, Hip Hop, and Reggae
Creative problem- solving
Professional Experience:
Mobile DJ, Various Venues, 2017- Present
Track selection, mixing and blend of music genres
Set up, test and troubleshoot audio- visual equipment
Engage audiences and create lasting impressions
Perform private events such as weddings, birthdays, and corporate events
Provide exceptional customer service
Education:
Bachelor of Science in Music Technology, 2017
University of Music and Technology, Los Angeles, CA
Mobile Dj Resume with No Experience
Recent college graduate with a passion for music and a desire to enter the mobile DJ industry. Possesses excellent communication skills and a knack for working in a fast- paced environment. Highly motivated and eager to learn the necessary skills to succeed in the Mobile DJ industry.
Skills
Organizational skills
Time Management
Excellent Communication Skills
Attention to Detail
Creativity
Public Speaking
Knowledge of Music History
Responsibilities
Set up and break down of audio and lighting equipment
Keep up to date with new music trends and technologies
Provide an entertaining and interactive experience for clients
Work with clients to create a unique experience based on their needs
Maintain professional appearance
Stay organized while working in multiple locations
Mobile Dj Resume with 2 Years of Experience
Motivated and hardworking Mobile DJ with 2 years of experience in providing entertainment for a variety of events. Experienced in setting up and operating sound systems, providing music and entertainment for diverse audiences. Possesses excellent customer service skills and the ability to read a crowd. Seeking a Mobile DJ position utilizing my music knowledge, technical expertise, and passion for entertaining.
Core Skills:
Ability to read and anticipate crowd's needs
Proficient in various music genres
Sound system set up and operation
Excellent customer service skills
Flexibility to work a variety of events
Collaboration with event planners
DJing using turntables and digital sound equipment
Responsibilities:
Set up and operate sound equipment including microphone and speakers
Cue up music tracks, launch effects, and ensure sound quality
Provide appropriate music and entertainment for diverse audiences
Interact with audience members to ensure enjoyment and satisfaction
Select and transition between music tracks to maintain a steady flow of music
Collaborate with event planners to create an atmosphere that meets client's needs
Answer questions and provide recommendations regarding music selection
Maintain a professional image and respect the venue's rules and regulations
Ensure equipment is properly stored and secured
Mobile Dj Resume with 5 Years of Experience
A highly experienced and professional Mobile DJ with 5 years of experience in setting up and running entertainment systems at public and private events. Skilled in creating an exciting atmosphere through the use of music and audio- visuals, and providing technical and customer service support throughout the event. A creative and organized professional who takes pride in finding the right music to match the event and creating the best possible music experience for their guests.
Core Skills:
Music selection and mixing
Audio- visuals
Technical support
Customer service
Event planning
Problem- solving
Public speaking
Responsibilities:
Set up and operate sound systems for events
Provide technical and customer service support during events
Work with event planners to ensure smooth operations
Select and mix music to create a fun and entertaining atmosphere
Create audio- visuals to fit the event
Troubleshoot any technical issues that arise
Engage with guests and ensure their satisfaction
Adapt to the event and adjust music selection and audio- visuals accordingly
Coordinate with other entertainers to ensure everything runs smoothly
Clean up and disassemble equipment after the event is over.
Mobile Dj Resume with 7 Years of Experience
A professional and experienced disc jockey with 7 years of experience in the Mobile DJ industry. Expert in creating a unique and entertaining ambiance. Adept at reading the crowd, playing the right music and creating enjoyable experiences to ensure guests have an unforgettable night. Possesses strong knowledge of music history and the latest technological trends.
Core Skills:
On- site production skills
Music mixing capabilities
Lighting system set up and maintenance
Experienced in playing all types of genres
Quality assurance and troubleshooting
Creative event planning
Excellent communication and customer service skills
Responsibilities:
Set up and break down sound, lighting and video equipment
Provide clear and concise instruction to other technicians
Ensure that all equipment is working properly
Interact with customers to understand their preferences
Generate and play music at high volume to create desired ambience
Control the sound system and make adjustments to volume as needed
Monitor the crowd to ensure guests are enjoying the music
Maintain a safe and secure working environment
Remain aware of all relevant safety regulations and procedures
Mobile Dj Resume with 10 Years of Experience
I am a highly experienced Mobile DJ with over 10 years of experience in the role. I have a passion for music and am able to read and respond to crowds quickly and effectively. I pride myself on being able to provide an upbeat and engaging atmosphere while playing the best party music. My experience also includes event planning, production, and entertainment. I am able to set up, tear down, and run any audio- visual equipment needed to ensure a successful event.
Core Skills:
DJing
Event Planning
Production
Audio & Visual Equipment
Sound & Lighting
Music Selection
Music Mixing
Event Hosting
Responsibilities:
Set up and tear down audio- visual equipment
Program and operate sound & lighting equipment
Prepare music for events
Play selected music for events
Engage with the crowd and read their responses
Monitor music and sound levels throughout events
Work with event planners to ensure music and entertainment meets their expectations
Provide a clean and professional appearance at all times
Maintain up- to- date knowledge of music industry trends and news
Mobile Dj Resume with 15 Years of Experience
With fifteen years of experience as a mobile DJ, I have the necessary experience and skills to provide quality services and entertainment to all my clients. I specialize in mixing, blending and creating unique music mixes, as well as providing sound and light equipment for events. I have excellent customer service skills, enabling me to ensure that each event runs smoothly and successfully. I take great pride in my work and am passionate about providing a memorable experience for every client.
Core Skills:
Mixing
Blending
Music Creation
Sound & Light Equipment
Customer Service
Event Planning & Coordination
Responsibilities:
Identify client needs and create a music selection that reflects their style and the occasion
Mix, blend and create unique music mixes to match each event
Provide sound and lighting equipment for events and ensure it is properly setup and maintained
Coordinate and plan events, including setting up and tearing down equipment
Greet guests and ensure everyone is having a great time
Provide excellent customer service and answer any questions guests may have
Maintain records of events and customer feedback to ensure customer satisfaction.
In addition to this, be sure to check out our resume templates, resume formats, cover letter examples, job description, and career advice pages for more helpful tips and advice.
What should be included in a Mobile Dj resume?
A Mobile DJ resume should include key information about your skills, experience, and accomplishments. It should also be tailored to the specific role you're applying for. As a Mobile DJ, your resume should emphasize your knowledge of music, the equipment you're comfortable using, and your ability to interact with people. Here are some things to include in your Mobile DJ resume:
Professional summary: A concise paragraph or two that summarizes your experience, skills, and qualifications.
Technical skills: List any equipment you're familiar with, software you use, and other technical skills you possess.
DJ experience: Include a description of any existing DJ gigs or projects you've worked on.
Music knowledge: List any genres of music you're familiar with, any special skills you have, such as beatmatching or scratching, and any musical awards or recognition you've received.
Venue experience: List any venues you've worked in before and any feedback you've received from clients.
Customer service skills: Include any customer service experience you have, such as working in a retail store or restaurant.
Performance history: List any performances you have done, such as open mics, parties, or clubs.
Education: Include any relevant education or certifications you have.
By including the right information in your resume, you'll be able to show potential employers that you're the perfect candidate for the Mobile DJ job.
What is a good summary for a Mobile Dj resume?
A Mobile DJ resume should succinctly summarize a DJ's experience, skills and qualifications for performing as a mobile DJ. It should also demonstrate an understanding of current trends in music and the ability to work with a large variety of genres.
The summary should list the DJ's years of experience, the types of events they have performed at, the equipment they are familiar with and the types of music they specialize in. It should also include any qualifications, such as a certificate in sound engineering or a degree in music.
The summary should also include any awards or recognition the DJ has received and any special skills they may have, such as the ability to work with a wide variety of music software, or a skill in mixing and DJing. Finally, it should showcase their ability to work well with a variety of clients and create a unique and entertaining atmosphere for all events.
What is a good objective for a Mobile Dj resume?
A mobile DJ is a professional entertainer who provides music, sound and related services for events, parties, and other gatherings. Having an effective objective statement is essential to stand out amongst other candidates when applying to be a mobile DJ. Here are some tips to consider when crafting a great objective for your mobile DJ resume.
Highlight your experience and skills: An effective objective should include any relevant experience and qualifications you have, such as prior DJ experience, knowledge of music genres, customer service skills, and technical knowledge.
Explain your goals: A great mobile DJ resume objective will also explain your goals and what you hope to accomplish as a mobile DJ. Are you looking to develop your skills further? Are you interested in playing different venues? Make sure to mention what makes you stand out from other applicants.
Showcase your enthusiasm: The best mobile DJ resumes are those that demonstrate a passionate enthusiasm for the role. Showcase this enthusiasm in your objective by expressing your excitement to get the job and your dedication to providing the best music and entertainment services possible.
By crafting an effective objective for your mobile DJ resume, you can make sure you stand out from the crowd and have a better chance of getting the job. Follow the tips above to help create a great objective and make sure your resume is as impactful as possible.
How do you list Mobile Dj skills on a resume?
A Mobile DJ is a professional who mixes music, creates a party atmosphere, and provides high-quality sound for events. When listing Mobile DJ skills on your resume, you should include key skills that show your experience and knowledge of the DJ industry. Here are some examples of the skills you may want to list:
Music Mixing: Demonstrate your expertise in mixing music, such as blending different songs without pauses and transitioning between genres.
Equipment Operation: Show that you can operate a range of DJ equipment, from mixers to turntables to lighting systems.
Event Planning: Show that you are able to plan and organize events, such as overseeing venue setup and managing sound and lighting.
Customer Service: Show that you have excellent customer service skills, such as engaging with guests and responding to requests.
Creativity: Show that you have the ability to create unique and engaging events, such as selecting the right music and developing creative setlists.
Multitasking: Demonstrate that you have the ability to handle multiple tasks at once, such as monitoring sound levels and interacting with guests.
By showing potential employers that you have the necessary skills and experience to be a successful Mobile DJ, you'll increase the chances of getting hired. Make sure to list any relevant courses you've taken or certifications you've received that can show you have the skills necessary for the job.
What skills should I put on my resume for Mobile Dj?
As a Mobile DJ, you need to be able to entertain crowds, set up equipment, and manage the music for events. Your resume should reflect the skills required to do this effectively. Here are some key skills you should include on your resume:
Audio Engineering: You will need to be able to mix, edit, and master audio for events.
Music Knowledge: You should have a strong knowledge of various genres of music, and be willing to offer creative ideas for playlists depending on the event or client.
Troubleshooting: You will need to be able to quickly troubleshoot and efficiently fix any technical issues that arise during an event.
Public Speaking: You will need to be comfortable speaking and interacting with guests to ensure the event runs smoothly.
Interpersonal Skills: You will need to be able to effectively communicate with clients to understand their needs.
Organization: You need to be able to stay organized and manage your time efficiently to ensure the event runs on time and to the client's satisfaction.
Equipment Setup: You will need to be able to set up and operate audio equipment, lighting, and other technologies.
Key takeaways for an Mobile Dj resume
If you are a Mobile DJ and need to create a resume, there are certain key takeaways you should keep in mind. A mobile DJ is responsible for setting up and operating audio equipment and playing music at events such as weddings, parties, and conventions. The main objective is to create an enjoyable and engaging atmosphere while providing technical support. Here are some key takeaways for a Mobile DJ resume:
Include your experience and qualifications. Be sure to include your years of experience, types of equipment you are familiar with, and any certifications or training you have completed. This will ensure potential employers know you have the necessary qualifications and experience to perform the job.
Highlight your technical skills. Include any technical skills you have such as working with sound mixing boards and amplifiers, setting up lighting, and troubleshooting. Employers will want to know that you can work with the latest audio equipment and technology.
Reference your event experience. Detail any event experience you have, including the type of event, size of the crowd, and any unique challenges you faced. This will demonstrate your ability to adapt to different situations and provide a more enjoyable experience for guests.
Showcase your professionalism. Mention any professional development courses you have completed or any awards or accolades you have achieved. This will show potential employers that you are committed to improving your skills and staying up-to-date with current industry standards.
Demonstrate your ability to work with others. Include any experience you have working with other DJs, bands, or event staff. This will show that you can work effectively in a team environment and can coordinate with other professionals to create the best experience for guests.
By including these key takeaways in your Mobile DJ resume, you will be better prepared to succeed in the field. With the right qualifications and experience, you can stand out from the rest and create an enjoyable and engaging experience for your guests.
Let us help you build
your Resume!
Make your resume more organized and attractive with our Resume Builder