Writing a resume as an instructor can be daunting. You need to highlight your expertise, skills, and achievements. It may be difficult to adequately convey your professional qualifications and abilities in a single page. This guide will provide you with tips and examples on how to write an effective instructor resume. With the right approach, you can effectively showcase your accomplishments, skills, and potential to potential employers. By the end of this guide, you should have a comprehensive understanding of the different elements of an instructor resume.
If you didn't find what you were looking for, be sure to check out our complete library of resume examples.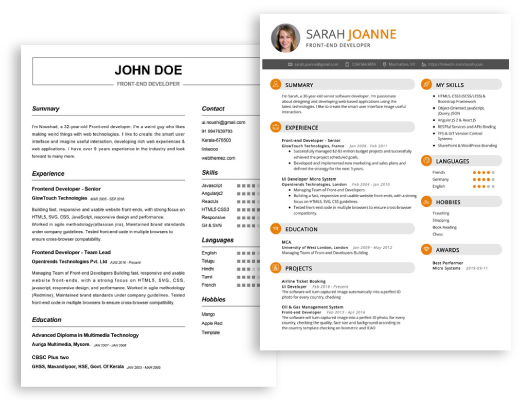 Start building your dream career today!
Create your professional resume in just 5 minutes with our easy-to-use resume builder!
Instructor Resume Examples
John Doe
Instructor
123 Main Street | Anytown, USA 99999 | Phone: (123) 456-7890 | Email: john.doe@email.com
I am an experienced instructor with a proven track record of teaching and developing high- performing students. I have a strong ability to relate to students in a way that allows me to effectively communicate challenging concepts. My experience has enabled me to develop strong classroom management skills and an ability to quickly identify areas of improvement. I am passionate about teaching and believe in creating an environment that encourages learning and development.
Core Skills:
Strong classroom management skills
Ability to communicate complex concepts
Able to quickly identify areas of improvement
Excellent problem- solving skills
Highly organized
Ability to motivate students
Professional Experience:
Instructor, ABC Institute, 2020- Present
Delivered engaging lectures in a range of subject areas
Developed and implemented curriculums for students of all levels
Provided students with feedback and guidance on their work
Collaborated with other instructors to create effective teaching methods
Teacher Aide, XYZ School, 2018- 2020
Assisted classroom teachers with daily lesson plans and activities
Developed and implemented individualized educational plans for students
Monitored student progress and provided appropriate feedback
Collaborated with other teaching staff to create effective teaching methods
Education:
Master of Education, ABC University, 2021
Bachelor of Arts in Education, XYZ University, 2018
Associate of Arts in Education, PQR University, 2016
Instructor Resume with No Experience
Highly motivated recent college graduate with excellent communication skills and a passion for teaching. Seeking to leverage my enthusiasm and knowledge in a teaching role to provide a positive learning experience for students.
Skills:
Excellent written and verbal communication
Strong organizational, problem- solving and time management skills
Proficient in Microsoft Office Suite
Ability to work independently and within a team
Detail- oriented
Passion for teaching and learning
Responsibilites:
Design and implement curriculums to meet student needs and objectives
Monitor student progress and provide individualized assistance
Maintain a safe and equitable learning environment
Create and implement assessments to measure student learning
Conduct parent- teacher meetings and communicate regularly with parents
Provide extra- curricular activities as necessary
Instructor Resume with 2 Years of Experience
I am a highly motivated, results- oriented instructor with over 2 years of experience in teaching and curriculum development. I have an extensive background in working with various age groups and teaching diverse topics. My experience has allowed me to develop strong interpersonal skills, a comprehensive understanding of educational processes, and the ability to motivate and inspire students. I am adept at creating interactive learning experiences which engage students, promote the development of critical thinking skills, and ensure that all students reach their fullest potential.
Core Skills:
Experience in classroom instruction
Excellent communication and organization skills
Proficient in educational technology
Creative problem solving
Knowledge of differentiated instruction
Ability to foster positive relationships
Strong knowledge of teaching methods
Proficient in using Microsoft Office programs
Responsibilities:
Develop and implement curricula for students
Maintain accurate student records
Facilitate student learning through instruction and assessments
Assess student performance and progress
Conduct one- on- one and small group instruction
Create engaging and effective lesson plans
Utilize a variety of instructional techniques to meet the needs of all students
Organize field trips and other off- site activities
Provide guidance and support to students
Collaborate with colleagues to ensure curriculum alignment
Evaluate and track student progress
Instructor Resume with 5 Years of Experience
A hardworking, self- motivated and dedicated individual with 5+ years of experience in teaching and leading groups. Experienced in developing lesson plans to meet specific educational needs and exhibiting knowledge of a wide range of topics. Skilled in building strong relationships with students and parents alike as well as managing and leading a team of educators. Possess a strong ability to remain organized and efficiently manage resources.
Core Skills:
Strong classroom management
Excellent problem solving & critical thinking skills
Curriculum development & implementation
Advanced knowledge of various teaching & learning techniques
Strong communication & interpersonal skills
Ability to motivate & inspire
Ability to create a safe & positive learning environment
Responsibilities:
Developing and implementing comprehensive lesson plans
Effectively managing a classroom of students while maintaining an organized, stimulating learning environment
Instructing students on various topics and fostering critical thinking
Providing individualized attention as needed
Administering assessment tests and grading student work
Organizing field trips and educational activities
Creating and maintaining positive relationships with students and parents
Working collaboratively with other educators to share resources and ideas
Instructor Resume with 7 Years of Experience
I am an experienced instructor with 7 years of experience teaching a variety of courses in the field of education. I have a strong background in curriculum development, lesson planning and classroom management. I have excellent communication and interpersonal skills and am able to effectively engage with students of all ages. I am also capable of working with diverse populations and always strive to provide an engaging and informative learning experience.
Core Skills:
Curriculum Development
Lesson Planning
Classroom Management
Communication
Interpersonal Skills
Problem Solving
Critical Thinking
Responsibilities:
Develop and implement curricula that adhere to established standards
Design lesson plans and activities to meet the needs of all students
Manage student behavior in the classroom
Provide feedback and assessment of student performance
Collaborate with colleagues to ensure effective instruction
Assist students in individual and group projects
Maintain records of student progress and attendance
Organize and host extracurricular activities to enhance learning opportunities
Instructor Resume with 10 Years of Experience
With 10 years of experience in the field of education, I am a passionate and dedicated instructor who is highly regarded for my interpersonal communication skills, ability to connect with students and ability to effectively manage learning environments. I have a strong desire to help students achieve their academic goals and have the patience, creativity and enthusiasm to do so.
Core Skills:
Excellent interpersonal communication
Ability to motivate and encourage students
Strong organizational and planning skills
Proficient in using educational software
Ability to design and implement lesson plans
Demonstrated experience in classroom management
Responsibilities:
Developing innovative lesson plans and activities
Assessing student performance and providing feedback
Monitoring student progress and developing strategies to improve student outcomes
Facilitating class discussions, questioning and note taking
Engaging in professional development activities to maintain and improve teaching skills
Assisting with extra- curricular activities and student events
Instructor Resume with 15 Years of Experience
John Smith is an experienced Instructor specializing in teaching students of all ages. With 15+ years of teaching experience, he is able to impart his knowledge on a variety of subjects in a meaningful and engaging way. His core skills include effective communication, classroom management, and problem- solving. John also has a strong understanding of curriculum design and assessment. He is well- versed in developing and delivering effective instruction to a variety of learners.
Core Skills:
Effective Communication
Classroom Management
Problem- Solving
Curriculum Design
Assessment
Instructional Delivery
Responsibilities:
Developing lesson plans and teaching materials
Implementing instructional strategies to engage students
Assessing student progress and adjusting instruction accordingly
Collaborating with colleagues to ensure consistency of instruction
Communicating regularly with families on student progress
Maintaining a safe learning environment for students
Utilizing technology to enhance instruction and engagement
Training and supervising teaching assistants
Providing guidance and support to students
In addition to this, be sure to check out our resume templates, resume formats, cover letter examples, job description, and career advice pages for more helpful tips and advice.
What should be included in a Instructor resume?
When creating a resume to apply for an instructor position, there are some important things to consider. A well-written resume should be tailored to the position for which you are applying, and contain the relevant information that will make you stand out from other applicants. The following are some must-have elements of an instructor resume that should be included:
Education: Include the highest degree or certification you have earned, including the institution from which it was obtained. If you have any additional certifications or credentials, list those as well.
Experience: Here, you want to list any experience you have as an instructor or any related positions that you've held. Include the dates of employment, the name of the organization, and a brief description of the duties you performed.
Special Skills: Include any special skills that you have that make you a desirable candidate for the instructor position. Examples could include bilingual capabilities, knowledge of a specialized software program, or any other skills that are relevant to the position.
Achievements: If you have any awards or accolades that are related to the instructor position, list them here. This could include awards for teaching excellence, research awards, or any other type of recognition you have received in the past.
Publications: If you have any publications related to teaching or education, list them here. Include the name of the publication, the date of publication, and a brief description of the article.
By including all of these elements in your resume, you will create a strong and comprehensive document to present to potential employers for an instructor position.
What is a good summary for a Instructor resume?
A good summary for an Instructor resume should highlight the candidate's relevant experience, education, and certifications within the teaching industry. It should also include any special skills or knowledge gained throughout the candidate's career, such as foreign language fluency, specialized computer skills, or any other relevant knowledge or qualifications. This summary should also include any accomplishments the candidate has achieved in their current or prior positions. Finally, a good summary for an Instructor resume should be tailored to the specific position being applied for, to ensure the best chance of success.
What is a good objective for a Instructor resume?
A resume objective is an important part of a resume as it tells employers who you are and what you can bring to the table. As an instructor, you need a resume objective that shows your knowledge, experience, and qualifications that make you the right fit for the job. Here are some tips for writing a great objective for an instructor resume:
Highlight your teaching experience and qualifications: Mention the experience you have teaching the subject and any qualifications you have.
Show that you are a good communicator: A great instructor is someone who can communicate effectively and efficiently. Show potential employers that you have this quality.
Focus on your dedication to students: Show potential employers that you are committed to helping students learn and succeed.
Include any special skills you have: If you have any special skills such as a foreign language, be sure to mention that in your resume objective.
Show your enthusiasm for the subject: Demonstrate your passion for the subject and enthusiasm for teaching.
By including these tips in your resume objective, you will be able to gain the attention of potential employers and show them that you are the right fit for the job.
How do you list Instructor skills on a resume?
When you are creating a resume for an Instructor position, it's important to showcase your key skills and qualifications in order to stand out and be considered for the position. To make your resume stand out and catch the eye of a potential employer, here are some tips on how to effectively list your Instructor skills on a resume:
Include a skills section to your resume. This should be listed either after your summary statement or after your professional experience section.
Include a variety of skills to demonstrate your broader knowledge base, such as classroom management, curriculum development, and lesson planning.
Highlight any additional skills that demonstrate your professionalism, such as public speaking, communication, and problem-solving.
Use concrete examples and success stories to back up the skills you list on your resume.
Demonstrate your ability to collaborate and work with a team, such as experience leading group activities or working with other professionals.
Include any relevant technology skills, such as experience with designing presentations, creating websites, and utilizing specialized applications.
List any certifications, such as Teaching English as a Second Language (TESOL) or any other specialized certifications that you have obtained.
By showcasing your Instructor skills in a clear and concise manner, you can create an impressive resume that will help you stand out and land the job.
What skills should I put on my resume for Instructor?
When you're creating a resume for an instructor position, it's important to highlight the skills that make you a great educator.
Here are some of the top skills you should consider including on your resume for an instructor role:
Excellent Communication Skills: Instructors must be able to clearly communicate complex concepts and lessons to their students. It's important to demonstrate your strong verbal and written communication skills on your resume.
Organization and Time Management: As an instructor, you must be able to juggle multiple tasks and prioritize your workload. Showcase your ability to stay organized and on task with your resume.
Patience and Adaptability: Dealing with all types of students requires patience and the ability to quickly adapt to different situations. Show that you have the right attitude for teaching on your resume.
Knowledge of Subject Matter: Instructors must have a deep understanding of their subject matter. Highlight any professional experience or qualifications related to the material you would be teaching on your resume.
Technology Proficiency: As an instructor, you must be able to use technology to effectively communicate with your students. Make sure you mention any prior experience using various programs or software on your resume.
Interpersonal Skills: Instructors must be able to build relationships with their students and colleagues. Demonstrate your ability to build rapport and create a positive learning environment on your resume.
By highlighting your relevant skills, you can show potential employers that you have what it takes to be a successful instructor. Make sure to list these skills when creating a resume for an instructor role.
Key takeaways for an Instructor resume
Writing a resume for a teaching position may seem daunting, as there are many aspects to consider. However, there are some key takeaways that can help you create a strong resume that can set you apart from other applicants.
First, be sure to highlight your qualifications and experience. When you are applying for a teaching position, the main focus should be on your teaching qualifications and experience. Be sure to include information about the courses you have taught, the grade levels you have taught, and any awards or recognition you have received. It's also important to include any certifications or qualifications related to teaching, such as a teaching credential or license.
Secondly, emphasize any additional experience or skills you have that may be beneficial in the teaching position. This could include any special training or professional development courses you have taken, as well as any volunteer or extracurricular activities. It's also important to highlight any experience you have with technology, such as computer fluency or experience with online learning systems.
Finally, make sure to provide references for your teaching resume. References can provide potential employers with an additional source of information about your teaching abilities and experience. Be sure to include at least two or three references from previous employers or teachers who can speak to your teaching abilities and qualifications.
By following these key takeaways, you can help create an effective and comprehensive resume for a teaching position. By emphasizing your qualifications, experience, and additional skills, you can make sure your resume stands out and gives potential employers an accurate picture of your abilities.
Let us help you build
your Resume!
Make your resume more organized and attractive with our Resume Builder