Are you looking to become a professional guitarist but don't know how to write the perfect resume to showcase your skills? Writing a resume can be a daunting task, especially when you are trying to highlight your musical accomplishments. But with the right guidance and a few examples, you can easily create a polished and professional guitarist resume. In this blog post, we will provide you with a step-by-step guide on writing a guitarist resume and also provide you with a few examples to help get you started. With our help, you can create a resume that will get you noticed by prospective employers. Let's get started!
If you didn't find what you were looking for, be sure to check out our complete library of resume examples.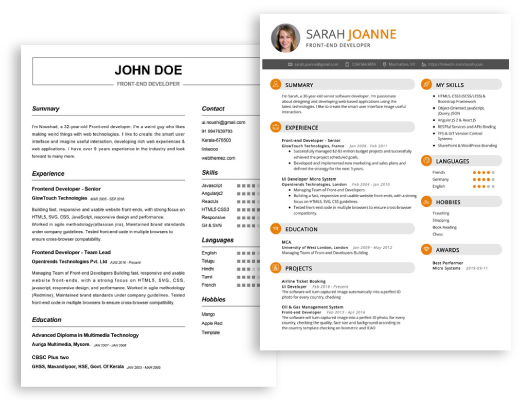 Start building your dream career today!
Create your professional resume in just 5 minutes with our easy-to-use resume builder!
Guitarist Resume Examples
John Doe
Guitarist
123 Main Street | Anytown, USA 99999 | Phone: (123) 456-7890 | Email: john.doe@email.com
As an experienced and creative Guitarist, I have a vast knowledge of popular music, a strong sense of rhythm, and an extensive repertoire of both popular and jazz standards. I have over 10 years of professional experience, including studio recordings, live performances, and session work. I also have a degree in Music Theory and Composition from the University of California, and I am adept at leading both large and small ensembles.
Core Skills:
Proficiency in a wide range of musical styles and genres
Strong sense of rhythm and ear for melody
Fluency in reading and interpreting musical notation
Knowledge of music theory and composition
Ability to lead and coordinate musical ensembles
Highly organized and detail- oriented
Professional Experience:
Guitarist and Arranger, Music Masters Recording Studio, California, 2011- Present
Played guitar and bass guitar in studio recordings and session work
Developed arrangements for a variety of popular and jazz genres
Lead and coordinated various small and large ensembles
Solo Guitarist, Various Local Venues, California, 2010- 2011
Performed solo jazz and popular music performances
Played guitar and bass guitar in live performances
Education:
Bachelor's Degree in Music Theory and Composition, University of California, California, 2006- 2010
Studied music theory, composition, arranging, and music history
Guitarist Resume with No Experience
Dedicated and hardworking guitarist with a passion for music and a desire to learn and grow. No prior experience, yet eager to contribute to any team or ensemble in any capacity. Seeking to further develop skills in the area of guitar playing and continue to enhance technical abilities.
Skills
Ability to learn quickly
Great ear for melody and rhythm
Flexible to different genres and styles
Excellent coordination and practice habits
Ability to work collaboratively
Responsibilities
Perform various guitar tasks, including soloing, accompaniment and improvisation
Develop basic music theory and song structure principles
Play guitar with other musicians in an ensemble setting
Maintain and care for guitar equipment
Practice and prepare for performances
Develop a repertoire of songs and techniques
Guitarist Resume with 2 Years of Experience
Talented and experienced guitarist with two years of performance experience. Possess a comprehensive knowledge of music theory and technique, as well as the ability to improvise, adapt, and create unique musical ideas. Skilled in playing both electric and acoustic guitars as well as various styles of music including jazz, blues, rock, folk, and more. Possesses excellent communication and interpersonal skills, which has led to success in collaborating with both established and up- and- coming musicians.
Core Skills:
Exceptional guitar technique and proficiency
Wide range of styles and genres
Professional attitude and work ethic
Excellent collaboration and communication skills
Strong listening and improvisational skills
Solid familiarity with music theory
Responsibilities:
Perform guitar solos in ensembles or as a solo artist
Play a variety of musical styles ranging from classical to rock, jazz, and blues
Assist in recording, engineering, and mixing sessions
Collaborate with other musicians and provide musical guidance
Stay up- to- date on musical trends, performances, and recordings
Teach guitar lessons and music theory classes
Write original music and rearrange existing pieces.
Guitarist Resume with 5 Years of Experience
I am an experienced guitarist with over 5 years of professional experience playing with various bands in multiple genres. I have a wide range of skills and knowledge related to music production, performance and instrument maintenance. My expertise has allowed me to work with several top- level musicians and bands in the industry, performing live and collaborating on recording projects. I am confident that my skills and experience will be invaluable to any band or artist looking for a talented and reliable guitarist.
Core Skills:
Proficiency in multiple guitar styles, such as rock, jazz, blues, and classical.
Expertise in guitar playing techniques such as fingerpicking, slide guitar, and improvisation.
Excellent ability to quickly learn and master new songs.
Highly skilled at reading music notation and tablature.
Experience in crafting and modifying guitar effects.
Good understanding of music theory and its application in musical compositions.
Proficiency in the use of audio recording and editing software.
Responsibilities:
Performing live shows and studio recordings with bands and artists.
Setting up and maintaining personal gear and equipment.
Collaborating with producers, engineers, and other musicians to create original music.
Developing and implementing creative guitar solos and parts for existing songs.
Rehearsing and recording with bands and artists.
Developing and maintaining relationships with local music venues.
Editing music and audio recordings in studio and post- production environments.
Guitarist Resume with 7 Years of Experience
Highly experienced musician with 7 years of experience as a guitarist. Having performed in countless shows, recorded countless albums and composed countless tracks. Experienced in genres such as acoustic, blues, rock, pop, jazz and funk. Seeking a position as a lead guitarist in an established group.
Core Skills:
Composing music
Exceptional guitar playing skills
Exceptionally experienced in genres such as acoustic, blues, rock, pop, jazz and funk
Knowledgeable of music theory
Experienced in recording and mixing
Responsibilities:
Performing at events, concerts and festivals
Writing and composing music
Practicing with other members to create new sounds
Performing guitar solos in studio recordings
Developing innovative musical ideas
Collaborating with other artists to create new music
Assisting in the arrangement of music
Participating in rehearsals and performances
Participating in marketing activities
Building relationships with record labels, promoters and other industry professionals.
Guitarist Resume with 10 Years of Experience
Experienced guitarist with a decade of experience playing in a variety of settings from local clubs to major venues. Proven success in numerous collaborations and recordings, with an extensive repertoire of both traditional and modern music. Possesses exceptional musical skills and instrumental technique, as well as strong musicality. Skilled in reading music, performing improvisation, and working collaboratively.
Core Skills:
Expertise in playing a variety of musical styles
Extensive knowledge of music theory, harmony, and composition
Creative, improvisational playing and composition
Exceptional piano, guitar, and vocal skills
Outstanding reading and notation skills
Proficient in recording technology and live sound engineering
Self- motivated, strong work ethic and solid team- player
Ability to lead and direct music ensembles
Responsibilities:
Performing in a variety of settings including clubs, concert halls, and festivals
Rehearsing and practicing for live performances and recordings
Collaborating with other musicians on songwriting, studio recordings and live performances
Recording and mixing both live and studio recordings
Performing improvisation and arranging music
Reading and interpreting sheet music notation
Instructing and helping students learn the art of playing guitar
Directing music ensembles and teaching others how to play
Creating and managing budgets and schedules for live performances and recordings
Troubleshooting technical issues related to sound equipment and instruments
Negotiating performance contracts with venues and other musicians
Guitarist Resume with 15 Years of Experience
With an impressive 15 years of experience as a guitarist, I have an extensive musical background with a focus on playing guitar. I am passionate about playing music and performing live. My experience has enabled me to have a wide range of musical knowledge and has allowed me to perform a variety of different styles of music. I have worked in both studio and live settings, as well as being involved in the production and recording of music. I am highly proficient in improvisation, songwriting, and teaching. I am confident in my abilities to bring new and creative ideas to any project or performance.
Core Skills:
Excellent guitar playing technique
Advanced songwriting and improvisation skills
Highly skilled in musical production and recording
Experience teaching guitar to both novice and advanced players
Strong ability to collaborate with others
Knowledge of various musical genres and styles
Responsibilities:
Performing and collaborating as part of a band or music group
Instructing and teaching guitar to students of all levels
Developing and writing original songs and music
Producing and recording music in a studio setting
Playing guitar live in a variety of venues
Improvisation and playing lead guitar parts in various styles of music
In addition to this, be sure to check out our resume templates, resume formats, cover letter examples, job description, and career advice pages for more helpful tips and advice.
What should be included in a Guitarist resume?
When it comes to creating an effective and professional musician resume, there are certain key elements that should be included. As a guitarist, it's important to make sure that your resume is highlighting your specialized skill set and experience in the best possible way.
Here are the important elements that should be featured in a guitarist resume:
Experience: Any prior experience as a guitarist should be featured prominently on your resume. This should include any formal training, lessons, or performances you've been part of.
Education: Include any music education you've obtained, such as college degrees or certificates in music theory, performance, or composition.
Specialized Skills: Feature your specific skills as a guitarist, such as your proficiency with particular styles, instruments, and techniques.
Repertoire: Don't forget to include your repertoire of songs that you know and can perform.
References: Listing the names and contact information of any professional references can be helpful in the job application process.
By including all of these elements, you can make sure that your resume is getting the attention it deserves from potential employers and clients.
What is a good summary for a Guitarist resume?
A guitarists resume should showcase the musician's experience, skill level, and accomplishments. It should include not only details of the guitarist's experience playing the instrument, but also any other experience related to the guitar. This could include teaching experience, participating in performance groups, and attending music workshops or classes. It should also list any awards or recognitions the musician has achieved. In addition, the resume should highlight the musician's unique musical style, any special techniques they may employ, and any other relevant information. Finally, the resume should provide contact information so that potential employers can get in touch. By providing a comprehensive summary of their guitar-playing experience, a guitarist's resume can be a powerful tool for landing their dream job.
What is a good objective for a Guitarist resume?
Creating a strong resume as a guitarist can be difficult. As a musician, there are a variety of skills and experiences that may be relevant to potential employers, and it is important to get these across in a concise and clear way. A good objective for a guitarist resume should include the following points:
Demonstrate a passion and commitment for the art of guitar playing
Highlight the skill and experience gained from years of practice and instruction
Show an understanding of the music industry and how to adapt to changes and trends
Express an ability to work collaboratively and effectively in a team setting
Showcase an understanding of the recording process, both in the studio and on tour
Show a strong work ethic and an eagerness to learn and grow as a musician
Demonstrate an open-mindedness and willingness to try new ideas and techniques
State a commitment to excellence and an ability to stay ahead of the competition
Show an ability to take direction and feedback and use it to improve performances
Demonstrate an enthusiasm to pursue a career in music, both in the studio and on stage.
How do you list Guitarist skills on a resume?
Tailoring your resume to include your guitar playing skills is an important step in demonstrating your qualifications to a potential employer. While most resumes will include the traditional work experience, education, and other qualifications, it is important to include specific information about your guitar playing to showcase your abilities. Here are some tips on how to best list your guitar skills on a resume:
Include any formal guitar training or education on your resume. If you have a degree in music, list it in the "Education" section. Make sure to list any guitar-specific courses or performance experiences.
Outline any live performance experience you have. If you have performed as a solo guitarist or as part of a band, list the venues, dates, and any other relevant information.
Detail any studio experience you have. If you have recorded in a studio or have experience engineering, list any related skills or methods you have used.
List any music theory or composition experience. If you have expertise in this area, make sure to include it in your resume.
Include any special techniques or instruments you are proficient in. If you play any instruments other than guitar, or know any specialized guitar techniques, make sure to list them.
By including these details on your resume, you can help demonstrate your guitar playing abilities to potential employers. With these tips in mind, you are sure to create a resume that will help highlight your guitar playing skills.
What skills should I put on my resume for Guitarist?
Are you looking to stand out as a guitarist in the music industry? Having a stellar resume is a great way to show off your skills and experience and make you a more attractive option for potential employers. When creating your resume for a guitarist position, there are a few key skills and abilities you should be sure to include.
Proficiency in Playing a Variety of Musical Styles: Prove that you are versatile by listing the various styles you are comfortable playing, such as jazz, rock, blues, metal, etc.
Music Theory Knowledge: Many guitarists need to be knowledgeable in music theory in order to understand the nuances of musical composition. Show your understanding of music theory by listing your experience in sight-reading, chord voicing, and improvisation.
Recording Skills: Prove that you are more than just a live performer by noting your experience in recording, mixing, and mastering music.
Technical Skills: As a guitarist, you need to know how to properly use and maintain your equipment. This includes knowledge of amps, different types of guitars, and other related equipment.
Performance Experience: Highlight any previous gigs or shows you have performed in, as well as any awards or recognition you have received in the music industry.
By include these key skills and abilities on your resume, you will be sure to get noticed as a guitarist. With a well-crafted resume, you will be one step closer to landing that perfect gig.
Key takeaways for an Guitarist resume
If you're a guitarist looking to get hired, the number one key takeaway for your resume is to highlight your musical skills. Instrumentalists are considered artists first and foremost, so make sure that your resume emphasizes your technical ability, years of experience, and type of guitar styles you specialize in. Include any gigs you've played, awards you've won, and any other accolades that would help you stand out as a musician.
Another key takeaway is to highlight any other skills you may have that would give you an edge. To employers, having a willingness to learn and other relevant skills such as audio engineering, songwriting, and teaching are all valuable assets. These skills can help you land gigs, so make sure to include them on your resume.
Finally, make sure to include any endorsements, recommendations, or references you've received from past employers. This is a great way to show potential employers that you're a reliable and talented musician.
By following these key takeaways, you can make sure that your guitarist resume stands out amongst the competition. Showcase your musical abilities, highlight any other relevant skills, and include any endorsements or references you've received. Good luck!
Let us help you build
your Resume!
Make your resume more organized and attractive with our Resume Builder