Are you a freelance musician looking to stand out from the competition? Writing a resume for your job search can be a daunting task, but with the right tools and information you can create a resume that will give you the best chance of finding the job you're looking for. This freelance musician resume writing guide will explore the best practices and provide examples to help you create the perfect resume. You'll learn how to highlight your experience, craft a compelling summary, and create an overall design that will make a great impression on potential employers. Whether you're a guitarist, vocalist, composer, or producer, this guide will help you craft a resume that will get you noticed.
If you didn't find what you were looking for, be sure to check out our complete library of resume examples.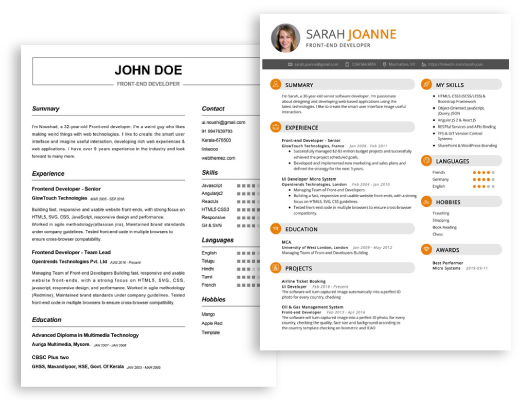 Start building your dream career today!
Create your professional resume in just 5 minutes with our easy-to-use resume builder!
Freelance Musician Resume Examples
John Doe
Freelance Musician
123 Main Street | Anytown, USA 99999 | Phone: (123) 456-7890 | Email: john.doe@email.com
I am a freelance musician with extensive experience playing live shows and recording music. I have a passion for creating art and music with a wide variety of instruments and genres. I have an extensive network of colleagues and contacts in the music industry, making me a valuable asset to any project. My core skills include performance, composition, studio production, audio engineering, and mixing. I have extensive experience playing live performances, collaborating with other musicians, and creating original compositions. I am also experienced in teaching and have a degree in music education.
Core Skills:
Performance
Composition
Studio Production
Audio Engineering
Mixing
Digital Audio Workstations
Music Theory
Music Education
Professional Experience:
Performed at a variety of venues and events, including festivals, nightclubs, and churches
Composed and produced several original songs
Collaborated with other musicians on projects
Recorded and mixed music for multiple professional releases
Worked with bands and songwriters to develop their sound
Taught classes on music production and theory
Education:
Bachelor of Music Education, University of North Carolina, 2020
Associate of Music Theory and Composition, University of North Carolina, 2018
Freelance Musician Resume with No Experience
A highly creative and passionate music enthusiast with a strong technical foundation and an eagerness to learn and grow as a musician. Possesses an innate understanding of a wide range of musical styles, from pop and rock to classical and jazz. Offers a unique talent for crafting and performing music with a unique and captivating sound.
Skills
Knowledge in classical, jazz, pop and rock music
Ability to read, write and transcribe music
Proficiency in playing various instruments including guitar, piano and drums
Familiarity with music technology such as audio recording, mixing and mastering
Strong communication and interpersonal skills
Ability to work well in a team dynamics
Exceptional time management and organizational skills
Responsibilities
Write and produce original music compositions
Perform live and record with various instruments
Train and practice in order to maintain and improve proficiency in playing various instruments
Attend music events and industry networking opportunities
Collaborate with other musicians and producers on projects
Keep up to date with current music trends and technologies
Freelance Musician Resume with 2 Years of Experience
A highly experienced Freelance Musician with 2 years of experience in providing exceptional musical performances across a wide range of genres, instruments and venues. Skilled in writing, arranging, recording and performing music. Proven ability to adapt musical styles to cater to any audience. Excellent communication and interpersonal skills to build strong working relationships with clients and colleagues alike.
Core Skills:
Musical Performance
Musical Arrangement
Writing Music
Recording Music
Instrumental Performance
Music Theory
Musical Collaboration
Stage Presence
Music Business Management
Interpersonal Communication
Responsibilities:
Perform for both private and public events at a variety of venues
Write, arrange and record original music for use in performances, recordings and other projects
Collaborate with other musicians to create music for a variety of genres
Develop creative and innovative musical arrangements to cater to any audience
Ensure that all performances adhere to a high level of quality and professionalism
Maintain and update knowledge of current trends in the music industry
Manage contracts, licensing and other business related tasks associated with music performance
Attend rehearsals, studio sessions, and production meetings to ensure that music is being performed and recorded to the highest standards
Develop and maintain strong working relationships with other musicians and clients.
Freelance Musician Resume with 5 Years of Experience
Hardworking and enthusiastic freelance musician with 5 years of experience in performing, recording and teaching music. Proven ability to collaborate and interact professionally with all types of people. Adept at learning and mastering new instruments and styles quickly. Possesses strong understanding of music theory, structure and notation.
Core Skills:
Musical Performance
Instrument Proficiency
Music Theory and Notation
Creative Problem Solving
Written and Verbal Communication
Collaborative Working
Time Management
Responsibilities:
Played solo and ensemble performances at public events, private functions, and live music venues
Composed and arranged original and traditional music for various ensembles
Provided private instruction in instrumental performance and music theory
Transcribed and notated various musical pieces and written compositions
Collaborated with local music directors in the selection of appropriate musical works
Developed and maintained relationships with fellow musicians, music directors, and other musical contacts
Maintained accurate accounting of performance related expenses to maximize profitability
Freelance Musician Resume with 7 Years of Experience
I am a freelance musician with 7 years of experience in both live and recorded settings. I am a highly experienced multi- instrumentalist, singer, songwriter, and composer who has extensive knowledge of a variety of styles and genres. I have an extensive background in performing, recording, and producing music, having worked on projects for a diverse list of clients. I am an excellent problem- solver who is highly organized and attentive to detail, making me an extremely reliable and efficient performer with a proven track record of success.
Core Skills:
Multi- instrumentalist (Guitar, Piano, Drums, Bass, and Vocals)
Composition and Songwriting
Recording and Production
Music Theory and Arrangement
Diplomacy and Negotiation
Time Management and Organization
Highly Adaptable to Different Genres
Responsibilities:
Collaborate with clients to create music for commercial, film, and television projects
Perform and record live instruments for various recording and video sessions
Create original compositions, songwriting, and arrangement to fit the needs of each project
Develop and maintain relationships with clients to ensure satisfaction with final product
Manage time efficiently and effectively to meet deadlines and goals
Work with producers and engineers to ensure quality recording and production techniques
Remain current on industry trends and techniques to stay at the top of the game
Network and build relationships with other professionals and clients in the industry.
Freelance Musician Resume with 10 Years of Experience
A highly motivated and dedicated freelance musician with 10 years of experience, specialized in jazz and classical music. A versatile musician, capable of performing in a variety of genres, including contemporary and rock. Possesses a strong knowledge of music theory, composition, and improvisation. Able to provide unique and innovative ideas for new songs and arrangements. Experienced in playing in various live performances, accompanying singers, and providing music for events.
Core Skills:
Strong knowledge of music theory and composition
Proficient in playing various genres of music
Excellent improvisation skills
Ability to arrange music for any genre
Ability to collaborate with other musicians
Ability to work in different live performance settings
Great attention to detail
Strong communication and interpersonal skills
Responsibilities:
Compose and arrange music for various genres
Create unique musical arrangements for live performances
Accompany singers in live performances
Improvisation and collaboration with other musicians
Perform live music for events
Create music for radio, television, and film
Prepare and rehearse music for concerts and other live performances
Provide assistance to other musicians by offering advice on musical arrangements, improvisations, and composition
Teach music theory and composition to aspiring musicians
Freelance Musician Resume with 15 Years of Experience
Hardworking and reliable freelance musician with 15 years of experience playing a variety of instruments, both live and in studio. A proven track record of playing for a diverse range of clients and venues, as well as recording for numerous album projects. Able to read music, as well as learn any new piece of music quickly. Also proficient in using various recording software to produce high quality audio recordings. Possesses excellent communication and interpersonal skills, enabling successful collaboration with artists, producers and engineers in creating music.
Core Skills:
Excellent understanding of musical theory, composition and arrangement
In- depth knowledge of the technical aspects of music production
Proficient in a variety of instruments, including guitar, bass, drums, keyboard, etc.
Highly skilled in live performance, both solo and as part of an ensemble
Strong ear for music and ability to learn new music quickly
Knowledge of digital recording and editing software
Excellent communication and interpersonal skills
Responsibilities:
Playing music at various events such as concerts, festivals, weddings, and other live performance events
Recording studio albums for various artists and bands
Writing, arranging, and producing various musical pieces
Auditioning for live shows and studio sessions
Rehearsing with other musicians to ensure a high- quality performance
Traveling to various locations for touring and recording sessions
Working as part of a team to ensure a successful music production
In addition to this, be sure to check out our resume templates, resume formats, cover letter examples, job description, and career advice pages for more helpful tips and advice.
What should be included in a Freelance Musician resume?
As a freelance musician, it's important to have a well-crafted, up-to-date resume to help you land gigs. As your resume is a reflection of your professional experience, here are some key components to consider including when crafting your own freelance musician resume:
Summary: Begin your resume with a short summary of who you are as a musician, including your experience and music style.
Relevant Experience: List any previous music-related job experience, such as playing at a venue, teaching music lessons, or writing music. Include the name of the employer, dates of employment, and a brief description of your duties.
Education: Include any music-related degrees or certifications you've earned.
Portfolio: Create a portfolio of your previous work, such as recordings, compositions, or scores.
Technical Skills: List any special instrumentation, music software, and recording equipment you're proficient in.
Awards & Accolades: Include any awards or recognitions you've earned for your musical abilities.
References: Be sure to include two or three references who can attest to your professional reputation as a musician.
By including these elements in your freelance musician resume, you'll be sure to make a strong impression with potential employers. Best of luck!
What is a good summary for a Freelance Musician resume?
A freelance musician resume should provide a summary of your accomplishments and experience as a musician. It should include your education and previous jobs related to music, as well as any relevant skills and accomplishments. Your resume should also showcase your unique talents, such as ability to write and perform your own music. Additionally, the resume should list any awards or recognition you have received for your music, as well as any live performances you have given in the past. Finally, your resume should include any music associations or organizations you belong to, as well as any special workshops or classes in music that you have taken. Ultimately, a well-written resume should showcase your experience, skill, and passion for music.
What is a good objective for a Freelance Musician resume?
A resume is a way to showcase your professional achievements to potential employers or clients. As a freelance musician, it is essential that you create a resume that highlights your unique skills and experience in the music industry. A good objective for a freelance musician resume should be concise and clearly outline your goals as a musician. Here are some examples of a good objective for a freelance musician resume:
To use my creative and technical skills to produce music that resonates with audiences and encourages them to engage with my art.
To collaborate with other musicians to create exceptional musical experiences for a wide variety of audiences.
To become a sought-after composer for film, television, and video games, utilizing my passion for music and storytelling.
To develop a successful career as an independent musician, utilizing my knowledge of the music industry and experience in performance and composition.
To become an experienced live performer and recording artist, leveraging my experience in the music industry to create engaging and inspiring music.
To build a strong network of industry connections and collaborate with other musicians to expand my career opportunities.
How do you list Freelance Musician skills on a resume?
When it comes to resumes, listing your skills is a must. Freelancing as a musician requires a multitude of skills, and showcasing them on your resume helps you stand out from other candidates. Here's how to list your freelance musician skills on a resume:
List Your Education: Start by including your education in music, such as degrees or certifications. If you have experience performing in a musical group or with a particular instrument, list it here.
Feature Your Performance Skills: Create a "Performance Skills" section and list your expertise with various instruments, genres of music, and types of performances.
Include Technical Knowledge: Musicians often need technical knowledge to operate audio equipment, produce music, and record tracks. If you have this knowledge, feature it prominently on your resume.
Highlight Your Creativity: As a musician, you need to be creative. List your creative abilities in a separate section, such as "Creative Experience" or "Creative Skills."
Showcase your Professionalism: Professionalism is essential for freelancers, so make sure to highlight the ways in which you demonstrate professionalism. List any awards or recognition you've received for your professionalism.
By following these tips, you can create a resume that showcases your skills as a freelance musician. An effectively written resume will help you stand out from other applicants and show employers why you're the best candidate.
What skills should I put on my resume for Freelance Musician?
When crafting your resume as a freelance musician, it is important to emphasize the skills and knowledge that will make you stand out from the competition. Your resume should include a wide range of skills and experiences that demonstrate your ability to provide quality services for your clients. Here are some skills and experiences that are essential for a successful freelance musician resume:
Music Composition: A successful freelancer must be adept at not only performing music, but also composing and arranging it. It is important to emphasize your ability to write and arrange original music, as well as create covers of existing works.
Music Technology: In today's digital age, it is important to be familiar with music technology and software. Be sure to list your knowledge and experience in music editing and production software, as well as any instruments or equipment you are knowledgeable in.
Performance: A key part of being a successful freelance musician is your ability to perform. List any performance experience you have, such as gigs you've played, bands or orchestras you've performed with, and any awards or recognition you have received for your work.
Music Industry Knowledge: Your resume should include a familiarity with the music industry and the networks and contacts you have within it. This includes any contacts you have among labels, studios, or other industry professionals.
Business and Marketing Skills: As a freelancer, your resume should also demonstrate your business and marketing skills. List any experience you have with contracts, management, and promotion. This includes any social media and digital marketing experience you have.
By highlighting these essential skills and experiences, you can create a compelling and comprehensive resume that will help you stand out from the competition. Your resume should demonstrate your ability to provide quality services to your clients and show that you are well-versed in the music industry.
Key takeaways for an Freelance Musician resume
If you're a freelance musician, you know how important it is to make a great first impression with potential employers. A well-crafted resume is a key part of that process. Here are some key takeaways to keep in mind when crafting your freelance musician resume:
Highlight Your Achievements – Make sure your resume showcases your accomplishments and successes as a freelance musician. Mention awards, accolades, and performance reviews to show employers your prowess as a musician and set you apart from the competition.
List Skills – Don't forget to list the technical skills that you possess. This could include instrument proficiency, recording and editing software, musical theory, and more. This will give employers a better understanding of what skills you bring to the table.
Include Contact Information – It's essential to include your contact information, such as a phone number and email address, so potential employers can easily reach you.
Show Your Personal Brand – Your resume is a great way to showcase your personal brand as a freelance musician. Use your resume as an opportunity to show potential employers who you are and what makes you unique.
Keep it Concise – Make sure to keep your resume concise and to the point. Employers don't want to read through pages of unnecessary information. Stick to the facts and highlight the most important aspects of your experience.
By following these tips, you'll be well on your way to creating a great resume that will make a lasting impression on potential employers. Good luck!
Let us help you build
your Resume!
Make your resume more organized and attractive with our Resume Builder