Are you an educator looking for a job? Writing a resume can be a daunting task, especially if you don't have a lot of experience. Even if you do have experience, it can be difficult to know what to include and what to leave out. This guide will provide you with tips and examples on how to create an effective resume as an educator. You will learn what sections to include, what keywords to use, and how to make yourself stand out in a competitive job market.
If you didn't find what you were looking for, be sure to check out our complete library of resume examples.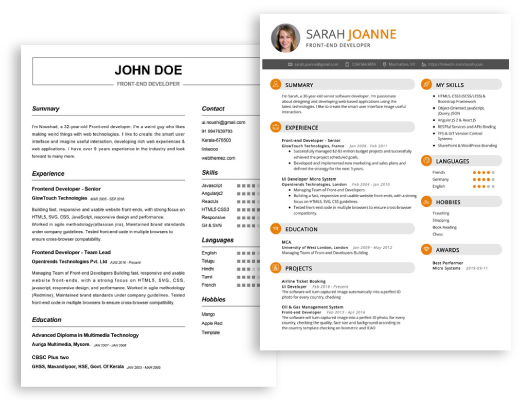 Start building your dream career today!
Create your professional resume in just 5 minutes with our easy-to-use resume builder!
Educator Resume Examples
John Doe
Educator
123 Main Street | Anytown, USA 99999 | Phone: (123) 456-7890 | Email: john.doe@email.com
I am an enthusiastic educator with over 5 years of experience in teaching a wide range of learners in the classroom. I have developed strong presentation and communication skills through my teaching experiences, as well as a strong understanding of how to assess student learning. I have a strong drive to help students reach their learning goals and to ensure that they are engaged in the classroom. My passion for teaching and learning has enabled me to provide an engaging learning environment for my students.
Core Skills:
Experience in developing and implementing lesson plans
Strong understanding of student learning
Excellent communication and presentation skills
Ability to assess student learning
Excellent classroom management
Highly organized
Able to effectively collaborate with other educators
Professional Experience:
Elementary School Teacher, ABC School, 2017- Present
Develop and implement lesson plans for students of all ages
Communicate with parents and guardians to discuss student progress and potential challenges
Conduct assessments to evaluate student understanding and progress
Collaborate with other educators to create innovative ways to engage students in the classroom
Utilize technology and various teaching strategies to promote student learning
Education:
Bachelor of Education, ABC University, 2015
Master of Education, XYZ University, 2017
Educator Resume with No Experience
Recent graduate with an education degree eager to become an educator and provide children of all ages with the tools to succeed. Knowledgeable in various educational methods and classroom management strategies, with a passion for inspiring students to reach their full potential.
Skills
Strong classroom management skills
Excellent communication and interpersonal skills
Knowledge of current educational trends and strategies
Ability to handle difficult students
Proficient in Microsoft Office Suite
Responsibilities
Instruct students in a variety of topics and help them develop their knowledge and skills
Work with individual students to identify their educational needs
Develop engaging lesson plans to motivate students
Create a positive environment in the classroom
Monitor students' performance and provide feedback
Encourage positive behavior and discourage negative behavior
Help students develop social skills and emotional intelligence
Educator Resume with 2 Years of Experience
A motivated and dedicated educator with 2 years of experience in teaching, curriculum development, and student assessment. Highly skilled in working with diverse student populations and creating a learning environment that encourages student growth and development. Possesses excellent communication skills, strong organizational abilities and a passion for teaching.
Core Skills:
Student Assessment
Curriculum Development
Classroom Management
Adaptability
Communication
Critical Thinking
Technology Utilization
Collaboration
Responsibilities:
Prepared lesson plans and teaching materials to meet specified learning objectives
Implemented classroom management strategies to ensure students remained on- task
Developed curriculum to ensure students were provided with appropriate learning activities
Utilized technology in the classroom to enhance student's learning experience
Facilitated group activities to promote collaboration and communication skills
Provided individualized instruction based on student needs
Evaluated student performance to identify areas of improvement
Monitored student progress and provided feedback to parents and administrators
Educator Resume with 5 Years of Experience
A seasoned educator with 5 years of experience teaching various subjects across all grade levels. I am passionate about helping my students reach their full potential by nurturing their skills, discovering their creativity, and encouraging them to develop their own sense of self. I have a track record of developing engaging and interactive lesson plans, cultivating positive relationships with students and parents, and managing classroom behavior.
Core Skills:
In- depth knowledge of curriculum standards
Proven track record of successful student outcomes
Ability to develop engaging and interactive lesson plans
Strong organizational and time management skills
Adaptability to different teaching styles
Excellent communication and collaboration skills
Familiarity with student data tracking systems
Responsibilities:
Design and implement lesson plans in line with curriculum standards
Monitor and assess student performance
Develop and maintain positive relationships with parents
Create a safe and positive learning environment
Facilitate student learning through differentiated instruction
Manage behavior and establish discipline
Incorporate technology into the classroom
Create assessments and evaluations for student progress
Educator Resume with 7 Years of Experience
A passionate and motivated Educator with 7 years of experience in teaching and developing curriculum. I have a proven track record of developing curriculum and delivering engaging lessons that effectively communicate material and keep students motivated and focused. I believe strongly in creating a positive learning environment to foster the best learning outcomes for students. I am eager to join a school where I can apply my skills and experience to help promote positive student growth.
Core Skills:
Developing curriculum
Delivering engaging lessons
Creating positive learning environment
Classroom management
Student counseling
Mentoring
Assessment and evaluation
Responsibilities:
Developing and implementing curricula and lesson plans
Teaching lessons in a manner that engages and challenges students
Providing constructive feedback to help students reach their maximum potential
Maintaining good discipline in the classroom
Creating an encouraging and supportive learning environment
Assessing student progress through tests and projects
Providing feedback to students, parents and administrators
Conducting parent- teacher conferences
Collaborating with other educators and staff to develop engaging lessons
Mentoring students to help them succeed in school and in life
Educator Resume with 10 Years of Experience
A highly motivated and dedicated educator with 10 years of experience developing and providing instruction to diverse student populations. Skilled in developing lesson plans, classroom management, and utilizing technology to support student achievement. Proven track record of successfully engaging students in the learning process and helping them to reach their academic potential. Committed to creating a positive learning environment and equipping students with the skills they need to succeed.
Core Skills:
Strong knowledge of best- practices in education
Advanced understanding of diverse student populations
Excellent communication and problem- solving skills
Ability to create engaging lesson plans
Ability to effectively manage a classroom
Proficiency in using technology to support student learning
Responsibilities:
Developing and delivering instruction to students from diverse backgrounds
Creating weekly lesson plans with measurable objectives
Instructing students in the use of educational technology
Implementing classroom management strategies
Promoting a positive learning environment
Administering classroom assessments and grading student work
Maintaining accurate records of student progress
Collaborating with other educators to create interdisciplinary units
Providing individualized instruction to meet student needs
Educator Resume with 15 Years of Experience
I am an experienced educator with 15 years in the field of teaching. My passion for helping students reach their full potential and my commitment to lifelong learning have been paramount throughout my career. I have a strong track record of developing and implementing creative, engaging curriculum that meets the needs of diverse student populations. I am adept at building relationships with students, colleagues, families and community members. My core skills include classroom management, student assessment and problem- solving.
Core Skills:
Classroom management
Student assessment
Curriculum development
Differentiated instruction
Technology integration
Collaboration
Parent/community engagement
Problem- solving
Responsibilities:
Plan and implement engaging and effective lesson plans
Create and maintain a safe and supportive learning environment
Design and facilitate differentiated curriculum
Facilitate and assess student learning
Foster positive relationships with students, colleagues, families and community members
Monitor and assess student progress
Leverage technology to enhance student learning
Develop and implement behavior management strategies
Participate in professional development initiatives
In addition to this, be sure to check out our resume templates, resume formats, cover letter examples, job description, and career advice pages for more helpful tips and advice.
What should be included in a Educator resume?
There are certain important elements that should always be included in an Educator resume. These elements demonstrate to employers the necessary skills and knowledge you have that makes you an ideal candidate for the position.
Education: Include all of your educational qualifications including your degrees and certifications. Include the names of universities and colleges you attended, dates of attendance, and any honors or awards you received.
Teaching Experience: Highlight your teaching experience, including any student teaching or practicum placements you have had. Provide the names of the schools where you have taught, the subjects you taught, and the grade levels you worked with.
Core Skills: Specify any core skills or qualifications you have that are applicable to the job position. This could include things like classroom management, curriculum development, or knowledge of different learning styles.
Professional Development: Mention any professional development courses you have taken, such as conferences, seminars, workshops, or publications. This demonstrates to employers that you are continually growing in the field and eager to learn.
Relevant Experience: Include any other relevant experience that is not directly related to education. This could include things like working with children in a volunteer or mentoring role, or any other part-time jobs.
Achievements and Awards: Include any awards or achievements you have received in your teaching career. This could include dean's list awards, research awards, or awards for excellence in teaching.
References: Provide a list of references, including their contact information, that a potential employer can contact.
By including these elements in your resume, you will be in the best position to demonstrate to employers that you have the necessary skills and qualifications for the job.
What is a good summary for a Educator resume?
A well-written summary for an educator resume should include key skills, such as classroom management, engaging teaching methods, and curriculum development. It should also list awards and certifications, such as National Board Certification. The summary should also speak to why the educator or candidate is passionate about teaching and how they can bring their unique skills to the classroom. A good summary will not only give potential employers an understanding of the candidate's qualifications but also make a strong impression that will set them apart from the competition. By emphasizing their unique qualities and highlighting their accomplishments, an educator can make a great first impression that could lead to a job offer.
What is a good objective for a Educator resume?
A great objective for an educator resume is one that matches the job requirements of the position you are applying for. An effective objective should be specific, descriptive, and demonstrate your qualifications and experience. Here are some examples of good objectives for an educator resume:
To obtain an educator role in a school utilizing my teaching experience and knowledge of effective instructional methods.
Looking to use my strong communication skills and knowledge of the latest teaching methods to positively impact student learning.
Educator seeking a position in a supportive learning environment that values innovative teaching and encourages collaboration among students and teachers.
Seeking an educator role to develop and implement targeted educational programs that foster student engagement and success.
Seeking a classroom teaching position to utilize my expertise in lesson planning, classroom management and instruction delivery.
By using an objective statement tailored to the position you are applying for, you can demonstrate to the hiring manager that you have the skills and experience they are looking for. An effective objective statement will help you stand out and give you an edge over other applicants.
How do you list Educator skills on a resume?
When you're applying for a job in the education field, it's important to highlight the skills and experience you have that make you a great educator. Your resume should include a detailed list of the skills you possess that directly relate to the position you are applying for. Here are some of the skills you should include on your resume when listing your educator skills:
Ability to Develop Creative and Engaging Lesson Plans: You should demonstrate the ability to create lesson plans that are both creative and engaging. Highlight examples of lesson plans you've created that were deemed successful by your students or colleagues.
Strong Communication and Interpersonal Skills: As an educator, it's important that you are able to effectively communicate your ideas and instructions to students. Include examples of successful teaching methods or activities you've implemented due to strong communication skills.
Ability to Adapt Teaching Methods: Every student learns differently, so it's important for teachers to be able to adjust their teaching methods to students' individual learning styles. Present examples of your success in adapting teaching methods to create successful learning experiences.
Knowledge of Technology: In the modern classroom, technology plays a key role in teaching. Showcase your knowledge of popular educational software and technology, as well as your ability to integrate technology into the classroom.
Experience in Assessment: Being able to assess students' learning and provide feedback is an important part of teaching. Highlight any experience you have in developing assessment methods and analyzing student data.
Knowledgeable in Curriculum: Educators should have an in-depth knowledge of the curriculum they are teaching. Display your knowledge of the curriculum by providing examples of how you incorporated it into your lesson plans.
These are just a few of the skills an educator should list on their resume. Think about the position you're applying for and determine which skills are most important to include. Make sure to focus on skills that are relevant and demonstrate why you are the
What skills should I put on my resume for Educator?
When writing a resume for an Educator role, it is important to highlight the appropriate qualifications and skills that are necessary for the position. Here are some key skills and qualifications to include:
Knowledge of Curriculum Development: Educators must be knowledgeable of curriculum development and be able to effectively teach students on a wide variety of topics.
Classroom Management: Educators should be able to effectively manage a classroom and maintain a positive learning environment.
Communication: The ability to communicate effectively with students, parents, and other staff members is an important skill for any Educator.
Interpersonal Skills: Educators need to be able to interact with a variety of people and build relationships with them.
Technology: To keep up with the changing times, Educators need to have an understanding and knowledge of the various technologies used in teaching.
Organization: Educators must be able to organize their classroom, lesson plans, and materials in an efficient manner.
Problem Solving: Educators must be able to solve problems in the classroom and find solutions that work for their students.
Patience: Educators need to have a great deal of patience, as teaching can be a challenging job.
Creativity: Creativity is a must for any Educator, as it allows them to come up with new and interesting ways to teach their students.
By including all of the above skills and qualifications on your resume, you will be able to show employers that you are an ideal candidate for the Educator position.
Key takeaways for an Educator resume
Creating a resume as an educator is important to have a great impact on potential employers. While there are many key elements to include in a resume, here are a few key takeaways to consider when putting together your educator resume:
Highlight Your Teaching Experience: Make sure you highlight your teaching experience in your resume. This could include any teaching roles you've held, such as classroom teacher, substitute teacher, or education researcher. It's important that the employer can easily see your teaching experience and the impact it's had.
Include Relevant Qualifications: Include any relevant qualifications and certifications in your resume. This could include qualifications such as a teaching license, master's degree in education, or anything else that could be beneficial for the employer to know about you.
Showcase Your Leadership Skills: As an educator, it's important to demonstrate your leadership skills. Showcase any experiences you have leading initiatives, developing curriculum, or working with students and their families.
Include Professional Development: Showcase any experience you have with professional development. This could include involvement in conferences, workshops, or seminars. This shows your commitment to professional development and continuing education.
Highlight Your Achievements: Highlight any achievements you have made while working as an educator. This could include special awards, any curriculum or program you have developed, or any other honors you have received. This will help you stand out to potential employers.
By following these key takeaways, you can create an effective resume that will help you stand out to potential employers. Make sure you highlight your teaching experience, qualifications, and achievements, as well as any professional development or leadership activities. This will help you create the perfect resume that will get you noticed by potential employers.
Let us help you build
your Resume!
Make your resume more organized and attractive with our Resume Builder