Writing a resume as a Disc Jockey can be a daunting task, especially when you're just starting out and don't have a lot of experience. A good resume needs to showcase your skills and accomplishments while showing off your personality. This guide will provide helpful tips and examples of how to craft a standout Disc Jockey resume. With the right approach, you can make your resume stand out from the pack and land the job of your dreams.
If you didn't find what you were looking for, be sure to check out our complete library of resume examples.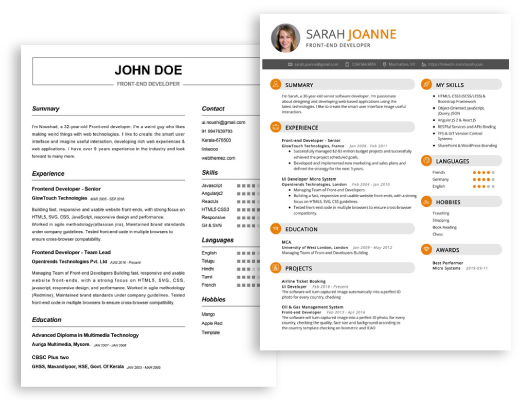 Start building your dream career today!
Create your professional resume in just 5 minutes with our easy-to-use resume builder!
Disc Jockey Resume Examples
John Doe
Disc Jockey
123 Main Street | Anytown, USA 99999 | Phone: (123) 456-7890 | Email: john.doe@email.com
Highly experienced and motivated Disc Jockey with 10+ years of experience in creating and presenting engaging music sets for events. Knowledgeable in both classic and modern musical genres, and experienced in working with a variety of musical equipment. Passionate about providing an engaging and memorable experience to guests and creating music sets that capture the desired atmosphere and mood.
Core Skills:
Music selection
Music mixing
Sound engineering
Musical equipment
Knowledge of musical styles and genres
Enthusiasm for music
Adaptability
Customer service
Creative problem solving
Professional Experience:
Disc Jockey, 2017- Present
Design unique music sets for special events and parties
Coordinate with clients to ensure music selections fit their desired atmosphere
Mix music to ensure smooth transitions and no gaps in between tracks
Utilize various musical equipment, such as turntables, mixers and soundboards
Develop knowledge of new musical styles and genres
Respond to customer feedback to ensure satisfaction
Education:
Bachelor of Arts, Music Production 2020
University of California, Berkeley
GPA: 3.7
Disc Jockey Resume with No Experience
Recent college graduate with a passion for music and entertainment. Experienced with event organization, customer service, and audio engineering. Looking for an opportunity to gain experience as a disc jockey and make an impact in the music industry.
Skills
Creative and organized
Strong customer service skills
Experience with audio engineering
Knowledge of music production tools
Proficient in Microsoft Office and Adobe Suite
Responsibilities
Organize and coordinate events
Set up and operate sound equipment
Play music based on the crowd
Ensure a positive atmosphere and customer satisfaction
Provide technical support to guests and staff
Keep up with current music trends
Interact with guests and audience members
Promote events through social media and other advertising platforms
Follow all safety protocols and procedures
Disc Jockey Resume with 2 Years of Experience
Dynamic and experienced Disc Jockey with two years of experience in creating engaging and exciting soundtracks for events. Consistently received positive feedback from clients and peers for creating unique, artistically pleasing soundtracks. Skilled in reading crowds, selecting targeted music styles, and operating sound equipment. Eager to use extensive knowledge and experience to create an unforgettable experience for guests.
Core Skills:
Music selection and programming
Sound engineering
Crowd reading
Ability to work with a wide variety of music styles
Reliable, punctual, and professional
Responsibilities:
Developing and executing unique soundtracks for events
Analyzing crowd reactions and making real- time adjustments to soundtracks
Using sound engineering equipment to produce desired levels of sound and audio quality
Selecting music that accurately reflects and compliments the event
Maintaining professional and positive relationship between clients and DJ service provider
Conducting sound checks and troubleshooting any audio issues
Advising clients on best music and sound setup for their event.
Disc Jockey Resume with 5 Years of Experience
Talented and experienced Disc Jockey with 5 years of experience in creating and playing music for events and venues. Proven ability to mix music and create a fun and energized atmosphere for any size event. Skilled in operating and setting up audio equipment, creating music playlists, and providing a well- rounded experience for guests.
Core Skills:
Music Mixing
Event Planning
Audio & Video Production
Sound Equipment Setup & Operation
DJ & MC Skills
Computer & Networking Knowledge
Responsibilities:
Played music for various events and venues, customizing sets and playlists based on each audience
Set up, operated, and maintained audio equipment, including sound boards, microphones, and speakers
Collaborated with clients to customize audio experiences and ensure needs were met
Created soundtracks, musical mixes, and sound effects for events
Maintained a library of music to ensure variety and freshness in the music selection
Provided emcee services prior to, between, and after an event
Ensured that all music played was in compliance with copyright laws
Disc Jockey Resume with 7 Years of Experience
Dynamic and experienced disc jockey with 7 years of experience in providing and coordinating high- energy entertainment for a variety of events. Possess proven track record of providing creative and engaging DJ services and producing live mixes that amplify the atmosphere. Demonstrated ability to collaborate with clients, venues, and music artists to create successful events.
Core Skills:
Excellent interpersonal and communication skills
Expert knowledge of various music genres and beat- matching
Proficient in the use of modern DJ equipment
Ability to read, interpret and react to any crowd
Adaptable to changing music trends
Thorough understanding of sound mixing principles
Exceptional crowd control, time management, and technical skills
Responsibilities:
Analyze and select music for each performance
Prepare and mix music tracks for a live set
Arrange and coordinate music for events
Play music as requested by the crowd
Engage the audience with creative and interactive mixes
Manage lighting, sound and video effects
Provide excellent customer service
Ensure smooth operation of equipment and troubleshoot any issues
Adhere to all safety regulations of the venue
Maintain clean and safe work environment
Disc Jockey Resume with 10 Years of Experience
An experienced Disc Jockey with over 10 years of experience in the music and entertainment industry. Skilled in mixing music and creating playlists to fit any occasion, whether entertaining a small group of friends or a large crowd. Possesses strong organizational, time management, and multitasking skills, as well as a passion for music and people. Committed to providing excellent customer service and creating an enjoyable atmosphere.
Core Skills:
Mixing music
Creating playlists
Organizational skills
Time management
Multitasking
Customer service
Music knowledge
Responsibilities:
Setting up and running sound equipment for events
Programming music to create the perfect atmosphere for events
Mixing music to create transitions between songs
Playing pre- programmed music from playlists and taking requests from guests
Responding to customer requests and handling any sound- related issues
Maintaining sound equipment, troubleshooting, and repairs
Staying up- to- date on the latest trends and music to ensure a great performance
Disc Jockey Resume with 15 Years of Experience
A highly experienced Disc Jockey with over 15 years of experience in creating and maintaining a fun, vibrant atmosphere while providing a superior sound and lighting experience. Proven ability to work with a wide range of age groups, music genres, and venues. Highly skilled in crafting a unique soundtrack to any event and providing an entertaining spectacle. Possesses a deep appreciation and understanding of music, sound equipment, and lighting design.
Core Skills:
Live Music Mixing
Quality Sound
Technical Expertise
Adaptability
Equipment Maintenance
Event Planning
Coordination
Interpersonal Communication
Customer Relationship Building
Music Genres
Responsibilities:
Operating and maintaining sound and lighting equipment
Crafting unique sets for individual events
Creating a fun atmosphere for guests
Interacting with customers to obtain feedback
Collaborating with staff on event planning
Scheduling DJ sets
Creating a play list based on customer's preferences
Ensuring safety and security of equipment
Troubleshooting any technical issues
Responding to requests for particular songs
Staying up to date with the latest music trends
In addition to this, be sure to check out our resume templates, resume formats, cover letter examples, job description, and career advice pages for more helpful tips and advice.
What should be included in a Disc Jockey resume?
If you're looking to break into the world of Disc Jockeying, having a great resume is paramount. It's important to show potential employers that you have what it takes to become a successful DJ. Here are some things to include in your Disc Jockey resume:
Professional Experience: List any previous experience you have as a DJ, and include where you have performed (clubs, weddings, festivals, etc.) and any other relevant positions held.
Skills: Include any technical skills you have acquired, such as operating turntables, mixing, beat-matching, etc. Include any other qualifications such as knowledge of music technology, familiarity with popular music genres, and any other skills that could be useful for a Disc Jockey.
Music Library: Showcase your music library, noting the variety of music genres you specialize in and the type of music you typically play. If you have access to a large library of music, be sure to highlight this on your resume.
Education: Include any relevant educational background you have that may relate to your profession as a Disc Jockey. This could be something such as a degree in music or a course in audio engineering.
Awards or Achievements: List any notable awards or achievements you've received throughout your DJ career. This could be a competition win or recognition for a performance you've put on.
References: Providing references from previous employers or clients is always beneficial for job seekers. Include 1-2 references on your resume, and make sure to ask for permission from the people you're listing as references.
By including these core elements in your Disc Jockey resume, you'll be sure to make a lasting impression on potential employers and increase your chances of getting the gig. Good luck!
What is a good summary for a Disc Jockey resume?
When applying for a disc jockey (DJ) job, it is important to have an effective resume that summarizes your experience, skills, and accomplishments. A good summary for a DJ resume should include your experience in entertainment, any relevant musical know-how, and personal qualities that make you a great candidate for the job.
Start your summary statement by mentioning your experience in the industry. State any qualifications you have, such as a degree or diploma in music or entertainment. If you have any experience DJing in clubs or other venues, be sure to mention it.
Next, describe any technical know-how or equipment skills you have. Are you comfortable with mixing, scratching, recording, or playing music digitally? Do you have experience setting up or running sound systems? Be sure to mention any expertise you have in this area.
Finally, be sure to mention any personal qualities or characteristics that make you an outstanding DJ. Do you have a creative eye for detail or an innate understanding of music? Are you personable, reliable, and punctual? Are you confident in your ability to read a crowd and play the right music?
By following this guide, you can create an effective summary for your DJ resume that will help you stand out from the competition. With a well-written summary, you can make sure that your skills and qualifications are communicated clearly to potential employers.
What is a good objective for a Disc Jockey resume?
A Disc Jockey (DJ) resume should have an objective that is tailored to the specific position you are applying for. Your objective should emphasize your experience and qualifications that make you an ideal candidate for the job. Here are some good objectives for a Disc Jockey resume:
To utilize my extensive musical knowledge and DJ experience to create memorable and entertaining mixes for a variety of audiences.
To become a trusted and reliable Disc Jockey for a reputable event or venue, providing engaging and top-quality mixes.
Seeking a position as a Disc Jockey utilizing my extensive background in music and technical know-how of audio equipment and sound systems.
To apply my enthusiasm for music and technical expertise to create unique soundscapes and mixes for a variety of occasions.
To obtain a Disc Jockey position that allows me to combine my passion for music and technical expertise to provide a unique and enjoyable musical experience for listeners.
How do you list Disc Jockey skills on a resume?
When applying for a Disc Jockey job, it is important to make sure your resume includes all the necessary skills you have that may help you succeed in the role. You should emphasize your experience and qualifications in the areas of music selection and mixing, technical expertise, and promotion of events. Here are some tips for listing Disc Jockey skills on a resume:
Music Selection and Mixing: This skill set includes experience and knowledge of various styles of music, the ability to select and mix a variety of genres, and the technical know-how to work with soundboards, sound systems, and other equipment.
Technical Expertise: This skill set involves knowledge of the hardware, software, and equipment needed to create and mix music, as well as the ability to troubleshoot and solve technical issues as needed.
Promotion of Events: Disc Jockeys need to be able to promote events, both live and online, as this is often a major part of the job. It includes marketing and promotional skills, as well as the ability to create and maintain a presence in the digital space.
Communication Skills: As a Disc Jockey, it is important to be able to effectively communicate with the audience and other team members in order to ensure a successful event. You should demonstrate your ability to speak and write clearly, as well as your ability to listen and understand instructions.
By including all of these necessary skills on your resume, you will be sure to make a great impression on potential employers. Being able to showcase your experience and knowledge in all of these areas should give you an advantage over other candidates.
What skills should I put on my resume for Disc Jockey?
When applying for a Disc Jockey position, your resume should focus on your technical abilities, creative flair and communication skills. Here are some of the top skills to consider listing on your resume:
Music Selection and Mixing: As a Disc Jockey, you should be adept at selecting music to match the crowd and environment. Additionally, you should be able to mix songs together without a noticeable gap or interruption.
Audio Engineering: Advanced knowledge of audio engineering, such as EQ and compression, is important for creating a polished and professional sound.
Equipment and Technology: A Disc Jockey must have extensive knowledge of the latest audio equipment and technology, such as soundboards, mixers, and turntables.
Creative Flair: A Disc Jockey should be creative and have the ability to think on their feet. You should be able to come up with innovative ideas to captivate the crowd and keep them entertained throughout the night.
Interpersonal Skills: As a Disc Jockey, you should have strong interpersonal skills as you will be interacting with guests and clients on a regular basis.
Networking: Having a strong network in the music industry can be key to landing DJ gigs. Make sure to list any of your professional contacts or relationships on your resume.
Key takeaways for an Disc Jockey resume
When you are looking to put together your resume as a Disc Jockey, there are some key takeaways you should keep in mind. With the right information, you can create a resume that stands out and gets you the job you want.
First, it is important to make sure to include your work history. List any DJing jobs you have had, even if they were part-time or volunteer positions. If you do not have any prior work experience, highlight any related skills you have that relate to DJing. Be sure to include details about the events you have DJed at, any specific equipment you may have used, and any special skills you have in sound engineering or music production.
Second, make sure to highlight any awards or accomplishments you have achieved. This could be a DJ competition you won, an award you received from a school or organization, or any other recognition you have received for your work.
Third, be sure to include any extracurricular activities or hobbies you have related to DJing. This could include music production classes, volunteer work with a radio station, or any other activities related to DJing.
Finally, make sure to tailor your resume to the job you are applying for. Research the company and adjust your resume to highlight the skills and experiences that they are looking for.
By incorporating these key takeaways into your resume, you can create an impressive Disc Jockey resume that will help you stand out and land the job you want.
Let us help you build
your Resume!
Make your resume more organized and attractive with our Resume Builder