No matter what level of work you are in, you as a director need to have an effective resume that outlines your qualifications and experience. Writing a resume is always a challenging task, and it can be difficult to know where to start. This director resume writing guide will provide you with all the necessary resources and tips you need to create a strong resume that will help you stand out from the rest. It will walk you through the entire process of writing, including choosing a layout, incorporating keywords, and providing useful examples. By following the advice in this guide, you'll be able to create a resume that will help you secure your next role as a director.
If you didn't find what you were looking for, be sure to check out our complete library of resume examples.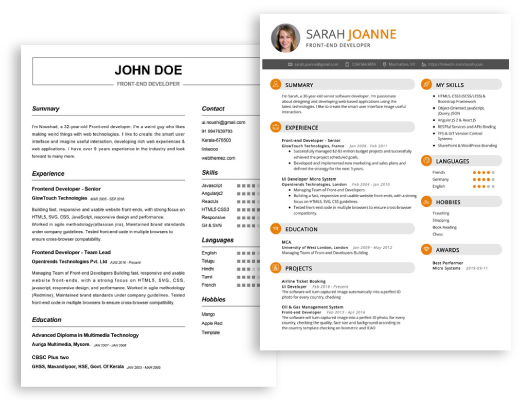 Start building your dream career today!
Create your professional resume in just 5 minutes with our easy-to-use resume builder!
Director Resume Examples
John Doe
Director
123 Main Street | Anytown, USA 99999 | Phone: (123) 456-7890 | Email: john.doe@email.com
A dedicated, experienced and knowledgeable director with over 10 years of experience managing teams in the media and entertainment industry. My passion for film and video production is what drives me to work hard and inspire others around me. My core skills include leadership, communication, and problem- solving. My professional experience includes directing multiple film and television projects and leading various teams. Additionally, I have a Bachelor's Degree in Film Production from XYZ University.
Core Skills:
Leadership
Communication
Problem Solving
Budgeting
Team Management
Project Management
Planning & Scheduling
Professional Experience:
XYZ Studios – Director | 2016 – Present
Lead multiple film and television projects from pre- production to post- production and oversee various teams, including editing, writing, production, and visual effects.
Responsible for managing the team, hiring new staff, and budgeting.
Organized planning and scheduling of shoots, and oversaw the production crew to ensure quality.
ABC Productions – Director | 2014 – 2016
Directed projects from pre- production to post- production.
Oversaw team of writers, producers, and other crew members.
Managed budget and scheduling of shoots.
Education:
XYZ University – Bachelor's Degree in Film Production | 2010 – 2014
Completed a Bachelor's Degree in Film Production with a focus on directing and producing.
Took courses in film studies, video production, and editing.
Developed knowledge and skills in screenwriting, directing, and producing.
Director Resume with No Experience
Highly motivated and creative film director with a passion for creating compelling stories and visuals. Experienced in script writing, cinematography, and post- production, as well as developing relationships with production teams to ensure timely completion of projects. Strong interpersonal skills and the ability to manage a wide variety of tasks and people.
Skills
Strong leadership and communication skills
Excellent eye for detail
Excellent problem- solving abilities
Strong grasp of current film industry trends
Proficient in scriptwriting, cinematography, and post- production
Proficient in Adobe Creative Suite
Proficient in project management
Responsibilities
Developing project outlines, storyboards, scripts, and budgets
Creating production schedules and managing a team of cast and crew
Working with film editors, art directors, and sound designers to ensure a high- quality project
Coordinating with cinematographers and design teams to ensure they are capturing the desired visuals
Supervising the post- production process, including color correction and sound design
Evaluating projects and providing feedback to ensure high quality standards are met
Staying up to date with current film industry trends and techniques
Director Resume with 2 Years of Experience
I am an experienced Director with two years of professional experience in a variety of settings, from large corporate offices to smaller, independent businesses. My background includes managing teams of up to 25 individuals, as well as overseeing budgets, developing strategies, and engaging stakeholders in pursuing organizational objectives and goals. I excel at developing strong relationships with stakeholders and colleagues, and I am passionate about contributing to team success and driving business growth.
Core Skills:
Strategic Planning
Budgeting & Forecasting
Team Management & Leadership
Business Development
Stakeholder Engagement
Change Management
Project Management
Risk Management
Critical Thinking
Problem- solving
Responsibilities:
Developing and implementing strategies to drive business growth
Managing budgets and forecasting financial goals
Leading and motivating teams of up to 25 individuals
Managing projects and vendor relationships
Developing and maintaining strong relationships with clients and stakeholders
Overseeing the implementation of change initiatives
Monitoring and evaluating risk management procedures
Continuously identifying and improving processes for increased efficiency
Formulating recommendations for senior management and board members
Director Resume with 5 Years of Experience
I am an experienced director with 5 years of expertise overseeing strategic development, operations, and marketing initiatives. I have a proven track record of success in leading teams to achieve objectives, maximizing efficiency, and improving overall performance. My core skills include project management, problem- solving, communication, and organization. I enjoy working with teams to achieve goals and promote progress.
Core Skills:
Project Management
Problem- solving
Organization
Communication
Leadership
Responsibilities:
Develop, implement, and evaluate strategies for achieving organizational objectives
Design and implement operational systems and processes to increase efficiency
Ensure compliance with regulatory standards and internal procedures
Analyze financial reports and performance data to identify areas of improvement
Oversee marketing initiatives to increase brand visibility and drive sales
Manage and develop teams to maximize performance and ensure objectives are met
Provide guidance and mentorship to team members to foster personal and professional growth
Lead meetings to communicate goals and objectives, provide feedback, and resolve conflicts
Establish and maintain relationships with relevant stakeholders
Director Resume with 7 Years of Experience
A highly organized, detail- oriented director with 7 years of experience leading teams and managing operations. Proven success in streamlining processes, setting strategies, and effectively allocating resources. A creative problem- solver with a knack for identifying opportunities to improve efficiency and performance.
Core Skills:
Strategic Planning
Organizational Development
Change Management
Risk Assessment
Project Management
Leadership
Budgeting
Responsibilities:
Developed and implemented short- and long- term strategic plans for the organization
Managed budgeting, resource allocation, and expenditure of funds
Cultivated strong relationships with stakeholders, customers, and partners
Developed and implemented systems to monitor performance, compliance, and quality
Directed and supervised staff, ensuring development and growth
Identified areas for improvement and implemented change initiatives
Developed and maintained relationships with internal and external stakeholders
Director Resume with 10 Years of Experience
I am an experienced director with 10+ years of experience in leading teams and organizational change initiatives. I have a proven track record of success in driving operational efficiency, facilitating stakeholder collaboration, and ensuring that strategic objectives are met. I excel at developing and implementing innovative strategies, teams and systems while managing conflict and complexity. In addition, I am a highly organized, proactive and reliable leader who is passionate about making a positive impact on organizational goals and objectives.
Core Skills:
Strategic Planning and Execution
Team Management and Leadership
Stakeholder Engagement and Collaboration
Change Management
Process Improvement and Optimization
Risk Management
Project Management
People Development and Mentoring
Financial Management and Analysis
Responsibilities:
Establish and implement long- term strategic plans to guide the organization and ensure smooth operations
Lead a team of managers, supervisors and staff in order to achieve business objectives and goals
Develop and implement operational processes and procedures to increase efficiency and productivity
Develop and maintain relationships with stakeholders and ensure positive relationships with customers, vendors and other partners
Monitor and review progress of operations, identify areas of improvement and drive effective implementation of changes
Facilitate communication between teams, stakeholders and external customers and vendors
Manage financial activities such as budgeting, forecasting, planning, and analysis
Develop and implement effective strategies to reduce costs and increase revenue
Recognize and address potential risks and develop strategies to mitigate risks and prevent problems
Hire, train and mentor team members to ensure a high level of performance and alignment with organizational objectives
Director Resume with 15 Years of Experience
John Smith is a seasoned director with over 15 years of experience, providing strategic direction and technical knowledge to help teams develop and grow. He has extensive experience in the fields of finance, accounting, and business operations, and is an expert in project management, budget management, corporate strategy, and organizational development. With his leadership and problem- solving ability, he is an integral part of any organization, and has consistently delivered successful results.
Core Skills:
Project Management
Budget Management
Financial and Accounting Strategies
Business Analysis and Planning
Corporate Strategy
Organizational Development
Team Leadership
Communication and Presentation Skills
Problem Solving
Responsibilities:
Developed and implemented financial strategies and plans to ensure financial health of the organization.
Monitored and maintained budget, ensuring expenses were in line with allocated budget.
Led the development and execution of operational plans to improve efficiency and effectiveness.
Analyzed and evaluated financial information to drive decisions and strategies.
Assisted with corporate strategy development, including long- term and short- term plans.
Developed and implemented organizational change initiatives, including process improvement and alignment of organizational structure.
Led teams in the implementation of successful projects, from concept to completion.
Facilitated effective communication between departments and teams.
Reported on progress and provided updates to key stakeholders.
In addition to this, be sure to check out our resume templates, resume formats, cover letter examples, job description, and career advice pages for more helpful tips and advice.
What should be included in a Director resume?
A Director resume should showcase the individual's professional experience, education, and appropriate qualifications and certifications.
In the professional experience section, the individual should list any previous experience in directing, producing, or managing films, shows, events, or performances.
This should include films, television shows, live events, and theater productions, as well as any other experience related to directing.
The individual should include details such as title, production company, the budget for the job, the crew size, and the duration.
The education section should include any formal education the individual has received in production, directing, theater, or film-related fields.
This should include any degrees, certifications, workshops, or fellowships they have completed.
The individual should also include any specialized skills they have developed throughout their career that would be beneficial in a director role.
This may include skills in budgeting, project management, crew supervision, working with talent, and editing.
Any awards or recognition the individual has received for their work should also be included.
Finally, the individual should include any relevant memberships or affiliations they have with organizations related to their field.
This will demonstrate their commitment to the industry and their dedication to their craft.
What is a good summary for a Director resume?
A good summary for a Director resume should include relevant work experience and skills, as well as any relevant professional certifications or qualifications. The summary should also give an overview of the candidate's career goals and objectives. Finally, the summary should include a few sentences that briefly explain the candidate's relevant qualifications and why they are well-suited for the position. This summary should be specific, concise, and informative, and should demonstrate the candidate's ability to lead, manage, and motivate a team. By including this summary, employers can quickly and easily identify the most qualified individuals for the position.
What is a good objective for a Director resume?
A good objective for a Director resume should be tailored to the specific job with an emphasis on your unique strengths and background. To help you get started, here are some examples.
To leverage my years of experience managing teams and delivering successful outcomes while leading a team of highly motivated professionals.
To take on the role of Director and utilize my extensive knowledge and experience in [Field] to ensure the successful execution of projects and initiatives.
To utilize my diverse range of skills in [Field] to provide creative solutions and drive results as a Director.
To bring my strong leadership capability and management experience to help drive success within a growing organization.
To direct a team of professionals and utilize my knowledge of [Field] to develop innovative strategies for long-term success.
To use my extensive [Field] expertise to direct a team and create an environment of collaboration and productivity.
To use my skills in [Field] to lead a team, drive successful outcomes, and foster an environment of collaboration and excellence.
How do you list Director skills on a resume?
A director is a leader who has the knowledge and experience to guide a project or organization to success. As such, listing director skills on a resume is essential for any job seeker looking to be a director.
Your director skills should include both leadership and management skills, as well as technical expertise. Here are some of the most important director skills to include on your resume:
Strategic Planning: Directors need to be able to anticipate and plan for future growth. This includes understanding business objectives, setting targets, and maintaining a budget.
Team Leadership: Directors must have the ability to manage and motivate teams in order to achieve success. This includes creating a vision for the team, setting goals, and offering constructive feedback.
Communication: Directors must be able to effectively communicate with their teams and other stakeholders. This includes proactive listening, speaking, and writing skills.
Problem-Solving: Directors must be able to identify problems, assess their complexity, and develop creative solutions.
Decision-Making: Directors must be able to make decisions quickly and confidently, while considering all available options.
Risk Management: Directors must be able to identify, assess, and mitigate risks in order to minimize any potential losses.
Financial Acumen: Directors should have an understanding of financial principles and practices, including budgeting and forecasting.
By including these director skills on your resume, you will be able to demonstrate your ability to be a successful director.
What skills should I put on my resume for Director?
When applying for a position as a Director, it is important to highlight the skills and qualities that will make you an effective leader. The following is a list of the most important skills to include on your resume when applying for a Director position:
Strategic Thinking: The ability to think strategically is essential for a Director, as it is the key to planning, evaluating, and executing effective strategies.
Communication: Strong communication skills are essential for Directors in order to effectively lead teams, motivate employees, and collaborate with other departments.
Organization: Directors need to be highly organized in order to manage a large number of tasks and projects simultaneously.
Problem-Solving: As a Director, it is important to have the ability to identify and solve problems quickly and effectively.
Leadership: Directors must be able to motivate and inspire their team to reach their goals.
Budgeting and Financial Analysis: Being able to manage a budget and analyze financial data is important for Directors in order to make informed decisions.
Decision-Making: Directors need to be able to make decisions quickly and confidently.
Negotiation: Directors must be able to negotiate effectively in order to achieve their goals.
By including these skills on your resume, you can demonstrate to potential employers that you have the qualifications to be an effective Director.
Key takeaways for an Director resume
When it comes to standing out in a crowded job market, the director resume is an essential tool. Recruiters and hiring managers will be looking for specific information, making it important to ensure yours is up to date and properly formatted. Here are few key takeaways to keep in mind when crafting your director resume:
Highlight your leadership skills: Put emphasis on your previous experience in a leadership role and how you can lead teams and motivate employees. Showcase problems you solved, objectives you achieved, and projects you managed successfully.
Focus on specific achievements: Make sure to include measurable accomplishments and results under each job, not just a list of duties. Quantify your accomplishments and make sure to be as specific as possible.
Utilize keywords: Take the time to research the job description and ensure that the language you use in your resume matches the keywords used in the job description. This will help to ensure that your resume is picked up by the applicant tracking system.
Use a professional format: Formatting and design are extremely important when it comes to making a great first impression. Make sure to use a professional template, include a clear, concise summary, and use consistent formatting throughout.
Proofread: Before you submit your resume, take the time to review it for errors and typos. If possible, have a friend or family member review it as well.
By following these key takeaways, you can ensure that your director resume stands out from the competition and gets you noticed by potential employers.
Let us help you build
your Resume!
Make your resume more organized and attractive with our Resume Builder