Writing a resume can be a daunting task, and as an accompanist, you may feel especially at a loss when it comes to writing one. After all, if you're an accompanist, you may not have much experience in the job market outside of accompanying. However, there are ways to craft a powerful resume that will draw attention to your skills and experience and make you stand out from the crowd. In this blog post, we'll provide a guide to writing an accompanist resume, complete with examples of how to highlight your accomplishments. By the end, you'll have the tools and knowledge you need to create a resume that helps you land the job.
If you didn't find what you were looking for, be sure to check out our complete library of resume examples.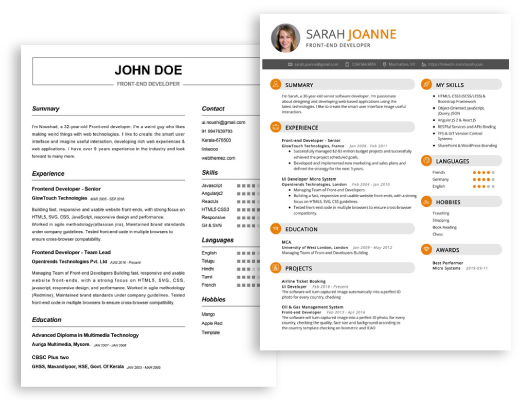 Start building your dream career today!
Create your professional resume in just 5 minutes with our easy-to-use resume builder!
Accompanist Resume Examples
John Doe
Accompanist
123 Main Street | Anytown, USA 99999 | Phone: (123) 456-7890 | Email: john.doe@email.com
I am a highly experienced accompanist, with over 8 years professional experience. My qualifications include a degree in music, a background in classical piano, and extensive experience performing with choirs and ensembles. I am passionate about bringing music to life, and I specialize in providing empathetic accompaniment and creative accompaniment. I am comfortable playing a wide variety of genres, including classical, jazz, and contemporary styles. I am looking for an opportunity to work with a wide variety of groups and individuals, and to continue to grow and evolve as an accompanist.
Core Skills:
Advanced Choral Accompaniment
Highly Experienced in Solo Accompaniment
Excellent Sight- Reading and Music Theory Expertise
Classical, Jazz, and Contemporary Genres
Highly Creative and Adaptable
Advanced Piano Performance
Exceptional Ear for Music
Professional Experience:
Accompanist, ABC Music Conservatory, 2016- present
Accompanied choirs, ensembles, and soloists in classical, jazz, and contemporary styles
Transcribed and arranged music for various performances
Coached and mentored students in music theory, sight- reading, and piano skills
Accompanied various musical productions, including the ABC High School Musical, 2018
Education:
Bachelor of Music, ABC University, 2012
Minor in Music Theory, ABC University, 2012
Piano Performance and Pedagogy, ABC University, 2012- 2015
Accompanist Resume with No Experience
A passionate music enthusiast looking to gain experience as an accompanist. Enjoys learning and working with new people, and is eager to take on new challenges.
Skills
Musical Knowledge: Knowledge of various genres of music, including classical, jazz, and pop.
Instrumental Performance: Ability to perform on keyboard, guitar, and other stringed instruments.
Music Theory: Understanding of musical terms and notation.
Aural Skills: Good hearing and pitch recognition.
Collaboration and Leadership: Ability to work with others in a professional and collaborative environment.
Responsibilities
Provide accompaniment for singers and other instrumentalists.
Perform as a solo artist or in bands.
Create and arrange music for performance.
Select appropriate music for performances.
Set up and maintain instruments and sound equipment.
Rehearse and practice with the band or soloist.
Attend and participate in music performances.
Accompanist Resume with 2 Years of Experience
I am a professional Accompanist with over 2 years of experience in accompanying soloists and choirs. I have experience playing music from various genres and have a wide range of knowledge in various instruments and styles. My experience has allowed me to be an invaluable asset to any musical performance. I have an excellent ear for harmonies and a great eye for details to ensure a top- notch performance. I am a team player and can easily adjust to any situation.
Core Skills:
Ability to play a variety of instruments
Strong ear for harmonic structures
Excellent sight- reading skills
Ability to adapt quickly to any musical situation
Great attention to detail
Team player
Responsibilities:
Accompany soloists and choirs
Play instruments such as piano, guitar, and bass
Develop and maintain musical arrangements
Research and analyze musical pieces
Transcribe musical scores
Assist with sound check and sound system setup
Maintain a clean and safe working environment
Work with the director to ensure a smooth and successful performance
Accompanist Resume with 5 Years of Experience
I am an accomplished professional accompanist with 5 years of experience in providing instrumental accompaniment to various soloists and choirs. My expertise lies in providing accompaniment to singers and instrumentalists in all genres of music, from classical, jazz, and gospel to pop and musical theatre. I have an ear for hearing precise harmonies and have a keen understanding of musical theory as well as improvisation techniques. I am an experienced musician with excellent sight- reading and improvisation skills who can accurately reproduce the necessary music for any given situation.
Core Skills:
Expert accompaniment and sight- reading
Strong understanding of music theory
Superior improvisational skills
Excellent ear for harmonies
Ability to accurately reproduce music
Ability to work with many genres of music
Attention to detail
Reliable and punctual
Responsibilities:
Accompany vocal and instrumental soloists in various musical settings
Provide musical support for choirs and ensembles
Organize and accompany rehearsals
Create accompaniment arrangements for specific songs
Manage and maintain musical equipment
Monitor sound levels during performances
Advise and offer feedback to the conductor
Work with the conductor to ensure the tempo is consistent
Maintain accurate documentation of all music and related materials
Accompanist Resume with 7 Years of Experience
A passionate and dedicated accompanist of 7 years with experience in classical music and choir accompaniment. An enthusiastic and detail oriented musician, who is driven to create work that delights audience and performers alike. Skilled at quickly adapting to a wide variety of musical styles, able to play confidently in any situation. Possesses an excellent ability to take direction, while being creative and proactive in offering ideas.
Core Skills:
Knowledge of a wide range of musical styles including classical, jazz, folk, and contemporary
Highly experienced in Choir accompaniment
Proficient in a variety of instruments including piano, guitar, and percussion
Excellent sight- reading skills
Ability to work collaboratively with other musicians
Knowledge of music theory and composition
Responsibilities:
Accompany vocal and instrumental performances
Transcribe, arrange, and record music
Prepare and organize music for rehearsals and performances
Collaborate with composers and music directors on new compositions
Instruct vocalists, instrumentalists, and choirs
Develop a comprehensive understanding of the music being performed
Ensure the musical accompaniment is in the correct style and meter
Edit and refine musical scores as needed
Provide support to conductors and other accompanists throughout the performance
Maintain a thorough knowledge of music theory and composition techniques.
Accompanist Resume with 10 Years of Experience
I am an experienced accompanist with 10+ years of experience playing the piano and guitar. I have performed in numerous concerts, shows, and events with bands, choirs, and solo vocalists. I have a passion for playing music as a collaborative effort and strive to create a unique sound through every performance. My strong skill set includes sight- reading music, transposing music for a variety of keys, improvisation, and songwriting.
Core Skills:
Sight- reading music
Transposing music for a variety of keys
Improvisation
Songwriting
Playing the piano and guitar
Collaborative effort
Responsibilities:
Creating a unique sound through performance
Accompanying solo vocalists, bands and choirs
Rehearsing and performing at concerts, shows, and events
Arranging and composing music
Reading and memorizing musical notation
Managing musical resources and equipment
Accompanist Resume with 15 Years of Experience
An experienced Accompanist with 15 years of professional experience providing music support to productions, performances, events, and rehearsals. Possesses a broad range of skills from piano, synth, and percussion, to songwriting, arranging, and music production. Strives to create unique musical experiences, while delivering on the needs of the project. Able to work efficiently both independently and collaboratively to ensure a successful musical outcome.
Core Skills:
Excellent Piano and Synthesizer skills
Music Production Knowledge
Arranging and Orchestration Skills
Strong Musical Aesthetic
Songwriting Capabilities
Rehearsal and Performance Experience
Responsibilities:
Accompany performers during rehearsals, performances, and recording sessions
Work with directors, producers, and sound engineers to plan and execute musical performance
Write and arrange music for a variety of genres and styles
Record and mix audio tracks
Create and edit midi sequences
Provide musicianship and technical support for performances
Maintain and repair recording equipment
In addition to this, be sure to check out our resume templates, resume formats, cover letter examples, job description, and career advice pages for more helpful tips and advice.
What should be included in a Accompanist resume?
When crafting a resume for an accompanist position, there are certain components that should be included. Here is an overview of what should be included in an Accompanist resume:
Professional Summary: A brief statement that highlights your experience and qualifications as an accompanist.
Relevant Skills: List any relevant skills you have developed over the years, such as sight-reading, vocal coaching, and music theory.
Accompaniment Experience: Include any previous experience accompanying vocalists or instrumentalists in any professional or non-professional setting.
Performance Experience: Describe any performance experience that you have in either a solo or group capacity.
Education: List any relevant education or training, such as music theory, instrumental instruction, and vocal technique.
Certifications: Include any certifications or awards that you have earned for your accompaniment abilities.
In addition, any other information that could be beneficial to the position should be included in your resume. This could include references, additional hobbies or talents, and any volunteer experience related to music. By including all of this information in your resume, you can ensure that you make a good impression and land the job you are applying for.
What is a good summary for a Accompanist resume?
A qualified accompanist resume should be able to highlight the candidate's musical talents, experience playing with a variety of musical groups and instruments, and the ability to adapt to different musical settings and accompany various performers. Furthermore, the summary should convey the candidate's commitment to excellence, outstanding technical skills in playing various instruments, as well as their ability to work well in collaborative environments. Additionally, the summary should also show how the candidate's experience can be a beneficial addition to any musical ensemble. In summary, a good accompanist resume should emphasize the candidate's commitment to excellence, technical skill, and ability to collaborate with other musicians. By doing so, the candidate will demonstrate to potential employers that they possess the necessary skills and experience to be a successful accompanist.
What is a good objective for a Accompanist resume?
A good objective for an Accompanist resume should be concise and specific about the type of position and environment you are seeking. It should also demonstrate any special skills or qualifications that could benefit the employer. Here are some examples of good objectives for an Accompanist resume:
Seeking a position as an Accompanist in an educational institution that values collaboration and creativity.
Experienced Accompanist with 10+ years of experience in a variety of musical styles, seeking to use my expertise to provide musical accompaniment in a professional setting.
Highly motivated Accompanist with a passion for music, looking for a challenging and rewarding position in a dynamic environment.
Professional Accompanist with extensive knowledge of musical styles, seeking to use my skills to provide live accompaniment to singers and bands.
To obtain a position as an Accompanist in a music program that encourages collaboration and innovation.
How do you list Accompanist skills on a resume?
When it comes to showcasing your accompanist skills on a resume, it's important to ensure that your qualifications stand out so that employers can easily identify which skills you have, and how they may be beneficial to their organization.
Here are a few tips on how to list accompanist skills on a resume:
Include your competencies: Showcase your experience as an accompanist by listing the musical instruments you can play, the musical styles you specialize in, and the venues you have performed in.
Detail your experience: Include a list of any performances or recordings you have taken part in, and any special events or festivals you have attended.
Showcase your education: List any music-related degrees or certifications you have, as well as any awards or recognitions you have received.
Highlight your abilities: Demonstrate your ability to read music and accurately reproduce it, as well as your experience with improvisation and sight-reading.
Provide references: Include the names and contact information for any of your previous employers who can attest to your performance as an accompanist.
By following these tips, you can ensure that your accompanist skills stand out to employers and give them an accurate picture of your qualifications.
What skills should I put on my resume for Accompanist?
When applying for an Accompanist position, your resume should highlight the skills you possess that make you an ideal candidate. There are a few key skills every Accompanist needs that should be featured on your resume, including:
Musical Performance: Accompanists need to be able to play music proficiently, often in a variety of styles, so be sure to list any instruments you can play and any performance experience you have.
Music Theory: Accompanists need to be knowledgeable when it comes to music theory, so a strong background in theory should be highlighted on your resume.
Repertoire: Accompanists should be familiar with a variety of repertoire, as they may be asked to play anything from classical to contemporary music.
Sight Reading: Accompanists need to be able to read and interpret music quickly, so be sure to mention any experience you have with sight-reading.
Collaboration: Accompanists need to be able to work well with others, so be sure to mention any collaborative experiences you've had, such as accompanying singers or other instrumentalists.
Adaptability: Accompanists need to be able to adjust to different musical styles, so highlight any experiences you've had that demonstrate your ability to adapt.
By emphasizing the above skills on your resume, you can help employers understand why you are the perfect candidate for the job of an Accompanist.
Key takeaways for an Accompanist resume
As an accompanist, you need to have a resume that stands out from the crowd in order to be considered for jobs. In order to have an effective resume, there are certain key takeaways that you should keep in mind.
First and foremost, it's important to highlight your breadth and depth of experience. Include both the type of accompaniment that you are comfortable with (e.g., instrumental, choral, solo, etc.) as well as the venues you have played in. This will give potential employers a good idea of your abilities.
Next, make sure to list any awards or recognitions you have received. This shows employers that you are a talented musician who is dedicated to their craft.
Finally, be sure to list your references. References are a great way of providing potential employers with an outside opinion of your abilities.
In summary, when creating a resume as an accompanist, be sure to emphasize your experience, awards, and references. Doing so will help you create a resume that stands out from the crowd and makes a great impression on potential employers.
Let us help you build
your Resume!
Make your resume more organized and attractive with our Resume Builder