A mudlogger is a geologist responsible for monitoring and recording drilling activity in the oil and gas industry. Writing a successful resume for a mudlogger position requires a unique set of skills and experience that sets you apart from other applicants. In this guide, we will provide an overview of the mudlogger resume writing process, tips for crafting an effective resume, and examples of what successful resumes look like. We'll also discuss the qualifications, skills, and experience employers are looking for in mudlogger candidates. With the right approach, you can create a resume that helps you stand out and gain the attention of employers.
If you didn't find what you were looking for, be sure to check out our complete library of resume examples.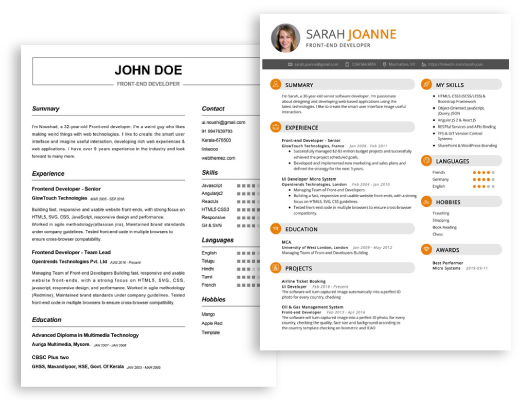 Start building your dream career today!
Create your professional resume in just 5 minutes with our easy-to-use resume builder!
Mudlogger Resume Examples
John Doe
Mudlogger
123 Main Street | Anytown, USA 99999 | Phone: (123) 456-7890 | Email: john.doe@email.com
I'm an experienced mudlogger with over 10 years of experience working in the oil and gas industry. I have a strong understanding of drilling operations and safety protocols. I'm skilled in data analysis, comprehensively logging data, equipment troubleshooting and management, and providing wellsite support in a fast- paced environment. I'm a reliable and dedicated professional who is able to work independently and as part of a team.
Core Skills:
Drilling operations
Data Analysis
Logging data
Equipment troubleshooting
Management
Wellsite Support
Professional Experience:
Drilling Mudlogger, ABC Oil & Gas Company, 2010 – Present
Responsible for mudlogging and collecting data at different well sites
Responsible for managing data entry of geological samples
Trained new mudloggers in mudlogging operations and safety protocols
Assisted in troubleshooting technical issues with mudlogging equipment
Created detailed reports of mudlogging data and activities
Education:
Bachelor of Science in Geology, ABC University, 2006 – 2010
Cementing and Casing Design Certification, ABC Oil & Gas Company, 2009 – 2010
Mudlogger Resume with No Experience
Experienced Mud Logger with a strong eye for geological detail and safety compliance.
Highly organized professional able to manage a wide range of responsibilities simultaneously.
Eager to leverage expertise in mud logging and geology to add value to a respected organization.
Skills
Proficient in data analysis, wellsite operations, and core analysis.
Strong understanding of geology and geosteering principles.
Excellent written and verbal communication skills.
Sound decision- making and problem- solving capabilities.
Knowledgeable in wellsite safety procedures and regulations.
Responsibilities
Analyze drill cuttings and mud log samples to monitor well conditions.
Monitor and report drilling operations, including the rate of penetration, pressure, and mud properties.
Provide geology and geosteering support during drilling operations.
Ensure compliance with safety regulations and protocols at the wellsite.
Conduct core analysis and logging operations to accurately record data.
Assist in preparing technical reports for customers and stakeholders.
Collaborate with operational and geological teams to ensure successful drilling operations.
Mudlogger Resume with 2 Years of Experience
A highly experienced, professional Mudlogger with 2+ years of progressively responsible experience, including working in aligning with the drilling and operations teams in the Oil and Gas industry. Adept in the collection and analysis of sample data, as well as the development of logs and reports, to ensure the utmost safety and efficiency in drilling operations. Possess a strong background in safety operations, along with an in- depth understanding of the equipment and processes used in the Oil and Gas industry.
Core Skills:
Knowledge of mud logging systems and their components
Proficient in the use of computerized systems for data acquisition, analysis and reporting
Ability to interpret geological data from samples and interpret the data into concise reports
Experience in maintaining and updating mud logging systems
Familiarity with the various safety protocols of the Oil and Gas industry
Responsibilities:
Develop and maintain mud logging systems
Perform drilling operations while monitoring data and equipment
Collect drilling fluid and other geological samples
Analyze geological samples and interpret data into concise reports
Monitor and document ongoing drilling operations
Ensure compliance with safety protocols and procedures in the Oil and Gas industry
Prepare daily progress reports and other related documentation
Mudlogger Resume with 5 Years of Experience
Highly experienced Mudlogger with 5 years of professional experience in the oil and gas industry. Proven history of accurately recording and analyzing well data, providing safety and hazard assessments for drilling operations, and monitoring complex technical processes. Known for providing efficient and accurate data to ensure the most cost- effective and efficient operation. Flexible and detail- oriented, with excellent problem- solving, communication, and critical thinking skills.
Core Skills:
Data Analysis
Drilling Operations
Risk Assessments
Instrumentation
Problem Solving
Communication
Safety Protocols
Responsibilities:
Generated mud log reports, diagrams, and charts for senior management and wellsite personnel.
Monitored and reviewed drilling operations and equipment to ensure safety and compliance with regulations.
Conducted risk assessments and hazard analysis for drilling operations.
Coordinated with wellsite personnel and other oil and gas industry professionals.
Collected and analyzed drilling data, including cuttings and samples, to identify any potential problems.
Operated, calibrated, and maintained drilling instrumentation.
Developed and maintained records and logs of drilling operations.
Provided suggestions and recommendations for improving the efficiency of operations.
Mudlogger Resume with 7 Years of Experience
Highly skilled and experienced Mudlogger with 7 years of experience in the industry. Proven knowledge of techniques and principles associated with core logging processes. Safety- conscious and detail- oriented with experience in geochemistry, well logs, and mudlogging operations. Exceptional ability to utilize industry- specific computer software, such as GeoGraphix and OpenWells.
Core Skills:
Well Logging
Geochemistry
Data Analysis
Mudlogging Operations
Safety Conscious
Computer Software
Responsibilities:
Performed drilling, completion, and workover operations in the field.
Measured and analyzed geological data, such as mud weight, formation temperature and pressure.
Monitored, recorded and tracked drilling operations and equipment.
Analyzed mud and gas samples with the use of industry- standard software.
Acted as a liaison between drilling crews, supervisors and service companies.
Reviewed and updated safety and environmental policies and procedures.
Managed the communication of daily drilling reports.
Provided technical assistance and support to the drilling team.
Mudlogger Resume with 10 Years of Experience
Highly experienced mudlogger with 10+ years' experience in the oil and gas industry. Responsible for not only document daily drilling operations, but also provide expertise in drilling safety and well control. Track, interpret and report drilling data, analyze mud, monitor gas and monitor mud weights. Proficient in a variety of software platforms such as Depthtrack, Geolog, and OpenWells. Dedicated to providing safe and efficient drilling operations, as well as meaningful and accurate data.
Core Skills:
Drilling Operations
Gas Detection
Mud Chemistry
Mudlogging
Real- time Data Analysis
Depthtrack, Geolog, and OpenWells Software
Well Control
Safety Management
Responsibilities:
Monitor and document daily drilling operations
Analyze mud to interpret changes in formation
Follow drilling and safety procedures
Report drilling data to management
Monitor gas levels and mud weight
Provide mudlogging services
Generate real- time data and logs
Utilize software such as Depthtrack, Geolog, and OpenWells
Monitor and control well pressures and depths
Liaise with drilling crews and other personnel as necessary
Mudlogger Resume with 15 Years of Experience
I am a highly experienced Mudlogger with 15 years of experience in the oil and gas industry. I possess a strong understanding of the industry's protocols and best practices, and I have developed a deep expertise in drilling and mudlogging operations. My particular strengths are in the areas of data collection, analysis, and preparation of detailed reports. I have an excellent track record of producing timely, accurate, and reliable data that have been essential to the success of various drilling operations.
Core Skills:
Ability to troubleshoot, diagnose and identify various drilling and mudlogging related issues
Skilled in the use of various software programs and computer applications for mudlogging
Proven expertise in the collection, analysis, and interpretation of data
Proficiency in the preparation and presentation of detailed mudlogging reports
Well- versed in the industry protocols and best practices
Strong understanding of drilling operations and safety procedures
Responsibilities:
Monitor the drilling operations and ensure the safety and accuracy of the mudlogging process
Collect and analyze samples of mud and other materials to identify any potential risks
Prepare and present detailed mudlogging information reports
Provide troubleshooting and technical support to the drilling crew
Monitor the daily mudlogging data and ensure its accuracy and integrity
Evaluate potential risks and ensure adherence to the safety protocols and industry best practices
In addition to this, be sure to check out our resume templates, resume formats, cover letter examples, job description, and career advice pages for more helpful tips and advice.
What should be included in a Mudlogger resume?
Having the right experience and qualifications is essential when applying to be a Mudlogger. A good Mudlogger resume should include the following information to help you stand out in the application process:
Relevant Experience: List experience related to Mudlogging, including any certifications or licenses you may have.
Education: Include any degrees you have obtained and any Mudlogging-related courses you have taken.
Technical Knowledge: Demonstrate your understanding of Mudlogging techniques and technology, such as geology, engineering, and chemistry.
Technical Skills: Detail any specific skills required to perform Mudlogging, such as calibrating instruments and monitoring well parameters.
Computer Skills: Showcase any computer skills you possess, such as design and programming.
Communication Skills: Showcase your ability to work with other professionals, such as geoscientists and engineers.
Organizational Skills: Demonstrate your ability to manage Mudlogging projects and keep detailed records.
By highlighting all of the necessary qualifications for a successful Mudlogger, you can ensure that your resume stands out from the competition.
What is a good summary for a Mudlogger resume?
A mudlogger resume should be a concise summary of the mudlogger's qualifications and experience. A mudlogger is a professional who specializes in gathering and analyzing geological data from oil and gas drilling operations. The resume should include any relevant qualifications such as diplomas, certificates, and licenses, as well as any relevant experience such as operating drilling equipment and analyzing geological formations. The resume should also include technical skills such as data collection, analysis, and reporting, as well as any safety certifications or safety-related experience. Finally, the resume should include any other related experience or education that is relevant to the job. Ultimately, a mudlogger resume should provide a comprehensive overview of the mudlogger's qualifications and experience in the field.
What is a good objective for a Mudlogger resume?
Writing a strong objective for your Mudlogger resume is key to getting noticed by potential employers. A well-crafted objective statement should give employers a clear indication of your qualifications, skills, and goals.
Here are a few tips to help you craft a strong objective statement for your Mudlogger resume:
Highlight your qualifications and skills relevant to the job.
Include any key certifications or degrees that you have obtained.
Showcase your enthusiasm for the industry and your eagerness to learn new skills.
Showcase your attention to detail and ability to work in a fast-paced environment.
Demonstrate your experience in data analysis and problem-solving.
Describe how your previous experience can contribute to the success of the company.
By following these tips, you can create an effective objective statement for your Mudlogger resume. Your objective should give potential employers a clear idea of your qualifications, as well as your drive and enthusiasm for the industry.
How do you list Mudlogger skills on a resume?
Having a mudlogger on your team is essential to any oil and gas drilling project. But, when you're ready to start filling out your resume, you may wonder where to list your mudlogger skills. Here is a step-by-step guide to make sure your mudlogging skills are showcased clearly on your resume.
Include a designated section for mudlogging: Start your resume by adding a section for mudlogging skills. This will make it easier for recruiters to quickly see the skills you have in mudlogging.
Describe the types of mudlogging you have experience in: Include a brief description of the type of mudlogging you have experience in, such as core logging, geochemical logging, and wellsite mudlogging.
List your specific mudlogger skills: Include a list of specific mudlogger skills that you have experience with, such as logging operations, running tests, and analyzing data.
Highlight your accomplishments: Include any specialized projects or accomplishments that you have had as a mudlogger, such as helping to find a new oil or gas field or managing a successful project.
Include any safety or environmental certifications: If you have any certifications related to safety or the environment, such as a Hazardous Waste Operations and Emergency Response (HAZWOPER) certification, include them in your resume.
By following these steps, you can ensure that your mudlogger skills are highlighted clearly and prominently on your resume. This will help you get the attention of recruiters and land the job you want.
What skills should I put on my resume for Mudlogger?
A Mudlogger is an experienced geologist or engineer who specializes in providing geological and engineering data to oil and gas exploration and production companies. To ensure you stand out in such a highly competitive field, you'll need to make sure you include certain key skills on your resume. Here is a list of Mudlogger skills that should be included on your resume:
Expertise in geological, geophysical, and engineering data gathering and analysis
Hands-on experience with drilling and mudlogging operations
Proficiency in the use of logging and mudlogging software
Knowledge of drilling and well control procedures
Ability to interpret geological data to identify formations and forming structures
Expertise in identifying drilling hazards such as gas and water influx
Strong attention to detail and problem-solving skills
Experience in preparation of well logs and reports
Knowledge of mud and well control operations as well as drilling safety regulations
Excellent written and verbal communication skills
Ability to work independently or as part of a team
Key takeaways for an Mudlogger resume
A Mudlogger is a scientist that monitors and collects data from an oil and gas well. They are responsible for ensuring that the well is stable and producing the desired output, and they must be able to accurately interpret and report on data collected during the drilling process. A successful Mudlogger must have excellent analytical skills, a strong knowledge of geology and geophysics, and a thorough understanding of oil and gas drilling methods and safety.
When crafting your Mudlogger resume, there are several key takeaways you should make sure to include. First and foremost, highlight your educational background, including any certifications or degrees you may have earned related to geology, geophysics, or oil and gas drilling. Additionally, include any relevant experience you may have accumulated. This can include prior employments, internships, or volunteer positions. Additionally, include any specialized training you have received related to monitoring and collecting data from a drilling operation as well as any safety courses you may have taken.
In order to be successful in a Mudlogger position, you must have excellent analytical skills. Make sure to highlight your proficiency in this area by emphasizing your ability to interpret data and use it to make informed decisions. Additionally, you must be proficient at operating various types of equipment used in the drilling process such as mud pumps, drilling rigs, and logging equipment. List any experience you may have operating such equipment.
Finally, be sure to include any certifications or licenses you may have acquired that are related to oil and gas drilling. This could include a valid well control certification or a valid commercial driver's license. Additionally, if you have specialized training related to using certain types of equipment or data analysis, list that as well.
By following these key takeaways, you can ensure that your Mudlogger resume is comprehensive and impressive. With the right information, you can demonstrate to potential employers that you have the skills and knowledge necessary to excel in a Mud
Let us help you build
your Resume!
Make your resume more organized and attractive with our Resume Builder