Having a professional Recovery Specialist resume is key to job hunting success. Your resume is the first thing potential employers will see and it is the first impression you make. Crafting a effective resume that conveys your skills and experience to potential employers can be a daunting task. It is important to keep your resume concise and focus on the information that is most important to the job. To help you with the process of creating a resume for a Recovery Specialist position, this guide offers tips and examples on how to write an effective resume.
If you didn't find what you were looking for, be sure to check out our complete library of resume examples.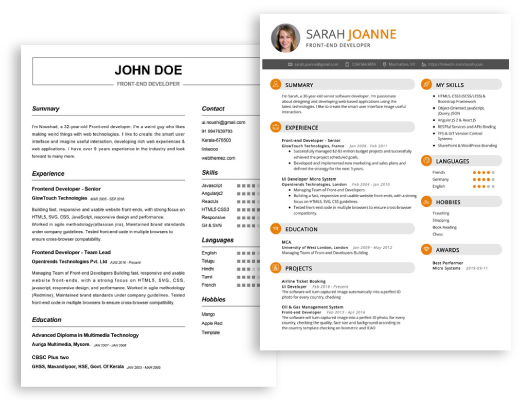 Start building your dream career today!
Create your professional resume in just 5 minutes with our easy-to-use resume builder!
Recovery Specialist Resume Examples
John Doe
Recovery Specialist
123 Main Street | Anytown, USA 99999 | Phone: (123) 456-7890 | Email: john.doe@email.com
A highly qualified and experienced Recovery Specialist with over 5 years of experience in the field of health, social services and outreach. Able to understand and apply the principles of crisis intervention, drug and alcohol abuse recovery, psychosocial rehabilitation, and community organization and management. Possesses excellent interpersonal and communication skills, as well as a commitment to client- centred and evidence- based approaches to service delivery.
Core Skills:
Crisis intervention,
Substance abuse recovery,
Psychosocial rehabilitation,
Community organization and management,
Program coordination,
Data collection and analysis,
Client assessments,
Interventions strategies,
Case management,
Report writing,
Time management,
Administrative and organizational skills,
Compassion and Respectful Client Interaction
Professional Experience:
Recovery Specialist, ABC Clinic, 2018 – present
Assist clients in developing individualized recovery plans
Conduct intakes and assessments of clients' needs
Develop and implement treatment and rehabilitation plans
Monitor client progress and provide ongoing support services
Deliver evidence- based interventions, including cognitive- behavioral therapy and motivational interviewing
Provide referrals and linkages to other community resources
Perform case management and document progressnotes
Supervise and mentor other recovery staff
Recovery Counselor, XYZ Outreach Center, 2015 – 2018
Assisted clients in attaining short- term and long- term sobriety goals
Conducted assessments and determined appropriate levels of care for clients
Provided crisis intervention and de- escalation services as needed
Facilitated group discussions to address topics such as relapse prevention, drug education and healthy decision- making
Developed individualized treatment plans and monitored client progress
Recovery Specialist Resume with No Experience
Dedicated and hardworking individual seeking an entry- level Recovery Specialist position to utilize my organizational, problem- solving and communication skills.
Skills:
Excellent problem solving skills
Ability to multitask and prioritize effectively
Strong analytical skills
Proficient in Microsoft Office applications
Excellent communication and interpersonal skills
Knowledge of basic accounting principles
Responsibilities:
Monitor accounts to ensure timely payment of debts
Communicate with customers regarding payment arrangements
Negotiate payment plans with customers
Track and update customer account information
Maintain accurate records of customer accounts
Document account activity and payments
Recovery Specialist Resume with 2 Years of Experience
Motivated and knowledgeable Recovery Specialist with two years of experience in managing collections and recovery services. Highly effective in utilizing proven collection strategies to recover overdue payments and improve customer satisfaction. Advanced proficiency in CRM, computers, and customer service to build strong relationships and ensure maximum results. A team player with strong leadership skills and the ability to work well in fast- paced environments.
Core Skills:
Customer Service
Collections
Data Entry
Debt Recovery
CRM
Analytical Thinking
Organizational Skills
Problem Solving
Negotiation
Written & Verbal Communication
Responsibilities:
Identified and contacted delinquent customers to recover overdue payments
Evaluated and updated customer accounts to ensure accuracy and adherence to internal policies
Created payment plans for customers and completed necessary paperwork
Managed customer relationships by providing excellent service and building rapport
Investigated any customer complaints and provided resolution
Analyzed customer's financial capability to pay and determined repayment agreements
Assisted in developing and implementing processes to improve collections
Documented all customer interactions in the customer relationship management (CRM) system
Recovery Specialist Resume with 5 Years of Experience
A qualified Recovery Specialist with 5 years of experience in the field, specialized in quickly and accurately dealing with any complex customer needs. Skilled in establishing and maintaining effective working relationships, while providing support to internal and external customers. Possess strong problem- solving capabilities, updating databases and customer profiles. Looking to take on new challenges in a team- based environment.
Core Skills:
Knowledge of customer service principles and practices
Excellent communication and interpersonal skills
Proven ability to analyze information and draw conclusions
Proficient in customer service software
Ability to work in fast- paced and team environments
Excellent customer service and problem- solving skills
Strong organizational and time- management skills
Responsibilities:
Resolve customer complaints and inquiries in a timely and effective manner
Handle escalated customer service calls and provide resolutions
Update customer profiles and databases in a timely manner
Monitor customer satisfaction and act as a liaison between customers and the company
Assist with research and analysis of customer service trends
Develop and implement strategies to improve customer service processes
Analyze customer service data to identify trends and areas for improvement
Recovery Specialist Resume with 7 Years of Experience
Recovery Specialist with 7 years of experience in providing exceptional client services and recovery assistance to customers. Experienced in working with a diverse range of clients in different challenging environments. Expert in analyzing and interpreting client data, determining the best courses of action, and executing plans ensuring optimum outcomes. Possess excellent organizational, problem- solving and communication skills.
Core Skills:
Recovery and Debt Collection
Client Service
Business Analysis
Customer Relations
Communication
Data Entry
Data Analysis
Problem- Solving
Responsibilities:
Developed and maintained effective customer relations, managed client accounts and monitored debt recovery activities.
Prepared and issued letters of demand, analyzed account details, and provided reports to management.
Verified and updated customer accounts and payment information, monitored account activities and maintained accurate records.
Assisted customers in resolving payment issues, answered inquiries, and provided advice.
Assessed and evaluated debt collection strategies and provided recommendations to management.
Negotiated payment arrangements with customers and worked with external intermediaries to resolve complex issues.
Ensured that all collections and recoveries were completed in accordance with company policies and procedures.
Recovery Specialist Resume with 10 Years of Experience
Highly experienced and detail- oriented Recovery Specialist with 10 years of experience in the finance industry. Adept in developing and implementing recovery strategies, managing customers with delinquent accounts and providing debt collection services. Thorough knowledge of legal framework in debt collection and recovery. Highly capable of training and motivating team members in coordinating recovery efforts. Committed to resolving customer issues and achieving recovery targets.
Core Skills:
Debt Collection & Recovery Procedures
Accounts Receivables
Data Analysis & Reporting
Customer Negotiation
Legal Framework Compliance
Team Management & Training
Performance & Quality Assurance
Problem Solving & Decision Making
Responsibilities:
Developed, implemented and managed debt recovery strategies and procedures
Investigated and analyzed accounts to identify delinquent customers
Provided debt collection services and negotiated settlement agreements
Performed detailed data analysis, reporting and tracking of customer accounts
Trained and provided guidance to junior staff on recovery processes
Ensured legal and regulatory compliance of debt collection activities
Resolved customer disputes and complaints in an efficient and professional manner
Assisted in preparing documents and reports to support the recovery process
Monitored recovery performance and maintained quality standards
Recovery Specialist Resume with 15 Years of Experience
An experienced Recovery Specialist with 15 years of experience in the healthcare industry providing comprehensive patient care and support, from intake to discharge. Excels in developing individualized treatment plans, coordinating care, and educating patients and their families. Demonstrates a thorough knowledge of insurance coverage, billing, and medical terminology. Dedicated to improving patient outcomes, exhibiting strong interpersonal and communication skills.
Core Skills:
Knowledge of healthcare regulations, industry standards, and documentation requirements
Ability to assess patient needs, set appropriate goals, and provide care and guidance
Familiarity with medical terminology, insurance, and billing procedures
Ability to multitask, prioritize, and coordinate patient care
Strong interpersonal and communication skills
Responsibilities:
Responsible for providing patient and family education regarding treatment plans and aftercare
Conducted detailed assessments of patient needs and developed individualized treatment plans
Coordinated care plans with physicians, insurance companies, and other healthcare providers
Reviewed medical records for accuracy and compliance with regulations
Managed patient admissions and discharges, ensuring that proper paperwork was filed
Maintained patient charts, patient records, and other documents
Assisted with billing and insurance claims resolution
Provided counseling and support for patients and their families
Monitored patient progress and provided updates to physicians and other healthcare providers
In addition to this, be sure to check out our resume templates, resume formats, cover letter examples, job description, and career advice pages for more helpful tips and advice.
What should be included in a Recovery Specialist resume?
A Recovery Specialist resume should include the most important qualifications that make up the job role. It's important that any prospective employee is able to demonstrate their skills and qualifications to potential employers. Here are some items to include when writing a Recovery Specialist resume:
Previous experience in the field: Include any experience in addiction recovery, counseling, or social work. Describe previous positions and any accomplishments achieved.
Education: Mention any post-secondary education or certifications related to the field of recovery and addiction.
Knowledge of addiction recovery services and interventions: Demonstrate any knowledge of various counseling techniques or recovery services.
Understanding of health and safety protocols: Highlight any related experience or understanding of health and safety protocols in the workplace.
Interpersonal skills: Showcase communication, problem solving, and other interpersonal skills.
Interventions and therapy techniques: Emphasize any experience using various interventions and therapy techniques.
Crisis management skills: Demonstrate any crisis management experience and any related techniques used to defuse difficult situations.
Documentation and tracking skills: Show any experience creating and maintaining patient records, tracking outcomes and progress, and following up with patients.
Computer skills: Mention any computer skills related to the position, such as proficiency in electronic health records and other software programs.
By including these items in a Recovery Specialist resume, employers can get a better understanding of a candidate's qualifications and experience. Having a well-written resume can make all the difference when it comes to getting a potential job.
What is a good summary for a Recovery Specialist resume?
A Recovery Specialist resume should include a well-crafted summary that summarizes an individual's strong qualifications and experience in helping individuals and families recover from debt, addiction, and other issues. The summary should highlight the professional's unique skills and training, along with their passion for helping those in need. Additionally, it should showcase the Recovery Specialist's ability to develop comprehensive plans to help clients meet their goals. The summary should also list relevant certifications and any experience in the addiction and recovery counseling field. Finally, the summary should provide a clear understanding of the Recovery Specialist's commitment to helping others.
What is a good objective for a Recovery Specialist resume?
A Recovery Specialist typically works to recover financial losses in a company or organization. If this sounds like a job you would be interested in, one of the first steps to getting hired is creating a winning resume.
Writing a strong objective statement is a great way to start your resume off on the right foot. An effective objective statement for a Recovery Specialist resume should be concise, clear, and inspiring.
Here are some tips for creating a good objective statement for a Recovery Specialist resume:
Put yourself in the employer's shoes to determine what kind of qualities and skills they would be looking for in a candidate.
Use action verbs to demonstrate your ability to take initiative and get results.
Be as specific as possible about the role you are seeking.
Explain how your skills and qualifications will help the company achieve its goals.
Keep it concise and to the point.
For example: A detail-oriented and results-driven professional with 5+ years of experience in financial recovery. Seeking a position as a Recovery Specialist with ABC Company to apply my expertise in mitigating losses and recovering funds.
How do you list Recovery Specialist skills on a resume?
When you are looking for a job as a Recovery Specialist, you need to ensure that your resume accurately reflects your skills and qualifications. Having a strong resume can help you stand out from other candidates and make sure that you get an interview. Here are some tips for how to list Recovery Specialist skills on a resume:
Create a Skills Section: A dedicated skills section allows you to quickly showcase the qualifications that you possess. Make sure to include all of the skills that are applicable to the job, such as communication, problem-solving, financial analysis, and relationship building.
Make it Relevant: When creating your skills section, make sure that you tailor it to the job you are applying to. List any specialized skills that are relevant to the role, such as risk management, asset protection, and debt collection.
Quantify Your Achievements: Whenever possible, quantify your achievements to demonstrate the impact that your work has had. For example, if you have successfully recovered a certain amount of money, make sure to include this in your resume.
Include Certifications: Many employers look for candidates who have certifications in the field of recovery. If you possess such certifications, make sure to include them in your resume to showcase your commitment to the industry.
By following these tips, you can ensure that your resume accurately reflects your skills and qualifications as a Recovery Specialist and gives you the best chance for success.
What skills should I put on my resume for Recovery Specialist?
Recovery specialists are hired to help articulate and execute effective strategies for economic recovery in different areas of the economy. In order to be successful in this role, a recovery specialist must possess a range of skills, both hard and soft. Here are the skills you should include on your resume for a recovery specialist position:
Analytical Skills: Recovery specialists must have excellent analytical skills to evaluate data, develop strategies and develop plans for achieving economic recovery.
Problem-Solving: Recovery specialists must have the ability to think outside the box and develop creative solutions to complex economic problems.
Communication: Recovery specialists must be able to clearly communicate their plans and strategies to stakeholders, including government officials, business owners and members of the public.
Negotiation: Recovery specialists must have the ability to negotiate with stakeholders in order to reach agreement on strategies and plans for economic recovery.
Financial Acumen: Recovery specialists must possess a strong understanding of finance, economics and financial markets to identify areas of opportunity and develop effective strategies.
Project Management: Recovery specialists must be able to manage projects effectively and efficiently, setting timelines and delegating tasks to ensure that objectives are met.
Interpersonal Skills: Recovery specialists must be able to build relationships with stakeholders and establish trust in order to be successful.
Making sure your resume includes all of these skills will ensure you stand out as a qualified recovery specialist.
Key takeaways for an Recovery Specialist resume
As a Recovery Specialist, you are responsible for working with clients who are struggling with substance abuse. Your resume should be tailored to the job you're applying for and should emphasize your skills, qualifications, and experience in the field. Here are a few key takeaways for crafting a successful Recovery Specialist resume:
Include relevant certifications and licenses. If you've received certifications or licenses in the field, be sure to include them on your resume. This will demonstrate to employers that you are qualified for the job.
Highlight your experience and accomplishments. Recovery Specialists are often asked to document their successes and accomplishments in the field. Include any relevant information that shows you've been successful in your previous roles.
Detail your knowledge of relevant practices. This may include specialized treatment plans, therapeutic interventions, and case management protocols. Show employers that you are knowledgeable in the field and have the ability to help clients in a variety of ways.
Demonstrate your ability to work with diverse populations. Recovery Specialists often work with clients from different backgrounds, so it's important to demonstrate your ability to work with diverse populations.
Mention any special skills or training. If you have any special skills or have received specialized training, be sure to include them on your resume. This will show employers that you have the ability to go above and beyond.
By following these key takeaways, you can craft a successful Recovery Specialist resume. Be sure to include relevant certifications, highlight your experience and accomplishments, demonstrate your knowledge of relevant practices, and show that you have the ability to work with diverse populations. Good luck!
Let us help you build
your Resume!
Make your resume more organized and attractive with our Resume Builder