Having a great resume is integral when applying for a job in the marine industry. Your resume should showcase your skills, education, and experience, as well as highlight your achievements. Crafting a compelling resume can be challenging, however, as many don't know how to effectively present information to potential employers in the marine industry. This guide will provide you with essential tips and examples of how to write an effective resume for the marine industry. With these tips, you will be well-prepared to make a great impression on potential employers and take the next step in your career.
If you didn't find what you were looking for, be sure to check out our complete library of resume examples.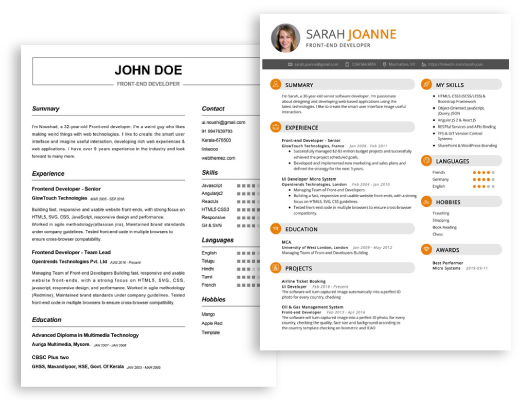 Start building your dream career today!
Create your professional resume in just 5 minutes with our easy-to-use resume builder!
Marine Resume Examples
John Doe
Marine
123 Main Street | Anytown, USA 99999 | Phone: (123) 456-7890 | Email: john.doe@email.com
I am a highly motivated and organized Marine with 10 years of experience in the military. I have a proven track record of developing and executing strategies to enhance operational effectiveness, and I have extensive knowledge of marine engineering principles and practices. I possess excellent leadership, problem- solving, communication and management skills. My expertise lies in safety and security operations, navigation, navigation systems, and marine engineering. I am looking for a job that will allow me to apply my skills and experience in a new setting.
Core Skills:
Safety and security operations
Navigation systems
Marine engineering
Leadership
Problem solving
Communication
Management
Professional Experience:
U.S. Marines, May 2010–July 2020
Developed and executed effective strategies to enhance operational effectiveness.
Utilized navigation systems to navigate ocean pathways and monitor routes.
Supported and implemented safety and security operations on marine vessels.
Responsible for supervising and managing a team of 12 marine engineers.
Worked with a wide array of marine engineering principles and practices.
Education:
Florida State University, Bachelor's in Marine Engineering, 2006–2010
Naval NCO Academy, Leadership Course, 2008–2009
Marine Resume with No Experience
Recent graduate with a degree in marine biology looking to expand my knowledge in the field of marine life. Eager to learn and grow professionally while working towards the preservation of the natural environment.
Skills
Proficient in Microsoft Office Suite
Knowledgeable in marine biology
Ability to work well in a team
Strong organizational skills
Adaptable to new environments
Excellent verbal and written communication
Responsibilities
Conduct research on different marine species
Monitor and track the movement of marine life
Develop strategies for the preservation of the natural environment
Assist in the implementation of conservation initiatives
Educate the public on the importance of protecting marine life
Marine Resume with 2 Years of Experience
Highly experienced Marine Engineer with 2 years of experience in the field. Possess excellent communication, technical and problem solving skills. Demonstrate exceptional ability to analyze complex technical issues and develop effective solutions. Proven record of success in overseeing the maintenance and repair of all engineering systems and components aboard vessels.
Core Skills:
Project Management
Maintenance & Repair
Troubleshooting
Blueprint Reading
Engineering Design
Technical Writing
Compliance Standards
Responsibilities:
Provide technical assistance in the repair, maintenance and installation of all engineering systems and components.
Follow all safety procedures to ensure the safety of the vessel and crew.
Maintain and repair engines and other mechanical components.
Monitor performance of engineering systems and components.
Conduct routine inspections of engineering systems and components.
Perform necessary operational tests to ensure proper function of engineering systems and components.
Maintain engineering schedules and document all maintenance and repairs.
Marine Resume with 5 Years of Experience
Motivated Marine with five years of experience in maritime operations with a focus on safety and efficiency. Experienced in ship navigation, personnel management, and problem solving. Accustomed to working on tight schedules and in challenging conditions. Aided in the successful launch of numerous ships and vessels and have earned commendations for my work.
Core Skills:
Navigation
Personnel Management
Problem Solving
Risk Assessment
Safety Inspections
Boat Handling
Responsibilities:
Planned, organized, and managed marine operations.
Maintained up- to- date knowledge of tides, weather, and sea conditions.
Attended to the needs of the crew, customers, and passengers.
Provided professional advice on safe navigation.
Monitored safety equipment and ensured it was in good working order.
Ensured that vessels were seaworthy and that navigational pathways were clear.
Assessed the risk of potential hazards and took action to minimize risk.
Conducted regular safety inspections of vessels and equipment.
Managed and mentored personnel, ensuring they were properly trained and informed.
Operated vessels and boats safely and efficiently.
Responsible for the maintenance and upkeep of vessels.
Marine Resume with 7 Years of Experience
Highly- skilled marine professional with 7 years of experience in the merchant navy industry. Relevant qualifications include a Master of Science degree in Marine Engineering, an Advanced Diploma of Maritime Operations and an Advanced Diploma of Marine Engineering. Possesses strong technical, leadership, problem solving and communication skills. Adept at managing teams, ensuring safety and managing projects to successful completion.
Core Skills:
Technical knowledge and expertise in marine engineering, operations and maintenance
Leadership and problem solving abilities
Excellent communication and interpersonal skills
Ability to manage multiple tasks and prioritize effectively
Strong organizational, time- management and planning skills
Responsibilities:
Carrying out safety and technical inspections to ensure compliance with established standards
Managing resources including personnel, equipment, and supplies to achieve project goals
Supervising and training personnel on board vessels, ensuring the quality and security of operations
Developing and implementing safety protocols and procedures
Monitoring the performance of vessels and engines, diagnosing and troubleshooting systems
Maintaining records of vessels, personnel and operations
Ensuring the safety of passengers and crew
Carrying out tests, repairs and maintenance of deck and engine systems
Marine Resume with 10 Years of Experience
Experienced Marine with 10 years of experience working on various naval vessels, such as submarines, aircraft carriers, and destroyers. Skilled in maintaining and operating all vessel systems, including mechanical, electrical, navigational, and communication. Proven record of consistently providing superior performance and following safety regulations. Possess a firm understanding of the principles of marine engineering, including ship design, propulsion systems, and construction techniques.
Core Skills:
Operating and maintaining naval vessels
Performing routine maintenance on mechanical, electrical, navigational, and communication systems
Inspecting and testing vessel systems
Adhering to safety regulations and protocols
Maintaining the necessary paperwork related to vessel maintenance
Responsibilities:
Inspecting and maintaining propulsion systems, air conditioning systems, generators, and other equipment
Performing routine maintenance and repairs on vessel systems
Monitoring vessel conditions and systems to identify potential problems
Operating navigation systems, sonar, and radar systems
Ensuring vessels are operated in accordance with safety regulations and standards
Communicating with other vessels and shore stations using radio, satellite, and other communication systems
Maintaining accurate records of vessel maintenance and repair work
Assisting in the training of new personnel on proper operational procedures and safety protocols
Marine Resume with 15 Years of Experience
Highly experienced Marine with 15 years of experience in the U.S. Navy, specializing in a wide variety of duties and responsibilities. Certified in navigation, ship handling, seamanship, and leadership, with experience in operations, personnel management, training, command/control, and communications. Proven success in working closely with team members to ensure safety, security, and mission success.
Core Skills:
Navigation
Ship Handling
Seamanship
Leadership
Operations
Personnel Management
Training
Command/Control
Communications
Responsibilities:
Navigate ships and craft in all phases of operation
Provide leadership and guidance to junior personnel
Ensure safety, security, and mission success
Maintain operational readiness for vessels and personnel
Train personnel in all areas of seamanship, navigation, and ship handling
Conduct personnel management duties such as promotions, evaluations, and disciplinary action
Develop and maintain standard operating procedures
Conduct command and control of vessels during operations
Ensure proper communications during operations between vessels and personnel
In addition to this, be sure to check out our resume templates, resume formats, cover letter examples, job description, and career advice pages for more helpful tips and advice.
What should be included in a Marine resume?
A Marine resume is a document that showcases a potential employee's military background, skills, and experience. Even if a Marine is transitioning to a new field, the combination of their Marine experience and the experience they gained in their civilian job should be included in their resume.
When writing a Marine resume, there are some key elements that should be included:
Personal Information: Start the resume off with your contact details such as your full name, current address, phone number and email.
Education: List any certifications, degrees, or training courses you have completed.
Work Experience: List any positions you have held in the military, as well as any relevant civilian work experience.
Skills & Abilities: Include any special skills or abilities you have developed in the military, such as leadership experience or specialized training.
Achievements: List any awards or accomplishments you have earned while in the military.
Community Involvement: List any volunteer experience or other community service you have done.
References: Include at least two professional references that can speak to your skills and abilities.
By including all the above information in your Marine resume, you'll be sure to make a great impression and stand out from the crowd.
What is a good summary for a Marine resume?
A good summary for a Marine resume should focus on the Marine's key accomplishments, areas of expertise, and unique skills. It should highlight their military experience, educational background, and any certifications they have obtained. It should also note any awards or commendations they have received. The summary should be crafted to showcase the Marine's qualifications, while also communicating their commitment to serving the country. Lastly, it should be concise and written in a clear, concise manner. This will provide a hiring manager with the information they need to make an informed decision about the Marine's candidacy.
What is a good objective for a Marine resume?
Writing a resume for a Marine position can be a daunting and challenging task. As a Marine, you need to make sure you highlight the skills and experience that will make you stand out to potential employers. Your resume objective is an important part of making sure you get noticed. A good objective statement should explain why you are the right candidate for the job and what qualities you can bring to the position.
A good objective for a Marine resume should include the following:
Demonstrate your experience and knowledge in the Marine Corps
Showcase your leadership skills and ability to work as part of a team
Highlight any relevant certifications or training
Display your knowledge of safety regulations and procedures
Demonstrate your ability to work in both challenging and stressful situations
Emphasize your ability to adapt to different scenarios and environments
Express your eagerness to take on new tasks and responsibilities
Having a clear and well-crafted objective statement can make all the difference in making sure you get the attention of potential employers. Make sure you take the time to craft an effective objective statement that best showcases your strengths and qualifications for the Marine position.
How do you list Marine skills on a resume?
It's important to showcase your Marine skills on your resume if you want to make a good impression. Here's how to list Marine skills on your resume:
Include the relevant job titles. If you served in the Marine Corps, it's important to list the titles you held in the Corps. Include a brief description of your roles and responsibilities.
Highlight any specialized training. If you received specialized training during your time in the Marines, list them on your resume. Be sure to mention any certifications or awards you have received.
Showcase leadership experience. The Marine Corps teaches leadership skills and the ability to work in teams. Make sure to highlight any leadership roles you took on in the Marines.
Describe interpersonal skills. The Marine Corps teaches interpersonal skills such as communication, problem-solving, and negotiation. Make sure to describe these skills and how you have used them in the workplace.
Focus on technical skills. Marine service members are often trained in many technical skills such as weapons handling, driving, and computer programming. Highlight any technical skills that you have learned in the Marines.
By following these tips, you can make sure that your Marine skills are properly highlighted on your resume. Showcasing your Marine skills can help you stand out from other job applicants and get the job you want.
What skills should I put on my resume for Marine?
A marine is an expert in maritime, coastal and shoreline operations. As such, the skills required to be successful in this job are varied and specific. When creating your resume, you should highlight your qualifications and training that demonstrate your capabilities as a marine professional. Here are some skills to consider including on your resume:
Seamanship: Knowledge of maritime navigation, piloting, and seamanship, including anchoring, mooring, and vessel maneuvering.
Communication: Ability to communicate effectively and work as part of a team.
Safety: Extensive knowledge of safety protocols and procedures for marine operations.
Mechanical: Ability to identify and troubleshoot mechanical and electrical issues on a marine vessel.
Regulatory Knowledge: Understanding of local and international maritime regulations and standards.
Cargo Handling: Skills in loading, unloading and storing cargo on board a marine vessel.
Marine Navigation: Ability to read and interpret navigation charts and navigational aids.
First Aid/CPR: Proficiency in administering first aid and CPR.
By showcasing your relevant skills and experience, you can demonstrate to employers that you're capable of succeeding in a marine professional role. Make sure to include any relevant training and certifications you have on your resume as well. Doing this will put you in a great position to land the job you want.
Key takeaways for an Marine resume
If you're a Marine looking to transition into civilian life, your resume is going to be your main calling card for potential employers. Here are a few key takeaways for creating an impressive Marine resume:
Focus on achievements: Your job as a Marine is to accomplish goals, so make sure your resume reflects your successes in whatever positions you've held. Emphasize the accomplishments that you're most proud of, as these will stand out to employers.
Highlight relevant skills: Whether you've worked in logistics, operations, or intelligence, make sure you identify and emphasize the skills you've acquired in the Marine Corps that will be valuable in the civilian job market.
Build up your network: Your network is one of your most valuable resources when it comes to finding a job, so make sure you're putting yourself out there. Use a professional job board like LinkedIn to reach out to both military and civilian contacts.
Network with veteran-friendly employers: Not all employers are familiar with military service and its requirements, so it's important to focus on building relationships with companies that have a strong commitment to hiring veterans.
Consider apprenticeships: Apprenticeship programs are a great way to gain valuable experience in a particular field and build up your resume. There are many apprenticeship opportunities available for veterans, so make sure you do your research.
Use appropriate keywords: Make sure you're using keywords that are relevant to your skills and experience, as employers often use these to filter out resumes.
Showcase your leadership: If you've held positions of leadership in the Marine Corps, make sure you emphasize this on your resume. Employers value leadership experience, so this should play a prominent role in your resume.
By keeping these takeaways in mind, you'll be able to create an impressive Marine resume that will
Let us help you build
your Resume!
Make your resume more organized and attractive with our Resume Builder