Not sure how to write a resume for a welding instructor position? Look no further! This guide will provide you with all the information you need to craft an effective welding instructor resume that will stand out to potential employers. We'll start off by going over the basics of resume writing and then we'll provide you with some examples of resumes specifically written for welding instructor positions. Finally, we'll offer some helpful tips to ensure your resume makes a lasting impression.
If you didn't find what you were looking for, be sure to check out our complete library of resume examples.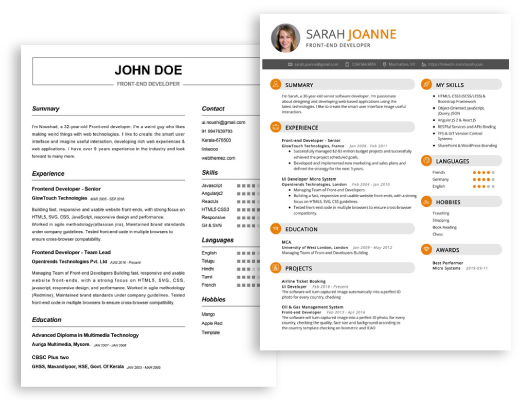 Start building your dream career today!
Create your professional resume in just 5 minutes with our easy-to-use resume builder!
Welding Instructor Resume Examples
John Doe
Welding Instructor
123 Main Street | Anytown, USA 99999 | Phone: (123) 456-7890 | Email: john.doe@email.com
Highly experienced and certified Welding Instructor with over 10 years of expertise in developing and delivering high quality welding courses to a wide range of students. Skilled in welding principles, safety standards, and troubleshooting, with a thorough knowledge of the latest welding technologies. Proven ability to quickly assess student progress and adapt instruction to ensure maximum understanding and retention.
Core Skills:
Demonstrated teaching and training abilities
Excellent welding skills and knowledge
Solid understanding of welding principles and safety procedures
Ability to analyse student needs and provide instruction accordingly
Strong presentation and communication skills
Proficient in MS Office Suite and other software applications
Professional Experience:
Welding Instructor, XYZ Technical Institute, 2018- Present
Conducted welding classes for students of various skill levels from beginner to advanced
Developed and implemented welding course curriculum
Instructed students in the use of a variety of welding equipment for different welding techniques
Provided instruction in welding and safety principles
Assessed student performance and offered additional support as needed
Prepared detailed lesson plans, student evaluations, and reports
Welding Instructor, ABC Training Center, 2013- 2018
Instructed students in the use of welding and safety equipment
Developed and implemented welding training programs
Provided instruction in a variety of welding techniques, including MIG and TIG welding
Evaluated student performance and provided feedback
Maintained detailed records of class attendance and student progress
Education:
Certified Welding Inspector, American Welding Society, 2017
Bachelor of Science, Welding Technology, University of XYZ, 2013
Welding Instructor Resume with No Experience
Dynamic welding instructor with strong technical skills, eager to share vast knowledge of welding with a growing student base. Determined to employ creative methods to ensure students gain the essential knowledge and skills to become professional welders.
Skills
Welding: MIG, TIG, and Stick
Technical Writing & Presentation
Problem Solving & Troubleshooting
Detail Oriented
Blueprint Reading
OSHA/Safety Regulations
Shop Layout/Equipment Design
Quality Control & Inspection
Responsibilities
Develop and teach welding courses
Design and implement lesson plans
Monitor student progress and provide guidance
Provide feedback on student performance
Plan and supervise welding projects
Ensure students adhere to safety standards
Maintain a clean and organized shop environment
Welding Instructor Resume with 2 Years of Experience
A highly skilled and experienced Welding Instructor with knowledge and hands- on experience in the welding of all metals, fabrication, and welding processes. A strong leader with excellent communication skills, the ability to motivate and direct both students and staff, and a proven record of successful welding program development. Experienced in teaching welding safety and health, basic welding skills and processes, and welding as a career.
Core Skills:
Excellent welding techniques
Knowledge of welding process and techniques
Advanced fabrication techniques
Ability to teach and supervise
Classroom and lab instruction
Thorough understanding of welding materials and equipment
Strong leadership and organizational skills
Ability to explain complex concepts
Responsibilities:
Conducting welding instruction, lab supervision, and student assessment
Developing, planning, and implementing welding curriculums
Monitoring students' progress and providing evaluation feedback
Managing and maintaining welding equipment and supplies
Teaching safety practices, testing and certifying students, and administering safety tests
Developing and enforcing welding laboratory safety procedures
Ensuring compliance with applicable codes and standards
Providing guidance, mentoring, and support to students throughout their welding program
Welding Instructor Resume with 5 Years of Experience
Experienced Welding Instructor with five years of experience teaching welding classes to a diverse range of students. Skilled in demonstrating various welding techniques, assessing student skills, and evaluating student's achievements. Proven ability to create a safe and productive learning environment in the classroom. Committed to ensuring the highest levels of student achievement.
Core Skills:
Instructing welding techniques
Creating lesson plans
Assessing student's skills
Monitoring student progress
Maintaining classroom safety
Providing feedback on student work
Evaluating student progress
Conducting student exams
Instructing safety guidelines
Responsibilities:
Developed and delivered comprehensive welding classes for various levels of students to improve their welding skills.
Created and implemented lesson plans to effectively teach welding techniques.
Monitored student progress and provided feedback on their performance.
Evaluated student performance to ensure mastery of welding techniques.
Conducted student exams to assess knowledge and skills.
Instructed students on safety guidelines to ensure a safe and efficient learning environment.
Assisted students in selecting the appropriate welding materials, tools, and equipment.
Welding Instructor Resume with 7 Years of Experience
I am a highly experienced and passionate Welding Instructor with 7 years of experience working in the welding industry. I have excellent knowledge of welding and have trained several students in different welding techniques. I have an in- depth understanding of the latest welding technologies and trends. I have an excellent record of creating and delivering effective and engaging lectures to students and I am passionate about helping them reach their goals.
Core Skills:
Expertise in welding processes
In- depth knowledge of modern welding technology and trends
Extensive experience in providing instruction and guidance to students
Ability to create and deliver engaging and effective lectures
Excellent communication and interpersonal skills
Advanced problem- solving and critical thinking skills
Highly organized and detail- oriented
Responsibilities:
Evaluate student performance and provide necessary guidance and support
Develop and implement effective welding instruction plans
Design and monitor welding instructions and assessments
Maintain student records and update course materials
Monitor student progress and provide timely feedback
Provide instruction on the most up- to- date welding technologies
Ensure the safety of students in the classroom and workshop
Welding Instructor Resume with 10 Years of Experience
With 10 years of experience as a Welding Instructor, I bring a wealth of knowledge and enthusiasm to the job. I am an experienced welder and fabricator, having worked with a variety of materials and tools in a variety of settings. My expertise includes MIG and TIG welding, structural and mechanical welding, reading blueprints and technical drawings, and teaching welding safety, theory, and technique to students. I am reliable, safety- conscious, and knowledgeable, and have a passion for teaching people to weld.
Core Skills:
MIG and TIG welding
Arc welding
Gas welding
Welding safety
Blueprints and technical drawings
Metal fabrication
Welding theory and techniques
Teaching welding principles
Creating and implementing training plans
Student assessment
Responsibilities:
Instruct students in welding safety, theory, and techniques.
Supervise and monitor welding processes.
Train students in MIG and TIG welding, arc welding, and gas welding.
Review and evaluate student's welding performance and provide feedback.
Ensure safety protocols are followed and all safety equipment is in proper working order.
Assess student's progress and develop individualized training plans.
Maintain accurate records of student progress and provide feedback to management.
Assist in the development and implementation of new welding programs.
Welding Instructor Resume with 15 Years of Experience
Highly experienced and certified welding instructor with more than 15 years of experience teaching and instructing welding techniques for beginners, advanced and specialty training. Possesses a comprehensive understanding of metal fabrication and welding technology, safety regulations, and instructional strategies. Utilizes hands- on and theoretical approaches to ensure welding students acquire the knowledge and expertise necessary to succeed in their welding career.
Core Skills:
Solid understanding of metal fabrication and welding technology
Proficient in providing welding classes and instruction
Knowledge of welding safety regulations
Ability to integrate hands- on and theoretical approaches
Skilled in communicating and motivating welding students
Proven track record of success in welding instruction
Responsibilities:
Design and implement welding classes and instruction based on the needs of welding students
Provide comprehensive instruction in welding techniques and safety regulations
Instruct students in the use of welding and fabrication equipment
Monitor student progress and provide feedback
Create welding assignments and projects to promote knowledge retention
Create welding tests and examinations to evaluate progress
Develop and implement innovative teaching strategies for welding instruction
In addition to this, be sure to check out our resume templates, resume formats, cover letter examples, job description, and career advice pages for more helpful tips and advice.
What should be included in a Welding Instructor resume?
A welding instructor resume should include information that shows the prospective employer your qualifications, skills, and experience in welding and instructing.
Contact information: Make sure to include your full name, address, phone number, and email address so the employer can easily contact you.
Education/certifications: Include any formal welding training, certificates, or licenses. Show your level of skill and knowledge and make sure to include the dates of completion.
Skills and qualities: List your qualifications and any special skills you have that might make you stand out from the rest of the applicants.
Professional experience: Make sure to include any work experience you have in welding, either performing the work or instructing others. Include the name of the employer, dates of employment, job title, and a brief description of your responsibilities.
Teaching experience: If you have any teaching experience in welding, make sure to include this as well. List the name of the institution, dates of employment, job title, and a brief description of your responsibilities.
References: At the end of your resume, include the contact information of two welding instructors who can provide a positive reference for you.
What is a good summary for a Welding Instructor resume?
A welding instructor resume should effectively summarize an individual's welding experience, educational background and qualifications, as well as any other skills that may be relevant to the job. It should highlight the individual's knowledge of welding techniques and materials. It should also include experience teaching students, such as leading classes, providing individual instruction, and assessing student performance. The instructor should also demonstrate expertise in the use of welding tools, protective equipment, and safety procedures. The resume should also emphasize any certifications or credentials related to welding instruction that the individual holds. The summary should also provide a brief description of the individual's ability to communicate effectively with students, work collaboratively with colleagues, and demonstrate a commitment to professional growth.
What is a good objective for a Welding Instructor resume?
A welding instructor is responsible for teaching welding techniques and safety practices to their students. When crafting a welding instructor's resume, it is important to create an objective to summarize their qualifications, experience, and career goals. The objective should be concise and clear, so that employers can quickly understand the applicant's goals.
A good objective for a welding instructor's resume should accomplish the following:
Highlight relevant skills and experience in the welding field
Showcase knowledge of welding safety protocols
Demonstrate the applicant's ability to teach and mentor students
Express the applicant's commitment to safety and quality of work
Outline the applicant's professional goals and aspirations
How do you list Welding Instructor skills on a resume?
Welding Instructors are responsible for teaching welding principles and processes to students. They play a key role in helping students gain the skills and knowledge they need to enter the profession, and as such, they need to have a wide range of skills. To list welding instructor skills on a resume, consider including the following:
Demonstrated ability to conduct instructional classes on welding principles and processes
Knowledge of different welding techniques, such as stick welding, MIG welding, and TIG welding
Ability to maintain safety and industry standards in the classroom
Ability to adhere to course objectives and tailor instruction to meet students' needs
Familiarity with safety procedures and equipment
Excellent verbal and written communication skills
Organizational and time-management skills
Knowledge of computer-aided design and fabrication
Ability to assess student progress and provide direction and feedback
Ability to work independently and as part of a team to facilitate learning
Commitment to professional development and continuing education
Dedication to teaching with enthusiasm and creativity.
What skills should I put on my resume for Welding Instructor?
When constructing a resume for a Welding Instructor position, it's important to emphasize the skills and abilities most relevant to the job. Here are some skills that are essential for a Welding Instructor to possess:
Strong welding knowledge: A Welding Instructor should be extremely knowledgeable and proficient in their craft. They should be able to understand and explain a variety of welding techniques, such as TIG, MIG, and Stick welding.
Safety awareness: Welding Instructors must be knowledgeable of all safety protocols and procedures in order to create a safe working environment for their students.
Excellent communication and teaching skills: Welding Instructors must be able to communicate and teach welding techniques to students with clarity and precision.
Organizational skills: Welding Instructors need to be able to stay organized and manage their classrooms efficiently.
Ability to adapt: Welding Instructors must be able to adjust to different learning styles and be able to adapt their teaching methods accordingly.
Computer literacy: A Welding Instructor should be computer-savvy and knowledgeable of modern welding software.
Leadership abilities: Welding Instructors should be able to provide clear direction and guidance to their students and be able to handle difficult situations in the classroom.
By including these skills on your resume, you'll be sure to show potential employers you have what it takes to be a successful Welding Instructor.
Key takeaways for an Welding Instructor resume
When it comes to a welding instructor resume, there are a few key takeaways that should be included. First, you should highlight any relevant welding experience you have. This can include any certifications you have earned, as well as any practical welding experience you may have.
Second, emphasize any teaching experience you may have. This could include teaching welding at a trade school, community college, or other educational institution. If you have taught welding courses in the past, you should include the course topics, number of students, and any special techniques you taught the students.
Third, you should detail any professional welding certifications or awards you may have. This could include an American Welding Society (AWS) certification or any other recognized certification or award. Including this information on your welding instructor resume will make it clear that you have an advanced level of knowledge and experience in welding.
Finally, make sure to include any special skills that you may have related to welding instruction. This could include the use of welding simulators, virtual reality technology, or any other specialized skills you've acquired through teaching. These skills will demonstrate to prospective employers that you are capable of teaching welding in a variety of different settings.
By following these tips, you can ensure that your welding instructor resume is as comprehensive as possible. Doing so will help you stand out from the competition and put you in a better position to land the job.
Let us help you build
your Resume!
Make your resume more organized and attractive with our Resume Builder