Writing a welding inspector resume can be a daunting task, especially if you haven't done it before. With the right tips and tricks, however, you can create an impressive and professional-looking resume that will help you stand out from the competition. This guide will provide you with tips on how to write a welding inspector resume, along with a few examples to help guide you through the process. With these resources, you will be able to craft a welding inspector resume that is sure to impress any hiring manager.
If you didn't find what you were looking for, be sure to check out our complete library of resume examples.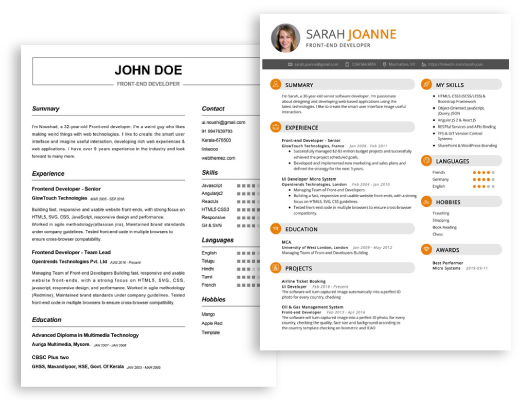 Start building your dream career today!
Create your professional resume in just 5 minutes with our easy-to-use resume builder!
Welding Inspector Resume Examples
John Doe
Welding Inspector
123 Main Street | Anytown, USA 99999 | Phone: (123) 456-7890 | Email: john.doe@email.com
I am a certified welding inspector with 5 years of experience in quality assurance and safety. I have a proven track record in inspecting and testing welds, detecting any discrepancies and non- compliance with industry standards. I possess excellent communication, interpersonal, and problem- solving skills, and I am highly experienced in developing and maintaining safety standards. My goal is to provide quality assurance and safety protocols that will protect the goods and personnel from any risks.
Core Skills:
Extensive knowledge of welding processes
Proficient in welding inspection techniques
Inspect and test welds to identify discrepancies
Develop and maintain safety protocols
Excellent communication, interpersonal and problem- solving skills
Proficient in using welding equipment and tools
Professional Experience:
Welding Inspector
ABC Company, New York City, NY
2015 – 2020
Conducted welding inspections to detect any discrepancies or non- compliance with industry standards
Developed and maintained safety standards and protocols
Inspected and tested welds to identify any issues and recommend corrective actions
Provided training on welding techniques and safety procedures
Monitored welding processes and equipment to ensure safety and quality
Education:
Bachelor of Science in Engineering, New York University, New York City, NY
2013 – 2015
Welding Inspector Resume with No Experience
Highly organized and detail- oriented Welding Inspector with exceptional communication and coordination skills. Possess a proven record of success in performing systematic inspection of welding activities with a focus on quality and accuracy. Skilled in inspecting and verifying test results and welding equipment to ensure quality assurance.
Skills
Proficient in welding terminology
Strong knowledge of welding processes
Excellent troubleshooting and problem solving ability
Highly organized with great attention to detail
Thorough understanding of quality management systems
Ability to meet tight deadlines
Responsibilities
Ensure quality and accuracy of welded components and structures
Inspect welder qualifications, prepare test pieces and perform non- destructive tests
Monitor weldment, weld size and welding techniques
Verify welding machine settings, consumables and equipment
Ensure adherence to welding standards and codes
Conduct joint inspections and sign off on drawings
Audit welders' performance and provide feedback
Document and report all welding inspection results
Monitor and maintain welding quality records
Welding Inspector Resume with 2 Years of Experience
Innovative and safety- focused professional with two years of Welding Inspector experience in the engineering industry. Proven ability to manage welding projects, oversee welding activities, and ensure accuracy and quality in compliance with applicable codes and standards. Experienced in managing and overseeing welding equipment, safety protocols, welding processes, and welding inspection activities.
Core Skills:
Knowledge of welding principles and procedures
Familiarity with welding inspection, standards and codes
Ability to read and interpret blueprints and schematics
Strong technical and problem- solving skills
Excellent communication and interpersonal abilities
High attention to detail and accuracy
Ability to work independently and as part of a team
Responsibilities:
Conducted welding inspections in accordance with applicable codes, standards and specifications.
Monitored and inspected welding systems for safety and efficiency.
Performed quality assurance checks of welds, including visual, radiographic and ultrasonic inspections.
Ensured all welding activities followed safety protocols.
Developed and maintained welding certifications.
Trained welding personnel on welding standards, codes, and procedures.
Reviewed welding documents and reports and provided feedback.
Assisted in the development of welding procedures and instructions.
Inspected and tested welds for conformity to welding standards and specifications.
Collaborated with engineers and welding personnel to maintain welding quality.
Welding Inspector Resume with 5 Years of Experience
I am an experienced Welding Inspector with over 5 years of experience in the field. I have focused primarily on commercial, industrial and construction projects. My expertise includes reading blueprints, analyzing welds, conducting non- destructive testing, maintaining quality control standards and performing various inspection duties. I am adept at identifying and resolving welding problems quickly and effectively. I am also a great communicator and work well with a variety of people. I am committed to providing the highest level of quality assurance and always strive to deliver projects on time and under budget.
Core Skills:
Blueprint Reading
Welding & Non- destructive Testing
Quality Control & Inspection
Problem- solving & Troubleshooting
Project Management & Time Management
Excellent Communication & Interpersonal Skills
Responsibilities:
Analyzing welds for compliance with specifications and codes
Performing non- destructive testing and inspections on welds
Reviewing welding blueprints and designs
Ensuring quality control standards are met
Conducting weld fit- up and welding process inspections
Working with engineers, designers and clients to keep projects on schedule and under budget
Inspecting and maintaining equipment and machinery
Providing reports and documentation of all inspections and tests
Identifying and addressing welding problems quickly and effectively
Welding Inspector Resume with 7 Years of Experience
Highly experienced Welding Inspector with 7 years of experience in the field, overseeing the welding processes and inspecting welds for quality assurance. Adept at using various testing equipment to measure welds and ensuring that they meet industry standards. Possess strong communication skills to interact with staff, management and clients.
Core Skills:
Welding Inspection
Quality Assurance
Testing Equipment
Client Interaction
Team Collaboration
Attention to Detail
Responsibilities:
Inspecting welds and ensuring they meet industry standards
Employing various testing equipment to measure and evaluate welds
Recording results of inspections and providing progress reports to team
Collaborating with teams to ensure welding processes are on schedule
Identifying defect areas in welds and providing suggestions for improvement
Maintaining accurate records of inspections and updating management on progress
Conducting quality control checks for welds and ensuring they meet required specifications
Welding Inspector Resume with 10 Years of Experience
Highly experienced Welding Inspector with a decade of experience in the field. Skilled in all aspects of welding, from reading blueprints and technical drawings to inspecting welds and ensuring they meet the required codes and standards. Strong problem- solving and communication skills, excellent attention to detail and a deep understanding of codes and welding processes.
Core Skills:
Inspection of welds using various methods and equipment
Knowledge of welding codes and standards
Ability to read and interpret blueprints and technical drawings
Excellent problem- solving skills
Strong communication and interpersonal skills
Ability to work independently and in a team
Responsibilities:
Conduct visual inspection on welds and other metal components
Verify the accuracy and quality of welds according to blueprints and technical drawings
Assess the welds' conformance to codes, standards and specifications
Perform non- destructive testing of welds using ultrasonic, radiographic, and other methods
Evaluate the welds for deficiencies and inform welders about them
Document inspection results and present them to the management
Monitor welders' performance and ensure they are following the safety protocols
Provide training and guidance to welders on welding processes and standards
Maintain and update inspection records and ensure accuracy of data.
Welding Inspector Resume with 15 Years of Experience
I am an experienced Welding Inspector with 15 years of experience in the field of quality assurance. I am certified as an American Welding Society (AWS) Certified Welding Inspector. I am adept at a wide range of inspection techniques, including visual inspection, liquid penetrant testing, magnetic particle testing, radiography and ultrasonic testing. I have a keen eye for detail and a thorough understanding of weld symbolism and interpretation. I am also highly organized and have established a system of record keeping for all my inspections.
Core Skills:
Quality Assurance Practices
Expertise in Welding Processes and Procedures
Visual Inspection Techniques
Use of Liquid Penetrant Testing
Magnetic Particle Testing
Radiography and Ultrasonic Testing
Interpretation of Weld Symbols and Drawings
Effective Record Keeping
Supervisory and Leadership Skills
Interpersonal and Communication Skills
Responsibilities:
Performing inspections on welding processes and products to ensure quality
Verifying weld symbols and interpreting drawings
Inspecting welds and joints for proper fit and alignment
Applying various non- destructive testing methods
Documenting inspection results and preparing comprehensive reports
Supervising and training assistant inspectors
Collaborating with other departments to ensure compliance to safety regulations
Explaining inspection results to clients and management
Maintaining and updating proficiency in welding inspection procedures
In addition to this, be sure to check out our resume templates, resume formats, cover letter examples, job description, and career advice pages for more helpful tips and advice.
What should be included in a Welding Inspector resume?
As a welding inspector, your resume needs to reflect your extensive knowledge and expertise in the welding field. To ensure you have the best chance at gaining a welding inspector position, you should include the following items in your resume:
Education: You should include any welding related education you have completed such as a welding certificate or welding-related degree.
Experience: Make sure you include any relevant welding inspector experience you have gained. Include details of any welding inspection duties you have undertaken, such as visual inspection of welds, testing of welds, and writing reports of welds in accordance with standards.
Knowledge: Demonstrate your knowledge of welding processes and welding inspection techniques by including details of any certifications or qualifications you have earned.
Skills: Highlight your skills in areas such as problem-solving, communication, and teamwork.
Software: If you have experience with any welding inspection software, make sure to include this in your resume.
Safety: Emphasize your commitment to safety standards by detailing any experience you have in maintaining a safe working environment.
By including these items in your resume, you will be well on your way to securing a welding inspector position. Good luck!
What is a good summary for a Welding Inspector resume?
A welding inspector resume should provide a succinct summary of the applicant's qualifications and experience in the field. It should highlight their ability to inspect, assess, and evaluate welds and weldments for quality assurance. The summary should also mention any certifications or specializations the applicant may have, such as an AWS Certified Welding Inspector or an NACE Certified Corrosion Inspector. Additionally, the summary should provide details on the applicant's experience in the field, such as their ability to identify defective welds, analyze test reports, and apply welding codes and standards. Finally, the summary should provide evidence of the applicant's commitment to safety, their knowledge of safety protocols, and their ability to troubleshoot welding-related issues.
What is a good objective for a Welding Inspector resume?
A welding inspector resume should convey a strong understanding of welding standards and processes, as well as a dedication to safe and efficient production. A good objective for a welding inspector resume should focus on three key points:
Demonstrate familiarity with welding processes and safety standards: Welding inspectors should have an understanding of the welding standards and processes that are relevant to the project they are overseeing. This includes a comprehensive knowledge of applicable codes and regulations.
Demonstrate a commitment to quality and safety: Welding inspectors should be dedicated to ensuring that all welding is completed safely and in accordance to standard procedures. This includes ensuring that the welding process is up to code, as well as ensuring that the quality of the welds is top-notch.
Demonstrate excellent organizational and communication skills: A welding inspector must be organized and able to communicate effectively with supervisors, co-workers, and other stakeholders. This includes being able to manage projects and tasks efficiently, as well as being able to provide clear and concise reports on the progress of the project.
How do you list Welding Inspector skills on a resume?
Welding Inspector skills are a valuable asset to any employer, especially in industries where the welding process is essential. To make sure your resume stands out and shows your dedicated welding experience, you should consider adding a section for Welding Inspector skills. Here's how:
Include a section titled "Welding Inspector Skills" at the top of your resume.
In the body of the section, list specific skills related to welding inspection, such as:
Performing quality inspections of welds
Evaluating welding instructions and drawings
Testing welds for strength and integrity
Documenting inspection results
Investigating welding defects
Training and supervising welding staff
Working with a team to ensure welds meet standards
By showcasing your welding inspector skills, you will demonstrate to potential employers your expertise in the field. Remember to emphasize any special skills that you have acquired to make your resume stand out from the competition.
What skills should I put on my resume for Welding Inspector?
Welding Inspectors are responsible for ensuring that welding machines are safe and efficient. They inspect welds and joints to ensure they meet safety and quality standards. When writing a resume for a Welding Inspector position, it is important to highlight your relevant skills and expertise. Here are some skills you may want to include:-
Knowledge of welding techniques and tools: Welding Inspectors should have a comprehensive understanding of welding techniques and tools, including the ability to recognize and analyze different welds and joints.
Attention to detail: Welding Inspectors must be detail-oriented and have strong problem-solving skills in order to spot any potential safety and quality issues.
Documentation skills: Welding Inspectors should be able to accurately and clearly document their inspection processes and results.
Ability to work independently: Welding Inspectors should be able to work independently and with minimal supervision in order to ensure that all safety and quality standards are met.
Troubleshooting skills: Welding Inspectors should have the ability to troubleshoot any issues that may arise and take the necessary steps to rectify them.
Including these skills on your resume can help demonstrate your qualifications for the role of Welding Inspector, and make you an attractive candidate for any potential employers.
Key takeaways for an Welding Inspector resume
A welding inspector resume should highlight experience, education, and certifications related to welding inspection and quality control. Here are some key takeaways for an effective welding inspector resume:
Highlight experience and certifications in welding inspection and quality control. This can include welding inspection certifications, safety certifications, and other relevant experience.
Include detailed information on any welding processes you have experience with, including material types, welding techniques, and equipment.
Emphasize technical knowledge and problem-solving skills. Welding inspectors need to be able to identify problems, suggest solutions, and recommend changes.
Showcase attention to detail. Welding inspectors need to pay attention to the smallest details to ensure that welds are safe and in compliance with regulations.
Demonstrate effective communication skills. Welding inspectors need to be able to effectively communicate with other members of the team and with clients.
Showcase an understanding of welding codes and standards. Welding inspectors must be familiar with welding codes and standards, as well as other applicable regulations.
By showcasing all of these qualities on a welding inspector resume, you can demonstrate that you have the necessary skills and experience to excel in the role.
Let us help you build
your Resume!
Make your resume more organized and attractive with our Resume Builder