A welder's resume is an incredibly important document that showcases your qualifications and experience. It's the key to success for those seeking employment in welding. A welder resume must be carefully crafted and tailored to each individual welder to showcase their unique experience, skills, and abilities, and ensure they stand out from the competition. This guide will provide you with tips, tricks, and strategies to help you craft a winning welder resume, as well as several examples to draw inspiration from.
If you didn't find what you were looking for, be sure to check out our complete library of resume examples.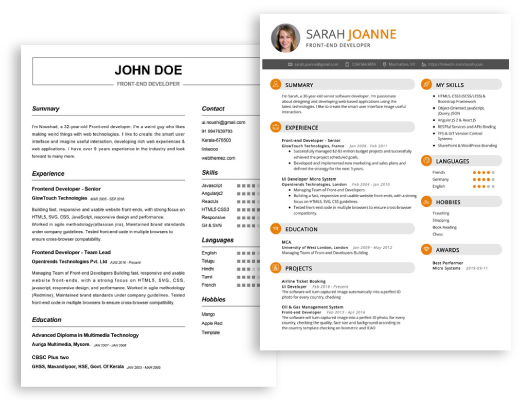 Start building your dream career today!
Create your professional resume in just 5 minutes with our easy-to-use resume builder!
Welder Resume Examples
John Doe
Welder
123 Main Street | Anytown, USA 99999 | Phone: (123) 456-7890 | Email: john.doe@email.com
Dedicated and hard- working welder with 5+ years of experience in a variety of welding processes, including flux- cored arc welding (FCAW), shielded metal arc welding (SMAW), and gas tungsten arc welding (GTAW). Proven expertise in creating high- quality, safe welds in a timely and efficient manner. Possess a valid welding license and continually strive to stay abreast of new welding technologies and techniques.
Core Skills:
Flux- Cored Arc Welding (FCAW)
Shielded Metal Arc Welding (SMAW)
Gas Tungsten Arc Welding (GTAW)
Gas Metal Arc Welding (GMAW)
Welding Positioning
Welding Inspection
Quality Assurance
Safety Protocols
Professional Experience:
Welder, ABC Manufacturing
June 2015 – April 2020
Performed welds using FCAW, SMAW, GTAW, and GMAW on various metals and alloys.
Positioned and secured work pieces correctly and operated manual and semi- automatic welding equipment.
Ensured welds were free of defects and followed quality assurance and safety protocols.
Completed projects within tight schedules, keeping production deadlines.
Welder, XYZ Construction
January 2012 – May 2015
Operated manual and semi- automatic welding equipment, creating welds on a variety of metals and alloys.
Built and inspected welds for quality assurance, performing in- process and post- welding inspections.
Ensured all safety protocols were followed during welding processes.
Repaired and maintained equipment as needed.
Education:
High School Diploma
ABC High School
June 2011
Welder Resume with No Experience
Motivated, hardworking welder with an unwavering commitment to safety seeking to leverage strong mechanical aptitude and passion for welding into a challenging role.
Skills
Strong mechanical aptitude
MIG and TIG welding
Ability to read and interpret blueprints
Adept at using welding tools and equipment
Excellent manual dexterity
High level of attention to detail
Ability to work alone or with a team
Knowledge of safety procedures
Responsibilities
Gather materials and tools needed for welding projects
Follow blueprints to determine the specific welding requirements
Set up and operate welding equipment as needed
Weld pieces together as required by blueprints
Conduct quality control checks to ensure accuracy
Maintain a clean and organized work area
Adhere to all safety protocols and regulations
Welder Resume with 2 Years of Experience
Dedicated and experienced welder skilled in using a wide range of welding and metalworking techniques. Demonstrated ability to read and understand welding blueprints, and successfully fabricate metal parts as directed. Proven track record of completing welding tasks accurately, safely and efficiently. Possesses comprehensive knowledge of welding techniques, materials and supplies. Committed to providing quality work and excellent customer service.
Core Skills:
MIG/TIG/Stick Welding
Arc Welding
Metal Fabrication
Blueprint Reading
Flux Core Welding
Safety Practices
Problem Solving
Quality Control
Responsibilities:
Performed MIG and TIG welding on various metals, such as aluminum, steel, stainless steel, and iron.
Fabricated custom metal parts and components.
Read and interpreted blueprints, drawings and sketches to determine required welding and fabrication methods.
Operated forklift and other power tools in a safe and efficient manner.
Inspected welds and ensure they meet required standards.
Followed safety protocols and procedures when using welding equipment.
Completed welding projects on time and to customer specifications.
Maintained accurate records of welding jobs and materials used.
Welder Resume with 5 Years of Experience
Dedicated and hardworking Welder with 5 years of experience in fabrication, assembly and maintenance of products in a wide range of materials and thicknesses. Proven ability to work in a safe and efficient manner, with excellent knowledge of welding standards and procedures. Possesses a high degree of attention to detail, as well as strong problem- solving and organizational skills. Experienced in reading and interpreting blueprints, and collaborating with team members to meet customer deadlines and budgets.
Core Skills:
MIG, TIG and Stick Welding
CNC Plasma cutting and Oxy- acetylene cutting
Fabrication and Assembly
Flux Core Arc Welding
Working with Blueprints and Schematics
Maintenance and Troubleshooting
Safety Procedures and Quality Control
Responsibilities:
Performed installation, maintenance, and repairs of all types of industrial equipment.
Installed and fabricated products using a variety of welding tools and techniques.
Inspected welds to ensure quality, and corrected any defects.
Assisted in the installation of structural steel for steel- frame buildings and other structures.
Trained new welders on the proper operation of welding equipment and safety procedures.
Created and read blueprints, schematics and technical drawings to determine proper welding techniques.
Maintained welding equipment, and performed regular safety checks to ensure the safety of all personnel.
Welder Resume with 7 Years of Experience
A dedicated and experienced welder with 7 years of experience in welding, fabrication and metalworking. Skilled in multiple welding processes, such as MIG, TIG and Arc. Experience in reading and interpreting technical drawings, schematics and blueprints. Responsible for ensuring high quality of welds through visual inspections. Strong ability to work in a fast- paced environment with tight deadlines.
Core Skills:
Welding (MIG, TIG, Arc)
Fabrication
Building metal structures
Heat treating
Blueprint reading
Troubleshooting
Safety protocols
Eyesight and hand- eye coordination
Responsibilities:
Review blueprints or technical drawings to plan layout and procedure
Set up and operate welding machines and tools
Examine welds and ensure they meet requirements
Monitor welding machines to maintain specified temperature
Fabricate or change parts to repair faulty equipment
Operate angle grinders and other tools to prepare the parts that must be welded
Inspect and test welded surfaces to locate defects
Follow safety protocols and wear protective gear at all times
Welder Resume with 10 Years of Experience
A highly experienced and certified welder with 10 years of experience in the welding field. Adept in both MIG and TIG welding, plus proficient in the use of welding machines and tools. Possesses a keen eye for detail and accuracy and a strong commitment to safety and quality control. Experienced in inspecting, maintaining, and repairing welding equipment and machinery.
Core Skills:
MIG and TIG welding
Welding machine and tool usage
Quality control
Safety protocols
Equipment maintenance
Pipefitting
Responsibilities:
Reading blueprints and drawings to determine welding requirements
Assembling and determining types of welding equipment, tools and techniques
Setting up and adjusting welding machines to the correct amperage and voltage
Positioning and clamping work pieces to secure parts for welding
Welding components in flat, vertical, horizontal, or overhead position
Inspecting and repairing welds, as required
Maintaining a clean workspace to ensure safety and quality control
Welder Resume with 15 Years of Experience
A veteran welder with 15 years of experience who is adept with welding steel, aluminum, titanium and other various metals. Has a deep level of expertise in working with a variety of welding tools and equipment. Experienced in blueprint reading, working with a variety of mig and tig welding processes, operating heavy machinery and working with safety protocols. Dedicated to producing quality work in a timely fashion.
Core Skills:
Safely operating welding and fabrication equipment
Experience with a variety of welding processes, including MIG, TIG and arc welding
Blueprint reading, material preparation, and layout
Ability to interpret technical plans and drawings
Troubleshooting and problem- solving for welding and fabrication issues
Demonstrated commitment to workplace safety and quality control
Ability to work independently and in a team setting
Responsibilities:
Read and interpret blueprints, diagrams and welding process specifications
Follow established safety guidelines and procedures when welding
Select appropriate welding equipment and consumables
Set up and operate welding equipment to join, fabricate and repair metal parts
Manage welding and fabrication processes to meet production deadlines
Inspect welds and ensure adherence to quality standards
Maintain accurate records of welding and fabrication activities
Troubleshoot and resolve welding and fabrication problems
Maintain a safe and clean working environment
In addition to this, be sure to check out our resume templates, resume formats, cover letter examples, job description, and career advice pages for more helpful tips and advice.
What should be included in a Welder resume?
A welder resume should include information that relates to the job you are applying for. It should highlight your qualifications, experience, and skills related to welding. Here are some key things to include in a welder resume:
Education and Certifications: Include the welding certifications you have received and any courses you have taken related to welding.
Skills: Highlight your welding skills such as MIG, TIG, and Stick welding, as well as any other specialties.
Experience: List any welding jobs you have held and include the type of welding you did, the length of time you worked on each project, and the clients you worked with.
Safety: Demonstrate your knowledge of safety protocols and list any safety training you have had.
Equipment: List the welding equipment you are familiar with and any special tools you can use.
References: Provide contacts who can attest to the quality of your work and your safety knowledge.
What is a good summary for a Welder resume?
A welder resume should provide a summary of the individual's welding experience, qualifications, areas of expertise, and any related certifications. It should demonstrate the candidate's ability to work safely and efficiently in the welding industry.
Welders are highly skilled and experienced professionals who work with metal and other materials to join, fabricate, and repair metal components. The resume should clearly describe the skills and experience related to welding, including knowledge of different welding processes and techniques, use of tools and machinery, and knowledge of other metalworking skills, such as brazing and soldering.
The summary should also emphasize the candidate's ability to follow safety protocols, read and interpret blueprints, and troubleshoot and repair welding equipment. Additionally, a welder resume should include any relevant certifications and training, such as welding certification or training in arc welding, gas welding, gas welding and cutting, and similar processes.
Overall, the welder resume should demonstrate mastery of welding techniques and a solid record of safety and quality assurance. By presenting an organized, clear, and concise summary, the resume will help employers quickly recognize the candidate's qualifications and experience in the welding field.
What is a good objective for a Welder resume?
A welder resume should have an objective that clearly states the type of job the welder is seeking and the skills and qualifications they bring to the job. By writing a good objective, the welder can ensure that their resume stands out among the other applicants. Here are a few tips for crafting a strong objective for a welder resume:
Make sure the objective is clear and concise.
Include relevant skills, qualifications, and experience that make the candidate an ideal fit for the job.
Describe the types of welding projects the candidate is qualified to work on, such as metal fabrication, structural welding, and pipeline welding.
Specify any certifications or licensure held by the welder.
Mention any awards or recognition the welder has earned for their work.
Highlight any safety certifications or experience working in hazardous environments.
Demonstrate the candidate's commitment to quality, teamwork, and customer service.
By writing a strong, clear objective, a welder can demonstrate to potential employers why they are the perfect candidate for the job. A good objective gives employers a better understanding of the candidate's qualifications and abilities, which can make the difference between getting an interview and getting passed over.
How do you list Welder skills on a resume?
A welder is a valuable skill to have on your resume. It's a versatile skill that can be used in many different industries. When listing your welder skills on your resume, it's important to be specific and detailed. Here are some tips on how to list your welder skills on a resume:
Include the type of welding you're comfortable with. Are you fluent in SMAW, GMAW, FCAW, or GTAW welding processes? Be sure to list which ones you're proficient in.
Detail the size and type of projects you've worked on in the past. For example, have you worked on structural steel, pipe welding, or thin metal work? This will help employers evaluate whether or not you're a good fit for the job.
List the tools you've used. Do you have experience using MIG or TIG welders, oxy-fuel torches, or plasma cutters? Make sure to list the tools you're experienced with.
If you have any certifications, such as the American Welding Society's CWI certification, be sure to include those. This will help employers see that you have the necessary qualifications for the job.
By following these tips, you'll be able to confidently list your welder skills on your resume. Being clear and concise about your experience and qualifications will help employers understand why you're the perfect candidate for the job.
What skills should I put on my resume for Welder?
When you are writing a resume for a Welder position, you want to make sure you list the skills that employers in that field are looking for. If you're not sure what skills to include, below are some of the most common skills for Welders that you should include on your resume:
Knowledge of different welding processes: Employers will want to see that you have experience with a variety of welding processes, such as gas tungsten arc welding (GTAW), shielded metal arc welding (SMAW), flux cored arc welding (FCAW), and gas metal arc welding (GMAW).
Ability to read blueprints: It is essential for Welders to be able to interpret blueprints accurately to ensure that welds are in the right place and that the finished product meets the project specifications.
Knowledge of safety protocols: Safety is always a priority in welding, so employers want to know that you understand how to work safely and follow safety protocols.
Knowledge of various metals: Welders often work with a variety of metals, so employers want to know that you understand how to work with the different types and how they react differently under heat.
Attention to detail: Employers will be looking for someone who can take on tasks with a high level of accuracy and detail.
Physical strength and stamina: Welding is a physically demanding job, so it's important that employers can see that you have the strength and endurance needed to do the job.
Having these skills on your resume can help you stand out when applying for a Welder position. Be sure to highlight any relevant experience and training you have that demonstrate these skills, so employers can see that you are a great fit for the job.
Key takeaways for an Welder resume
When it comes to creating a successful welder resume, there are some key takeaways you should consider. Here are some tips for crafting the perfect welding resume:
Highlight your Welding Experiences: Make sure you highlight your welding experience in your resume. Focus on any welding certifications or safety training you have completed and make sure to include any related experience, such as machining or fabrication. Provide detailed descriptions of the welding processes you have used, such as pulsed-MIG, TIG, and flux-core.
Include Technical Skills: Include technical welding skills, such as oxy-acetylene, MIG, and stick welding. Make sure to detail the types of materials you are able to weld, such as carbon steel, stainless steel, aluminum and copper.
Showcase Your Problem-solving Skills: Employers want to know that you can solve problems quickly and efficiently. Showcase your problem-solving skills in your resume by describing any difficult welding jobs or challenges you've faced and how you overcame them.
Demonstrate Your Leadership Abilities: If you've had any supervisory or leadership experience, make sure to include this in your resume. Showcase any ongoing projects you've managed and the number of people you've supervised. This will demonstrate to employers your leadership abilities and show that you have the skills to manage a team.
Emphasize Your Safety Record: Safety is a top priority for welding jobs, so make sure you emphasize your safety record. Include any safety certifications you have received, such as OSHA certification, and describe any safety measures you take when welding.
By following these tips, you can create a strong and impactful resume that will help you land the perfect welding job. Good luck!
Let us help you build
your Resume!
Make your resume more organized and attractive with our Resume Builder