Writing a great resume for a welder helper position is a crucial step in obtaining the desired job. As a welder's assistant, you will be responsible for supporting the experienced welder, so you need to make sure your resume stands out among the competition. This guide will provide you with useful tips on how to write a great resume for a welder helper position, including examples to help you get started. By following this guide, you will be able to create a well-written and effective resume that will help you get the job you want.
If you didn't find what you were looking for, be sure to check out our complete library of resume examples.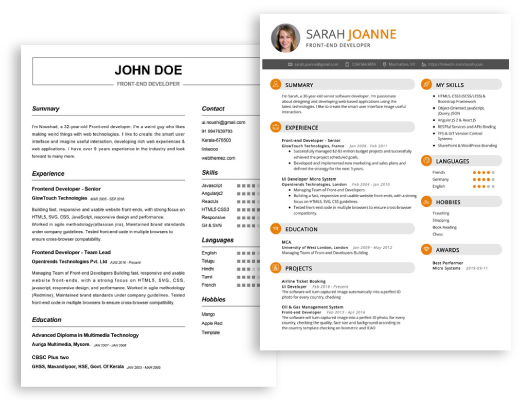 Start building your dream career today!
Create your professional resume in just 5 minutes with our easy-to-use resume builder!
Welder Helper Resume Examples
John Doe
Welder Helper
123 Main Street | Anytown, USA 99999 | Phone: (123) 456-7890 | Email: john.doe@email.com
Hardworking and safety- oriented Welder Helper with 5+ years of experience in the construction and manufacturing industries. Skilled at safe operation of welding equipment and tools, preparing materials for welding and helping Welders complete their tasks. Committed to following proper safety protocols and ensuring a secure working environment.
Core Skills:
Welding Safety and Procedures
Steel and Metal Preparation
Equipment Maintenance
Tool and Machinery Operation
Team Collaboration
Quality Assurance
Professional Experience:
Welder Helper, ABC Inc., Houston, TX – 2017- Present
Set up welding machines, tools, and equipment according to specifications.
Grind, clean, and prepare joints for welding, using abrasives and power tools.
Remove slag from welds using hand scrapers, grinding wheels, and wire brushes.
Follow safety protocols and maintain a clean and secure work area.
Assist Welders in completing welding tasks and ensuring quality standards.
Welder Helper, XYZ Corp., Dallas, TX – 2015- 2017
Read blueprints and plans to understand welding requirements.
Inspect metal parts and structures to be welded and identify defects.
Perform minor repairs and maintenance on welding tools and equipment.
Keep accurate records of welding tasks and materials used.
Provide assistance to Welders in lifting, positioning, and moving heavy objects.
Education:
High School Diploma, Spring Valley High School, Houston, TX – 2012
Welder Helper Resume with No Experience
Dedicated and motivated individual looking to gain valuable experience as a Welder Helper. Possess excellent interpersonal and communication skills, as well as a strong knowledge of welding tools and equipment.
Skills
Proficient in the use of welding machines, grinders, and torches
Strong understanding of safety protocols in welding
Familiarity with basic fabrication techniques
Able to read and interpret blueprints and schematics
Knowledge of MIG and TIG welding
Excellent problem- solving and multitasking skills
Responsibilities
Assist Welder in setting up and calibrating welding machines
Gather and prepare materials for welding projects
Ensure that the welding workspace is clean and organized
Follow safety protocols when operating welding tools and equipment
Observe the Welder's technique and suggest improvements when necessary
Load and unload raw materials and finished products from welding machines
Perform basic grinding, cutting, and finishing tasks as directed by Welder
Welder Helper Resume with 2 Years of Experience
I am a highly motivated and skilled Welder Helper with two years of experience in the field. I have a strong attention to detail and the ability to quickly learn new techniques and welding methods. I have a keen interest in safety and making sure the job is done correctly. My experience includes helping senior welders with the setup of machines and tools, as well as helping with maintenance and repair of various welding equipment. I possess excellent communication and problem- solving skills and am confident in my ability to provide quality work.
Core Skills:
Welding Techniques
Tool Setup and Maintenance
Safety Procedures
Communication
Problem Solving
Responsibilities:
Assisted senior welders in the setup and maintenance of welding equipment and machines
Followed safety procedures and regulations when working with welding equipment
Worked with senior welders to complete welding projects according to customer specifications
Inspected and tested finished welds to ensure they met the required standards
Assisted with the maintenance and repair of welding machinery and equipment
Welder Helper Resume with 5 Years of Experience
A highly skilled Welder Helper with 5+ years of experience in welding and fabrication. Possesses extensive knowledge of welding operations, such as oxyacetylene, carbon- arc, and shielded metal arc welding. Experienced in reading blueprints, assembling products and utilizing power saws and grinders. Strong communication and problem solving skills and a commitment to safety and quality.
Core Skills:
Welding and Fabrication
Oxyacetylene, Carbon- Arc and Shielded Metal Arc Welding
Blueprint Reading
Assembling Products
Power Saw and Grinder Operation
Communication and Problem Solving
Responsibilities:
Assisting the Welder in welding and fabrication operations
Loading and unloading materials for welding
Ensuring that all welding areas are safe and secure
Keeping welding equipment clean and maintained
Reading and interpreting blueprints
Assembling products using power saws and grinders
Performing quality checks to ensure products meet standards
Maintaining accurate records of welding operations and materials used
Welder Helper Resume with 7 Years of Experience
Seeking a challenging and rewarding Welder Helper position, with 7 years of experience in welding, fabrication, and assembly. Demonstrated ability to operate a variety of welding and cutting equipment and tools; with a strong understanding of safety protocols and practices. Proven track record of working collaboratively in a team environment to complete projects in a timely and cost- effective manner.
Core Skills:
Welding
Fabrication
Assembly
Equipment & Tool Operation
Safety Protocols
Troubleshooting
Problem- Solving
Attention to Detail
Time Management
Teamwork
Responsibilities:
Assisted the Welder in welding and fabrication projects
Operated welding and cutting machinery to assemble and repair metal components
Ensured that safety protocols were followed at all times
Inspected welds for accuracy and quality
Read and interpreted blueprints and diagrams
Troubleshot mechanical and technical issues
Ensured that materials and tools were organized and stored properly
Monitored production times and ensured deadlines were met
Followed established policies and procedures
Welder Helper Resume with 10 Years of Experience
Highly experienced welder helper with 10 years of experience in the industry. Possesses a strong understanding of welding principles, as well as the ability to read and interpret technical diagrams and schematics. Possesses keen problem- solving skills and experience working in a fast- paced environment. Highly organized and reliable with a strong focus on safety and quality assurance.
Core Skills:
Welding and Fabrication
Interpret Technical Drawings
Problem- Solving
Safety and Quality Assurance
Equipment Maintenance
Time Management
Responsibilities:
Set up welding machines and other welding equipment as directed by Welder
Assist with welding operations, including positioning and clamping parts together
Read and interpret technical diagrams and schematics
Inspect finished welds for quality assurance
Assist in troubleshooting and repairs of welding equipment
Perform regular maintenance on welding machines and other equipment
Maintain a safe work environment, following all safety procedures and regulations
Welder Helper Resume with 15 Years of Experience
A skilled and dedicated Welder Helper with over 15+ years of experience in welding and structural steel erection. Expert in utilizing a variety of welding techniques to join, fabricate and repair components, including cutting and shaping of materials. Possesses strong organizational, communication and problem- solving skills.
Core Skills:
Extensive knowledge of welding, cutting and grinding tools
Proficient in oxyacetylene, MIG and TIG welding
Skilled in reading blueprints and diagrams
High degree of accuracy and attention to detail
Safety conscious and knowledge of OSHA regulations
Ability to work independently and as part of a team
Ability to lift and carry heavy loads
Computer literate with MS Office Suite
Responsibilities:
Setting up and operating welding equipment in accordance with safety procedures
Inspecting, assembling, and welding components
Fabricating and repairing parts and structures
Cutting, trimming and reassembling metal components
Operating grinders and other cutting tools
Utilizing proper welding procedures and techniques
Repairing welding defects and making necessary adjustments
Ensuring adherence to safety protocols and regulations
Following instructions from supervisors and welders
Maintaining a clean and safe work area
In addition to this, be sure to check out our resume templates, resume formats, cover letter examples, job description, and career advice pages for more helpful tips and advice.
What should be included in a Welder Helper resume?
A Welder Helper's resume should include a number of important elements. These elements should provide a comprehensive overview of an individual's qualifications and experience in the welding industry.
Contact information: This should include name, physical address, email address, and phone number.
Education/certifications: Include any welding certifications or welding-related courses taken.
Work experience: Include details of any welding-related jobs held, such as dates of employment, companies worked for, and the duties performed.
Skills: Include any skills related to welding, such as metal fabrication, soldering, and welding techniques.
Safety: Demonstrate a knowledge of safety protocols related to welding, such as proper safety gear and hazard prevention.
Technical abilities: Demonstrate any related knowledge of welding equipment, such as torches, grinders, and power tools.
Work ethic: Show a commitment to quality work and a strong work ethic through references and/or past job performance.
References: Include contact information for at least two professional references.
By including the above elements, a Welder Helper can put together a comprehensive resume that outlines their qualifications, experience, and skills. This will provide the best opportunity for success in the welding industry.
What is a good summary for a Welder Helper resume?
A Welder Helper resume should demonstrate skill in welding and metal fabrication, experience with safety protocols, and a commitment to following directions. The resume should also showcase the candidate's leadership abilities, organizational skills, and technical aptitude. The summary should provide a brief overview of the candidate's capabilities, such as:
Experienced Welder Helper with over 5 years of experience in welding and metal fabrication.
Ability to read and interpret technical documents, blueprints, and diagrams.
Skilled in using welding torches, electrodes, and other welding equipment.
Utilizes strict safety protocols and follows directions closely.
Excellent organizational skills, multitasking abilities, and problem-solving skills.
Lead team of welders to complete projects in a timely manner.
Proficient in Microsoft Office Suite and AutoCAD.
The summary should also highlight a few key accomplishments, such as completing welding projects within budget and on-time, or leading a team of welders to achieve a high quality standard. A good Welder Helper resume is an important part of the job search process and should clearly demonstrate the candidate's qualifications and experience.
What is a good objective for a Welder Helper resume?
A Welder Helper assists welders with a variety of tasks such as setting up, preparing materials, and cleaning up after welding activities. When writing a resume for this position, an effective objective statement can help you stand out from other applicants. Below are some examples of good objectives for a Welder Helper resume:
To utilize my welding skills and extensive experience to provide reliable welding assistance and complete welding projects safely, accurately, and efficiently.
Seeking a Welder Helper position to apply my extensive knowledge of industry safety regulations and strong problem-solving skills in a team-oriented environment.
To secure a Welder Helper role with a reputable company that allows me to utilize my welding knowledge in a safe and efficient manner.
A motivated and hardworking individual with a passion for welding, seeking a Welder Helper position to collaborate with a team of welders and help create quality products.
Dedicated to providing dependable assistance as a Welder Helper and helping welders complete projects accurately and efficiently.
To utilize my welding experience and strong work ethic to ensure that all welding projects are completed safely and on time.
How do you list Welder Helper skills on a resume?
When applying for a welder helper position, it's important to make sure your resume is up to date and includes the skills necessary for the job. Below is a list of essential welder helper skills you should include on your resume:
Knowledge of welding techniques: The ideal candidate should have a strong understanding of welding processes, tools, and safety procedures.
Mechanical aptitude: Welder helpers must have a good understanding of mechanical parts and how they work together.
Physical strength: The job requires manual labor and the ability to move and handle heavy materials and tools.
Attention to detail: Welders and their helpers must pay close attention to details to ensure a safe, quality weld.
Ability to read and interpret blueprints: Often, welders and helpers will need to read and interpret blueprints in order to know how a part needs to be welded.
Basic computer skills: Many employers now require welders and helpers to be able to use basic computer programs such as Microsoft Office.
Including these skills on your resume will help employers recognize your qualifications and make you a more attractive candidate. Make sure to list any additional skills or certifications you may have as well.
What skills should I put on my resume for Welder Helper?
When applying for a welder helper position, it's essential to showcase the relevant skills and experience on your resume. This can include both technical welding skills as well as soft skills related to the job. Here are some of the key skills you should include on your resume to demonstrate your candidacy for a welder helper role:
Welding knowledge: As a welder helper, you should have a strong understanding of the welding process. This includes knowledge of the different types of welding, such as MIG and TIG welding, as well as an understanding of the safety procedures used in welding.
Mechanical aptitude: To be successful as a welder helper, you must possess a strong mechanical aptitude. You should be able to read blueprints and diagrams, and understand how to assemble complex systems.
Problem-solving skills: You should also demonstrate an ability to troubleshoot issues and develop creative solutions. This is a key skill for any welder helper role, since it often requires quickly identifying and resolving technical problems.
Communication skills: As a welder helper, you may be expected to communicate with team members and supervisors. You should demonstrate strong communication skills in order to effectively work with others.
Time management: You should also demonstrate the ability to manage your time effectively. This includes being able to prioritize tasks, manage multiple projects simultaneously, and meet deadlines.
Key takeaways for an Welder Helper resume
When it comes to creating a successful resume for a Welder Helper position, there are some key takeaways to keep in mind. By staying mindful of these keys points when crafting your resume, you can ensure it stands out from the competition and highlights your qualifications in the best possible light.
First and foremost, it's important to focus on your experience and skill set. A Welder Helper position requires a specialized combination of technical expertise, safety proficiency, and knowledge of welding techniques. It's important to address these specific qualifications in your resume, and highlight any related experiences that you've had.
Next, be sure to include examples of successful projects you've worked on. Whether it's a large-scale construction undertaking or a smaller fix-it job, any opportunity to showcase your welding capabilities should be listed.
In addition, your resume should communicate any relevant certifications or licenses you may have. For example, welding certifications like AWS D 1.1 and ASME Section IX can demonstrate your proficiency in the trade and give potential employers confidence in your abilities.
Finally, your resume should also indicate any safety-oriented training you may have completed. Given the hazardous nature of welding, safety education is a must for anyone considering a career in the field.
By following the key takeaways outlined here, you can create a resume that showcases your experience and qualifications in the best possible light. With a resume that stands out from the crowd, you can take the first step towards landing your dream job as a Welder Helper!
Let us help you build
your Resume!
Make your resume more organized and attractive with our Resume Builder