Rig welding is an essential profession in many industrial settings, and a well-crafted resume is essential to securing the job you want. Crafting a great resume takes time, effort and know-how, so it's important to get it right. This guide will provide you with all the information you need to write a successful rig welder resume, including examples, tips and tricks to make sure you stand out from the competition. By the end, you'll be armed with the knowledge you need to write a resume that will get you noticed.
If you didn't find what you were looking for, be sure to check out our complete library of resume examples.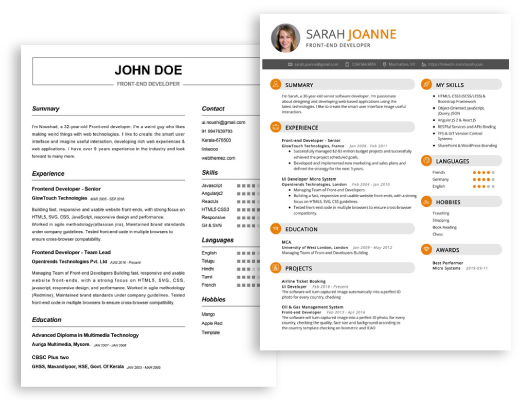 Start building your dream career today!
Create your professional resume in just 5 minutes with our easy-to-use resume builder!
Rig Welder Resume Examples
John Doe
Rig Welder
123 Main Street | Anytown, USA 99999 | Phone: (123) 456-7890 | Email: john.doe@email.com
Hardworking and highly experienced Rig Welder with extensive knowledge of welding and metal fabrication. Possess excellent organizational and troubleshooting skills, and is always eager to take on new welding challenges. Working well independently or as part of a team. With an eye for detail and a knack for problem- solving, always striving to complete welding tasks safely and accurately.
Core Skills:
Gas Tungsten Arc Welding (GTAW)
Shielded Metal Arc Welding (SMAW)
Gas Metal Arc Welding (GMAW)
Flux Core Arc Welding (FCAW)
Stick Welding
Oxy- Fuel Cutting and Brazing
Size and Fit Fittings
Read Blueprints
Understanding of industry Safety Regulations
Professional Experience:
Garcia Welding, St. Louis, MO
Rig Welder/ Fabricator
May 2020 – Present
Performing welding and fabrication on steel, iron, and other materials.
Rigging, hoisting, and securing materials to correct locations.
Reading and interpreting blueprints and fabrication drawings.
Ensuring that all safety protocols and regulations are met.
Inspecting and verifying welds to ensure they meet the project requirements.
Jensen Welding, Los Angeles, CA
Rig Welder/ Fabricator
September 2018 – April 2020
Welded and fabricated various metal components according to blueprints and project specifications.
Performed tasks such as gas metal arc welding, shielded metal arc welding, and flux core arc welding.
Inspected and tested welds to ensure they met the project requirements.
Completed metal fabrication tasks such as cutting, grinding, and beveling metal components.
Followed all safety regulations and procedures when performing welding tasks
Rig Welder Resume with No Experience
Dynamic and motivated individual seeking to become an entry- level Rig Welder. Possesses strong mechanical aptitude and knowledge of welding tools and safety regulations. Committed to producing high quality welding products in a timely manner and adhering to standard welding protocols.
Skills
Knowledge of welding tools and safety regulations
Ability to understand and interpret blueprints
Strong mechanical aptitude
Excellent problem- solving and troubleshooting abilities
Proficient in reading and writing in English
Able to produce high quality welding products
Able to quickly learn new welding techniques
Able to work in a fast- paced and dynamic environment
Able to lift heavy objects and stand for extended periods of time
Responsibilities
Read and interpret blueprints to determine the specific welding requirements
Set up and operate welding equipment in accordance to safety regulations
Perform welding processes, including MIG and TIG welding
Inspect and test welds for accuracy and defects
Maintain and organize welding equipment
Maintain a clean and safe work environment
Follow standard welding protocols and techniques
Adhere to safety regulations at all times
Rig Welder Resume with 2 Years of Experience
Hardworking and detail- oriented Rig Welder with 2 years of experience in welding and metal fabrication on off- shore oil rigs. Demonstrated technical aptitude in welding and fabrication activities, with a comprehensive knowledge of construction processes and safety protocols. A responsible and effective team player, with excellent communication and problem- solving skills.
Core Skills:
Welding
Metal Fabrication
Safety Protocols
Construction Processes
Process Improvement
Team Collaboration
Quality Control
Responsibilities:
Operated welding equipment to weld, cut and fabricate metal components and structures.
Fabricated and installed pipe systems, pressure vessels, storage tanks, and other structures in line with safety protocols.
Inspected welds for accuracy and quality assurance.
Collaborated with other rig welders and construction workers.
Implemented process improvement strategies to streamline production processes.
Maintained daily records of welding and fabrication tasks and completed projects.
Ensured that all safety regulations were adhered to and complied with.
Rig Welder Resume with 5 Years of Experience
Energetic and hard- working Rig Welder with 5 years of experience in the oil and gas and power industry. Possessing excellent welding skills with experience in pipeline and structural welding. Ability to read and interpret blueprints to ensure accuracy of work and safety of equipment. Working knowledge of OSHA safety standards and experience in planning and implementing welding projects.
Core Skills:
Welder Certification (6G)
Welding of Structural and Pipeline Piping
Ability to Interpret Blueprints
Knowledge of OSHA Safety Standards
Knowledge of Rigging, Lifting and Hoisting Practices
Experience in Troubleshooting and Repair of Welding Equipment
Responsibilities:
Assisted in the planning, layout and assembly of welding projects.
Operated cranes and hoists to position heavy parts and materials.
Utilized shielded metal arc welding, gas tungsten arc, gas metal arc and flux core welding.
Inspected and tested welds to ensure they met quality assurance standards.
Troubleshoot and repaired welding equipment to ensure proper operation.
Installed, aligned and connected components, such as pipes and flanges.
Assisted in welding of structural fabrication and pipeline piping.
Followed safety guidelines and utilized appropriate safety equipment.
Rig Welder Resume with 7 Years of Experience
Highly motivated and experienced Rig Welder with seven years of experience in the oil and gas industry. Skilled in the use of various arc and gas welding methods, as well as oxy- fuel cutting and welding processes. Proven ability to read and understand blueprints and technical drawings. Possess excellent mechanical aptitude, strong interpersonal skills and the ability to work in a fast- paced environment.
Core Skills:
Arc and Gas Welding
Oxy- Fuel Cutting and Welding
Blueprint and Technical Drawing Reading
Mechanical Aptitude
Interpersonal Skills
Ability to Work in a Fast- Paced Environment
Responsibilities:
Inspect and assemble welding components in accordance with technical specifications.
Work to ensure welds meet required standards and codes.
Operate welding machines and equipment in order to perform welding and cutting processes.
Ensure the accuracy of all welded components.
Responsible for the maintenance, repair, and upkeep of welding equipment and tools.
Follow safety procedures and regulations when welding and operating equipment.
Prepare materials for welding and cutting processes.
Perform regular quality checks and inspections on welded components.
Rig Welder Resume with 10 Years of Experience
A Rig Welder with 10 years of experience in the oil and gas industry. Experienced in welding and fabrication, as well as troubleshooting and operation of oilfield equipment and machinery. Experienced in rigging, hoisting, and slinging while working in the oilfield. Known for being able to work with little to no supervision and has a strong work ethic and a positive attitude.
Core Skills:
Welding and fabrication
Troubleshooting of oilfield equipment
Rigging, hoisting, and slinging
Ability to work with little to no supervision
Strong work ethic and positive attitude
Responsibilities:
Assessing and interpreting blueprints to determine materials requirements needed for welding and fabrication
Inspecting and testing pipes for adaption to pipeline equipment
Welding components in flat, vertical, or overhead positions
Assisting in the maintenance and repair of pipelines, compressors, meters, and other oilfield facilities
Rigging, hoisting, and slinging oilfield equipment on rigs, vessels, and other locations safely
Operating and maintaining oilfield equipment with precision and accuracy
Rig Welder Resume with 15 Years of Experience
A highly qualified and experienced Rig Welder with fifteen years of experience in operating welding equipment, cutting and welding to specifications, and overseeing welding teams. Possesses an in- depth knowledge of welding techniques and safety protocols. Skilled in reading and interpreting diagrams and blueprints. Experienced in working with various welding materials, including steel, aluminum, and chrome- nickel alloys. Known for efficiency, accuracy, and attention to detail in welding operations.
Core Skills:
TIG, MIG, and Stick welding
Knowledge of safety protocols
Ability to read and interpret diagrams and blueprints
Excellent team leadership skills
Ability to work with various welding materials
Excellent problem- solving skills
Responsibilities:
Operating welding equipment safely and efficiently
Cutting and welding to specifications
Overseeing welding teams and delegating tasks
Ensuring welding projects are completed on time and to a high standard
Inspecting welds and monitoring quality
Maintaining welding equipment in good working condition
Adhering to safety protocols and regulations
In addition to this, be sure to check out our resume templates, resume formats, cover letter examples, job description, and career advice pages for more helpful tips and advice.
What should be included in a Rig Welder resume?
A Rig welder resume should include a comprehensive breakdown of your experience, qualifications, and skills. Your resume should be tailored to the position you're applying for, and should emphasize your relevant experience and abilities. Here are some of the key elements to include in your resume:
Educational Qualifications: Include any degrees, certifications, or apprenticeships you've completed that are relevant to the job.
Work Experience: List all the jobs you've had as a rig welder, along with any other welding experience you may have. Be sure to include information about the welding techniques you used, the materials you worked with, and the types of projects you've completed.
Skills: Highlight any specific welding skills or techniques you have experience with. You can also list any safety certifications or training you've gone through.
Special Accomplishments: If you've done any welding projects that are particularly noteworthy, include them in your resume.
Other Qualifications: List any other qualifications you have that may be relevant to the position. This could include computer skills, communication skills, or knowledge of specific types of equipment.
By including all this information in your resume, you'll be able to show employers that you're the right candidate for the job.
What is a good summary for a Rig Welder resume?
A Good summary for a Rig Welder resume should provide a brief overview of the skills and strengths the candidate can bring to the job. It should demonstrate the welding experience and expertise the applicant has, including listing any certifications or qualifications they may have, as well as their ability to work in a safe and efficient manner. The summary should also highlight any relevant skills the candidate may possess, such as problem-solving, troubleshooting, or communication abilities, and the ability to read and interpret technical drawings. Finally, the summary should summarize the applicant's experience in welding and related fields, such as fabricating, and demonstrate why they are a good fit for the position.
What is a good objective for a Rig Welder resume?
A Rig Welder resume should have an objective that is clear and concise. An ideal objective should include the following elements:
Experience in welding and fitting of all types of metals
Ability to read and interpret blueprints and welding diagrams
Demonstrate a commitment to safety protocols
Knowledge of welding fabrication and assembly techniques
Proficiency in operating welding equipment and tools
Ability to work in a fast-paced environment and meet tight deadlines
Proven record of providing high-quality welds
Ability to maintain accurate records and documentation
By including these elements in your objective, you can demonstrate that you have the necessary qualifications to be successful as a Rig Welder. This will help you stand out from other applicants and increase your chances of being hired for the position.
How do you list Rig Welder skills on a resume?
Welders are in high demand across many industries, making them an attractive career option for many. A rig welder is a specialized type of welder that works with rigs, such as those used in the oil and gas industry. If you're a rig welder looking to make a career change, you'll need to ensure your resume is properly highlighting your skills and experience. Here's how to list rig welder skills on your resume:
Include Technical Skills: Your technical skills will be the most important to highlight on your resume. Use concise language to outline your experience with welding processes, materials, and safety regulations.
Demonstrate Peripheral Skills: Even though your technical skills are the most important, you should also demonstrate any other skills you have that make you an ideal candidate. This could include problem-solving, attention to detail, and communication.
Showcase Your Certifications: Demonstrating your certifications on your resume can be a great way to stand out from other job applicants. Be sure to include the type of certification, the certifying body, and the year of certification.
Highlight Your Job Experience: If you have experience working in a welding role, be sure to include this on your resume. Give an overview of the role, the duties you performed, and the length of employment.
By following these tips, you can ensure your rig welder skills are properly highlighted on your resume so you stand out from other job applicants.
What skills should I put on my resume for Rig Welder?
When it comes to creating a resume for a Rig Welder position, it's important to include the right skills and qualifications that will set you apart from other applicants. Here are some of the must-have skills and qualities you should include on your resume:
Proficiency in welding and fabrication processes: As a Rig Welder, you will be expected to have a comprehensive knowledge of welding and fabrication processes. Be sure to list any certifications or qualifications you have in these areas.
Ability to read and interpret technical drawings: Rig Welders must be able to read and interpret technical drawings in order to properly complete welding tasks. Include any experience you have interpreting technical drawings on your resume.
Attention to detail: Rig Welders must be able to pay close attention to detail in order to ensure that welds are done accurately and safely. Include any examples of your attention to detail on your resume to demonstrate your skills.
Problem solving skills: Rig Welders must be able to think quickly and problem solve on the job. Include any experience you have with problem solving and troubleshooting on your resume to show potential employers your skills.
Safety awareness: Rig Welders must be safety-conscious at all times. Be sure to highlight your understanding of safety protocols and any qualifications you have in this area.
By including these skills and qualifications on your resume, you will be sure to stand out as a qualified Rig Welder and have a better chance of landing the job.
Key takeaways for an Rig Welder resume
A rig welder resume must be detailed and precise when outlining an individual's experience and qualifications. In order to stand out amongst other applicants, a rig welder resume must be written with the employer's needs in mind. Here are some key takeaways for writing a strong rig welder resume:
Include relevant certifications: Any certifications or licenses that a rig welder has attained should be highlighted on their resume. This demonstrates the individual's commitment to the profession and their dedication to staying updated on industry advances and safety regulations.
Showcase relevant experience: Rig welders must have experience in welding, whether it is from an educational program or from work experience in the field. It is important to include information about which types of welding were performed and the number of years of experience in the industry.
Demonstrate problem-solving abilities: Rig welders need to be able to work efficiently and troubleshoot any issues that may arise. By including examples of times when a problem was solved quickly and effectively, employers can have a good idea of the applicant's problem-solving skills.
Highlight any special technical skills: Any additional technical skills that a rig welder has should be highlighted on their resume. This could include the ability to read blueprints, the ability to use specific welding tools, or any other relevant skills.
Be concise and clear: A resume should be concise and to the point. It should not contain any unnecessary information and should be easy to read and understand. The goal is to give employers the most important information about a candidate without requiring them to read through a lengthy document.
By following these key takeaways for a rig welder resume, the individual can create a resume that stands out from the competition and showcases the unique experience and qualifications that he or she has to offer.
Let us help you build
your Resume!
Make your resume more organized and attractive with our Resume Builder