Are you interested in becoming a Mill Operator? If so, you'll need to have a well-written resume that can demonstrate your relevant experience and qualifications. Writing a resume for a Mill Operator position can be challenging, as there are many different areas to focus on. This guide will provide tips and examples to help you create the best resume for a Mill Operator position. With the right approach and style, you can create a professional Mill Operator resume that will help you stand out from the competition and increase your chances of getting an interview.
If you didn't find what you were looking for, be sure to check out our complete library of resume examples.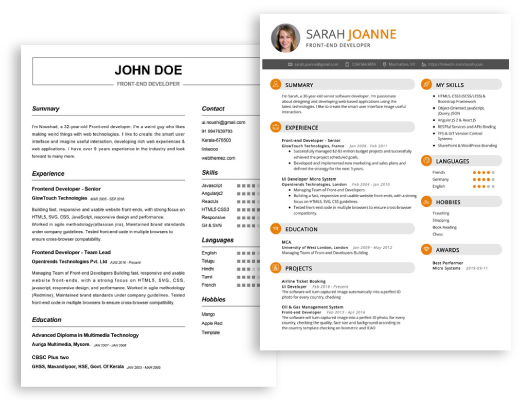 Start building your dream career today!
Create your professional resume in just 5 minutes with our easy-to-use resume builder!
Mill Operator Resume Examples
John Doe
Mill Operator
123 Main Street | Anytown, USA 99999 | Phone: (123) 456-7890 | Email: john.doe@email.com
I am an experienced Mill Operator who has worked in the industry for over 10 years. I have gained a great deal of knowledge and expertise in operating different types of mills and ensuring that the production process runs smoothly and efficiently. I am detail- oriented, able to quickly identify issues and use problem- solving skills to find and implement solutions. I am also able to provide employees with the guidance and support needed to complete their tasks in a timely manner.
Core Skills:
Mill and machinery operation
Quality control and assurance
Troubleshooting and problem- solving
Production process optimization
Safety regulations compliance
Team collaboration and leadership
Professional Experience:
Mill Operator, ABC Corporation, New York, NY
Operated and maintained the mill and machinery in safe and efficient working order
Conducted regular maintenance and safety inspections to ensure optimal performance
Monitored and adjusted parameters to ensure desired results
Worked with the production team to ensure the production process ran smoothly and efficiently
Ensured that all safety regulations were followed
Mill Operator, XYZ Company, Miami, FL
Operated mill machinery to produce products according to customer specifications
Monitored and adjusted parameters as needed to ensure a consistent and high- quality output
Provided guidance and support to production staff when needed
Ensured that all safety regulations were followed
Education:
Associate Degree in Machine Tool Technology, Miami University, Miami, FL
Mill Operator Resume with No Experience
Recent graduate with an interest in mill operations, seeking an entry- level position to gain experience in the industry. Possesses strong mechanical aptitude, excellent communication skills and a dedication to learning.
Skills
Strong mechanical aptitude
Ability to work independently or in a team environment
Attention to detail
Excellent communication and organizational skills
Proficient in using computers and digital technology
Responsibilities
Monitoring production processes and operations
Inspecting finished products for quality assurance
Ensuring safety standards are adhered to in the workplace
Performing basic maintenance and repairs on machines, equipment, and tools
Troubleshooting and resolving problems with production machines
Assisting with loading and unloading of raw materials and finished products
Maintaining accurate production records and logs
Mill Operator Resume with 2 Years of Experience
Highly organized and detail- oriented Mill Operator with two years of professional experience in running and maintaining production machinery in a fast- paced manufacturing environment. Possesses a track record of ensuring accuracy and quality in production operations, and has extensive experience troubleshooting technical issues. Able to work effectively in a team or independently to produce high- quality goods with efficiency and accuracy.
Core Skills:
Production Operations
Technical Problem- Solving
Quality Assurance
Machine Maintenance
Calibration
Process Optimization
Safety Regulations
Responsibilities:
Monitor and adjust production machinery
Troubleshoot technical issues and ensure the accuracy of products
Perform quality control checks in order to reduce the risk of faulty products
Ensure compliance with safety regulations and relevant laws
Complete maintenance and calibration of production machinery
Optimize production processes to maximize efficiency
Train other operators on the proper use of machinery
Mill Operator Resume with 5 Years of Experience
I am a Mill Operator with 5 years of experience in the manufacturing industry. I have a detailed understanding of various milling, grinding, drilling and tapping machining processes, and I am proficient in the operation and programming of CNC machines. I am capable of efficiently setting up and configuring production equipment, and I have a good understanding of health and safety protocols. I am also a competent trouble- shooter and problem solver, and I am able to work both independently and as part of a team.
Core Skills:
Machine Operation
CNC Programming
Maintenance and Troubleshooting
Quality Control
Health and Safety
Process Improvement
Responsibilities:
Operate milling, grinding and drilling machines in a safe and efficient manner
Program and set up CNC machines for production duties
Assist with the installation and maintenance of production equipment
Monitor and check the quality of work in progress
Troubleshoot and correct any problems encountered in the production process
Ensure all safety protocols are followed
Train and mentor junior staff
Liaise with clients, suppliers and other stakeholders where necessary
Mill Operator Resume with 7 Years of Experience
Motivated and experienced Mill Operator with seven years of experience in operating and maintaining a wide range of mill machinery. Expertise in accurately setting up and adjusting mill machines for optimal performance. Skilled in monitoring machine operations and performing preventative maintenance tasks to ensure long- term stability. Committed to promoting quality, safety and efficiency in all mill operations.
Core Skills:
Mill Machine Operation
Setup and Adjustment
Maintenance and Inspection
Safety Practices
Quality Control
Troubleshooting Skills
Equipment Documentation
Responsibilities:
Operate milling machines to produce parts and tools by turning, boring, milling, shaping, and slotting metal stock.
Set up, adjust and program milling machines to perform various operations including cutting, drilling and reaming.
Inspect parts and tools to ensure accuracy of machine operations and adherence to specifications.
Perform regular maintenance checks and replace worn parts and consumables to maintain optimum machine performance.
Document machine operations and ensure accurate filing of all maintenance and machine logs.
Follow safety regulations and maintain a clean and safe working environment.
Monitor machine operations and troubleshoot issues to minimize downtime.
Ensure compliance with quality standards in all mill operations.
Mill Operator Resume with 10 Years of Experience
Dedicated and highly motivated mill operator with 10 years of experience in process operations and production environment. Possesses an excellent track record of maintaining high safety standards and working in teams. Skilled in proper operation of mills and all associated equipment, as well as troubleshooting, problem solving, and preventive maintenance. Experienced in working with a variety of people at all levels from all different backgrounds and cultures.
Core Skills:
Mill operation & troubleshooting
Safety Protocols
Process Improvement
Inventory & Quality Control
Lean Manufacturing
Teamwork & Leadership
Technical Report Writing
Responsibilities:
Responsible for the efficient and safe operation of mills, including set- up, maintenance, troubleshooting, and repair.
Ensure mill is running efficiently, at maximum capacities, with minimal waste and downtime.
Monitor and adjust process parameters as needed to ensure optimal operation.
Take necessary steps to ensure the safety of all personnel in the mill.
Develop and implement preventive maintenance programs and improve process operations.
Maintain inventory and quality control of all products.
Collaborate with other departments on process improvement initiatives.
Lead teams and train other operators in proper mill operation procedures.
Prepare technical reports on mill operations and recommend changes.
Mill Operator Resume with 15 Years of Experience
Experienced Mill Operator with 15 years of experience operating a wide range of equipment and machinery, as well as performing general maintenance and troubleshooting. Possesses strong attention to detail and a commitment to safety, quality and efficiency. Has great problem- solving skills, a strong work ethic and excellent communication and interpersonal skills.
Core Skills:
Strong attention to detail
Commitment to safety, quality, and efficiency
Problem- solving skills
Excellent communication and interpersonal skills
Knowledge of equipment and machinery
General maintenance and troubleshooting
Time management
Ability to work independently
Ability to work well in a team setting
Responsibilities:
Operate a variety of equipment and machinery
Perform regular maintenance and troubleshooting on machines
Follow safety guidelines, policies and procedures
Monitor quality of products and report any discrepancies to supervisor
Maintain a clean and organized work area
Load and unload materials and products
Perform necessary repairs and maintenance on equipment
Ensure all safety procedures are followed
Maintain logs and records of production
Make sure all materials and products meet quality standards
Follow all instructions and procedures
Keep updated on changes in production processes and procedures.
In addition to this, be sure to check out our resume templates, resume formats, cover letter examples, job description, and career advice pages for more helpful tips and advice.
What should be included in a Mill Operator resume?
A Mill Operator resume should include information about your experience and education that is relevant to the position. It should also highlight your key skills and areas of expertise that make you an ideal candidate for the job.
Below is a list of key points that should be included in an effective Mill Operator resume:
Education: Include details of your educational background, including the type of degree, major, university, and year of completion.
Experience: Include details of any relevant experience in milling, as well as any other related experience that is relevant to the position.
Knowledge: Include details of your knowledge of milling processes and procedures, as well as other related knowledge that is relevant to the job.
Skills: Include details of your technical and interpersonal skills, such as problem solving, communication, and teamwork.
Certifications: Include details of any certifications related to milling that you may have.
Personal Attributes: Include details of any personal attributes that make you an ideal candidate for the job, such as strong work ethic, attention to detail, and ability to work in a fast-paced environment.
By including this information in your Mill Operator resume, you will demonstrate that you have the skills and experience required for the job. It is important to tailor your resume to each position you are applying for and to highlight any skills and experience that make you an ideal candidate.
What is a good summary for a Mill Operator resume?
A Mill Operator resume should be well-written and include key qualifications that demonstrate the candidate's ability to work safely and efficiently in a fast-paced manufacturing environment. A successful candidate should be able to interpret complex mechanical drawings, use a variety of measuring instruments, and have an understanding of basic electronic and electrical controls. Additionally, the resume should showcase problem-solving skills, a strong work ethic, and an aptitude for working with machinery of various sizes and shapes. The ideal candidate should have a minimum of 3-5 years of prior experience in a mill operation, preferably in a fast-paced manufacturing setting.
What is a good objective for a Mill Operator resume?
A mill operator is an important and skilled position in many industries, responsible for the operation and maintenance of machinery used to grind and process materials like grain. When writing a resume, an effective objective statement can help you stand out from other applicants and convince potential employers of your suitability for the role. Here are some examples of good objectives for a mill operator resume:
To use my experience in operating machinery, troubleshooting and problem-solving to safely and efficiently fulfill the duties of a mill operator for [Company Name].
Seeking a mill operator position with [Company Name] to utilize my expertise in operating milling machines and industrial equipment.
To secure a mill operator role and use my experience to ensure the safe and efficient production of goods.
To obtain a mill operator role with [Company Name] and utilize my capability to operate, maintain and troubleshoot industrial equipment.
To leverage my experience in milling machine operations, maintenance, and repairs to contribute to the success of [Company Name].
Looking to utilize my experience and skills in milling operations and safety protocols to become a mill operator at [Company Name].
How do you list Mill Operator skills on a resume?
In order to effectively list Mill Operator skills on a resume, it is important to showcase your unique abilities and qualifications that make you the ideal candidate for the role. A good place to include your skills is in a 'Skills' or 'Core Competencies' section on your resume. Here are some key Mill Operator skills to include:
Expert knowledge of milling operations, including the various tools, machines and materials used
Exceptional ability to read and interpret blueprints and other technical documents
Good understanding of safety regulations and best practices
Excellent troubleshooting and problem solving skills
Strong mechanical and technical aptitude
Highly organized and detail-oriented
Skilled in using precision measuring tools and equipment
Proficient in using computers for operating machinery
Ability to work in a fast-paced environment
By including these key skills, you can demonstrate to potential employers that you have the skills and qualifications necessary to be a successful Mill Operator. You should also include any additional certifications or training that you may have in order to bolster your resume. By taking the time to showcase your qualifications, you can help ensure that you stand out from the competition.
What skills should I put on my resume for Mill Operator?
Mill Operators are responsible for the production of raw materials in manufacturing facilities. In order to stand out in the job market and be competitive in applying for Mill Operator roles, it's important to have the right skills and abilities on your resume. Here is a list of skills employers will be looking for in a Mill Operator:
Experience with machinery and equipment: Mill Operators should have experience operating machinery and equipment in a manufacturing setting. They should be familiar with the different types of tools and be able to troubleshoot any issues that arise.
Knowledge of industrial safety protocols: Mill Operators should have a strong understanding of industrial safety regulations, and know how to use safety equipment and protective gear. They should also be able to recognize potential hazards and take the necessary steps to reduce the risk of injury or accidents.
Ability to read and interpret technical documents: Mill Operators should be able to read and interpret technical documents, such as blueprints and diagrams. They should also be able to communicate complex information to others in a clear and concise manner.
Strong problem-solving skills: Mill Operators should be able to identify problems and come up with creative solutions. They should be able to think quickly and critically, and be able to adjust their approach if the situation calls for it.
Attention to detail: It's important for Mill Operators to pay close attention to detail when running machinery and equipment. They should be able to identify minor defects or issues and make the necessary adjustments to ensure a quality product.
Good organizational skills: Mill Operators should be able to keep track of multiple tasks and projects at once. They should be organized and able to manage their time effectively in order to ensure that deadlines are met.
These are some of the skills employers will be looking for when considering a Mill Operator. By including these skills on your resume, you'll be able to demonstrate
Key takeaways for an Mill Operator resume
As a Mill Operator, you are responsible for operating and maintaining mills and other machines used to process materials and create products. Your resume should demonstrate your ability to maintain and troubleshoot equipment, as well as maintain a safe and efficient work environment. Here are some key takeaways for your resume to help you stand out from other candidates:
Highlight your experience: Include relevant experience in your resume, such as operating mills and other machinery, troubleshooting and repairing machinery, and practicing safety protocols.
Show your qualifications: Demonstrate your knowledge and proficiency in using milling machinery and equipment, as well as adhering to safety regulations and standards.
Demonstrate leadership: Showcase your ability to lead, train, and mentor other employees.
Demonstrate your problem-solving skills: Demonstrate your ability to identify problems and find solutions to efficiently resolve them.
Show your attention to detail: Showcase your attention to detail and ability to maintain accurate records and documentation.
By including these key takeaways in your resume, you will be able to stand out from other candidates and present yourself as a strong candidate for the Mill Operator position.
Let us help you build
your Resume!
Make your resume more organized and attractive with our Resume Builder