If you are a skilled Mig Welder who is looking for your next job opportunity, then you have come to the right place. Crafting a great Mig Welder resume can help you stand out from the competition and land the job you've always wanted. This guide will provide you with helpful tips and examples of resumes for Mig Welders so that you can create an effective, professional resume that will give you the best chance of success.
If you didn't find what you were looking for, be sure to check out our complete library of resume examples.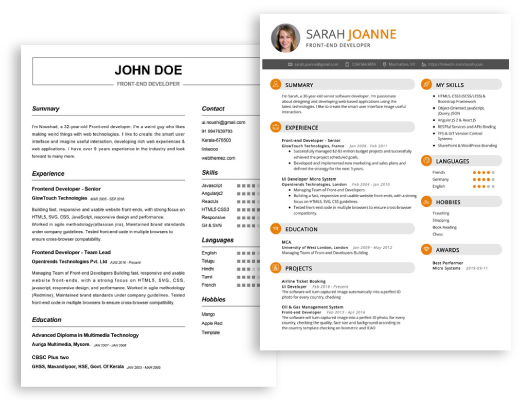 Start building your dream career today!
Create your professional resume in just 5 minutes with our easy-to-use resume builder!
Mig Welder Resume Examples
John Doe
Mig Welder
123 Main Street | Anytown, USA 99999 | Phone: (123) 456-7890 | Email: john.doe@email.com
Hardworking and dedicated Mig Welder with 4 years of experience in the welding industry. Demonstrated expertise in all welding processes, with an emphasis on MIG. Possesses excellent troubleshooting skills, problem- solving, and mechanical aptitude. Experienced in all aspects of welding, fabrication, and sheet metal, as well as machine operation, cutting, and pressing.
Core Skills:
MIG Welding
Arc Welding
TIG Welding
Flux- Cored Welding
Plasma Cutting
Oxy- Acetylene Cutting
Sheet Metal Fabrication
Press Brake Operation
Machine Operation
Troubleshooting
Professional Experience:
Mig Welder, Hamilton Manufacturing (2019- Present)
Read and interpret blueprints, diagrams, and engineering drawings
Perform MIG welding to join metal components for fabrication
Perform welding tasks according to customer specifications
Operate press brake to bend and form sheet metal
Operate oxy- acetylene cutting torch, plasma torch, and plasma gouger
Troubleshoot welding and fabrication issues
Mig Welder, Johnson Fabrication (2016- 2019)
Performed MIG welding on a wide variety of metals
Followed blueprints, diagrams, and engineering drawings
Fabricated sheet metal components using press brake
Operated oxy- acetylene cutting torch to cut and shape metal pieces
Assisted in the fabrication of custom parts to customer specifications
Education:
Certification in Welding Technology, ABC Technical School (2016)
Mig Welder Resume with No Experience
Hardworking and reliable Mig Welder with no experience in the field. Ambitious individual with a strong work ethic and a commitment to quality craftsmanship. Possess a strong attention to detail and an aptitude for learning new welding techniques.
Skills
Mig welding
Blueprint reading
Metal fabrication
Good hand- eye coordination
Troubleshooting
Organizational skills
Safety awareness
Responsibilities
Read and interpret blueprints and drawings to determine the specific welding requirements
Calibrate and set up welding equipment in accordance with the job specifications
Observe all safety guidelines and regulations when using welding equipment
Perform welding operations using MIG and TIG welding techniques
Inspect and evaluate welded joints for accuracy and quality
Conduct tests to ensure welds meet industry standards and specifications
Maintain and clean welding tools and equipment to ensure proper working condition
Mig Welder Resume with 2 Years of Experience
A highly dependable and experienced Mig Welder with 2 years of experience in the field. Well- versed in multiple welding processes and techniques, including TIG, MIG, ARC, and oxyacetylene welding. Proficient in carrying out structural and structural steel fabrication, metal fabrication and sheet metal fabrication. Experienced in reading blueprints and creating metal objects based on specifications. Possesses a passion for providing quality welding service and maintaining a safe working environment.
Core Skills
MIG, TIG and ARC Welding
Sheet Metal Fabrication
Metal Fabrication & Structural Steel Fabrication
Blueprint Reading & Interpreting
Adherence to Safety Regulations
Quality Assurance & Control
Team Player & Leader
Equipment Maintenance & Troubleshooting
Responsibilities
Performed MIG, TIG and ARC welding to assemble structural steel, metal and sheet metal components as per specifications.
Read and interpreted blueprints to ensure correct assembly of components.
Ensured quality of welding works and maintained safety standards.
Performed routine maintenance and troubleshooting on welding equipment.
Participated in team meetings and coordinated with team members to ensure timely completion of projects.
Maintained records of work performed and ensured compliance with all safety regulations.
Mig Welder Resume with 5 Years of Experience
Diligent and experienced Mig Welder with 5 years of experience in the fabrication industry. Possesses a strong work ethic and the ability to collaborate effectively with teams of all sizes. Experienced in reading and interpreting blueprints and working safely with welding equipment and tools. Strong knowledge of welding techniques and processes, along with a high attention to detail.
Core Skills:
MIG Welding
TIG welding
Blueprint Reading
Safety Protocols
Machine Setup
Welding Metallurgy
Quality Assurance
Responsibilities:
Setup and configure welding machines to ensure optimal performance
Study blueprints and diagrams to determine the specific welding requirements
Inspect finished welds to ensure adherence to project requirements
Monitor and adjust welding machines to ensure proper welding processes
Follow safety protocols while welding, including wearing protective clothing and using welding shields
Clean and maintain welding equipment and tools
Perform regular maintenance and repairs on welding machines and other related equipment
Mig Welder Resume with 7 Years of Experience
I am an experienced mig welder with seven years of welding experience in a variety of projects, from automotive repair to structural steel. I have a successful track record of completing welding jobs safely, accurately, and on time. I am dedicated to quality work and customer satisfaction, and always take the time to ensure that my projects meet the highest standards. Additionally, I have earned several welding certifications, including certification in all types of welding processes.
Core Skills:
Proficient in multiple welding techniques and processes, including MIG, TIG, flux- core, and stick welding
Knowledgeable in reading and interpreting blueprints, sketches, and other technical documents
Proficiency in the use of hand and power tools, including grinders, saws, and pipe cutters
Ability to troubleshoot and diagnose welding- related issues
Capable of safely lifting and carrying up to 50 lbs.
Excellent communication, organizational, and problem- solving skills
Responsibilities:
Set up, adjust, and operate a variety of welding equipment, including MIG and TIG welders, gas tungsten arc welders, and flux- core welders
Perform pre- welding operations, such as inspecting and cleaning workpieces
Lay out, position, and secure parts and assemblies prior to welding
Weld parts in flat, horizontal, vertical, and overhead positions
Examine completed welds and ensure that they meet the required specifications
Maintain and repair welding equipment, and complete routine maintenance
Follow safety protocols and wear protective gear when welding
Mig Welder Resume with 10 Years of Experience
Highly experienced Mig Welder with 10+ years of experience in the welding industry. Experienced in fabrication of high quality molds and welding for various components for industrial use. Possesses excellent problem- solving and communication skills along with the ability to meet the project deadlines. Capable of working independently as well as part of a team.
Core Skills:
MIG welding
TIG welding
Oxy- acetylene cutting
Blueprint reading
Fabrication
Metalworking
Problem- solving
Communication
Responsibilities:
Read blueprints and fabricate molds and components according to customer specifications
Prepare material and equipment for welding
Set up and operate welding machinery
Inspect and test welded surfaces for defects
Repair cracks and broken surfaces
Maintain welding equipment and tools
Perform necessary repairs and adjustments on welding machinery
Perform safety checks and ensure compliance with safety regulations
Document any work performed and update records accordingly
Mig Welder Resume with 15 Years of Experience
Highly experienced Mig Welder with 15 years of experience in the field. Possesses an in- depth understanding of welding techniques and practices. Skilled in the use of various equipment, tools and techniques to ensure safe and accurate welding processes. Committed to upholding a high level of safety and accuracy.
Core Skills:
Mig welding
Technical problem solving
Safety awareness
Metal fabrication
Interpretation of blueprints
Grinding and finishing
Inspection and testing
Relevant welding codes and standards
Responsibilities:
Operating MIG welding equipment to weld metal components
Performing assessments and tests to ensure the quality of welds
Reading and interpreting blueprints to determine the correct welding procedures
Maintaining a safe and secure work environment
Adhering to safety protocols and regulations
Conducting regular preventative maintenance on welding equipment
Performing inspections to ensure welds are of the highest quality
Assisting with the fabrication and assembly of metal components
Cleaning and preparing metal parts prior to welding
Using grinders, drills and other tools to finish welds
In addition to this, be sure to check out our resume templates, resume formats, cover letter examples, job description, and career advice pages for more helpful tips and advice.
What should be included in a Mig Welder resume?
MIG welders are highly skilled professionals who operate welding equipment to join metal components or surfaces in the fabrication of products and structures. A successful MIG Welder resume should include the following key elements:
Relevant experience: Highlight any previous welding experience you have, such as construction or manufacturing. Include the type of welding equipment you operated and the number of years you have been welding.
Technical skills: Include a list of welding techniques and equipment you are familiar with, such as MIG welding, TIG welding, and arc welding.
Safety skills: Showcase any relevant safety certifications you have, such as Occupational Safety and Health Administration (OSHA) and National Institute for Occupational Safety and Health (NIOSH) certifications.
Education: Include any relevant educational qualifications related to welding that you have, such as a certificate in welding technology or a welding apprenticeship.
Other skills: If you have any other skills that may be useful in a welding role, such as first aid or knowledge of blueprints, include them on your resume as well.
By including the key elements above on your resume, you can showcase your qualifications as a MIG welder and demonstrate your commitment to the trade.
What is a good summary for a Mig Welder resume?
When you apply for a position as a Mig Welder, your resume is the most important tool you have to get the job you want. A well-crafted resume summary is the perfect way to showcase your qualifications and experience to potential employers.
A good summary for a Mig Welder resume should start with a brief overview of your experience and qualifications. Focus on the welding techniques and processes you are most familiar with, as well as any experience you have in this field. For example, if you have experience in aluminum and stainless steel welding, make sure to mention that in your summary.
In addition, be sure to emphasize any safety certifications you have, such as OSHA or AWS, and any accomplishments you have achieved as a Mig Welder. You can also include details about any special projects you have worked on and the kinds of tools and machinery you are comfortable working with.
Finally, end your summary with a brief statement about your professional goals. This can be as simple as saying that you are looking to expand your skills and knowledge with a new welding role.
By including these details in your summary, you can ensure that your resume stands out from the competition and gives potential employers a clear sense of why you would be an excellent hire for the position.
What is a good objective for a Mig Welder resume?
A Mig Welder is a skilled tradesperson who specializes in welding, cutting, and joining metal components. A Mig Welder's resume should emphasize their expertise and experience in welding, demonstrate their ability to work with a variety of metals, and showcase their safety and quality control skills. Here are some ideas for an effective objective for a Mig Welder resume:
Experienced Mig Welder with a strong commitment to safety and quality control, looking to provide exceptional welding services to a reputable company.
Seeking a position as a Mig Welder where my 10+ years of experience in welding, cutting and joining metal components can be an asset.
Motivated Mig Welder looking to employ my knowledge and passion for the trade in a challenging welding environment.
Passionate Mig Welder with a solid understanding of welding techniques, tools, and safety measures looking to apply my skills to benefit the success of the company.
Looking to join a team of experienced welders where I can take advantage of my expertise in Mig welding and contribute to the company's success.
How do you list Mig Welder skills on a resume?
Mig Welder skills should be included on a resume to demonstrate your knowledge and experience in this area. Here are some skills to include in your resume to showcase your capabilities and highlight your experience in the field:
Demonstrated skill in setting up welding equipment and performing welding operations
Ability to read and interpret engineering drawings and welding symbols
Experienced in a variety of welding processes, including MIG, Stick, and TIG welding
Proficient in the use of oxy-acetylene and arc welding equipment
Knowledge of safety standards and regulations related to welding operations
Ability to inspect welds for conformance to quality standards
Experienced in welding a variety of metals and alloys
Strong problem-solving skills to troubleshoot welding problems as they arise
Excellent manual dexterity and an eye for detail
Adept at working with a variety of other tools, such as grinders, saws, etc.
Skilled at using hand tools to cut and shape metal pieces
Ability to understand and follow specific welding instructions
Proven track record of producing quality work in a timely manner
Outstanding attention to detail and a commitment to excellence
Ability to work efficiently in a fast-paced environment.
What skills should I put on my resume for Mig Welder?
Mig Welding is a specialized trade that requires unique skill sets for successful job performance. It is important to include these skills on your resume to demonstrate to potential employers you have the necessary qualifications for the position. Here are some of the key skills you should consider putting on your resume for a Mig Welder position:
Familiarity with Safety Procedures: Mig welding can be a hazardous craft if safety protocols are not followed. Make sure to highlight any experience you have in observing safety procedures in the work environment.
Meticulous Attention to Detail: Mig Welders must pay close attention to the weld joints and follow the exact specifications for the job. Demonstrate your attention to detail by including examples of your completed welds on your resume.
Knowledge of Machinery: Mig Welders need to be familiar with the welding machines and other equipment they use on the job. Include any experience you have with welding machines, plasma cutters, and other equipment to show potential employers you have the necessary knowledge.
Ability to Read and Interpret Plans: In many welding jobs, Mig Welders need to be able to read and interpret plans for their assignments. List any experience you have reading and interpreting plans and schematics as evidence of your capability.
Problem-Solving and Troubleshooting Skills: Mig Welders often need to troubleshoot and resolve issues quickly. Show potential employers how you approach problem-solving by providing examples of successful resolutions.
By including these skills on your resume, you will demonstrate to potential employers that you are a qualified candidate for the position of Mig Welder. Good luck in your search!
Key takeaways for an Mig Welder resume
Mig welding is one of the most common welding processes used in the manufacturing industry. For those hoping to enter this field, a well-crafted Mig Welder resume can be the key to securing a job. Here are the key takeaways to keep in mind when crafting your Mig Welder resume:
Highlight Relevant Experience: Employers are looking for Mig Welders with experience in the field. Be sure to highlight any welding, fabrication, or related work experience that you have.
List Certifications: Make sure to list any certifications that you have completed in relation to Mig Welding. This will demonstrate to employers that you have the necessary training and knowledge to work in the field.
Provide References: Providing references on your Mig Welder resume gives employers a way to verify the information that you provide. Make sure to list names, contact information, and any relevant relationships (such as employers or teachers).
Demonstrate Safety Knowledge: Safety is always a top priority in the welding industry. You should demonstrate on your Mig Welder resume that you understand safety protocols, as well as how to safely operate welding equipment.
Indicate Specialized Skills: If you have specialized skills such as TIG welding or ARC welding, make sure to indicate these on your resume. This will show employers that you are multi-talented and knowledgeable in a wide range of welding techniques.
By following these key takeaways, you can ensure that your Mig Welders resume is comprehensive, professional, and effective. With the right resume, you'll be one step closer to securing a job in the welding industry.
Let us help you build
your Resume!
Make your resume more organized and attractive with our Resume Builder