Are you looking for a way to stand out as a psychiatric technician? Crafting a strong resume is the key to getting noticed by hiring managers. It is essential that your resume accurately reflects your qualifications, education, and experience. To ensure your resume makes a lasting impression, follow the tips in this blog post. Here, you will find a comprehensive guide on how to create an effective psychiatric technician resume that will get you noticed. Examples are included to help show you how to format your resume and highlight your best qualifications. With the right resume, you can make a positive impact on potential employers and be one step closer to landing the job of your dreams.
If you didn't find what you were looking for, be sure to check out our complete library of resume examples.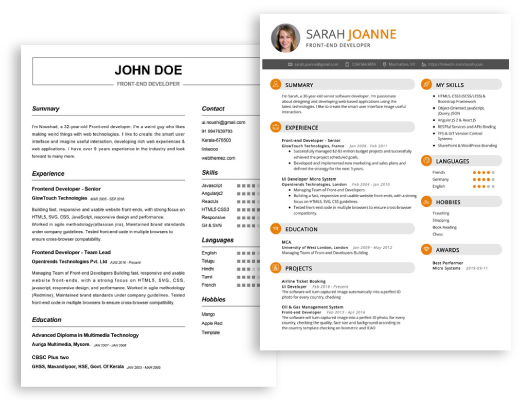 Start building your dream career today!
Create your professional resume in just 5 minutes with our easy-to-use resume builder!
Psychiatric Technician Resume Examples
John Doe
Psychiatric Technician
123 Main Street | Anytown, USA 99999 | Phone: (123) 456-7890 | Email: john.doe@email.com
Psychiatric Technician with 8 years of experience providing quality healthcare to patients with mental health issues in both inpatient and outpatient settings. Proven ability to work with a multidisciplinary healthcare team to provide personalized care and support. Demonstrated expertise in understanding social and environmental issues that affect mental health.
Core Skills:
Assessment and monitoring of patient's mental and physical health
Therapeutic interventions
Crisis management
Behavioral modification
Collaboration with multidisciplinary teams
Medication administration
Patient/family education
Professional Experience:
Psychiatric Technician, William Beaumont Hospital, Royal Oak, MI (2015- 2020)
Responsible for delivering high- quality patient care in an inpatient psychiatric setting
Collaborated with nursing staff, physicians, and other healthcare professionals to ensure quality care and treatment for psychiatric patients
Administered medications, monitored patient vital signs, and identified symptoms of mental illness
Developed and implemented individualized treatment plans based on patient needs
Provided education to patients and their families on mental health issues and treatments
Psychiatric Technician, St. Joseph Mercy Hospital, Ann Arbor, MI (2010- 2015)
Assisted in providing care and support to patients with mental health issues in an outpatient setting
Developed individualized treatment plans for patients in collaboration with the multidisciplinary healthcare team
Monitored patient progress and made necessary adjustments to treatment plans
Assisted in performing crisis intervention and administered therapeutic interventions
Assisted in administering medications and teaching patient and family members about mental health issues
Education:
Bachelor of Science in Nursing, Michigan State University, Lansing, MI (2010)
Psychiatric Technician Resume with No Experience
Recent college graduate eager to gain experience as a Psychiatric Technician. Possess a strong interest in mental health and a desire to help others.
Skills
Ability to work independently and in teams
Strong communication and interpersonal skills
Knowledge of psychiatric terminology, treatments and medications
Good organizational and problem- solving skills
Ability to handle confidential information with discretion and sensitivity
Responsibilities
Conduct mental health assessments and administer medications
Assist in organizing and supervising recreational activities
Counsel and provide emotional support to patients
Assist in developing and implementing individual patient care plans
Monitor patient behavior and progress
Provide daily care and physical support for patients
Ensure safety and security of patients by monitoring activities and preventing harm
Psychiatric Technician Resume with 2 Years of Experience
Motivated Psychiatric Technician with 2+ years of experience providing compassionate care to individuals diagnosed with mental illness. Skilled in providing individualized patient care and in building and maintaining trusting relationships with patients. Effective communicator and problem solver adept at working with diverse patient populations and collaborating with multidisciplinary teams.
Core Skills:
Clinical Skills
Communication
Empathy
Patient Assessment
Patient Education
Conflict Resolution
Therapeutic Interventions
Documentation
Responsibilities:
Monitored and documented patient behavior and vital signs.
Developed individualized treatment plans and assisted in implementing them.
Coordinated with physicians and other healthcare professionals to ensure quality of care.
Administered medication and treatments as needed.
Provided patient education, counseling and support.
Assisted with group activities designed to improve cognitive functioning.
Displayed empathy, patience and respect for patients.
Assisted in crisis intervention as needed.
Facilitated communication between patients and healthcare team.
Psychiatric Technician Resume with 5 Years of Experience
Skilled Psychiatric Technician with 5 years of experience providing care to individuals with mental or emotional disabilities, or addictive behaviors. Demonstrated expertise in providing assessments, administering medications, and providing support to clients in a professional manner. Committed to upholding standards of patient care, advocating for the clients and offering emotional support.
Core Skills
Psychosocial assessment & evaluation
Medication administration
Patient care & safety
Crisis management
Documentation & recordkeeping
Collaboration with medical staff
Counseling & emotional support
Responsibilities
Monitored patient progress and assessed the need for any changes in treatment
Provided emotional support and counseling to patients
Administered prescribed medications to patients
Collaborated with physicians and other medical staff to ensure high- quality patient care
Maintained patient records and documentation
Assessed and evaluated mental and emotional health of patients
Developed crisis management plans for patients
Ensured adherence to safety protocols and patient rights
Developed and implemented individual treatment plans
Psychiatric Technician Resume with 7 Years of Experience
Dynamic and driven Psychiatric Technician with 7 years of experience in providing therapeutic and rehabilitative care to patients suffering from mental health disorders. Experienced in crisis intervention, documentation, and patient safety. Proficient in the use of medication management, behavior management, and trauma- informed care. Dedicated to working collaboratively with other healthcare professionals to provide holistic care to patients.
Core Skills:
Mental health counseling
Crisis intervention
Medication management
Documentation
Patient safety
Group activities
Behavior management
Psychosocial assessments
Trauma- informed care
Responsibilities:
Conducting psychosocial assessments to identify mental health issues, behavioral issues, and level of functioning
Developing and implementing individualized intervention plans for patients
Monitoring, documenting, and reporting patient progress
Administering medications and providing therapeutic support to patients in crisis
Adapting treatment plans to ensure patient safety and comfort
Participating in group activities to educate and support patients
Educating and training family members on how to best support their loved ones
Collaborating with other healthcare professionals to provide holistic care to patients
Psychiatric Technician Resume with 10 Years of Experience
I am a highly experienced Psychiatric Technician with over 10 years of experience in providing psychiatric care and supervision to a variety of patients. I am knowledgeable in the areas of mental health, substance abuse, chronic illness, and safety. I am committed to providing compassionate, respectful, and culturally competent care to my patients. My extensive experience has enabled me to hone the skills necessary to succeed in this field, such as communication and problem- solving. I am confident in my ability to be an asset to any organization and am eager to continue my career in the field.
Core Skills:
Knowledge of psychiatric nursing
Understanding of mental health and substance abuse issues
Ability to provide therapeutic care to patients
Proficient in providing supervision and monitoring
Experience with chronic illness
Skilled problem solver
Excellent communication and interpersonal skills
Ability to remain calm in stressful situations
Sensitive to cultural competency and diversity
Responsibilities:
Assess patient's mental and physical health
Administer medications and treatments
Monitor and document patient's condition
Provide emotional support to patients
Develop individualized patient care plans
Provide one- on- one support for psychiatric and behavioral needs
Support patient's recovery and rehabilitation
Provide crisis intervention and de- escalation
Monitor patient safety and security
Educate patients, families, and staff on mental and emotional health
Psychiatric Technician Resume with 15 Years of Experience
Highly motivated and experienced Psychiatric Technician with 15 years of experience providing direct patient care in a psychiatric health care setting. Experienced in working with a variety of mental health disorders, providing compassionate care and support to patients. Possesses a strong understanding of the principles and practices of therapeutic interactions, as well as excellent communication, problem solving and organizational skills.
Core Skills:
Psychiatric Patient Care
Therapeutic Interaction Principles & Practices
Patient Education & Support
Medication Administration
Crisis Intervention
Documentation & Record Keeping
Team Collaboration & Leadership
Safety & Emergency Protocols
Behavioral Health Diagnosis
Responsibilities:
Provide direct patient care, including both physical and mental health services
Assist in the evaluation and diagnosis of mental health disorders and related disorders
Develop and implement treatment plans for psychiatric patients
Monitor patients for changes in behavior and physical condition
Administer medications and observe patients for reactions
Conduct group and individual sessions to provide psychological and social support
Collaborate with other medical personnel to ensure patient safety and well- being
Maintain accurate patient records, including progress notes and other related documentation
Conduct patient assessments and provide intervention in the event of a crisis
In addition to this, be sure to check out our resume templates, resume formats, cover letter examples, job description, and career advice pages for more helpful tips and advice.
What should be included in a Psychiatric Technician resume?
A Psychiatric Technician resume should include a summary of your qualifications, experience, and education. It should also include any special skills that would make you a good fit for the role, such as crisis counseling, medical terminology, and medical coding.
Below is a list of essential items that should be included:
Career Summary: A brief overview of your qualifications and experience as a Psychiatric Technician.
Skills: List any special skills you have that would make you a good candidate for the position.
Education: Include any relevant education and certifications.
Employment Experience: Outline any experience you have working as a Psychiatric Technician.
Clinical Experience: Describe any clinical experience you have in a psychiatric setting.
Professional References: Include contact information for 2-3 professional references.
What is a good summary for a Psychiatric Technician resume?
A Psychiatric Technician resume summary should be concise, yet comprehensive. It should include an overview of your qualifications and experience in direct care roles, as well as any special certifications or education you may have. It should also be tailored to the position you are applying for, highlighting any specific experience that may be of particular relevance. For example, if you are applying for a job in a residential setting, you should emphasize any experience you have in providing direct care to individuals with mental health disorders. Additionally, a Psychiatric Technician resume summary should summarize your special skills, such as managing medication or crisis intervention techniques. Finally, it should include any relevant volunteer work or professional accomplishments.
What is a good objective for a Psychiatric Technician resume?
A Psychiatric Technician resume should clearly communicate the professional's ability to provide personal care and emotional support to patients. An effective job objective should be concise and focused, highlighting the qualifications and experiences that will benefit the employer.
Establish rapport with patients to facilitate their recovery
Help patients adjust to daily life activities
Monitor vital signs, medication and behavior to ensure safety
Develop and implement individual care plans to meet patients' needs
Collaborate with other health professionals to coordinate care
Provide emotional and social support in a compassionate manner
Document patient progress and changes in condition
Advocate for patients' rights and well-being
Assist in implementing therapeutic activities and interventions as prescribed by the doctor
How do you list Psychiatric Technician skills on a resume?
When writing your resume, it's important to include the skills you possess that make you an ideal Psychiatric Technician. This includes both hard and soft skills as well as any specialized training or certifications you may have. To properly list your skills and showcase your qualifications, you should use specific language to highlight your Psychiatric Technician experience.
Here are some examples of skills to include on your Psychiatric Technician resume:
Patient Care: Possessing the ability to provide direct patient care, including assisting with patient assessment and implementation of treatment plans.
Mental Health Knowledge: Knowledge of mental health disorders, treatments, and medications.
Communication: Excellent oral and written communication skills to effectively communicate with patients, family members, and other healthcare professionals.
Interpersonal Skills: Ability to build relationships with patients and their families by listening, understanding, and responding to their concerns.
Organization: Organizing and managing patient records, scheduling appointments, and providing treatments in an efficient and effective manner.
Crisis Intervention: The ability to remain calm in stressful situations and effectively manage difficult or dangerous situations.
Documentation: Accurately documenting patient assessments, treatments, and other relevant information in accordance with regulations and standards.
Collaboration: Working effectively with a team of healthcare professionals to provide high-quality patient care.
What skills should I put on my resume for Psychiatric Technician?
A Psychiatric Technician is responsible for providing mental health care to patients who have psychiatric, emotional and behavioral issues. When creating your resume, you should highlight the skills you possess that make you an ideal candidate for the position. Here are some skills to include on your resume if you are applying to be a Psychiatric Technician:
Professionalism: Psychiatric Technicians must be professional when communicating and interacting with patients, their families and other healthcare professionals.
Empathy: Psychiatric Technicians must be able to relate to and understand their patients' needs.
Interpersonal Skills: Psychiatric Technicians must be able to effectively communicate with their patients and other members of the healthcare team.
Crisis Intervention: Psychiatric Technicians must be able to properly assess and handle crisis situations in a timely and effective manner.
Documentation: Psychiatric Technicians must be able to accurately document patient information and progress.
Medication Administration: Psychiatric Technicians must be able to safely and accurately administer medication as prescribed.
Knowledge of Mental Health: Psychiatric Technicians must have a comprehensive understanding of mental health and the various treatments available.
By emphasizing these skills on your resume, you show potential employers that you have the qualifications required to provide excellent care to patients with mental health issues.
Key takeaways for an Psychiatric Technician resume
When it comes to writing a resume for a Psychiatric Technician, there are some key takeaways that should be kept in mind. These takeaways can help you ensure that your resume is up-to-date, well-written, and effective in highlighting your skills and experience. Here are some of the most important key takeaways for a Psychiatric Technician resume:
Make sure to tailor your resume to the job you're applying for. Include any relevant experience, certifications, and skills that are specifically related to the job.
Highlight any specific training you have in psychiatric care, such as courses, certifications, or licenses.
Discuss any successful outcomes you've had in past positions, and include any awards you've received for your work.
Include any experience you have working with clients, such as providing assessments, developing treatment plans, and implementing interventions.
Demonstrate your knowledge of mental health and psychology, and discuss any research projects or papers you've been involved in.
Showcase your ability to adapt to various environments, as Psychiatric Technicians often work in different health care settings.
Highlight any interpersonal skills you have, such as communication, problem-solving, and conflict resolution.
These key takeaways can help you create an effective resume for a Psychiatric Technician position. Make sure to include these points in your resume so you can make a strong impression with the hiring manager.
Let us help you build
your Resume!
Make your resume more organized and attractive with our Resume Builder